Indianapolis, IN
--
How did the Iowa Hawkeyes ever get to here?
The 2015 Big Ten Championship Game is tonight in Lucas Oil Stadium, from Indianapolis.
Big Ten Championship Game: Michigan State vs. Iowa
Michigan State wasn't supposed to be here either
, but
That's Football
. The games have to be played. The Spartans were a
unanimous #2
in the B1G East Division, but they took out the unanimous choice in 2015, the defending champion, the Ohio State Buckeyes, and won every game, except one played in Lincoln, to open the month of November.
Ohio State was supposed to be here
.
The Buckeyes were supposed to repeat
. They have been playing with fire throughout the season, with wins over Northern Illinois, Indiana, before falling at home to Michigan State, 17-14. But, how good is Ohio State, on any given Saturday?
Last season's Final 4, after conference championship games were played.
After winning the 2015 College Football Playoff Championship Game
, players moved on from Columbus, assistant coaches moved on and the
2015 College Football season
begins as a new year, and as a new team. Look at the success of the Ohio State's former offensive coordinator today ...
TDECU Stadium, Houston, Texas
| | | |
| --- | --- | --- |
| | | 13 |
| | | |
| --- | --- | --- |
| | | 24 |
The Houston Cougars won today the AAC Championship Game

There head coach is Tom Herman, former OSU OC in '14

They will be the non-Power 5 in the New Year's Day 6
Alabama and Michigan State are two Top 10 programs that
are in the College Football Playoff hunt. They also have one loss,
Bama at home against Ole Miss and MSU @ Nebraska.
Preseason rankings, eye tests and recruiting ratings make for smack talk, overvalued ratings and a need for some high waders, since games still need to be played on the field. The Blue Bloods don't always win. Players are aged 18-23 and there is plenty of noise throughout the season.
The 2015 season may be a great example, especially, if you are the non-Blue Bloods, like Iowa, that the games need to be played. Both Iowa, Clemson and Oklahoma were not Top 10 picks, in their conference or division.
Interesting fact about today's game
. Neither, Iowa nor Michigan State have played or been in the conversation for the
College Football Playoff
, until this year. Yes, Michigan State was in the ratings last year, but with two losses they were not in the 2014 conversation, like today.
In 2013, Michigan State won the Big Ten, with a win over Ohio State, to close out the Legends and Leaders era of Big Ten football. But, that was the final season of the BCS, so no College Football Playoff, but a great season. In 2014, Ohio State kicked off the College Football Playoff era with a journey from #16 to Last In, at #4, after smoking a Wisconsin team, whose coach was ready to get out of Madison.
Interesting, in 2012, Michigan State was, like Iowa coming off a 7-6 season. Unlike Iowa, Michigan State had finished with back to back 11 win seasons. Though, Iowa beat Michigan State two out of those three seasons.
Iowa coach Kirk Ferentz is the dean of the Big Ten head coaches, with 17 years
at the helm. Overall, he has 26 years in the Big Ten, after serving as an OL
coach from 1981 to 1989, under Hayden Fry at Iowa.
Iowa, like Michigan State, has had two 11 win seasons under Kirk Ferentz. They are not back to back, but, both Iowa and Michigan State have finished 8-0 in the Big Ten under their current coach. Iowa has now done that twice, after finishing the 2015 regular season at 12-0.
Don't worry Becky, the Big Ten will be represented. Ohio State
was 6-7 in 2011 and has played in 2 of the 5 B1G Championship
Games, since 2011. The Big Ten is very healthy right now.
Iowa scheduled and played 10 Power Five schools in 2015, unlike most of the programs, not named Oklahoma, in the College Football Playoff discussion. Stanford is another one with 10 Power Five Games and with a win today and the right mix of upsets, could justify jumping Ohio State.
The Big Ten will have a representative for the second straight year, since the College Football Playoff began during the 2014 season. They have an outside chance of two, if things turn out right, in a couple of conference championship games.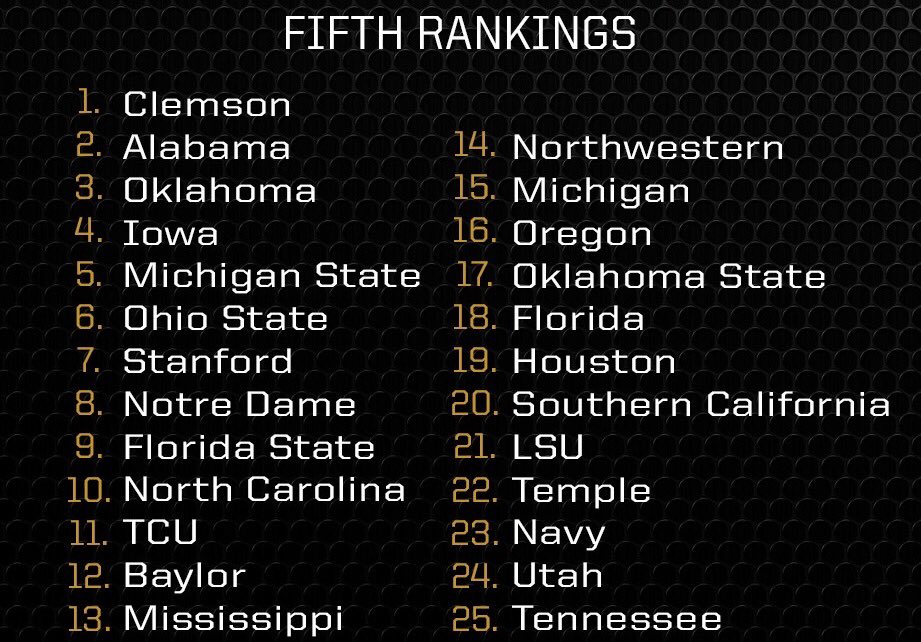 #12 Baylor fell at home to unranked Texas today. Is Alabama really the best
1-loss team in the College Football Playoff? Ole Miss-Bama isn't the rivalry
game that the Red River Rivalry between Oklahoma and Texas.
The SEC and ACC championship games will determine
whether anyone outside the Top 5 rejoins the conversations. Clemson, Alabama, Oklahoma, Iowa and Michigan State all controlled their own destiny and they have all month, since the first College Football Playoff rankings were released.
Yes, you only get once chance
In the second quarter, Florida is competing with Alabama, leading 7-5, but with under 3 minutes the Crimson Tide took the lead again. This is the same Florida team that was trailing Florida State, last Saturday, from the 12:11 mark of the first quarter. There is a reason, why the games must be played. After all, Alabama struggled in a loss at home vs. Ole Miss in 2015.
The Iowa Hawkeyes got to Indianapolis by taking care of business throughout the season. The Hawkeyes were behind a couple of games, where opponents lead in games,into the third quarter. But, Iowa owned every fourth quarter in 2015.
Iowa coach Kirk Ferentz addressing his team, after a 12-0 season. It is Iowa's
fifth unbeaten season ever, first since 1922 and most wins ever in program history.
The Hawkeyes have outscored their opponents 71-23 in the first quarter
, and 44-6 in the final two minutes of the first half. Iowa has trailed just five times this season, never by more than seven points. The Hawkeyes trailed by seven at Iowa State on two occasions, 10-3, 17-10. Iowa trailed 3-0 at Wisconsin, 7-6 against Illinois, and 17-14 at Indiana. The Hawkeyes have not trailed since the 3-minute mark in the second quarter against Indiana (14 quarters ago). In 720 minutes played, Iowa has trailed for 55:15.
Yes, they started in the off season, with a lot of noise against the program. The coaching staff was getting negative votes of confidence by the fans, the media and those outside the program. Inside the program,
Ferentz moved C.J. Beathard to #1 signal caller, in January
Iowa went out to Oregon and visited with the Ducks about morning practices and put the program under the microscope
Iowa moved into a state of the air Football facility for 2015
Iowa moved to morning practices; moved non-practice day to Thursday, from Monday
The Hawkeyes went from 0-4 in trophy games in 2014 to 4-0 this season
Junior
C.J. Beathard
is one of only three Power 5 Conference quarterbacks to win each of their first 13 career starts since 2010. The others include Heisman Trophy winner Cam Newton, who led Auburn to the BCS National Championship in 2011 and Heisman Trophy winner Jameis Winston, who led Florida State to the 2014 BCS National Championship. Beathard's record in 13 career starts includes a 6-0 mark on the road, a 7-0 mark at home, and an 8-0 mark in the Big Ten.
Former #1 Jake Rudock transferred to Michigan. Michigan defeated two B1G West opponents, Minnesota and Northwestern, which was good for Iowa, since Iowa faced each of those opponents immediately after the B1G West opponent faced Michigan.
Iowa has greatly improved in 2015, much like 2013 at Michigan State.
Iowa's offensive line has been named a finalist for the Joe Moore Award, which honors offensive line units that display a high level of toughness, effort, teamwork, physicality, tone setting and finishing. The Joe Moore Award winner will be announced Friday, Dec. 11. Other finalists include Alabama, Arkansas, Michigan State, Notre Dame, and Stanford. The Hawkeyes earned a "Game Ball" from the Joe Moore Award following wins at Iowa State and against Pitt. At Iowa State, Iowa's offense rushed for 260 yards, averaging 5.8 yards per rushing attempt. Iowa controlled the fourth quarter with 10:55 in possession time, scoring two touchdowns in the final 2:14 to earn the road win.
Iowa junior QB #16 C.J. Beathard is 13-0 as a starter at Iowa. He has been
called a difference maker, game manager and #1 reason Iowa is unbeaten.
Against Pitt, the Hawkeyes owned more than a five minute advantage in time of possession
and allowed just one sack, allowing QB
C.J. Beathard
to throw for then-career bests in completions (27), attempts (40), and yards (258). Iowa has rushed for over 200 yards in seven games. The Hawkeye offense has six touchdown drives over 90 yards and 18 touchdowns drives over 75 yards. Iowa scored over 30 points in five straight games for the first time ever. Iowa's offensive line includes center
Austin Blythe
, tackles
Cole Croston
,
Boone Myers
and
Ike Boettger
, and guards
Sean Welsh
and
Jordan Walsh
. Blythe and Walsh are seniors, while Myers, Boettger and Welsh are sophomores. True freshman
James Daniels
has rotated in at the guard positions, and filled in at right tackle vs. Illinois. The Joe Moore Award is named after Joe Moore, widely regarded as one of the best offensive line coaches in college football history, and is the only major college football award to honor a unit.
Iowa junior Desmond King has lead the Hawkeyes' secondary with eight
interceptions and on special teams in 2015.
Iowa improved greatly on defense in 2015, reducing explosive plays and against the run compared to 2014. Further, special teams played a positive role, lead by two senior specialists and the insertion of junior CB Desmond King as a kick and punt returner.
The majority are picking Michigan State to win its second Big Ten Conference Championship Game, but the Hawkeyes have a good history in B1G games over the years against the Spartans. Thirty years ago, Iowa won its last outright Big Ten title. The game against Michigan State went down to the wire that game.
Iowa DC Phil Parker, who came in Kirk Ferentz's first season in Iowa City.
OC Greg Davis has experience leading championship football at Texas.
Iowa's defensive coordinator Phil Parker was an all-Big Ten safety at Michigan State back in 1985. The last time Iowa went 8-0 in the Big Ten was in 2002, the fourth season, under new offensive and defensive coordinators. Parker is in his fourth season as DC for Kirk Ferentz. In many ways, the stars have aligned for Iowa, with history, development, momentum, schedule and emotion, as 2015 unfolded.
Who's In? Iowa or Michigan State?
We shall soon know, as the winner from the Big Ten Championship Game will be in ...