Madison, WI
--
The defending Big Ten West champion
and now undefeated
Wisconsin Badgers
(9-0, 6-0 B1G West) welcome the #20
Iowa Hawkeyes
(6-3, B1G West) to Camp Randall Stadium for a 2:30 p.m. kickoff on ABC Sports.
The Heartland Trophy
is on the line, when
the Badgers
and
the Hawkeyes
square off, but more importantly, the Badgers are the sole remaining Big Ten program in the hunt for a spot in the
College Football Playoff in 2017
.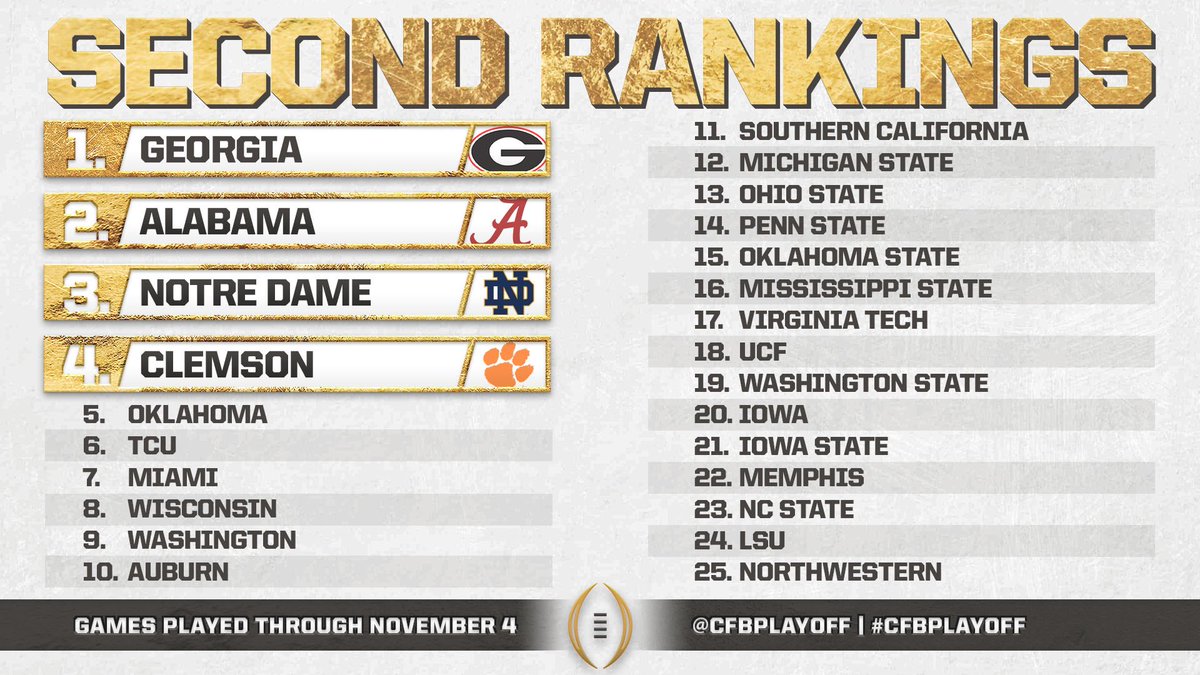 Six Big Ten teams are now among the Top 25 and both Power 5 programs
from the great State of Iowa are ranked #20 and #21 for the first time, in
College Football Playoff history. Wisconsin is the lone Top 10 team in the B1G.
The Badgers have never gone 12-0 in the regular season
, while the Hawkeyes finished 12-0 in 2015, for the first time in program history, as they won the Big Ten West division. The last time Iowa traveled to Madison was in the 2015 season, defeating the Badgers 10-6 in a defensive slug fest. The Hawkeyes are coming off an impressive 55-24 win over Ohio State, eliminating the Buckeyes from the College Football Playoff field.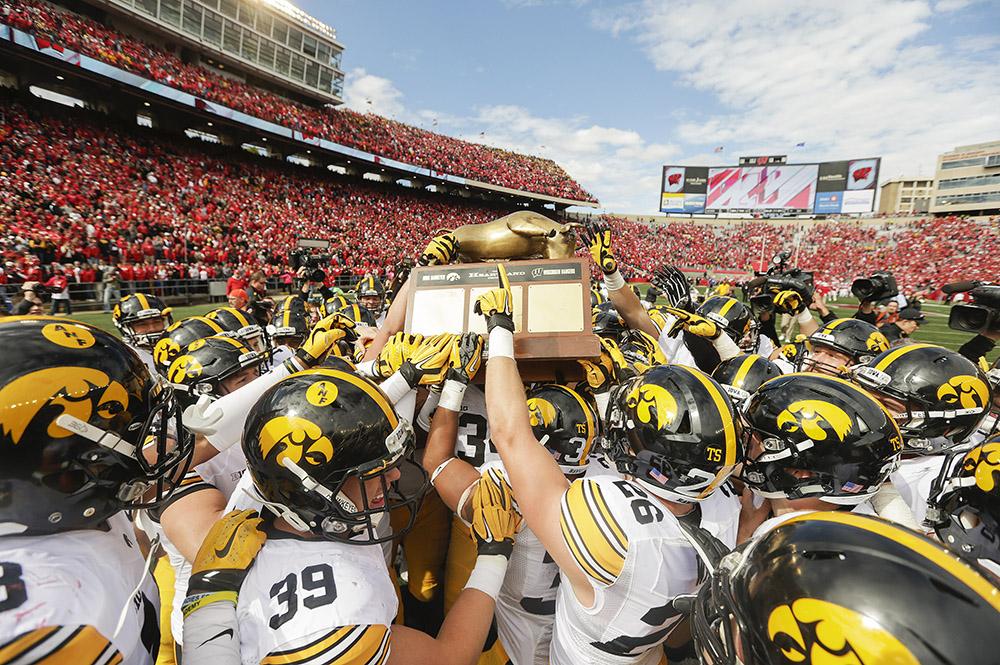 Iowa won the last time in Madison 10-6. The Hawkeyes are hoping for three
straight, in a series where the road team has won six straight in the series.
Today's winner, will carry off the Heartland Trophy, introduced in 2004.
Iowa has faced five programs in the Top 25
, with a 2-3 record, while Wisconsin is 1-0 with a 33-24 win at home against Northwestern. The Hawkeyes fell at Northwestern 17-10 in overtime. The Hawkeyes have fallen three times, but have played a stronger non conference, as well, as conference schedule in 2017.
Can the Hawkeyes make it two in a row, defeating Top 10 programs?
The
Dean of College Football
,
Kirk Ferentz
coaches the Iowa Hawkeyes, while Wisconsin is coached by Madison native and Badger alum,
Paul Chryst
, now in his third season at the helm, after three seasons at Pittsburgh (19-19). Chryst is now 30-6 at the helm at Wisconsin. The coaches are 1-1 in Big Ten meetings as head coaches, while Ferentz holds a 2-1 record overall head to head, with a 24-20 win in Pittsburgh in 2014 over Chryst's Pitt Panthers team.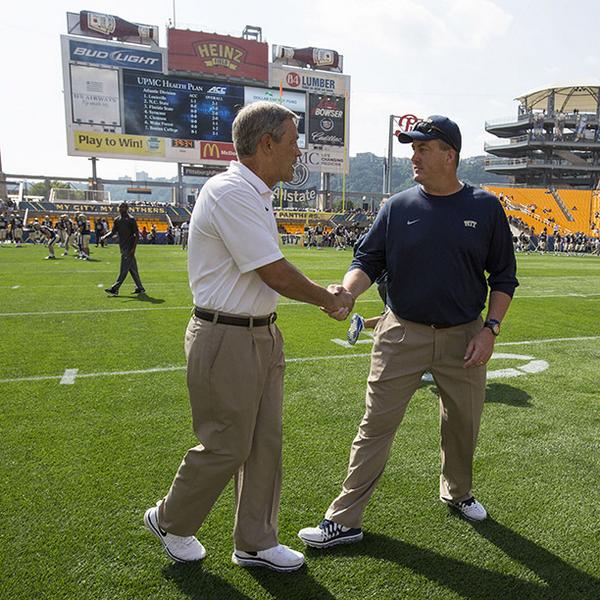 Kirk Ferentz is in his 19th season at the helm at Iowa, as head coach and his 28th season overall. Paul Chryst grew
up in Madison, played football for the Badgers, was on the staff, as an assistant and now is in his third season,
as head coach, after three seasons leading Pittsburgh. The first head to head meeting against head coaches was in 2014,
when Iowa used a second half comeback to win 24-20 over the Chryst coached team. Ferentz is 2-1, 1-1 in Big Ten games.
Last year, in Iowa City, Wisconsin won 17-9
, as the Hawkeyes were unable to find the end zone, due to the solid Badgers defense. The visiting program has won sixth straight in the series. The Badgers lead the series 45-43-2.
Statistics for the Iowa-Wisconsin series
Meetings total
90
All-time series
Wisconsin leads, 45–43–2 (.511)
Largest victory
Wisconsin, 44–0 (1894)
Longest win streak
Iowa, 10 (1985–1996)
Longest unbeaten streak
Iowa, 18 (1977–1996)
Current win streak
Wisconsin, 1 (2016–present)
Defense wins championships in the Big Ten West Division
Since 2014, the Big Ten has played East and West divisions, when Maryland and Rutgers joined the conference, making it seven programs in each division. The realignment reunited the annual series between Iowa and Wisconsin. Past three winners in the West Division ...
2014, Wisconsin at 7-1 in the West
2015, Iowa at 8-0 in the West
2016, Wisconsin at 7-2 in the West
2017, Wisconsin is in the driver seat right now, they control own destiny ...
Wisconsin and Iowa are #1 and #2 in conference games in scoring defense allowing only 15 and 17.5 points per game, respectively. On offense in Big Ten games, Iowa has played both #1 Ohio State (47.7) and #2 Penn State (33.50), splitting those games 1-1. Wisconsin (32.5) and Iowa (26.0) are #3 and #4, respectively, in the conference. The highest scoring opponent Wisconsin has faced is Northwestern (25.8).
The defense at Wisconsin is now lead by DC Jim Leonard, who is the third
defensive coordinator for head coach Paul Chryst, who is 30-6 in three seasons.
Both programs are playing very good football heading into the second Saturday of November. The Badgers lost two starting players last Saturday, #1 WR sophomore Quintez Cephus and sophomore LB Chris Orr, in the 45-17 win at Indiana. Iowa has lost three starters this season to injuries, but none of the players have played significantly this season.
Quarterback will play a key role in today's game
Two sophomores get the start for each team. Prior to this season, redshirt sophomore Alex Hornibrook was a part-time starter for Wisconsin, but he is the full-time starter now in 2017, since Bart Houston graduated. Hornibrook ranks #2 behind Ohio State's J.T. Barrett in passing efficiency, despite throwing eight interceptions to seven touchdowns in conference play.
Wisconsin sophomore QB 12 Alex Hornibrook in last season's home game against Ohio State. The Badgers lone Big
Ten loss last season came in Madison 23-20 in OT. How will Iowa's defense get Hornibrook in Madison?
The Badgers QB threw 7 interceptions all last season and has eight already in 2017 in conference games.
Iowa's true sophomore Nate Stanley is in his first season, as the starting QB, replacing C.J. Beathard, who is now in the NFL playing for the San Francisco 49ers. Stanley has throw 12 touchdown passes and only 3 interceptions in conference play, as he returns to his home state of Wisconsin for the game today. Stanley has had two-five TD days, on the road in the non conference at #21 Iowa State and last Saturday in the win over #13 Ohio State.
Over in Columbus, the Big Ten East race will see Michigan State sophomore QB 14 Brain Lewerke lead the Spartans
into Ohio State to determine, who enters the driver seat, as the likely East draw in Indianapolis. Iowa sophomore QB
4 Nate Stanley returns to his home state, as the Hawkeyes face the Badgers in Camp Randall this afternoon.
The Big Ten has three prominent sophomore quarterback, with two of the three on display today in Madison.
No one is expecting those type of fireworks in today's Iowa vs. Wisconsin game
This game begins in the offensive and defensive lines. Iowa has a new offensive line coach, with former North Dakota State offensive coordinator Tim Polasek, another Wisconsin native. Wisconsin has their third defensive coordinator, in the past three seasons, under Chryst. Chryst elevated defensive back coach Jim Leonard, a former Badgers defensive back, who joined the coaching staff last season, after a successful career as an NFL player. The Hawkeyes have a first year offensive coordinator, as Iowa elevated offensive line and run game coordinator, Brian Ferentz, a former Iowa offensive lineman to the position this off season.
How will first year Iowa offensive coordinator Brian Ferentz dial up on the
road, in his third B1G road test of 2017? There is a trophy on the line in this one.
The Hawkeyes did win a trophy in a 44-41 OT game at Iowa State, but the Hawkeyes
are 0-2 on the road, in Big Ten road games this season, at MSU and at Northwestern.
There will be a lot of motivation within the coaching staffs of both team in this game. Winning the line of scrimmage is always a key in this series. It's another trophy game. The Hawkeyes have won the two of four trophy games in 2017, with wins over Iowa State and Minnesota, 17-10 at Kinnick. Wisconsin plays for three trophy games to close out the regular season, with Iowa, Michigan and at Minnesota on the road to their first 12-0 season.
But, can Iowa knock Wisconsin off track today?
True freshman RB Jonathan Taylor is the feature back for the Badgers. He leads the Big Ten, in conference games, with 930 yards. He has had two-200 yard games, to kickoff his career at Wisconsin. He will be used behind the fullback and in the slot. His first running mate is sophomore Bradrick Shaw. Taylor has zero yards in the passing game in conference play.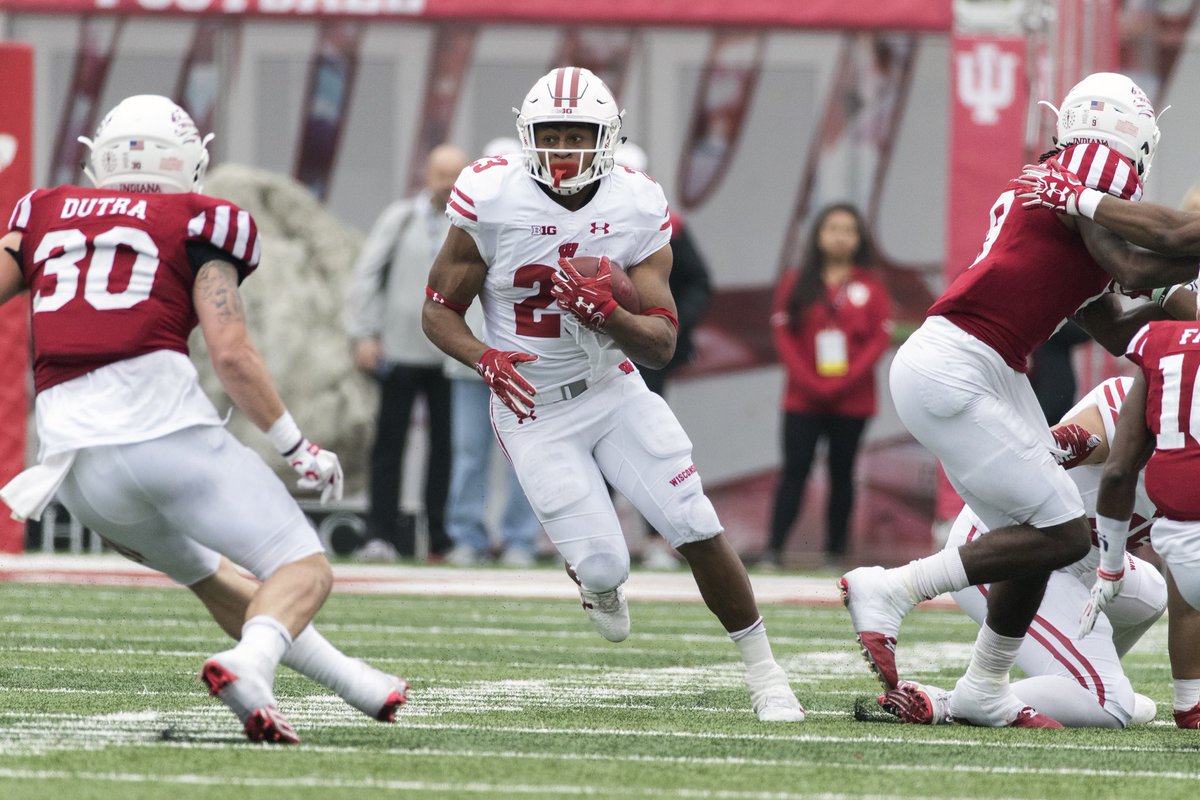 The Iowa defense will face the #1 RB in the Big Ten at Wisconsin, as the Badgers
ground attack is lead by true freshman RB 23 Jonathan Taylor. He averages 6.8
yards per game, with seven touchdowns in Big Ten play in 2017.
The Hawkeyes have a strong dual threat senior RB Akrum Wadley, in both the run and passing game. You will see both offenses feature a fullback at times and rely on the tight ends in the run and passing games. Iowa also has senior Nevada transfer James Butler, back from an elbow injury, and redshirt freshman Toren Young at RB. Young is a Wisconsin prep making his first visit to his home state.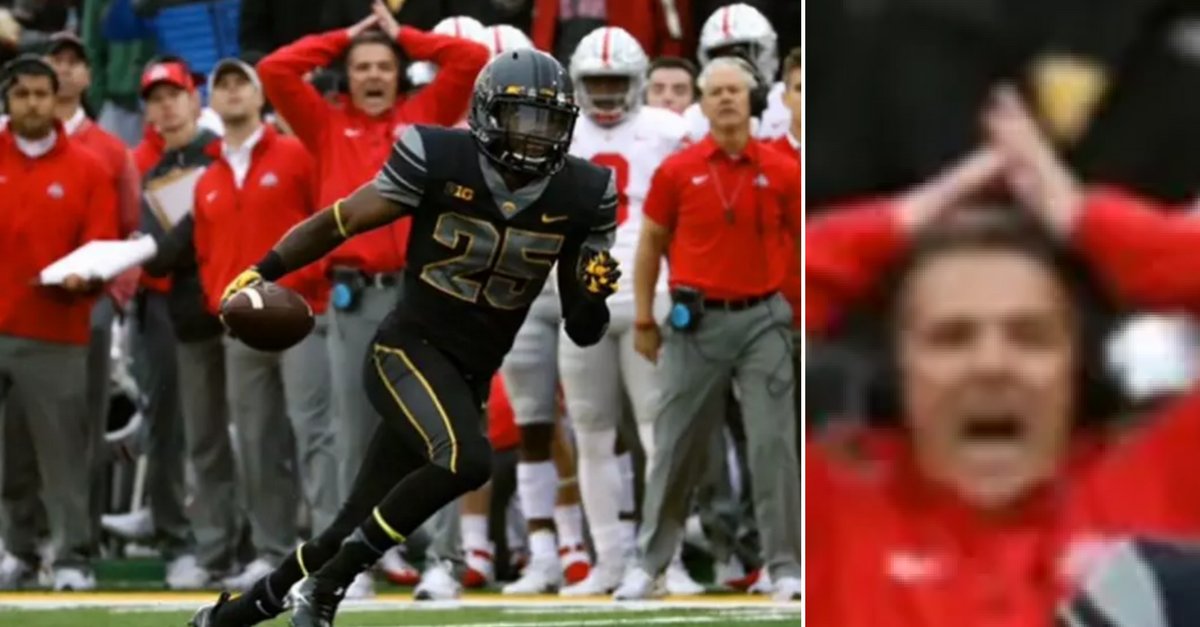 Iowa senior RB 25 Akrum Wadley can be outstanding in open space and this
safety valve pass last Saturday in the 55-24 win over Ohio State got Urban Meyer's
attention. Wadley has not found the run game consistent at times this season.
Will the Iowa offensive line provide opportunities for a change against the Badgers?
In the passing game, Wisconsin is now lead by senior TE Troy Fumagalli, with a sophomore WR A.J. Taylor and true freshman Danny Davis III the prime receivers outside now, due to multiple injuries in the receiving corp this season. The most recent injury was Cephus, but the Badgers are already without the leading returning receiver, senior WR Jazz Peavy, who went down, in early Big Ten play.
Iowa sophomore TE 87 Noah Fant leads Iowa receivers with TD receptions
with seven on the season. Wisconsin has a really strong tradition with tight ends,
as well. Senior Troy Fumagalli is an outstanding leader for the Badgers.
Iowa is healthy at TE for a change, after some ups and downs in recent seasons.
On the flip side, the Iowa receiving corp rode heavily last Saturday on true sophomore TE Noah Fant and redshirt freshman TE T.J. Hockenson, who each had two touchdowns in the win over Ohio State. Iowa's threesome at WR is senior Matt VandeBerg, junior JUCO transfer Nick Easley and true freshman Ihmir Smith-Marsette. Iowa is beginning to target true freshman Brandon Smith, but he only has three catches on the season.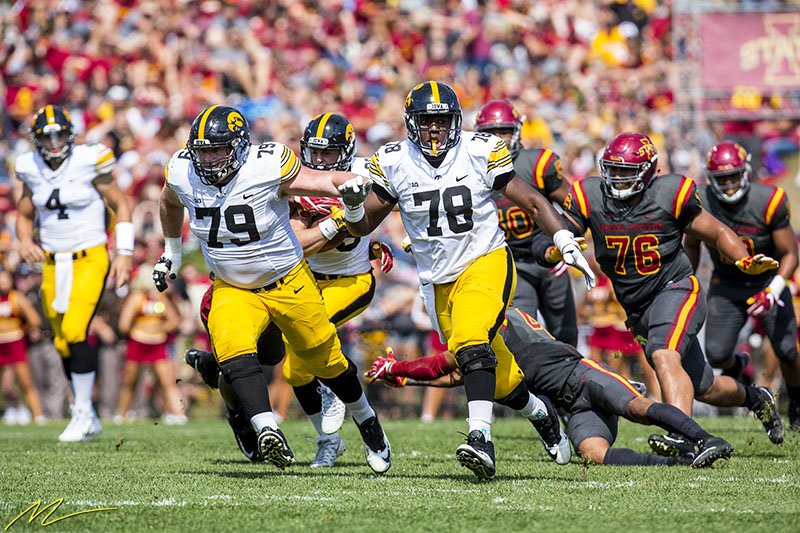 Iowa's offensive line is anchored by Ohio preps, senior RG 79 Sean Welsh and
junior C 78 James Daniels, who clearly had best game of season, in last Saturday's
win over Ohio State. The pass blocking has improved, but mistakes, penalities
impacted the unit, until Saturday's impressive win over Ohio State.
Both programs are built in the offensive line on offense. Both teams returned four starters to begin the season, but the Hawkeyes lost both senior tackles early and are relying now on redshirt freshman LT Alaric Jackson and true freshman RT Tristan Wilfs, who each had a breakout game last Saturday, along with the interior line mates. The Hawkeyes will have to have another breakout game to likely have back to back upsets in Big Ten play. How will the Hawkeyes perform playing the vaulted 3-4 defense the Badgers run in Madison?
Iowa senior MLB 43 Josey Jewell leads the Big Ten in tackles in conference play,
as he takes down OSU QB C.J. Barrett in space last Saturday, in the win.
Iowa is rotating eight, even nine players in the defensive line in 2017. They faced a good unit last Saturday, but the size of the Wisconsin offensive line, with a be a real test, as well. Iowa starts three seniors in the linebacker corp, lead by the Big Ten's leading tackler, Josey Jewell.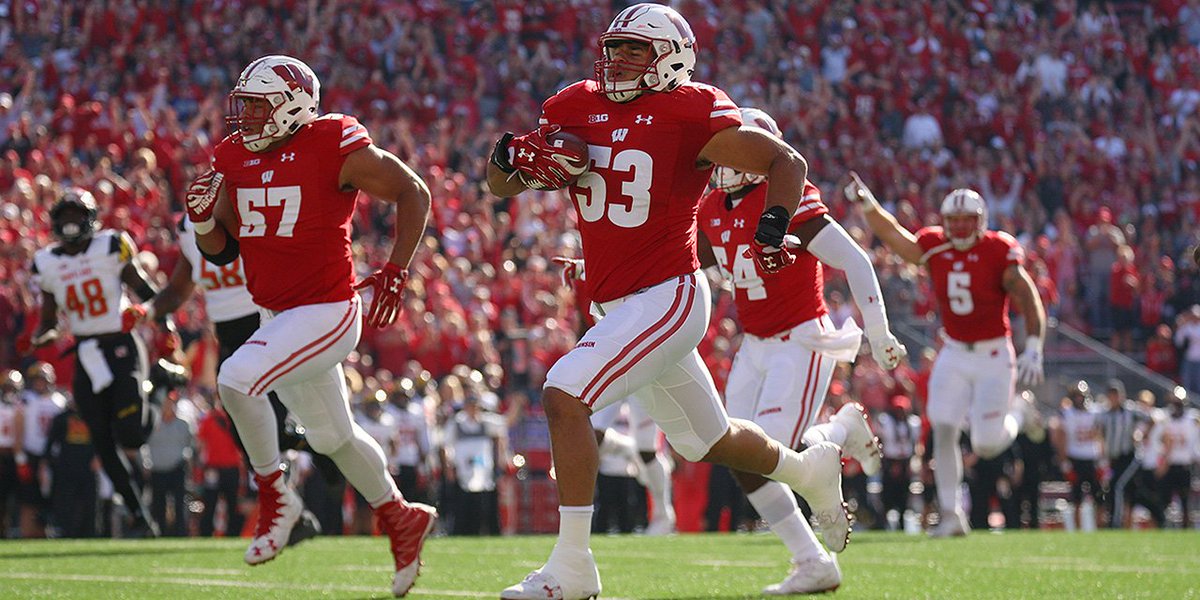 Wisconsin junior LB T.J. Edwards lead the 2016 Badger defense in tackles,
he is back in 2017 to lead the #1 scoring defense, as he returns an interception
in the Homecoming game against Maryland, in a 38-13 win in Big Ten play.
In the linebacker corp, Wisconsin junior T.J. Edwards leads the front 7 of the defense, with senior Jack Cichy out all season. Junior JUCO transfer OLB Andrew Van Girkel has become a key performer, out of Iowa Western C.C. and Rock Valley, Iowa.
Two of the best cornerbacks in the Big Ten will be on the field today
Iowa first-year starting, junior CB Joshua Jackson and Wisconsin junior, Hawaii transfer CB Nick Nelson lead the conference in pass breakouts and are among the top two CBs in the nation this season. Jackson pulled off a hat trick with three of the four interceptions during last week's Iowa-Ohio State game. Iowa opened last week's game with a Pick 6 by sophomore SS Amani Hooker.
The Big Ten has the nation's top two cornerbacks per PFF College Football,
as Iowa's Joshua Jackson and Wisconsin's Nick Nelson rate 1-2.
The Wisconsin Badgers have been very consistent over the past ten seasons
with the #10 record in all of College Football. The Badgers are off to a 9-0 start and are seeking first ten win start in program history. The last opportunity was in 2004, when the Badgers opened 9-0, then lost back to back Big Ten games against Michigan State and Iowa to close regular season.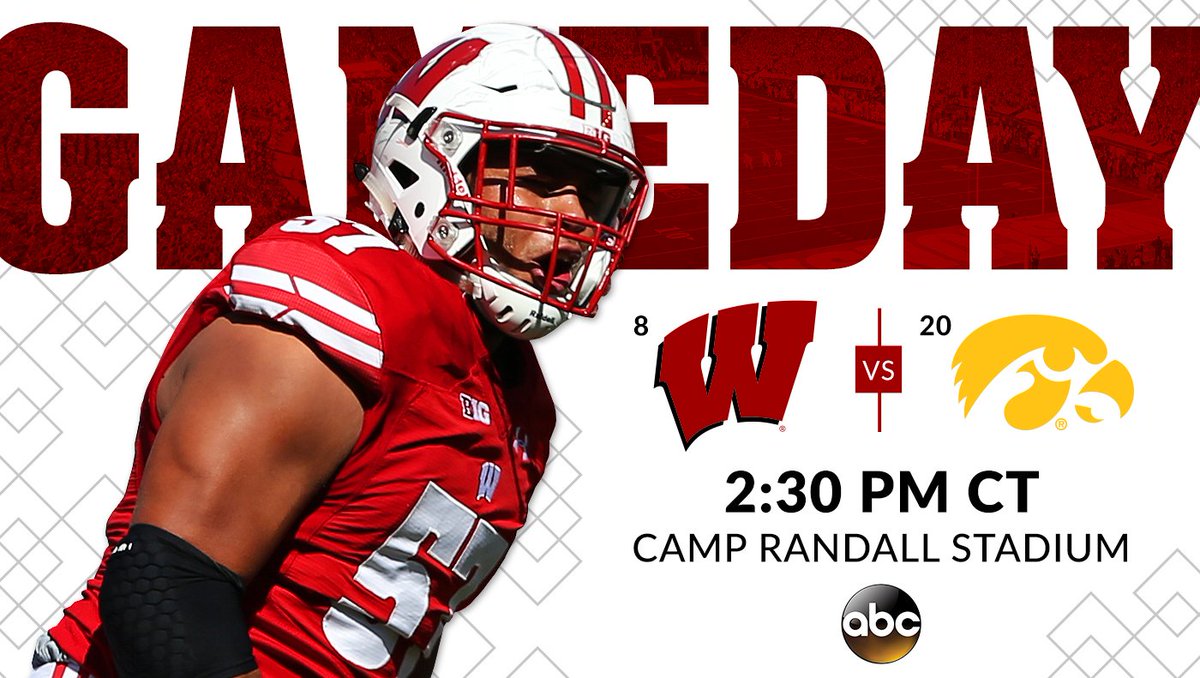 45-43-2 Wisconsin leads the series, coming off last year's 17-9 game.
The Heartland Trophy is on the line in Camp Randall today ...
The Hawkeyes are hoping to start a three game losing streak, since Iowa needs help in dethroning the Badgers on pace for their third Big Ten West division title in four seasons. Northwestern is needing help, as well. So, an interesting final three weeks ahead ...
Keys to the game ...
QB play on both sides ... which QB plays with more composure and with fewer turnovers
Running game and explosive plays, the Badgers have broke open this series lately with B1G plays
Coaching staff adjustments and performances, who puts team in better position
Weather in Madison today ...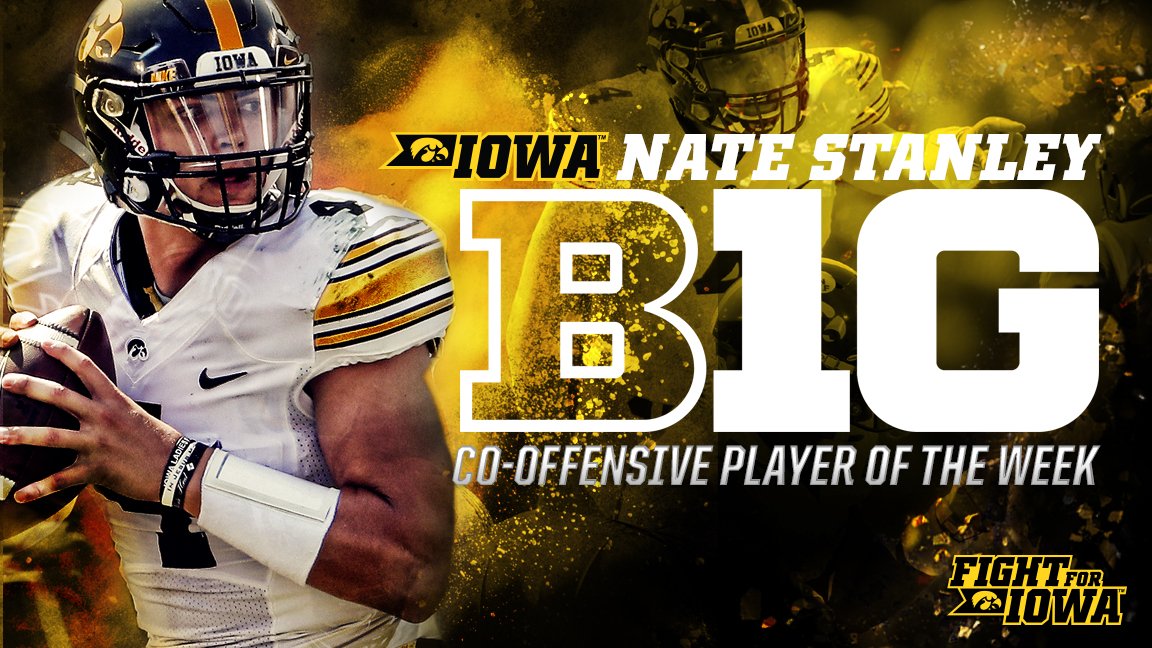 Iowa's QB Nate Stanley won honors in his first road start. However, the Hawkeyes
offense was not on track in his first two Big Ten road games. What happens today?
Prediction in the Iowa @ Wisconsin game today ...
Iowa Hawkeyes 18
Wisconsin Badgers 13
... thoughts in this one are QB Nate Stanley puts it together in his third B1G road game, as Iowa's defense puts enough pressure on QB Alex Hornibrook, leading to another B1G turnover ...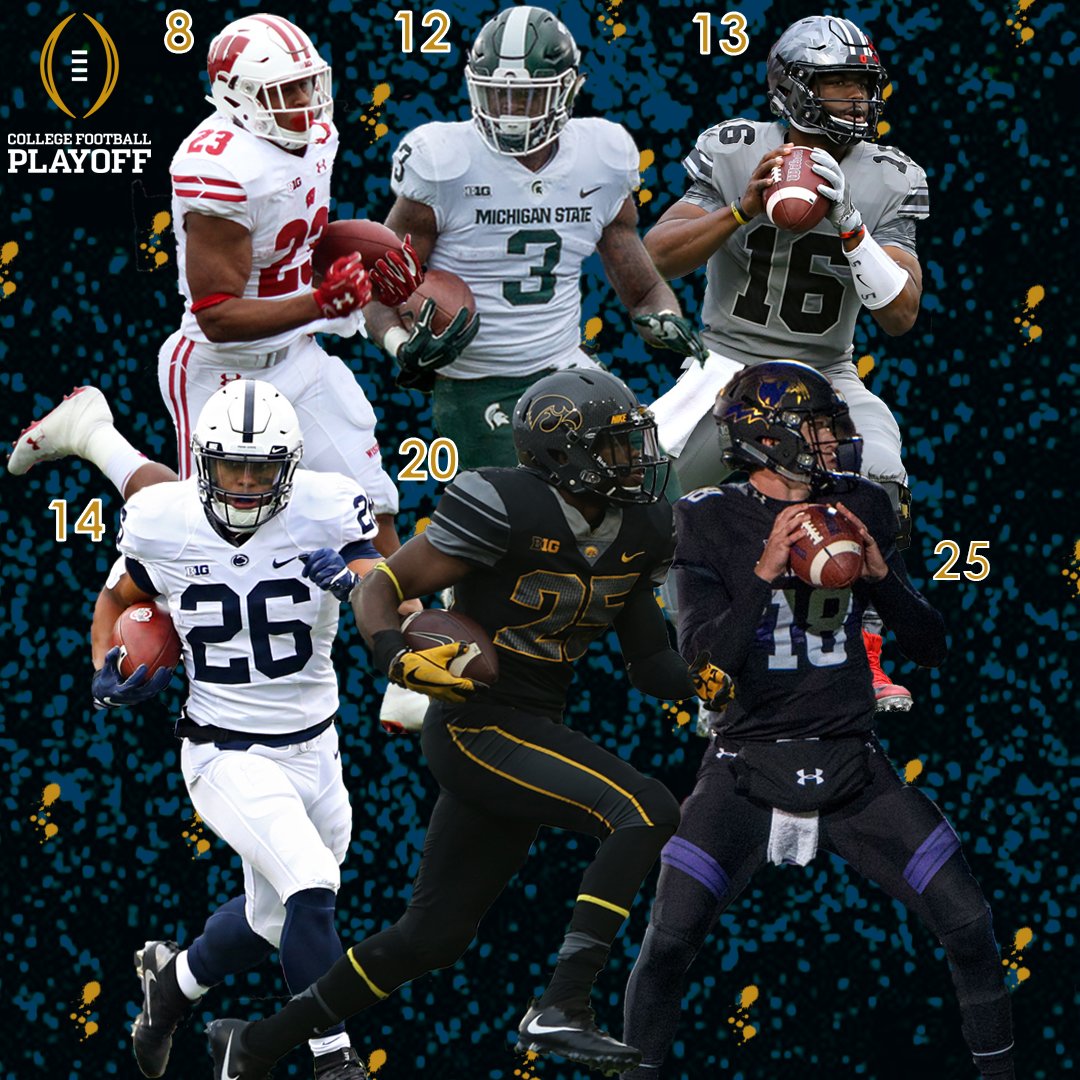 Big Ten pecking order in the College Football Playoff ratings ...