Iowa City, IA
--
The Iowa Hawkeyes
(8-5 in '17) will host the
Northern Illinois Huskies
(8-5 in '17) out of the West division of the Mid American Conference on Saturday afternoon, at Kinnick Stadium. The 2:30 PM kickoff will be televised on the Big Ten Network.
NIU all-American junior DE Sutton Smith
provided some bulletin board material for
the upcoming game scheduled Saturday
in Iowa City, between the Huskies and the
Hawkeyes. Iowa posted it in preparation for
Saturday's season opener for both teams.
The Hawkeyes are coming into the game off a two game win streak, where Iowa defeated Nebraska 56-14 and pulled out their first bowl win, since 2010, with a 27-20 defeat of Boston College (7-6 in '17) in the Pinstripe Bowl
Like Iowa, Northern Illinois defeated Nebraska 21-17 last season. The Huskies opened the season against Boston College, in a home game, losing 23-20.
It is the first meeting between the two teams, since the 2013 season opener, when Northern Illinois defeated Iowa 30-27. Of course, none of the players on both rosters played in that contest. But, both coaches did.
Northern Illinois head coach Rod Carey won his first game, as coach, against Iowa, back in 2013. He is entering his 6th season leading the Huskies, with a 44-24 record.

For Iowa head coach Kirk Ferentz, the season opener against Northern Illinois could push him to his 144th career win, which would pass Hayden Fry in career wins at Iowa. Ferentz is entering his 20th season, with a mark of 143-97. His first win at Iowa was a 24-0 win over Northern Illinois, back during his first season in 1999.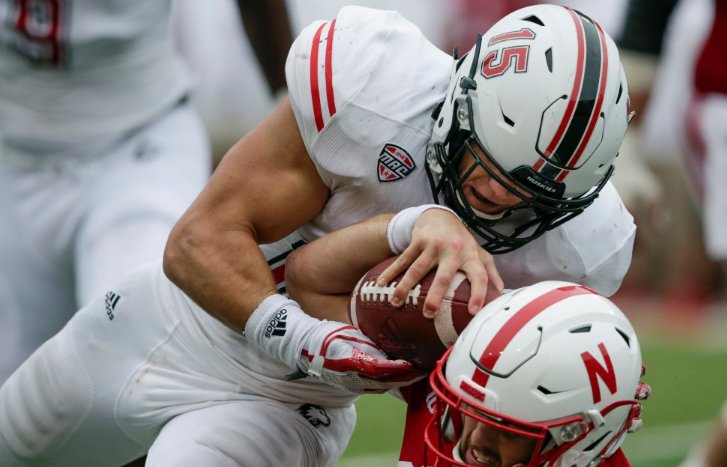 On defense, NIU is lead by all-American DE, junior 15 Sutton
Smith. The former high school RB, lead the Huskies with 14
sacks, 15.5 tfl and 3 pbu. He shared some choice words heading
into the season opener with Iowa.
Northern Illinois hopes to continue their tradition of competitive games against Big Ten opponents
. Coach Carey is 4-1 against Big Ten opponents, since picking up the first career win over the Hawkeyes.
Phil Steele ranks the Huskies defensive unit, the 19th unit, in the nation, according to his 2018 College Football preview magazine. The Hawkeyes rank 20th, in the same category.
Both head coaches pride themselves in line play, on both sides of the football.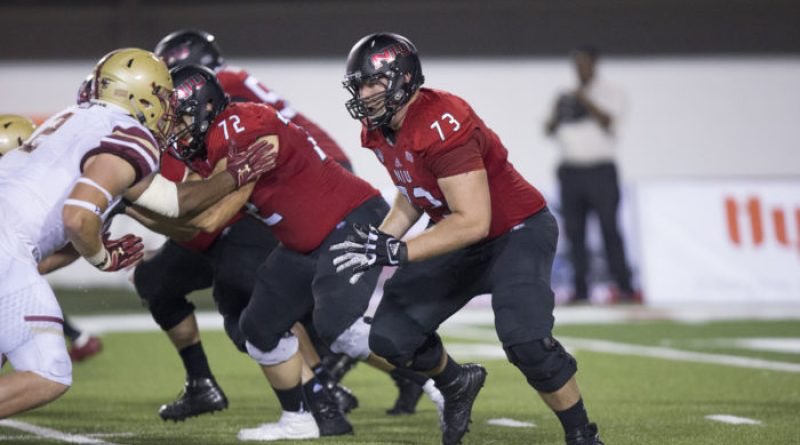 NIU returns all five starting offensive linemen for 2018,
including senior LT 73 Max Scharping. Iowa OL coach Tim
Polasek was on the NIU staff in 2013, when they recruited
the future four year starter. Scharping was a redshirt in 2014.
The Huskies offensive line is rated 37th according to Phil Steele. They are lead by all-MAC left tackle, senior Max Scharping. The Huskies return all five starters from last year's offensive line.
Both Iowa and NIU will have new starters at all three linebacker positions in 2018.
Both teams are missing players heading into the season opener. Iowa has suspended both starting offensive tackles and two defensive tackles for the opener.
This will certainly get the attention of the Huskies heading into the showdown at Kinnick Stadium on Saturday afternoon.
Northern Illinois will be without #1 wide receiver and their starting TE, due to a suspension and injury, respectively. Four true freshmen are listed on the two deep, including WR Leon Payne, who is expected to start. Payne participated in spring drills and has earned the attention of the coaching staff.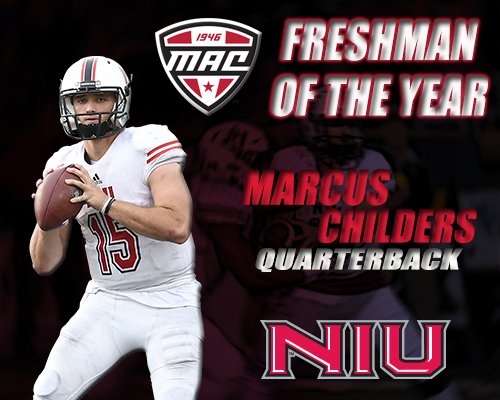 NIU sophomore QB 15 Marcus Childers was the MAC 2017
Freshman of the Year. He returns to lead the Huskies offense
into Kinnick Stadium on Saturday. Childers rushed for 473 yards
and passed for 1674 yards in 7 starts at QB. He was 16-5 throwing.
Last season, QB Marcus Childers threw a 67 yard TD pass to former ISU WR Jauan Wesley against Duke in the Quick Lane Bowl. The Huskies lost their final two games of 2017, including a 36-14 loss against the Blue Devils in the bowl game.
Wesley is a reserve wide receiver, who transferred in 2016. While at Iowa State, Wesley played in the 2015 Cy-Hawk game against Iowa. Wesley lead all Iowa State receivers against Iowa, with 4 catches for 76 yards, including a 29 yard TD catch and another catch for 37 yards. The Hawkeyes won 31-17 in Ames.
Iowa OL coach Tim Polasek and WR coach Kelton Copeland were both previously on the NIU staff.
Over the past five seasons, after three straight MAC title games appearances under Coach Carey, Northern Illinois finished 5-7 and 8-5 the past two seasons. Iowa defeated Wyoming 24-3 in last year's opener. Two seasons ago, Northern Illinois opened the season at Wyoming, losing a 3 OT 40-34 game.
Iowa is 6-1 against Northern Illinois in Kinnick Stadium over the years. The other two games were played in Soldier Field in Chicago.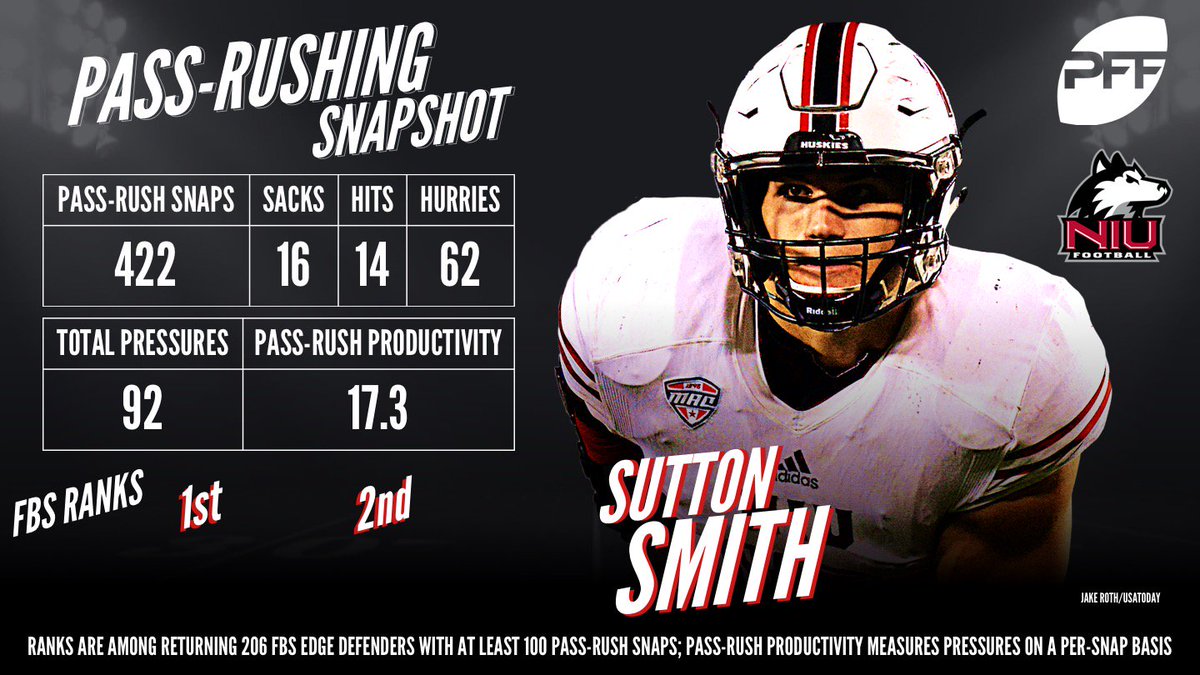 PFF rates NIU DE Sutton Smith the #4 player in College Football.
He is the highest graded player on the Northern Illinois roster
last year. He will be a focal point of the scouting report, when
Iowa lines up on offense. The Hawkeyes will be starting two players
at tackle, who have never started a college football game. One will be
making his first college appearance, as a redshirt freshman.
Iowa is 16-1 in season openers since 2001, with the lone loss, in 2013, against the Huskies, as mentioned.
Overall: Iowa leads 8-1
In Chicago: Iowa leads 2-0
In Iowa City: Iowa leads 6-1
Streak: NIU, 1
First Meeting: September 20, 1985: Iowa 48, NIU 20 (Kinnick)
Last Meeting: August 31, 2013: NIU 30, Iowa 27 (Kinnick)

Series History
9/21/1985: Iowa 48, NIU 20 (Kinnick)
9/20/1986: Iowa 57, NIU 3 (Kinnick)
9/28/1991: Iowa 58, NIU 7 (Kinnick)
10/6/1993: Iowa 54, NIU 20 (Kinnick)
9/18/1999: Iowa 24, NIU 0 (Kinnick)
10/28/2006: Iowa 24, NIU 14 (Kinnick)
9/1/2007: Iowa 16, NIU 3 (Soldier Field)
9/1/2012: Iowa 18, NIU 17 (Soldier Field)
8/31/2013: NIU 30, Iowa 27 (Kinnick)
Iowa's Kinnick Stadium will host the season opener on September 1st. The
north end zone project will be completed for the 2019 season, but seating will
be provided, as the Hawkeyes see back to back seasons of new looks at Kinnick.