Iowa City, Iowa
--Nine years ago, both Michigan and Iowa were at the top of the Big Ten Conference. But today, Iowa and Michigan are both headed to a bowl game without the opportunity to win a Big Ten title. Each has work ahead in the coming season(s), if they plan to battle for a Big Ten division title and a shot for the Big Ten Championship.

It is Senior Day for Iowa at Kinnick Stadium. The Hawkeyes (6-4, 3-3 B1G Legends) host Michigan (7-3, 3-3 B1G Legends).
Iowa has 16 seniors who have contributed that will be introduced around 10:45 a.m. at Kinnick Stadium, ahead of the Iowa-Michigan game, which will kickoff at 11 a.m. on the Big Ten Network.
Senior members of the Iowa football program include DE Dominic Alvis, LG Conor Boffeli, KR/WR Jordan Cotton, TE C.J. Fiedorowicz, LB Palmer Foster, WLB Anthony Hitchens, OLB Christian Kirksey, LS Casey Kreiter, CB B.J. Lowery, T/G Nolan MacMillan, PK Mike Meyer, FS Tanner Miller, MLB James Morris, WR Don Shumpert, ST gunner/CB Gavin Smith, and RT Brett Van Sloten. All senior members of the Iowa football program will be recognized during pregame ceremonies.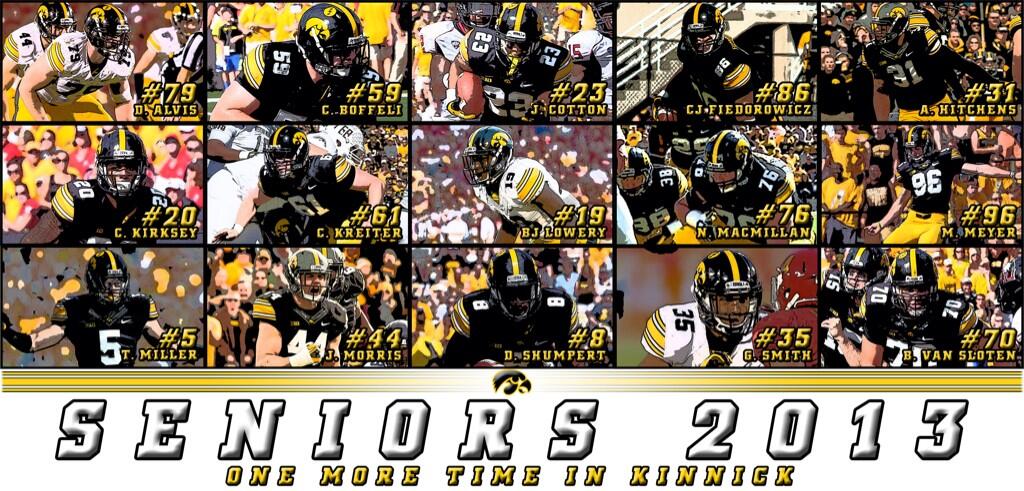 The Hawkeyes are moving upward, after hitting bottom in 2012, with an awful 4-8 record. However, the final two games (Michigan, @ Nebraska) will determine if the climb is significant or not?
There are fans who remain restless in Iowa City, which is quite popular throughout the Big Ten these days, especially in Lincoln, with Nebraska coach Bo Pelini. Talk in Ann Arbor could get a little salty in the coming weeks, as well, if the Wolverines fail to finish strong?
The Iowa senior class is looking to finish like the senior classes of 2001, 2003 and 2008. Those teams helped establish momentium for bigger things, such as Big Ten titles and BCS appearances.
No Big Ten title is on the line for this senior class.
But, they have an opportunity to finish with a winning record for their third season in four years. Another opportunity to win a bowl game.
Iowa last bowl win came in the 2010 Insight Bowl over Missouri. The Hawkeyes lost the 2011 Insight Bowl vs. Oklahoma. For Michigan, they will be headed for a fourth bowl game in four years, but it will not be a BCS bowl, like 2011.
Michigan hit bottom in 2008 with a 3-8 record. After a 5-7 and 7-6 season under the head coach Rich Rodriquez, the Wolverines had seen enough. They made a change. Today, Rodriquez has Arizona at 6-4, hosting Oregon today at 2:30 p.m. on ABC/ESPN2 in a big game.
Brady Hoke entered in 2011 as head coach. He is a former Wolverines assistant coach, who is now in his third season at the helm at Michigan. It is Hoke's third stop, as a head coach, after six years at Ball State, his alma mater, and two seasons at San Diego State.
After 11-2 his first season in 2011, then 8-5 in 2012, the Wolverines are 7-3 heading into Kinnick today. A loss at Iowa, could continue a three year slide under Hoke. Even in 2011, one of his losses was to Iowa, as the Hawkeyes defeated Michigan 24-16 holding the Wolverines on 4th and goal on the final play.
Last week, the Wolverines won an important B1G road game in overtime at Northwestern. The Michigan program has only won eight B1G road games in the last 24 conference road games.
Two weeks ago, the Wolverines lost their first home game in three years under Brady Hoke, when Nebraska beat Michigan in Ann Arbor 17-13.
Iowa heads to Lincoln to face the 7-3 Cornhuskers on Black Friday, but first things first, the Hawkeyes host Senior Day at Kinnick Stadium vs. the Wolverines, who have been struggling on offense, since beginning November off a bye week. Iowa's future opponent, Nebraska, is at 6-4 Penn State at 2:30 p.m. on Big Ten Network following this game.
The Hawkeyes are coming off their second bye week ahead of Michigan.
Will the bye week help Iowa or will the Hawkeyes respond, like Michigan did to open November?
Did Michigan's B1G road win at Northwestern spark momentinum for the Wolverines?
Welcome to the battle in the trenches at Kinnck Stadium, as Michigan head coach Brady Hoke shared his throughts this week ahead of today's game:
"For those of you who have covered it for years, you know it's going to be a physical line of scrimmage on both sides of the ball. I think they've only let four rushing touchdowns all year. They are averaging 197 yards rushing the football. They'll be physical at the point of attack. They are not going to be flashy, and you know that going in. Both of our fronts have got to be physical -- and from an offensive standpoint, target things right. From a defensive standpoint we've got to get with the stretch plays and zone plays, as much up the field penetration as we can."
Iowa is a young team, but Michigan is even younger one.
Iowa does have 15 key seniors leading the way on Senior Day at Kinnick. Michigan's Senior Day will be next Saturday hosting Ohio State, who haven't lost a B1G, since 2011 in Ann Arbor.
Neither team can afford to look ahead to next week.
So, who wins the battle in the trenches on Saturday? With today's cold weather and windy conditions, the running game will likely play a huge role.
Who leads Iowa's rushing attack vs. Michigan's on Saturday?
Michigan found a complement to fifth-year senior Fitz Troussaint last week at Northwestern. Troussaint missed the game with a concussion and freshmen Derrick Green and De'Veon Smith stepped up for a combined 120 rushing yards in his absence.
Their production created a situation similar to Iowa's three-headed backfield. But, unlike Iowa, there is no question who will lead Michigan's ground game.
"One thing we know is they have an outstanding quarterback," Iowa defensive coordinator Phil Parker said Thursday after practice. "Devin Gardner is a really good player. He's elusive and he can throw the ball. The three running backs they have are very good, and they're talented at the receiver. It will definitely be a challenge. They have a good offense and we know they'll play hard."
Michigan is coming off a grinding victory on the road. The Wolverines were kept out of the endzone for four quarters at Northwestern, but an improbable field goal as time expired sent the game to overtime. Touchdowns weren't a problem from there.
Gardner hit freshman TE Jake Butt for an 11-yard touchdown in the first overtime, then he rushed for a 5-yard score in the third overtime. He also converted the two-point attempt.
"Obviously we want to contain him (Gardner) and keep him under control," said Parker. "You look at couple teams and they've put some pressure on him. That doesn't always fit our system, so it's going to be a challenge to try to contain him."

Sophomore DE Drew Ott
is growing in the
Hawkeyes D-Line
That containment starts up front and works from the outside in. Sophomore Drew Ott has started every game for Iowa this year at left end, and junior Mike Hardy is in line to make his fourth straight start in place of senior Dominic Alvis at right end.
The pair combined for 4.5 tackles for loss in Iowa's win at Purdue. Also, Ott has 2.5 sacks this season.

"Mike Hardy is a tough, smart, hard-nosed kid," said Parker. "He continues to improve, and when young guys have an opportunity, it's a chance to just keep getting better. I think that's what he's doing. He's taking advantage of the situation."
Iowa isn't a blitz team, but Michigan defensive coordinator Greg Mattison is willing to use the blitz. As Coach Hoke suggested, Michigan wants pentatration to stop Iowa's running attack.

Last year, Iowa fell 42-17 at Michigan in Ann Arbor. So, what will Iowa offensive coordinator Greg Davis dial up on offense, in the final game for the Hawkeye Seniors? Last year, he used the tight ends and running backs in the passing game. With the weather, can Iowa dial up enough balance on offense?
The Hawkeyes are 1-2 at Kinnick this season in B1G play. The offense is 2-1 on the road in B1G play, so can the Hawkeyes finally get the offense on track as they close out the home slate of games?
The Hawkeyes have scored 23 points or more in each of their road games this season. But, like Michigan in critical games, Iowa has been held to too many field goals or scoreless at times at Kinnick this season. Neither team is outstanding in red zone offense or defense. Iowa's pass defense has been vunerable to the big score.
Iowa's offensive line is the best at protecting the quarterback. Michigan has struggled protecting Gardiner, which has lead to poor third down situations or poor decisions.
Iowa sophomore quarterback Jake Rudock, in his first season of play, leads Iowa in rushing touchdowns, with five. For the season, but Toiussaint and Gardner for Michigan both have double digit rushing touchdowns.

Can Iowa's three-headed running back group get on track today? Juniors Mark Weisman and Damon Bullock lead the offense for the season. But in the past two games, sophomore RB
Jordan Canzeri
has lead the offense.
He nearly doubled his season rushing totals in Iowa's 38-14 win at Purdue.Canzeri rushed for a career-high 165 yards and one touchdown on 20 carries against the Boilermakers. He entered the game with 173 rushing yards on 29 carries. Canzeri averages 6.9 yards per carry in 2013, a number that ranks third in the Big Ten, and 26th nationally.

Last week at Northwestern, Gardner could have been a victim for multiple interceptions, but the Northwestern defense had a case of the drops. On the season, Gardner has 15 touchdown passes, but 11 interceptions. Rudock has 14 touchdowns and nine interceptions. Who will manage the game better at quarterback?
Of course, the play of the offensive line will be very important. Michigan senior left tackle Taylor Lewan anchors the Michgian offensive line. In six B1G games, the Michigan offensive line has allowed 25 sacks for minus 185 yards. Iowa's offensive line leads the conference in protecting their quarterback.
Who wins the turnover game at Kinnick? Iowa has lost the turnover game in each of their four losses. Iowa's opponents are a combined 37-3 in the Hawkeye losses this year (Northern Illinois, Michigan State, Ohio State and Wisconsin). Iowa is 5-0 winning the turnover game.

Both offensive coordinators have leaned on the tight end at times. Each team have depth at the tight end position.
Specail teams is another area to watch. Last week, the field goal team saved the day with an outstanding last second kick to push the game into overtime. The Wolverines special teams have been stronger than Iowa's over the course of the Big Ten season.
It's Senior Day, and seniors play an important role for Iowa.
It's Senior Day, how will Iowa's three senior starting linebackers step up in their final day at Kinnick?
This game could go down to the wire, like the 2011 game or the 1990 game, when Iowa pulled off a victory in Ann Arbor. A turnover sealed the game that day, a 24-23 Hawkeye victory. Could an Iowa senior linebacker step up and lead Iowa to victory this year?
Who steps up and plays physical today at Kinnick?
Our Pick: Iowa 23, Michigan 13
Note: This could be the coldest day in Kinnick Stadium history. Fifty years ago today, the Senior Day game at Kinnick Stadium was cancelled between Notre Dame and Iowa, due to the assaination of President John. F. Kennedy. Iowa has never beat Michigan three staight at home.