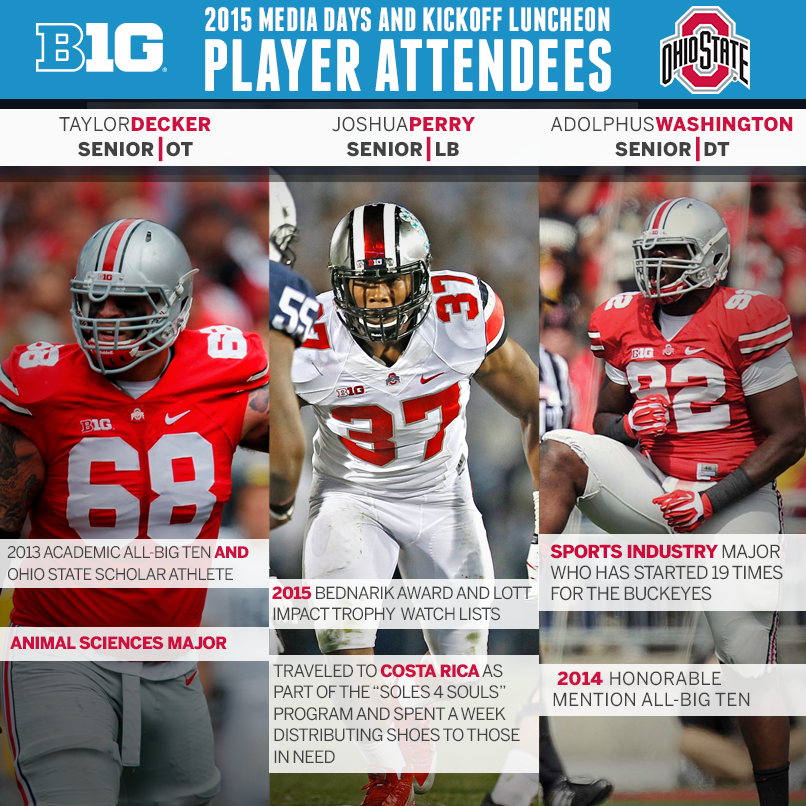 Next year
, the
Big Ten Conference
will join the
Pac 12
and
Big 12
conferences with a nine game conference schedule. For now, year two of the B1G West and East divisions, each team will play an eight game conference schedule, with six division opponents and two cross-over games.
Ohio State Buckeyes (24-0 over last 3 years, reg. season)
Michigan State Spartans (18-6)
Wisconsin Badgers (17-7)
Nebraska Cornhuskers (17-7)
Michigan Wolverines (12-12)
Penn State Nittany Lions (12-12)
Maryland Terrapins (4-4, one year)
Iowa Hawkeyes (11-13)
Minnesota Golden Gophers (11-13)
Rutgers Red Knights (3-5, one year)
Northwestern Wildcats (9-15)
Indiana Hoosiers (6-18)
Illinois Fighting Illini (4-20)
Purdue Boilermakers (4-20)
Penn State's QB Christian Hackenberg.
The Big Ten East is loaded with two preseason Top 10 programs:
Ohio State
and
Michigan State
for 2015. Further,
Penn State
is a program coming off probation, with renewed enthusiasm lead by a talented junior quarterback
Christian Hackenberg
back in 2015.
New Michigan head coach Jim Harbaugh
is back in Ann Arbor for 2015.
Michigan
welcomes a new head coach, with former Wolverine quarterback
Jim Harbaugh
, back in college football, after four seasons in the NFL. The Wolverines are 12-12 over the past three seasons in Big Ten play. It has been 11 seasons, since the Wolverines last won a Big Ten football title.
But, the conference has a different feel today, with seven programs in the East and seven other programs in the West. The path to the title is far different today. Ohio State is the defending National Champion, winner of the first
College Football Playoff
.
The path to a Big Ten football title is no longer like 1981, 1985, 1990, 2002, 2004 and the one game short path in 2009, that the
Iowa Hawkeyes
nearly pulled off, falling in OT in Columbus. It comes down to a final game, between the two corresponding division winners. Something the Iowa Football program has not come close to obtaining over the past four seasons.
Since 2011, the
Big Ten Championship Game
has determined the sole football champion of the conference. The first three seasons, the winners of the Leaders vs. Legends battled for the title. Last year, the East vs. West unfolded with Ohio State winning for the first time, under head coach Urban Meyer.
2011 - #15 Wisconsin 42, #11 Michigan State 39
2012 - Unranked Wisconsin 70, #14 Nebraska 31
2013 - #10 Michigan State 34, #2 Ohio State 24
2014 - #6 Ohio State 59, #11 Wisconsin 0
Who takes care of business in 2015 in the Big Ten West?
Mike Riley was 58-63 in the Pac 12
over his 14 seasons as head coach.
Paul Chryst (19-19, 3 years at Pitt)
returns to his alma mater and hometown.
Both
Nebraska
and
Wisconsin
welcome new head coaches for the 2015 season.
Mike Riley
arrives in Lincoln, after 14 seasons as head coach at Oregon State, under two stints, with a 4 year break in the NFL.
Paul Chryst
returns to his hometown of Madison, after three seasons as head coach at Pittsburgh.
October will be very interesting in Big Ten West play, as Wisconsin plays both Iowa, then at Nebraska to kickoff their 2015 Big Ten schedule. Nebraska travels to Illinois, before hosting the defending division champs in Lincoln. The 2015 contest will be the first meeting, since Wisconsin's 70-13 win in the 2012 Big Ten Championship Game in Indianapolis.
The Iowa defense returns 7 starters
from last year's group, here against
Wisconsin.
Iowa is lead by the dean of Big Ten football coaches, as Kirk Ferentz enters his 17th season as head coach. Iowa has finished 7-6, 4-8, 8-5 and 7-6 over the past four seasons and has not won a bowl game, since 2010.
The Hawkeyes actually were in the division race heading into the final two games at Kinnick Stadium last year, but lost 26-24 to Wisconsin, then lost 37-34 in OT to Nebraska to finish 4-4 in the Big Ten West.
Defense
is often the key to success in the Big Ten. The top programs generally rank high in defense. Defense often fuels programs like Ohio State, Michigan State, Wisconsin and Nebraska, the four programs that have played in the Big Ten title game over the past four seasons.
Junior QB Mitch Leidner is back
leading the Golden Gophers in '15.
One program that will likely build success off their defense in 2015 is the
Minnesota Golden Gophers
. Coach
Jerry Kill
enters his fifth season at Minnesota, coming off his first winning Big Ten
season at 5-3. However, the Golden Gophers have not beat Wisconsin, since 2003, falling 34-24 in Madison, last season.
The 2015 College Football
TSN preview considers
Minnesota the Big Ten's
"underrated" program, while
Northwestern's receives the
"overrated" program tag.
The Golden Gophers
offense must replace six starters, including their top rusher and four of five top receivers. The mix of ball control, defense and special teams will be the formula for the 2015 Gophers.
The Golden Gophers
open the 2015 season on Thursday night in TCF Bank Stadium against a Top 4 team, with the TCU Horned Frogs coming to town. The Big Ten schedule will be a taxing as well, with a Big Ten game back to back on the road at Northwestern and Purdue, followed up with a Big Ten home opener vs. Nebraska. The out of division games are at home with Michigan, followed up with a game at Ohio State. The Golden Gophers travel to Iowa City, then finish of the Big Ten campaign with Illinois and Wisconsin at home.
Sophomore RB Justin Jackson
is back to build on his 1k season.
Northwestern
has fallen on tough times with back to back to back 5-7 seasons under
Pat Fitzgerald
, who is entering his 10th season as head coach in Evanston. This was after a 10-3 season in 2012, with a 34-20 Gator Bowl win over Mississippi State.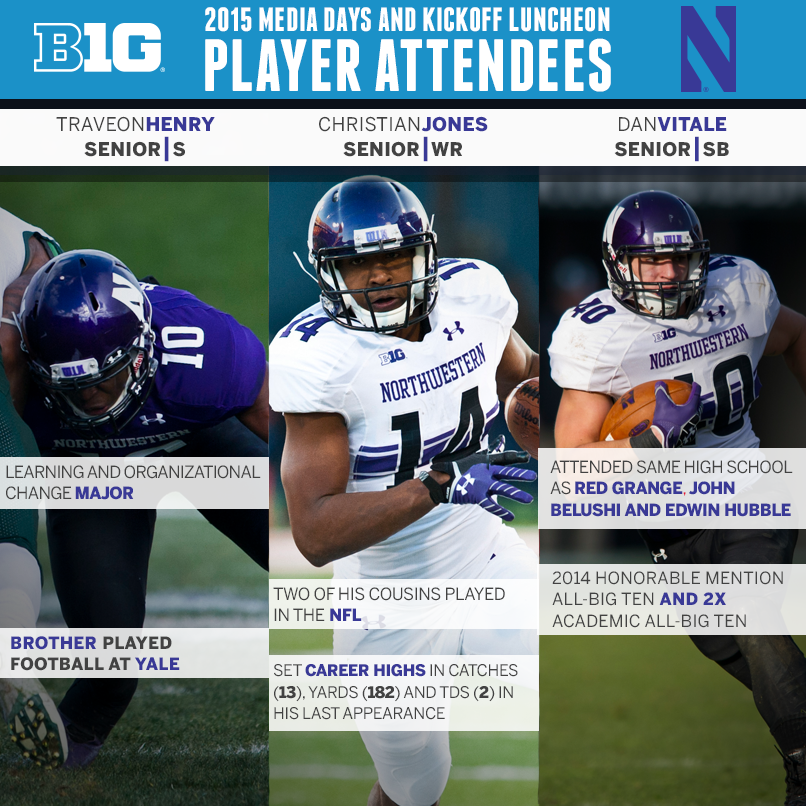 Six starters are back on offense in 2015, including their leading rusher on the ground. But, the Wildcats are the only Big Ten West program, who have a question on who the #1 quarterback will be in 2015?
The offensive line has two new starters and was not highly regarded in 2014. The defense returns eight starters, but special teams are not highly regarded and the leader of the linebacker unit, Chi Chi Ariguzo has departed, leading questions in this unit for 2015.
The Wildcats open the 2015 season with Stanford coming to Ryan Field on Saturday of Week 1. Northwestern also travels to Duke in Week 3 of the
2015 College Football season
.
Illinois
is coming off their first bowl season, along with a win over Northwestern, under fourth year coach
Mike Beckman
. The Fighting Illini return junior QB
Wes Lunt
, along with seven other offensive starters. The offensive line will have to do a good job protecting their quarterback.
Junior QB Wes Lunt needs to remain
healthy, after missing five games, due
to injury in 2014.
Senior RB Josh Ferguson is one of eight
returning Illini offensive starters back.
Injuries are always a part of the game, and the Illini lost sophomore WR
Mike Dudak
to a knee injury during spring drills.
Others will need to step up now in 2015
.
The Fighting Illini return seven starters on the defensive side and have brought in a new co-DC Mike Phair, from the NFL.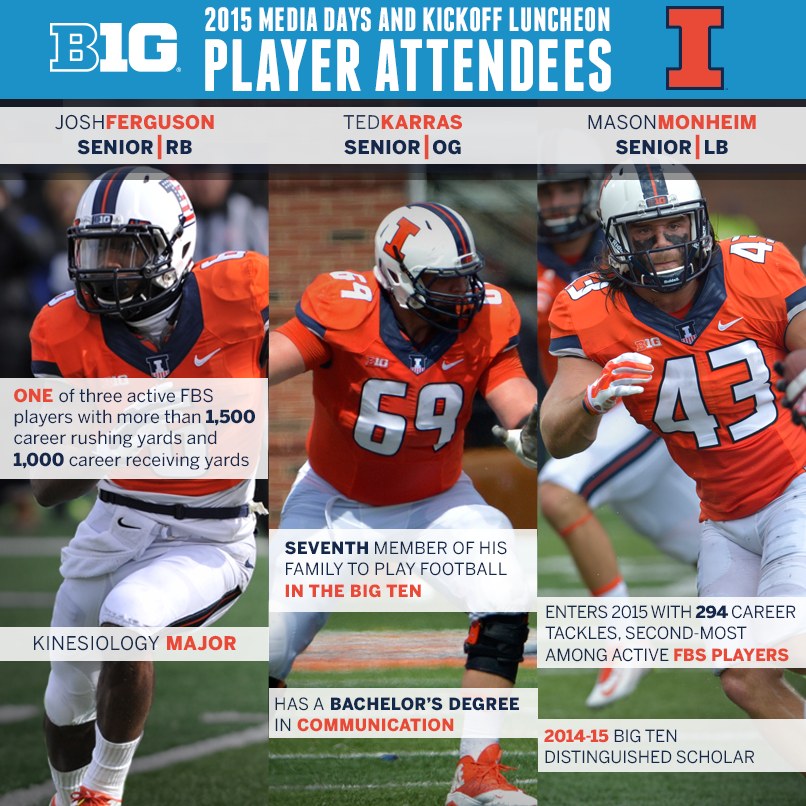 Special teams should be decent heading into 2015, as well. The Fighting Illini face a challenging Big Ten schedule with a trip to Penn State and a date again with Ohio State. The Illini have a road trip to Tobacco Road and a date with North Carolina in the non-conference.
Lunt is the only letter-winner back at quarterback in 2015. So, durability will be very important for the former Oklahoma State quarterback, who has yet to complete a full season. First year players back up the talented quarterback for the Illini.
Purdue
enters their third season under coach
Darrell Hazell
. The Boilermakers are 1-15, with a 38-27 road win over Illinois last season. Otherwise, there continues to be a lot of work for the Boilermakers.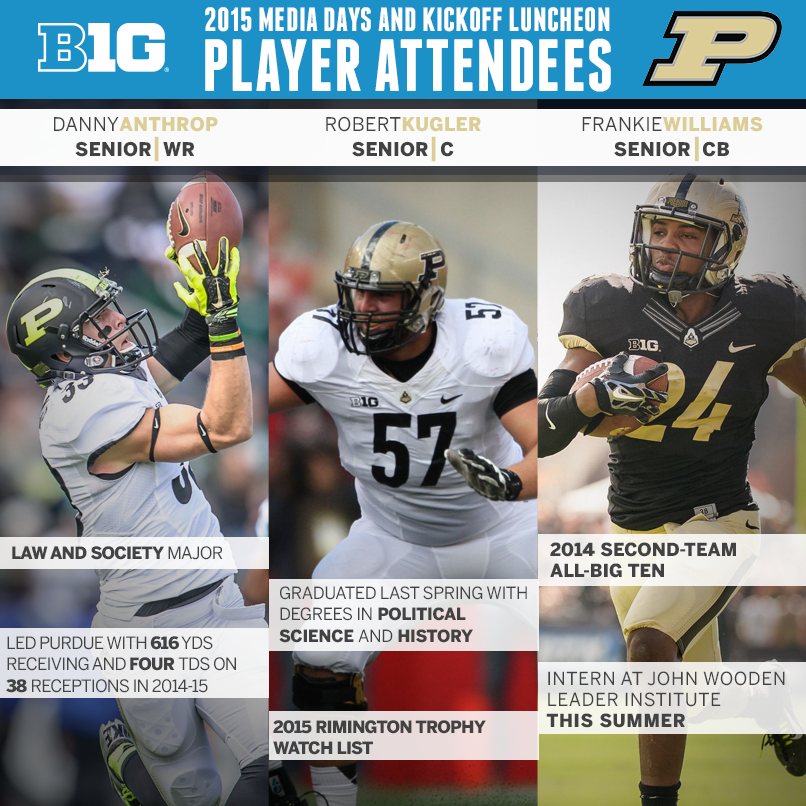 Eight starters return on offense, with seven starters back on defense. Special teams should be experienced, as well, for Hazell's third season.
The Boilermakers open the 2015 season on the road at Marshall on Sunday of the opening weekend. In Week 3, Virginia Tech comes to West Lafayette for another non-conference game. Indiana State and Bowling Green are the other two non-conference games in '15.
The Big Ten season opens with a road trip at Michigan State, then Minnesota comes to West Lafayette, followed by a road trip to Wisconsin. The Boilermakers will be battle tested in the first half of 2015.