September has come to an end, with five Big Ten teams finishing 4-0 in out of conference play
. Of course, with the variety of schedules, it doesn't always indicate the true strength of a team ...
2015 marks the 120th season of Big Ten Football.
It is the second season of the B1G West vs. B1G East.
Ohio State - the defending champions are looking to repeat in the Big Ten, as well in the College Football Playoff, after being crowned the first champion
Michigan State - The Spartans were dethroned in year one of the West vs. East format ... they will be seeking a date in their third Big Ten Championship Game in 2015
Indiana - The Hoosiers are off the their best start, since 1990
Iowa - The Hawkeyes are undefeated for the first time, since 2009, when they won nine straight and fell one game short in Columbus of a Big Ten title
Northwestern - The Wildcats are off to a solid start after back to back 5-7 seasons ...
The Big Ten West race appears to be wide open. There are three huge games to kick off the Big Ten West opening weekend in October.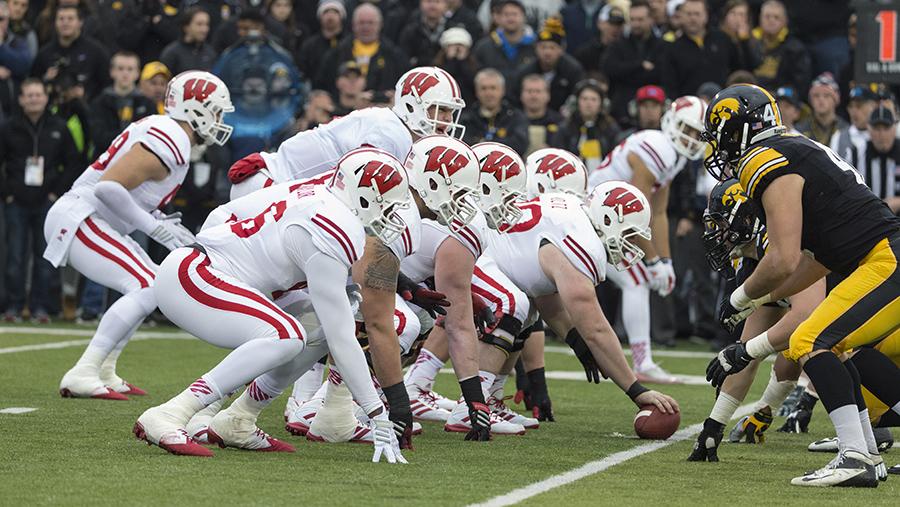 The defending Big Ten West champs will host Iowa to kickoff the 2015
Big Ten season, as the Heartland Trophy will be on the line in this rivalry
that the Badgers lead 44-42-2. This is the first game in Madison, since 2009,
when Iowa defeated Wisconsin. The Badgers won last year, 26-24 in Iowa City.
Iowa @ Wisconsin
Minnesota @ Northwestern
Nebraska @ Illinois
Purdue has to travel to Big Ten East counterpart Michigan State, so there is always a odd match up, since there are seven teams in each division of the Big Ten today.
The Big Ten East witnessed the kickoff of the 120th season of Big Ten Football, with Penn State (1-0) defeating Rutgers (0-1) 28-3 in Happy Valley. Penn State will host Army, in their final out of conference game, while Rutgers will enjoy a bye week. They close out the non-conference play, with a trip to Army in late November.

There are two Big Ten East headliners to kickoff the 120th season of Big Ten Football:
Michigan @ Maryland
Ohio State @ Indiana
The road to Indianapolis kicks off in full force in the month of October around the Big Ten ...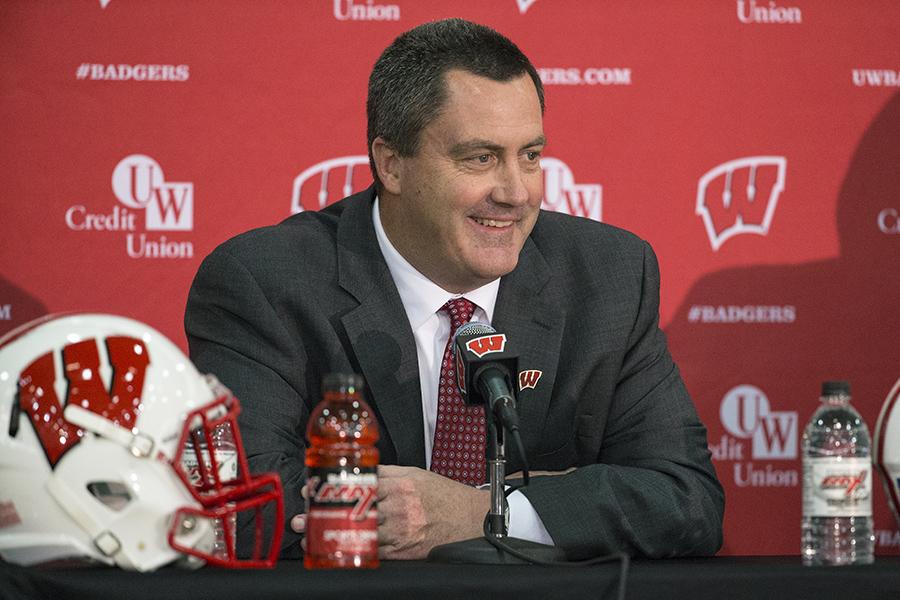 First year Wisconsin coach Paul Chryst meet
with

the Media on

Monday, ahead of the




Big Ten opener vs. Iowa, in Madison.
Wisconsin
(3-1) is on a three game winning streak at home, after losing the season opener in Arlington, TX to Alabama (3-1, 0-1 SEC West) 35-17. The Badgers own a three game winning streak over the
Iowa
Hawkeyes (4-0) heading into the Big Ten opener in Madison.
Iowa defeated Paul Chryst's Pittsburgh team last year on the road, 24-20, so there are some good story-lines heading into the Heartland Trophy Game. Iowa head coach Kirk Ferentz is tied with former Wisconsin head coach and current Barry Alvarez for ninth on the Big Ten football win list.
Ironically
, Iowa defeated Wisconsin in 2005, in Barry Alverez's final Big Ten game at Madison, by the score of 20-10. Ferentz and Alverez both got their coaching start under Hayden Fry at Iowa. They coached together from 1981 to 1986 for the Hawkeyes, as assistant coaches.
Chryst was a former player and assistant at Wisconsin, so the
Iowa-Wisconsin rivalry
is very well known to him. He mentioned today during his press conference, how he learned about the rivalry.
Wisconsin RB #28 Taiwan Deal had
a career high 147 yards rushing and
2 TDs, in the 28-0 win over Hawaii.

"I first was exposed to it as a player, but I thought that was one of the best things we did, learning that from Coach Alvarez. When you look at the rivalry games, the trophy games that we have, if you want to win your side (of the Big Ten), you've got to beat those teams and, therefore, I think they are big. And I think our players, even before that trophy came in, I know our players always enjoyed and it was a big deal to play Iowa." - Wisconsin head coach Paul Chryst
Iowa senior RB #33 Jordan Canzeri
leads the Big Ten in 2015, with 8 TDs
rushing. Hawkeye fans saw climpses
vs. UW last year, of what Canzeri can
due as a running and receiver in '15.
Wisconsin has a young power running game
, with junior Corey Clement sidelined for 3-5 weeks due to injury. In the final non-conference game against Hawaii (2-2), red-shirt freshman Taiwan Deal stepped up for the Badgers with a 147 yards rushing and two touchdowns. Deal was named the Big Ten Conference freshman of the week, due to his performance in the Week 4 game vs. Hawaii, a 28-0 win in Madison.
This will be an interesting difference between the last five years
, where Wisconsin had experience running backs, when they faced Iowa. This season, Iowa returns the experience at the running back position, rather than the Badgers.
Wisconsin played Tannor McEvoy at quarterback last yea
r, as well as starter Joel Stave. In last year's 26-24 win over Iowa, McEvoy was very effective on the option, including the game's first touchdown. Now, a full-time free safety, it will be interesting to see how each of the seniors play vs. Iowa. It will be a different game in 2015 in Madison.
Of course, Iowa now has a new quarterback
, in junior C.J. Beathard, who is 5-0 as a starter and will be making his third road start for the Hawkeyes in Madison on Saturday. The Wisconsin head football coach saw Beathard lead Iowa to a 24-20 win over his Pittsburgh team last year. He entering the game, after halftime, in relief for the injured Iowa starting quarterback, leading Iowa from a ten point deficit and the win on the road over the new Badgers head coach.
Iowa junior QB #16 C.J. Beathard
has been leading Iowa with both his
feet and his arm leading Iowa to their
first 4-0 start, since 2009. It was also
in 2009, the last time Iowa beat UW.
"I thought he's been playing really well. Actually last year he was in a game where he came in and I think he made the difference in it. He comes from a football family, and I think that like a lot of players, now he knows it's his team, his turn and I think he's playing confident. Looks like he's playing confident. He's certainly very talented, and I think he's -- I don't want to say a big part because I think they have a lot of parts working for them, but certainly a big contributor in their success to this point." - Wisconsin's Chryst shared to the media his thoughts on Iowa' Beathard.
Defense wins championships in the Big Ten
. Iowa's 2013 team, which went 8-5 during the season, fell hard in a 28-9 defeat vs. the Badgers. Wisconsin's defense dominated the Hawkeyes on their home turf.
Iowa junior DT #67 Jaleel Johnson is
one of two new starters at tackle. He
will be an important cog in Iowa's
run defense in Madison on Saturday.
Iowa's defense and special teams
appear to be improving over last season's disappointing 7-6 team. The Badgers head coach reflecting on Iowa's defense heading into this Saturday's rivalry game in the Big Ten.
"I think they've got very good players and I think that they understand and know their scheme, and I think the scheme is a good scheme, and so I think anytime you've got a good scheme with good players, it makes it a good defense." - Chryst discussing Iowa's effectiveness in 2015 against the run.
Offensively
, Wisconsin has been good on third and short. But, there has been more difficulty in 2015, when the Badgers face third and medium and third and long.
Wisconsin senior QB #2 Joel Stave is
no longer in a two-QB system, like '14.
He is 8th among B1G QBs in passing,
5th in passing efficiency in OOC games.

"You've got to make plays. I think if you go back, Joel (Stave) and Alex (Erickson) didn't connect on the streak; you know, Alex was open and Joel thought it was going to be a little different spot than where Alex was. I thought that we had the other one, where the ball was behind Reggie (Love), that was another chance for conversion; we got sacked. I think it comes down to execution more than anything, and that's where we've got to keep working." - Chryst on the Badgers challenges facing third down and four or further.
Wisconsin senior WR #86 Alex
Erickson is the Badgers top
returning WR for 2015.
Wisconsin has a new head coach and new offensive coordinator in 2015
. Though, defensive coordinator Dave Aranda is 2-0 vs. Iowa, the past two seasons, since arriving in Madison in 2013. The head coach and offensive coordinator faced Iowa last season, while at Pitt.
Iowa changed offensive and defensive coordinators
, after the 2011 season. Iowa is 3-0 in Big Ten road openers, under the new coordinators. Ferentz is only 8-8 over his 16 years at Iowa in Big Ten openers, with 12 of those games coming on the road.
The visitor has won six of the last eight in this series
, including four in a row. It was a game down to the wire last year, in Iowa City, with Iowa cutting the deficit to two points, on two occasions, in the fourth quarter.
Iowa and Northwestern are the only two Big Ten teams
, with two Power 5 wins to open 2015. This is a huge two week window for the Big Ten West race.
Wisconsin opens with Iowa, then travels to Lincoln to face Nebraska
Minnesota opens with back to back road games @ Northwestern, then @ Purdue
Illinois hosts Nebraska, then travels to Iowa City, to face Iowa on it's Homecoming
Northwestern hosts Minnesota, then travels to Ann Arbor to face Michigan
It appears to be a wide open Big Ten West race in 2015, while the Big Ten East appears to have two at the top, with Ohio State and Michigan State. Michigan (3-1) is improving. Penn State (3-1) appears a year away, at least. Maryland (2-2) and Rutgers (2-2) are not as good, after winning bowl trips, in their inaugural seasons in the conference.
At season's end, Indiana travels to Purdue, so who knows, if the Hoosiers can get to six wins? The Hoosiers haven't bowled, since 2007, which is the longest drought among Big Ten programs.
Last season, a record eleven conference programs went to bowl games in the first season with 14 programs. Only Indiana, Northwestern and Purdue were home for the Holidays. Northwestern and Purdue, last bowled in 2012.