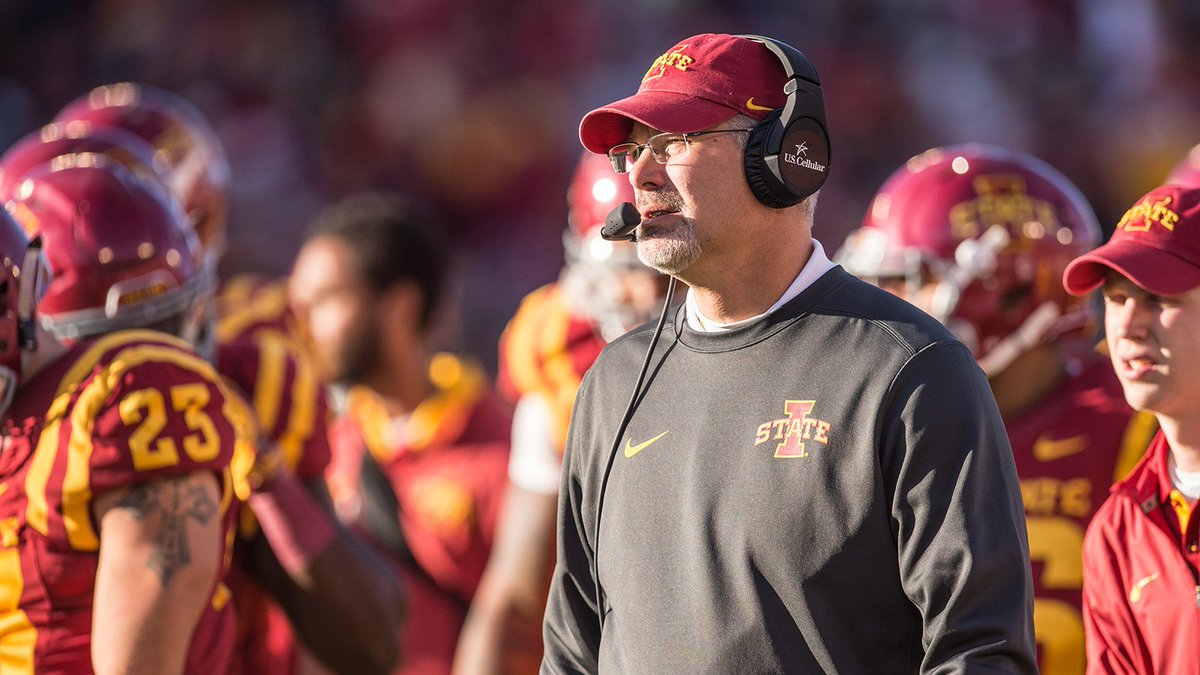 Add caption
Ames, IA --
The Paul Rhoads era will be ending at Iowa State
(3-8, 2-6 Big 12) at the end of the
2015 College Football season
, after the Cyclones blew a 35-14 lead at Kansas State on Saturday, losing 38-35. Like Bo Pelini's seven seasons last season at Nebraska, the Cyclones will let go of Rhoads, after seven seasons.
Will it work well for the Cyclones to start over?
The Cyclones chose to relieve Dan McCarney in 2005, after a 4-8 season
. The two season experiment with Gene Chizik ending with 3-9 and 2-10 season. So, is this change for the sake of change for athletic director Jamie Pollard?
Pollard announced on Sunday
there will be a change in the head football coaching position at ISU at the conclusion of this season. Pollard informed Coach Paul Rhoads of his decision Sunday morning.
Rhoads will coach the Cyclones in their season finale at West Virginia
(6-4, 3-4 Big 12) on Saturday. The game will kickoff at 11 a.m. CST on FS1.
Rhoads is ending his seventh season on the Iowa State sidelines
. He is 32-54 overall and 3-8 this year. Rhoads took Iowa State to three bowl games in seven years.
Pollard will be available to the news media on Monday
at noon in the Hunziker Auditorium. Rhoads is meeting the media at his previously scheduled media session on Monday at 1:30 p.m. in the Bergstrom Football Complex.
Could AD Pollard consider Bo Pelini as his replacement for Rhoads?
Former Nebraska coach Bo Pelini has spent the 2015 season leading FCS
Youngstown State to a 5-6 season, after seven season leading the Huskers to
at least nine games per season, but a consistent four losses each year.