Iowa Kirk Ferentz is in his 17th season as Iowa's head coach.
He has guided the Hawkeyes to a 10-0 record, the best start in program history.
Iowa City, IA
--
The #5 Iowa Hawkeyes
(10-0, 6-0 B1G West)
close out their final two Big Ten games
in the next seven days with Purdue at Kinnick Stadium on Senior Day, then a Black Friday affair at Nebraska in Lincoln. One win will send Iowa to the Big Ten Championship Game for the first time in program history, though the Hawkeyes are already making history with ten straight wins for the first time in program history.
Winter Storm Warning
Eastern Iowa
2 hours ago – National Weather Service
Purdue third year coach Darrell Hazell
in last year's Iowa game to open 2014.
Iowa beat Purdue 24-10 last year in
West Lafayette for the 2nd straight year.
Hazell is 2-20 in Big Ten games.
Heavy snow this evening through Saturday morning
. A winter storm will bring the first significant snow of the season to the area ... Snow accumulations: 6 to 12 inches ...
Will the weather be the great equalizer for in the Iowa-Purdue game?
With the weather, look for the running game to lean heavy for Iowa
, the Hawkeyes lead the Big Ten with 30 rushing touchdowns. The Boilermakers have allowed 22 rushing touchdowns, No. 13 in the conference.
The Hawkeyes enter Saturday's game #5 in the College Football Playoff poll and #6 in both the AP and Coaches polls.
How did Purdue defeat Nebraska ... turnovers played a huge part of the game, in the Boilermakers 55-45 win over the Cornhuskers? Purdue is second in the Big Ten in interceptions with 12 on the season, including two at Northwestern (L, 21-14) and four in the game against the Cornhuskers. Iowa leads the Big Ten and ranks 17th nationally with 13 interceptions.
Purdue QB #11 David Bough accounted for five touchdowns, one rushing and
four passing, as the Boilermakers beat Nebraska 55-45 for their lone B1G win.
In both wins this season for the Boilermakers scored touchdowns passing the bal
l, with each starting quarterback throwing four touchdown passes.
David
Blough's
four touchdown passes against Nebraska are tied for the second most by a Big Ten quarterback this season.
Austin Appleby
also had four touchdown passes in a game this season against Indiana State. Blough has started the last eight games, after replacing Appleby, as the number one signal caller for the Boilermakers.
As a freshman, #37 Paul Griggs hit a 46 yard field goal
as time expired to lead Purdue over Iowa 27-24, in 2012.
This is the latest game of the season ever played in the Iowa-Purdue series
. In 2012, the last time Purdue came to Iowa City to derail Iowa's Senior Day, the game was played on November 10th. The Boilermakers beat Iowa, as now senior PK
Paul Griggs
hit a 46-yard field goal as time expired to win 27-24.
Iowa junior RB #29 LeShun Daniels, Jr. is coming off an 195 yard rushing
performance in Iowa's 40-35 win over Minnesota. He scored 3 TDs, as well.
Iowa beat Purdue 38-9 back on November 17th of the 1990 team. The latest game previously in Iowa City was on November 17th. Iowa won the Big Ten back in 1990 and the Boilermakers only won two games all year. The latest game ever in the series was in 1989, when Iowa beat Purdue 24-0 in West Lafayette on November 18th.
Iowa senior RB #33 Jordan Canzeri is one of 21 Iowa seniors set to play final
game at Kinnick Stadium on Saturday, as Iowa hosts Purdue for Senior Day.
Canzeri made it back last week, after being sidelined with an ankle injury.
Canzeri ran for 256 yards and four touchdowns in Iowa's win over Illinois.
Three Hawkeye running backs
(
Jordan Canzeri
, 256,
Akrum Wadley
, 204; LeShun Daniels, 195) have combined for eight 100-yard rushing games this season: Canzeri (4x), Wadley (twice), and Daniels (twice). The last time the Hawkeyes had three different players rush for over 100 yards in a game in the same season was 2005:
Albert Young
(8x), and
Shonn Greene
and
Damian Sims
once each. The Hawkeyes also have three receivers with 100-yard receiving games:
Matt VandeBerg
(1),
Tevaun Smith
(1), and
Jerminic Smith
(1). It is the first time since 1995 three different Hawkeyes recorded 100-yard receiving games: Tim Dwight (2x), Demo Odems (1), Scott Slutzker (1).
In Iowa's win over Minnesota, senior WR #4 Tevaun Smith threw a pass to
move the sticks, as Iowa pulled off a good exotic play.
Senior members of the 2015 Iowa football program include:
Iowa's offensive line was anchored by senior C #63 Austin Blythe.
Iowa's offense is averaging 211.7 rushing yards and 421.4 yards of total offense per game
. Iowa leads the Big Ten in time of possession (33:34), and ranks second in scoring (33.6), rushing offense and third down conversions (46.5%). Three Hawkeye running backs have rushed for at least 195 yards in a game.
Leadership has been very strong in 2015. Iowa's game captains have been
seniors DE Drew Ott, C #63 Austin Blythe, FS #27 Jordan Lomax and
junior QB #16 C.J. Beathard, walking out with former Iowa TE Tony
Moeaki during the Minnesota game last Saturday night.
"It's about us trying to beat the team in front of us, and ultimately, it's about us playing our best football," Iowa coach Kirk Ferentz said. "If we're good enough, we're good enough, and if we're not, we're not, but that's all we can try to do."
Iowa's offensive line from right to left heading into the Purdue game: junior
RT #64 Cole Croston, senior RG #65 Adam Walsh, senior C #63 Austin Blythe,
sophomore LG #79 Sean Welsch and sophomore RT #52 Boone Myers.
Since Iowa Kirk Ferentz arrived in 1981, to serve nine seasons, as former coach Hayden Fry's offensive line coach, Iowa has averaged 31 points per game in the Iowa-Purdue series. Purdue has averaged 18 points. So, with the weather and all ... our pick for Saturday's game at Kinnick:
Iowa 31, Purdue 18.
Iowa junior QB #16 C.J. Beathard has dealt with a hip pointer, along with a
groin injury much of the season, after two injury free games to open the season.
He is the first Iowa QB to open 11-0, after earning his first start in the 2014
Big Ten opener at Purdue. The Hawkeyes won last year's game 24-10.
The Boilermakers are 2-8 overall and 1-5 in the Big Ten Conference
as they enter Kinnick Stadium for an 11:01 a.m. CST kickoff on ESPN2. The Hawkeyes look to finish their home schedule with a 7-0 record, as they look to win their first Senior Day game, since the 2013 season, when the Hawkeyes beat Michigan 24-21.
"
We have 21 outstanding young people in this class
," said Ferentz. "
Like every senior class, there are a lot of different, individual stories. You have guys like Austin Blythe, Tevaun Smith, and Drew Ott who have played four years, and guys like Melvin Spears, Eric Simmons, and Andrew Stone, who haven't started a ballgame, but the comparison is all those guys are doing a great job. They work hard every day, do things right and to me, serve as great role models
."
Even with the higher stakes Saturday, Ferentz is focused on keeping things in the seven-day perspective.
"
We're trying to keep it as simple as that, not think much bigger than that or beyond
," he said. "
That's when tightness sets in. It's about us trying to beat the team in front of us and playing our best football. If we're good enough, we're good enough, if we're not, we're not, but that's all we can try to do
."
"
There will be emotion with Senior Day, there's no question, but those emotions only last so long. Then it gets into what the substance of the whole thing is all about
."
The substance is Purdue and winning the next game on the schedule, even if nobody wants to talk about it.
Nebraska senior RB #32 Imani Cross in last Saturday's 31-14 win over Rutgers.
The Nebraska Cornhuskers
(5-6, 2-4 B1G West)
enjoy a bye week on Saturday
, ahead of the 2:30 CST kickoff on ABC on Black Friday in Lincoln. ESPN has a story titled "
Huskers split on significance of spoiler role against #5 Iowa
." Ferentz will wait until, after the game with Purdue to talk about the next team on the schedule, but his first game at Iowa, as a head coach, was in 1999 against a Nebraska team ranked #5 in the land.
If Iowa gets Purdue taken care of properly, the Hawkeyes may be in a reverse of roles to close out the 2015 regular season ...
First year Nebraska coach Mike Riley spoke to the media following practice on Tuesday. He spoke about the team's need for a bye week.
"
We've played 11 straight weeks. We went right through fall camp and started playing games, so I'm approaching this week a little bit differently than I would normally
." Riley said. "
We are going to practice two hard days. One of them was today, one of them will be tomorrow and they'll have some lifting times. Then I'd like to get them rested. We'll start practicing Sunday afternoon
."
Iowa opened up to a 24-7 lead in last year's Nebraska game. But, the Huskers
rallied back, as QB #4 Tommy Armstrong lead Nebraska to a tie in regulation.
The Huskers took care of business winning 37-34 in OT over the Hawkeyes.
Coach Riley also talked about how he and his staff have been involved in a lot of Friday games in the pas
t. Riley was scheduled to be in Cedar Falls on Friday night on a recruiting visit, but weather likely sidetracked that trip for him.
"
In my old league, we were playing any night. We played them all…Thursday, Friday, Saturday. So we were always pretty flexible...It's just about the countdown to the game and it doesn't matter the day of the week
." Riley said. "
Having a bye really, really helps us, considering that it's a Friday game. It's about time for us. I've really appreciated this team a lot. I think that they've stayed the course, battled a lot of injuries, got better and positioned ourselves to set the table for a big game
."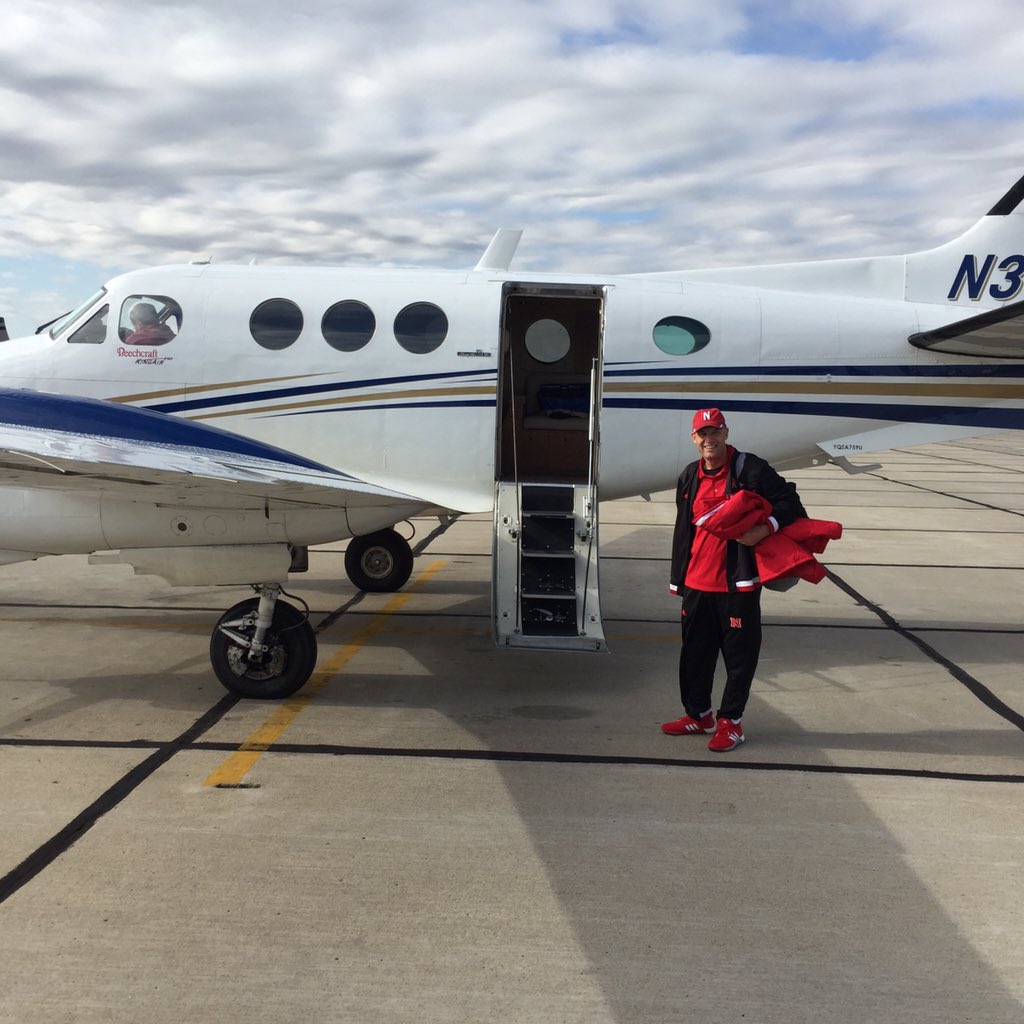 First year Nebraska coach Mike Riley was 93-80, after 14 seasons as head
coach at Oregon State, with a break to the NFL, after his first two seasons
in Corvallis. His 3-6 start in Lincoln is the weakest start, since the 1958 for
the Huskers. Since 2010, Riley was 5-7, 3-9, 9-4, 7-6 and 5-7 at Oregon State.
Coach Riley proceeded to explain how the Iowa game is another great opportunity for the team to come out and shine. Since 1981, Nebraska leads the Iowa series 6 wins to 2 losses, with Iowa's wins in Ferentz's first season, as an OL coach (1981) and in 2013, after Iowa's last Senior Game win.
"
It's really exciting
." Riley said. "
This is another great opportunity for this year's team. We've been on a little bit of a roller coaster in a lot of ways, so it would be just a great opportunity to win
."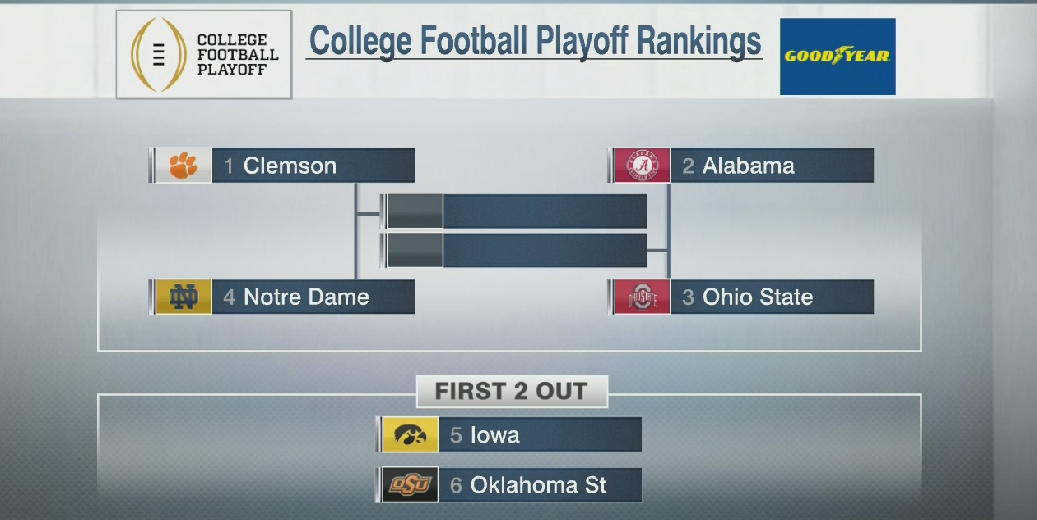 The third College Football Playoff poll for 2015.