Cedar Rapids, IA
--
Two of the four Power 5 programs that remain unbeaten come from the Big Ten
Conference
, as #2 Ohio State (10-0, 6-0 B1G East) and #6 Iowa (10-0, 6-0 B1G West) lead their respective division, heading into the final two weekends of the regular season. We have seen the Buckeyes at 10-0 before, but it is the first time in program history for the Hawkeyes.
Last Saturday, Ohio State defeated Illinois 28-3 in Champaign to capture sixth
B1G win and tenth overall win on the 2015 season. Meyer is now 30-0, in
conference regular season games, since arriving in Columbus in 2012.
Fourth year Ohio State coach Urban Meyer has won thirty straight conference games in the regular season
, since joining the program in 2012. Meyer has only three losses, since joining Ohio State and the Big Ten. The lone bowl loss, ironically was against Clemson, in his second season, in the Orange Bowl. Clemson is now #1 in the rankings. The Buckeyes beat current #3 Alabama in last year's
College Football Playoff
semi-final game, in the Sugar Bowl.
The Iowa Hawkeyes leaned on the TEs in the game on Saturday night against
Minnesota. The Hawkeyes will play in their final home game of the season
on Saturday, when Purdue comes to Kinnick Stadium to face Iowa.
The Hawkeyes have not won a bowl game, since the 2010 season
. The Hawkeyes had a 19-21 conference record ahead of this season. The Iowa fan base was frustrated heading into the 2015 season, but with the 40-35 win on Saturday night against Minnesota for their 10th victory on the season ... it has been a 180 degree turn for the Hawkeyes.
Iowa junior CB #14 Desmond King leads Iowa and the Big Ten with 8 of
the Hawkeyes 13 interceptions this season. Back in 2013, Iowa and Ohio State
last played. The Buckeyes edged the Hawkeyes in the 4th quarter, 34-24.
The Buckeyes and Hawkeyes each host Senior Day games on Saturday
, as the #7 Michigan State Spartans come to Columbus, and the Purdue Boilermakers comes to Iowa City. The showdown in Columbus is huge, since the Spartans can jump into first place in the B1G East with an upset win over Ohio State. The Hawkeyes need only one more win to wrap up the West division and a date in the Big Ten Championship Game, for the first time.
Iowa leads the West at 6-0, ahead of Wisconsin (5-1) and Northwestern (4-2);
while Ohio State leads the East at 6-0, ahead of Michigan and
Michigan State at 5-1. Penn State needs a lot of help at 4-2.
Since the Big Ten Championship Game, began in 2011
, the following programs won the Big Ten:
Wisconsin in 2011 went 7-2
Wisconsin in 2012 at 5-4 (Ohio State was undefeated in the Big Ten, but on probation)
Michigan State in 2013 went 9-0
Ohio State in 2014 went 9-0
The final two weekends will determine who plays in the 2015 Big Ten Championship Game on December 5th ... will it be the Buckeyes and Hawkeyes or will we see some surprises?
ESPN's A team will be on the call on Saturday in Columbus, as former
Ohio State QB Kirk Herbsteit, Heather Cox and Chris Fowler come to town.
Senior Day in Columbus, Ohio State will host Michigan State, as questions surround the health of senior quarterback Connor Cook, who was injured in the Spartans 24-7 win over Maryland on Saturday. Kickoff will be at 2:30 CST on ABC/ESPN as ESPN GameDay comes to Big Ten country, with Chris Fowler, Kirk Herbstreit and Heather Cox on the call.
Will Michigan State backup QB #7 Tyler O'Connor be the guy leading the
Spartans' offense on Saturday? Or will senior Connor Cook be healthy enough
to lead the Spartans, as Michigan State comes to Columbus on Saturday?
Ohio State enters the game having won 23 in a row overall, the longest active streak in the nation.
Ohio State has won a Big Ten-record 30 regular season conference games in a row, a record across the current FBS conference landscape.
Ohio State leads the B1G in scoring (36.4), pass efficiency (144.1), rushing (244.8) and punting (41.0) and is second in scoring defense (13.8), total offense (453.3) and fewest first downs allowed (15.5).
Ohio State's defense has surrendered just 8.5 points per game since week 7, the fewest in the FBS.
Junior running back Ezekiel Elliott leads the Big Ten with 161.7 rushing yards per game in Big Ten play. He has an FBS-leading streak of 15 consecutive games with at least 100 yards rushing.
With 181 yards at Illinois, Elliott moved into third place on Ohio State's all-time rushing list with 3,565 yards. Eddie George is second with 3,768.
Sophomore quarterback J.T. Barrett has accounted for a total of 14 TDs in his past 4 games (8 rushing, 6 passing).
Junior wide receiver Michael Thomas has caught a pass in 26 consecutive games. He leads the team with 45 catches for 651 yards and 8 TDs.
Junior defensive end Joey Bosa leads the Big Ten with 12.5 TFL in Big Ten play. He tied a career high with 3.0 TFL in the win at Illinois.
Urban Meyer has the highest winning percentage (.854) among active coaches with at least 10 years of experience. He is a perfect 28-0 in games played in October (14-0) & November (14-0) at Ohio State.
PENN STATE vs. MICHIGAN
Senior Day in Happy Valley, Penn State (7-3, 4-2 B1G East) hosts Michigan to close out the B1G home slate of the 2015 season. Last year, the Wolverines surprised the Nittany Lions 18-13, in James Franklin's first season at the helm at Penn State. The Nittany Lions are coming off a bye week, while Michigan is coming off a 48-41 2OT win @ Indiana. Kickoff at Beaver Stadium will be 11 a.m. CST on ABC.
Michigan graduate student QB #15 Jake Rudock and senior WR #86 Julu Chesson
each won co-B1G offensive player of the week honors, in the win @ IU. Rudock
transferred from Iowa, after being a two year starter for the Hawkeyes.

Jim Harbaugh is in his first season, as head coach for his alma mater, Michigan. The Wolverines are 8-2 overall, with a lone B1G loss on the final play at home against Michigan State. Michigan is performing very well, in Harbaugh's first season. The next two games against Penn State and vs. Ohio State could really spark an interesting story.
Michigan QB #15 Jake Rudock leading the Wolverines offense in win over IU.
Michigan's quarterback dialed up a record-setting effort under center, completing 33-of-46 passes for 440 yards, with six touchdowns to one interception. Rudock's 33 completions are tied for second most by any Wolverine in one game, trailing only Tom Brady's 34 in Michigan's 2000 Orange Bowl win over Alabama, which came on the same number of pass attempts. Rudock's final three pass attempts were all touchdowns against the Hoosiers.
According to ESPN Stats and Info, Rudock is the first Big Ten quarterback
to throw for 400 yards and six touchdowns in a game since Kyle Orton accomplished the feat at Purdue in 2004, and just the second in the last 20 years.
First year Michigan coach Jim Harbaugh took over a team that finished 5-7 in
2014. The Wolverines head to State College with a 8-2 record in 2015.
An interesting two week journey could create a storybook ending for two quarterbacks that were 1-2 for the Iowa Hawkeyes last year. If Ohio State beats Michigan State and the Michigan Wolverines closeout 2015 win wins @ Penn State and the B1G finale over Ohio State in Ann Arbor, the Wolverines and Hawkeyes could meet in the 2015 B1G title game in Indianapolis on December 5th. The Hawkeyes can clinch the Big Ten West with a win on Saturday against Purdue.
Penn State junior NT #99 Austin Johnson and redshirt freshman LB #42 Troy Reeder
in the Northwestern game that the Nittany Lions played ahead of the bye week.
Penn State will look to complete its first undefeated home season since 2008, and extend a three-game home winning streak over Michigan that dates back to the same year. The last meeting in Beaver Stadium between the two teams was a historic one, as Penn State prevailed 43-40 in four overtimes for the longest game in the history of the Big Ten.
Iowa clinches the B1G West with a win over Purdue on Saturday.
Purdue (2-8, 1-5 B1G West) heads to Iowa for the 86th meeting between the schools
on Saturday, with an 11 a.m. CST kickoff on ESPN 2. Purdue is 3-11 against a ranked Iowa team in program history. Purdue last beat a ranked Iowa team in 2003, when the No. 16 Boilermakers defeated the No. 10 Hawkeyes 27-14 in West Lafayette.
Iowa junior QB #16 C.J. Beathard in the Hawkeyes 40-35 win against Minnesota.
Iowa QB C.J. Beathard became the first Iowa quarterback
to win his first career start in a road game since
Jason Manson
in 2006, in last year's 24-10 Hawkeye win @ Purdue. Beathard's start snapped a streak of 17 consecutive starts by QB
Jake Rudock
in 2014. Beathard completed 17-of-37 passes for 245 yards passing and one touchdown. He also rushed eight times for 29 yards.
Now the starter in 2015, Beathard has won his first 11 games as a starter for the Iowa Hawkeyes, dating back to last year's start at Purdue. In Iowa's last 11 games, including the 2015 TaxSlayer Bowl, Beathard's fourth quarter numbers include 35-of-49 passing for 500 yards and four touchdowns, and 17 carries for 80 yards and two touchdowns. Beathard did not play in the fourth quarter against North Texas.
Iowa senior DE #34 Nate Meier against Minnesota freshman RB #27 Shannon
Brooks, who was recognized as the B1G Freshman of the Week, this week.
Beathard and the Hawkeyes' rush defense have dominated the fourth quarter in 2015. Iowa's rush defense, the No. 3 defense in the conference, has yielded 191 total rushing yards in the fourth quarter this season (19.1 yards per game).
Beathard is 28-of-42 passing for 405 yards and two touchdowns
. He has also rushed 15 times for 42 yards and two touchdowns in the fourth quarter this season. He has engineered game-winning drives in the fourth quarter two times this season (Iowa State and Pitt). He was 4-of-4 for 46 yards and a touchdown against Iowa State, and he rushed for 27 yards on three carries to set up K Marshall Koehn's 57-yard game winning field goal against Pitt.
During the Iowa-Maryland game, honorary captain Zach Johnson and 2015
game captains, C #63 Austin Blythe, FS #27 Jordan Lomax, QB #16 C.J. Beathard
and DE Drew Ott, who was lost to a season ending injury vs. Illinois.
Iowa's Senior Day will see 21 players wrap up their home career at Iowa
. Senior members of the Iowa football program include C
Austin Blythe
, RB
Jordan Canzeri
, DT
Darian Cooper
(who has missed his senior season due to injury), FB
Adam Cox
, CB
Sean Draper
, TE
Jake Duzey
, WLB
Cole Fisher
, WR
Jacob Hillyer
, P
Dillon Kidd
, PK
Marshall Koehn
, TE
Henry Krieger Coble
, FS
Jordan Lomax
, DE
Nate Meier
, DE
Drew Ott
(season ending injury vs. Illinois), LB
Travis Perry
, FB
Macon Plewa
, C/G
Eric Simmons
, WR
Tevaun Smith
, DE
Melvin Spears
, WR
Andrew Stone
, and RG
Jordan Walsh
.
Purdue redshirt freshman QB #11 David Blough completed 28 of 43 pass attempts
for 274 yards and four touchdowns with no interceptions. He added 82 yards
rushing on 10 carries, including a 56-yard touchdown run to open the scoring for the
Boilermakers in the first quarter of the 55-45 win over Nebraska.
Purdue redshirt freshman QB David Blough is scheduled to make his eight straight start
, which will give him the most consecutive starts by a Purdue quarterback in the same season since Caleb TerBush started 13 games in 2011.
Purdue scored a touchdown on its first offensive play from scrimmage last week
- a 68-yard touchdown pass from QB Blough to junior WR
Domonique Young
. It is the longest play Northwestern has allowed all season. Purdue lost at Northwestern 21-14 last Saturday, while Iowa won at Northwestern 40-10 earlier in Big Ten play.
The Iowa Hawkeyes in Kinnick Stadium ahead of Minnesota game.
Iowa has its best start in program history (10-0), due to excelling in all three phases of the game.

On Offense:
Iowa has scored 30 points or more in four straight Big Ten games for the first time in school history.
Iowa has a balanced offense. Its 4,214 total yards are divided by 2,117 yards rushing, and 2,097 yards passing. Iowa has 30 rushing touchdowns, first in the Big Ten and fifth nationally.
Iowa ranks second in the Big Ten with 14 scrimmage plays of 40-plus yards. The Hawkeyes had 12 scrimmage plays of 40-plus yards all of last season, and 13 such plays in 2012 and 2013 combined.
On Defense:
Iowa has allowed six rushing touchdowns; No. 1 in the conference and fourth nationally.
Iowa leads the Big Ten in interceptions (13) and ranks second in takeaways (20) and turnover margin (+11).
Limiting big plays: Iowa has allowed 12 scrimmage plays of 30-plus yards. Only Michigan (9) has allowed fewer among Big Ten teams.
On Special Teams:
Marshall Koehn's 57-yard game-winning field goal vs. Pitt is the second longest in school history and the second longest in FBS this season.
Iowa's two-man punt team of Dillon Kidd (43.1) and Marshall Koehn (46.2) rank fourth in the Big Ten averaging 42.4 yards per punt.
Junior CB/RS Desmond King averages 12.7 yards per punt return and 25.1 yards on KO returns, both rank No. 3 in the Big Ten.
Iowa's schedule strength among the five remaining unbeaten FBS teams
, only Clemson has a higher strength of schedule rating than Iowa (Sagarin Ratings). Iowa has won two road games over ranked opponents (#18 Wisconsin; #20 Northwestern), joining Alabama (3) as the only programs in the nation with multiple road wins over ranked foes.
Senior Day in Madison: Northwestern @ Wisconsin ... the Badgers need a lot
of help, with Iowa owning a two game lead basically ahead of Wisconsin.
Iowa beat Wisconsin in the B1G opener in Madison, 10 -6.
Senior Day in Madison, as the Wisconsin Badgers (8-2, 5-1 B1G West) hosts Northwestern (7-3, 4-2 B1G West). The game will be played at 2:30 p.m. CST on the Big Ten Network. The Wildcats defeated the Badgers in Evanston, in Wisconsin's Big Ten opener in 2014, by the score of 20-14.
The Northwestern Wildcats celebrating last Saturday's win over Purdue.
Other B1G games in Week 12:
Indiana (0-6 B1G East) @ Maryland (0-6 B1G East) - one of these teams will pull themselves out of the East cellar on Saturday
Rutgers (3-7) @ Army (2-8) - as the Scarlet Knights enjoy their final non-conference game of the season
Nebraska (5-6, 3-4 B1G West) - bye week ahead of the Black Friday home date in Lincoln against the Iowa Hawkeyes. Kickoff will be 2:30 p.m. CST on ABC
Illinois (5-5, 2-4 B1G West) @ Minnesota (4-6, 1-5 B1G West) - the Fighting Illini needs one more win to become the eighth B1G team to be bowl eligible, while the Golden Gophers need two, as they close out B1G play with back to back home games against the Illini and rival, Wisconsin.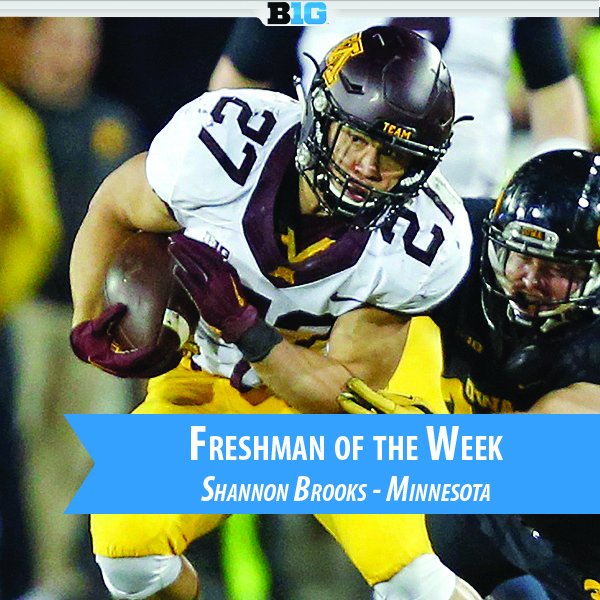 Updated through all games of Nov. 14.