Iowa City, IA
--
The Iowa Hawkeyes
(11-0, 7-0 B1G West)
clinched the Big Ten West division title
with a 40-20 win over Purdue (2-9, 1-6 B1G West) on Saturday at Kinnick Stadium. The first winter storm of the year hit Iowa City on Friday night, but by kickoff the skies cleared and Sunshine was shining on and over the field, as C.J. Beathard won his career start as Iowa's staring signal caller.
Iowa junior QB #16 C.J. Beathard is 12-0 now, as a starter, dating back to his
first start of his career @ Purdue in 2014, and his 11 straight starts, leading to
Hawkeye wins in 2015. Beathard's mobility is coming back for the 2nd straight
game, as the Hawkeyes pulled away from Purdue with a 40-20 win.
Last year
,
the Hawkeyes opened the Big Ten season
with a 24-10 win over Purdue in West Lafeyette, with Beathard making his first career start as a signal caller. This year, Beathard made his second career start with another win over the Boilermakers, as the Hawkeyes continue their 2015 season undefeated.
Iowa opened the game with a touchdown runs by
RB #29 LeShun Daniels, Jr., who is playing well, after
an ankle injury against Iowa State earlier in the season.
The Hawkeyes for the second straight week
at Kinnick Stadium found an opponent seeking the football to begin the game. After the Hawkeyes forced back to back three and outs on defense, Iowa opened the game with back to back touchdown drives and a 14-0 lead over Purdue.
"
To me, he
(Beathard)
is the difference from last year to this year. I said that this week. I thought they ran the ball well last year, but they weren't getting the plays out of the quarterback. He makes a lot of plays; he is just slippery enough to hurt you. He's making a lot of plays and not turning the ball over
," said third year Purdue coach Darrell Hazell.
Iowa defeated Minnesota 40-35, and Purdue 40-20 to wrap up the season 7-0 at Kinnick Stadium
. Dating back to the 40-10 win @ Northwestern, now #20 in the CFP poll, the Hawkeyes have won five straight Big Ten games by scoring at least 30 points. A Hawkeye team has never accomplished five straight wins scoring 30+ points, until this season.
Iowa is 11-0 for the first time in school history.
The Hawkeyes clinched their first West division, for the first time, since the Big Ten broke into divisions in 2011, when Nebraska joined the Big Ten.
Next up for Iowa, Nebraska on Black Friday
, with a 2:30 CST kickoff on ABC. The Huskers are 5-6, 3-4 in B1G West, but are coming off a bye week and back to back wins over Michigan State, now #9 in the CFP poll and leading the B1G East) and @ Rutgers.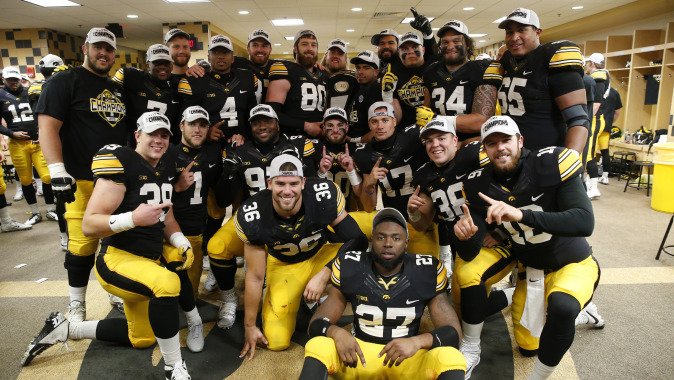 Congratulations to the Senior Class of 2015 Iowa Hawkeyes, 11-0 and Big Ten
West Division Champions at 7-0 in the Big Ten West. The fifth year seniors
were 7-6,4-8, 8-5 and 7-6 heading into the 2015 season, so 11-0 is a great turnaround
for the Iowa Hawkeyes under Kirk Ferentz, in his 17th season as head coach.
The Hawkeyes saw 21 seniors enter the field for the final time
in the 40-20 win over Purdue. More importantly, they leave Iowa West Division Champions. When these fifth year seniors arrived in Iowa City in 2011, they finished 7-6, 4-8, 8-5 and 7-6 ahead of their final season.
Iowa senior RB #33 Jordan Canzeri lead the Iowa ground game with 95 yards,
including a 42 yard run for a touchdown to cap the 40 points for the Hawkeyes.
Ironically, on November 21, 1981
, the Hawkeyes clinched a Big Ten title with a win over Michigan State, during coach Kirk Ferentz's first season, as an offensive line coach, under former head coach Hayden Fry. It was a cold day at Kinnick Stadium, 34 years ago. The trophy was different on Saturday, but it was another warm feeling on a cold day at Kinnick.
The Hawkeyes opened the 1981 season with a win over Nebraska and, on Black Friday, the Hawkeyes face the same program to close out Ferentz's 26th regular season as a coach, his 17th as head coach of the Iowa Hawkeyes.
The defending champions fall in Columbus, as Michigan State beat Ohio State
17-14, as Urban Meyer fails to game plan for a team that offers an elite RB.
Meyer's teams have a love for mobile quarterback and passing games, rather
than leading through a prototypical RB on the Big Ten gridiron.
Michigan State may be the program that will close out the Big Ten East in 2015. They pulled off a B1G win on Saturday at Ohio State, with a walk off field goal for a 17-14 win over the defending Big Ten and College Football Playoff champion Buckeyes.
Iowa senior captain, FS #27 Jordan Lomax delivers his head coach, Kirk Ferentz,
the 2015 Big Ten West Division trophy, after the win against Purdue on Saturday.
Iowa is in ... the Big Ten Championship Game, but the road to the College Football Playoff spot rides on an upcoming game against Nebraska at Lincoln.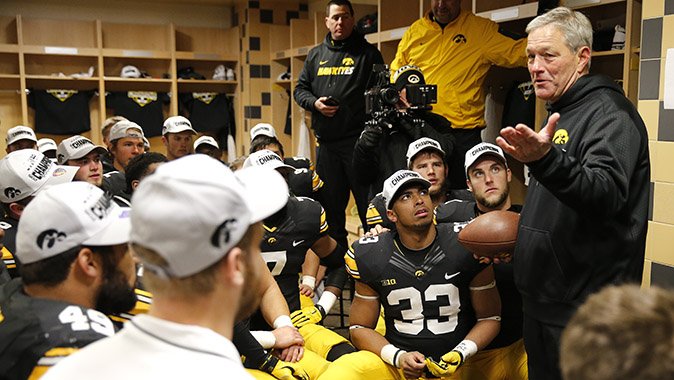 Can Kirk Ferentz and his 2015 Iowa Hawkeyes turnaround, after celebrating their
first Big Ten West Division title to take care of business in Lincoln on Black Friday?
"
Today we won by 20, but it didn't feel like tha
t," said Ferentz said. "
We got off to a great start in the game and then Purdue grabbed momentum. It was a 20-25 minute period where they had us on our heels a bit, but our guys fought back
."
"
I am proud of our football team. We're thrilled and proud of our players. They've done a great job responding to the challenges week-in and week-out and all season long. It has been the nature of things, and today we had more of those to face
."
Purdue backup QB #12 Austin Appleby, as Iowa sophomore DT #99 Nathan
Bazata applies some pleasure for the Hawkeyes on Saturday. Iowa did
record one QB sack early, by redshirt freshman Parker Hesse.
Purdue outgained Iowa, 405-387, in the game
, throwing for 268 and rushing for 137 yards. The Hawkeyes were balanced with seven rushers accounting for 174 yards on the ground, while Beathard completed 12-of-20 attempts for 213 yards, while matching a career-high with three touchdowns.
Iowa scored six touchdowns and Purdue was held to two big field goals
, rather than touchdowns, which would have made it a far more interesting game. Iowa also benefited from an early fumble.
Iowa leaned at times on tight ends, as senior TE #80 Henry Kreiger Coble picks
up a first down. He scored his first TD in Kinnick Stadium in Saturday's win.
In many ways, one could suggest Purdue was a good trap game between two important trophy games for the Hawkeyes, with Minnesota and at Nebraska.
The Boilermakers close out the 2015 season with their own trophy game with Indiana, who won at Maryland 47-28, as the Hoosiers finally picked up a B1G win for the season.
"They are a good football team -- from top to bottom. I felt that way coming in and I still feel that way. They just do what they do and they do it well. They don't panic; they continue to run the zone if they get stopped, they come back with the naked (bootleg) just when you think you have them stopped in the run game. They make plays and are playing confidently right now." - Purdue coach Darrel Hazell on the Iowa team.