Iowa City, IA
--
The Iowa Hawkeyes
(11-0, 7-0 B1G West) learned on Tuesday night that they have moved to #4 in the Week 4 College Football Playoff poll ahead of their final regular season game against Nebraska @ Lincoln on Black Friday.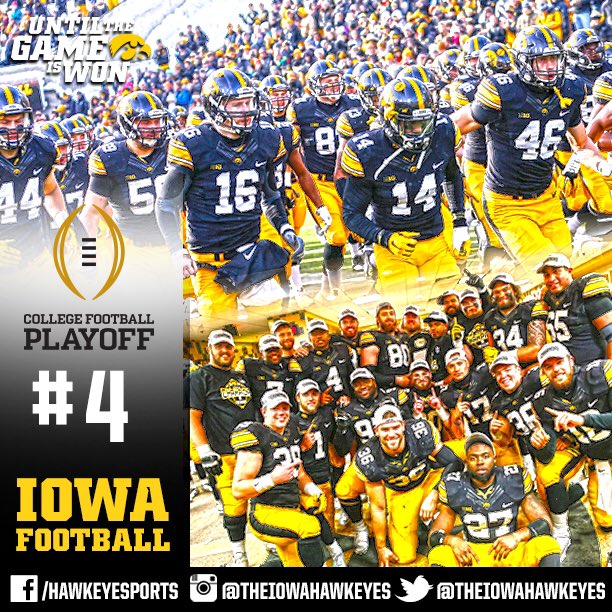 Kirk Ferentz was hired in 1981
, as an offensive line coach ahead of Hayden Fry's third season at Iowa. Iowa's first opponent was Nebraska to open the season. In his first season, returning to Iowa to be head coach, again his first opponent was Nebraska. Now, in his final regular season game of his 17th season as head coach and 26th season overall at Iowa, Ferentz faces a familiar opponent, the Nebraska Cornhuskers. This year, the game is in Lincoln.
Unlike Ferentz
, this is Nebraska's head coach Mike Riley's first Black Friday game in the Heroes Game, as a first year coach for the Huskers. The roles have shifted and Nebraska is the home team and the underdog to Iowa.
How will Riley's first game finish out in the Heroes Game?
Will Nebraska upset a Top 5 program at home, as
Iowa did in 1981
or
will Riley take the role of a program that goes down to a Top 5 opponent
at home
, as Iowa and Ferentz did in his first season, as head coach at Iowa?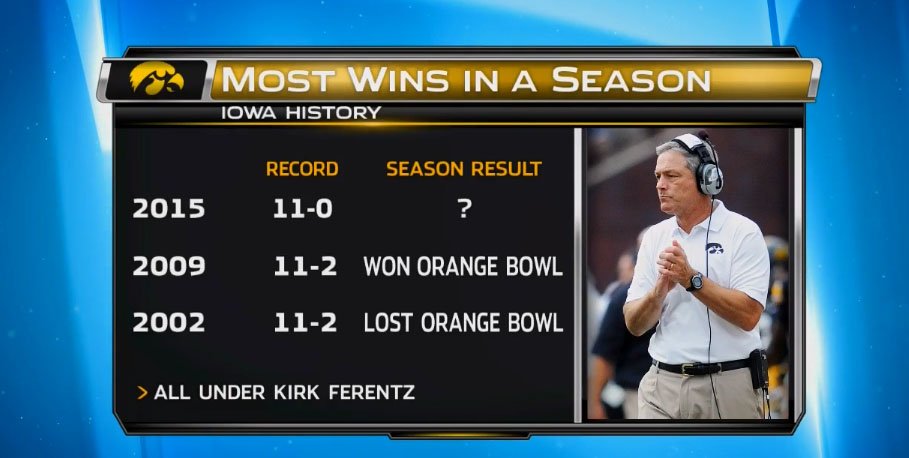 What will be the final record and season result of the 2015 Iowa Hawkeyes?
For Iowa, an interesting question will soon be answered in Ferentz's 17th season at Iowa.
It may take 3 or 4 games to know what it will finally be for the Hawkeyes.
Ferentz meet with the media on Tuesday,
as he does each week before each Hawkeye regular season game.
It's the 12th week of a one game at a time season for the Iowa Hawkeyes
. Iowa has an 11 game winning streak on the line, while Nebraska is seeking to finish November with three straight wins.
"
Good teams do it
," Ferentz said of the one-game-at-a-time motto.
Not only have the No. 3 Hawkeyes taken 11 games one Saturday at a time this season
-- all of them victories -- but they have also seen leadership develop as fast as its win total.
The University of Iowa football program has 16 players on its 2015 Leadership Group, including 13 seniors, two juniors, and one sophomore. Ferentz tweaked the Leadership Group, similar to making a change at quarterback in January, as well, as moving practices to the morning and finally shifting the off day from Monday to Thursday, with the Black Friday game in mind.
The purpose of the group is to assist in formulating policies, and being involved in team decision-making matters regarding the upcoming season
. Players are selected by a team vote. The seniors are OL
Austin Blythe
, RB
Jordan Canzeri
, DL
Darian Cooper
, FB
Adam Cox
, TE
Jake Duzey
, WR
Jacob Hillyer
, PK
Marshall Koehn
, DB
Jordan Lomax
, DE
Nate Meier
, DE
Drew Ott
, LB
Travis Perry
, FB
Macon Plewa
and WR
Tevaun Smith
. The junior class is represented by QB
C.J. Beathard
and RB
LeShun Daniels, Jr.
, and LB
Josey Jewell
represents the sophomore class.
"
I'm not sure where our leadership was in April, but it has been growing rapidly since August
," Ferentz said. "
Typically, any team that is doing well has good leadership
."
Ferentz also emphasized that in the Big Ten Conference, there are no easy days
. The next challenge for Iowa is a Black Friday battle for the Hy-Vee Heroes Game trophy and Ferentz isn't fooled by Nebraska's 5-6 record (3-4 B1G West).
Here's why:
The Huskers have won two consecutive games and need one victory to become bowl eligible.
Nebraska received its bye after Week 11, giving it 12 days to prepare for the Hawkeyes while Iowa has eight fewer days to formulate a game plan.
Nebraska rallied for a 37-34 overtime victory last season in Kinnick Stadium after the Hawkeyes jumped to a 24-7 lead in the third quarter.
"
The big thing right now is that they're meshing
," Ferentz said of Nebraska. "
They are coming off two impressive victories, beating Michigan State
(39-38 on Nov. 7 in Lincoln)
and most recently, Rutgers
(31-14 on Nov. 14 in Piscataway, New Jersey)."
The 2014 Hy-Vee Heroes games was a centerpiece of inspiration that led to an offseason attitude overhaul in Iowa City
. For the Hawkeyes, that season also included a three-point loss to Iowa State, a seven point loss at Maryland, and a two-point loss to Wisconsin. It culminated with a 45-28 defeat to Tennessee in the TaxSlayer Bowl in a game where the Volunteers led 42-7 heading into the fourth quarter.
"
That game
(against Nebraska in 2014)
is the centerpiece for the discussion
," Ferentz said. "
It's nothing against them, they did what they were supposed to do. We didn't, and that's our responsibility. It's all about taking ownership. There are a lot of things we didn't do well
(in 2014)
and the word finish gets thrown out there all the time in sports. It just so happens that was our last regular scheduled football game and we didn't close the season in a strong fashion
."
"
Our job is to be able to play with those guys, go out and compete with them
," Ferentz said. "
They recruit well. They've had great teams in the past and they've got a good football team this year. Our challenge is to be ready for them on Friday
."
Iowa won 38-17 in 2013, the last game in Lincoln
. The Hawkeyes seek to remain unbeaten, as well, as win their second straight in Lincolin.
Nebraska won the 4th Heroes Game in 2014, with a 37-34 OT win in Iowa City
over the Hawkeyes. Since joining the Big Ten in 2011, the Huskers lead 3-1 in
the series. The Iowa-Nebraska game on Black Friday will be the 46th game
overall and the fifth game, since the Huskers joined the conference.
The Huskers practiced for just under two hours Tuesday
in the Hawks Championship Center and Gass Practice Facility in preparation for Friday's game against the third-ranked Iowa Hawkeyes.

Nebraska offensive coordinator Danny Langsdorf spoke to the media after Tuesday's practice about facing the Hawkeye defense.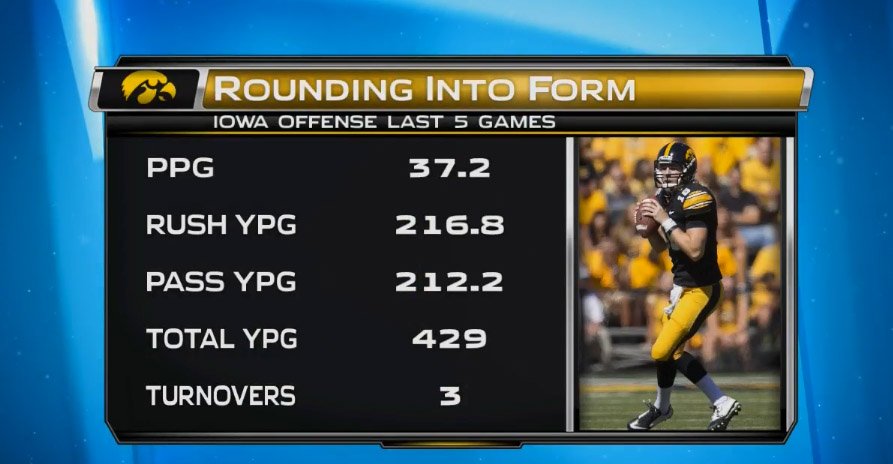 Iowa junior QB #16 C.J. Beathard and the Iowa offense over the last 5 games.
Over the 2015 season, the Iowa offense has often shown a lot of balance.
"They don't give up many big plays, they're really sound and really solid across the board," Langsdorf stated when asked about the biggest challenge the Iowa defense will bring. "They're well coached and they're always in good position, and you see that week in and week out."
Iowa junior CB #14 Desmond King leads the nation in interceptions, as well,
as Iowa's primary kick and punt returning this season. He is also a finalist
for the Jim Thorpe Award, presented to the top college defense back.
When asked about Desmond King, Iowa's star defensive back, Langsdorf said "I think he leads the country in interceptions. He's always in very good position, he's going to be the guy that we are going to have to really understand where he is and be careful. We don't want to be careless around him."
The top two Nebraska WRs are juniors #1 Jordan Westerkamp and #87
Brandon Reilly. who caught the controversial TD reception in the MSU win.
"I think our guys are playing at a high level. They're playing with a lot of confidence, and we have a belief that we can win the game."

Friday's game at Memorial Stadium (capacity 87,000) is sold out. Kickoff is set for 2:36 p.m. CST and the game will be broadcast by ABC.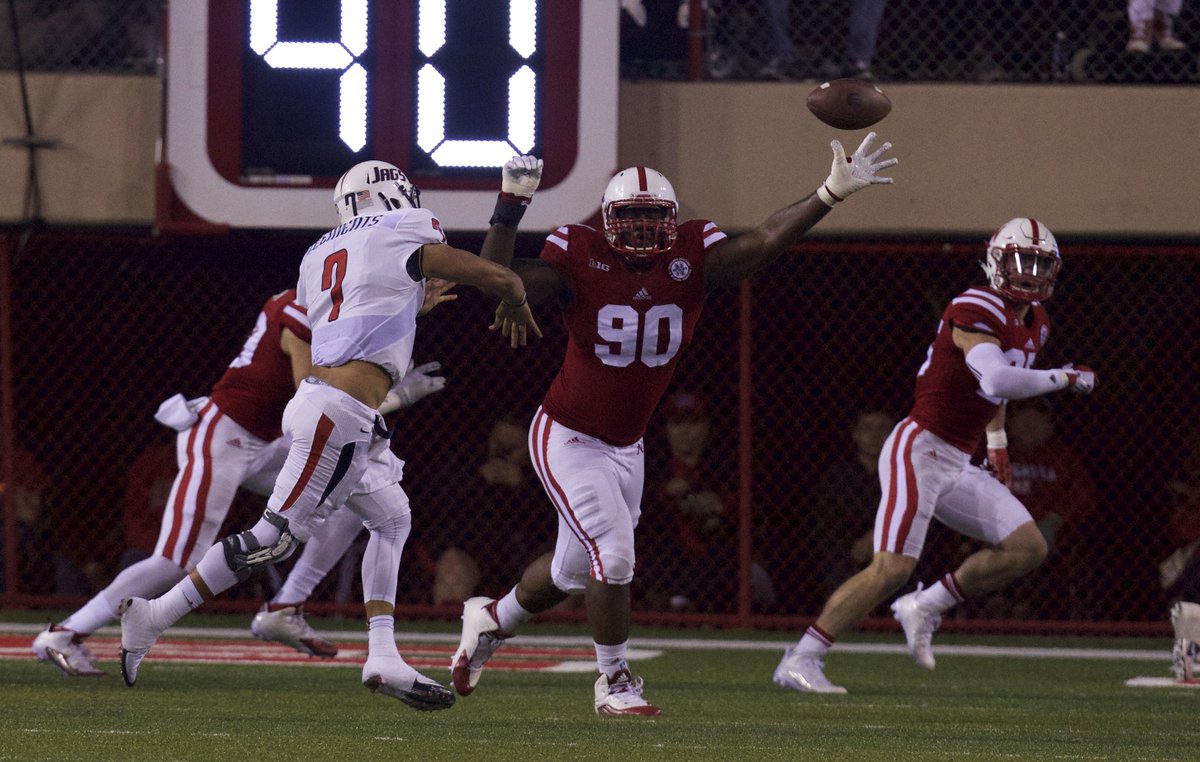 Nebraska junior #90 DE Greg McMullen holds down one side of the Huskers
defensive line in 2015. He is one of three returning starters in the DL for NU.