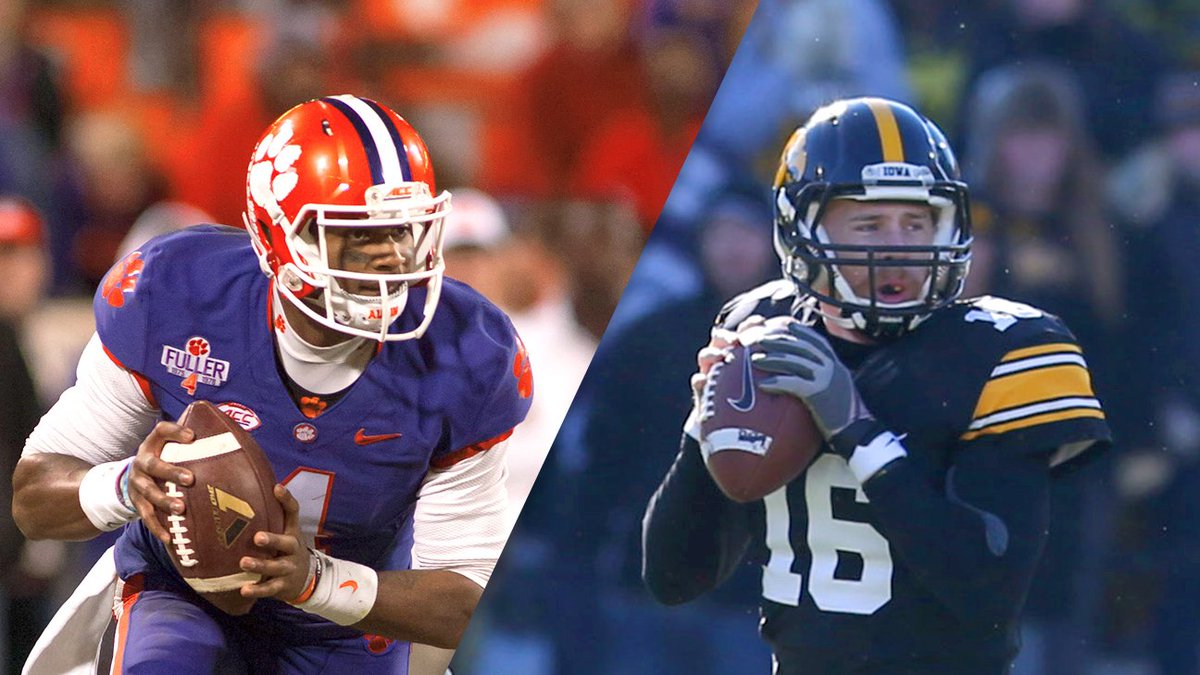 Clemson and Iowa are the two remaining unbeaten teams in FBS College Football.
Iowa City, IA
-- The #1
Clemson Tigers
(11-0, 8-0 ACC Atlantic) and the #3
Iowa Hawkeyes
(11-0, 7-0 B1G West), in each of the major polls, are the two sole remaining unbeaten teams in FBS
College Football
heading into the final weekend of the regular season for each team. Each will take to the road to face rivals, as the Tigers head to Columbia to face South Carolina, while Iowa faces Nebrasaka @ Lincoln.
By the way
, Clemson has lost the last three games in Columbia. The game will kickoff on Saturday at 11 a.m. CST on ESPN. The Tigers beat South Carolina 35-17, last season. The Gamecocks fell to 3-8, after a 23-22 loss to The Citadel on Saturday.
Who are the Top 4 right now?
There is no secret that Iowa and the Big Ten are not the favorites of ESPN.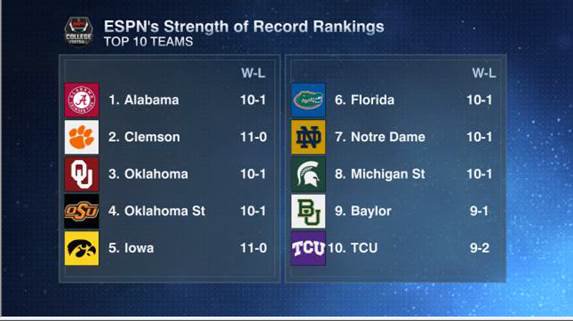 ESPN likes the Big 12, with four of the Top 10. Florida almost got knocked off
on Saturday, when they were forced into OT against Florida Atlantic.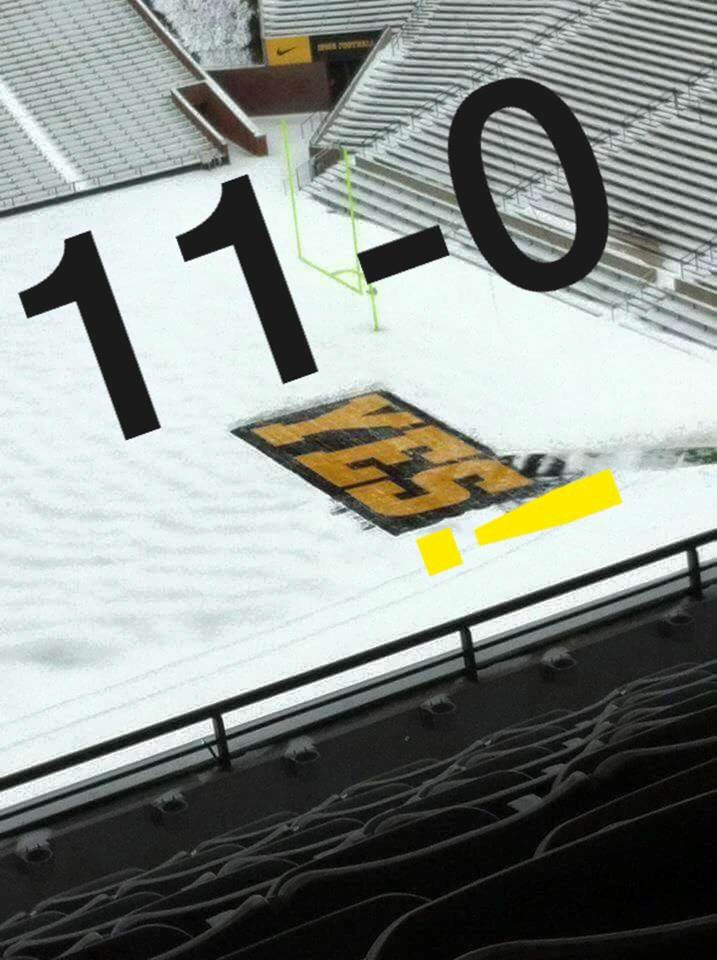 Yes, Iowa is 11-0 in 2015 ...
Alabama - over an undefeated Clemson, not sure that is completely right?
Clemson - Top undefeated team in college football ,,,
Oklahoma - They look like the best one loss team, outside of the Crimson Tide, but they nearly lost at home to TCU on Saturday!
Oklahoma State - not sure I agree with this one at all, since non-conference including zero Power 5 opponents ,,,
Iowa - only remaining Big Ten team that is undefeated ... win out and they are in the College Football Playoff in 2015.
There are some big, big games in the College Football Playoff this week:
Alabama @ Auburn on Saturday at 2:30 p.m. on CBS
Notre Dame @ Stanford on Saturday at 6:30 p.m. on FOX
Oklahoma @ Oklahoma State on Saturday at 7 p.m. on ABC
Florida State @ Florida on Saturday at 6:30 p.m. on ESPN
Baylor @ TCU on Friday at 6:30 p.m. on ESPN
Iowa at 11-0 for the first time in program history.
The Big Ten championship game will be determined in the East on Saturday.
The West was already determined this past Saturday, when Iowa defeated Purdue 40-20, as the Hawkeyes finished out the season 7-0 at home.
Iowa (7-0 B1G West) - the Hawkeyes haven't played a top team in the East, but they have defeated everyone they have faced all season and are the only unbeaten remaining in the conference.
Michigan State (6-1 B1G East) - the Spartans opened play in November with a late minute loss @ Nebraska, but took care of business @ Ohio State, with a field goal on the final play to win 17-14 and fall right back into the driver's seat in the B1G East ...
Michigan (6-1 B1G East) - They need help in East Lansing, as first year coach Jim Harbaugh seeks to bring the Wolverines their first win over the Buckeyes, since 2011, when Luke Fickell enjoyed a year leading his alma mater ...
Ohio State (6-1 B1G East) - Well the regular season conference win streak is done at 30, as the Buckeyes fall for the first time in the regular season in conference play under Urban Meyer ... some interesting comments from two players, as a trip to face the Team Up North is next in Ann Arbor ...
Northwestern (5-2 B1G West) - after back to back 5-7 seasons, under Pat Fitzgerald, his tenth season at his alma mater has more joys than cries ... short drive down to Soldier Field to face Illinois, who the Wildcats lost to 47-33 last season!
Wisconsin (5-2 B1G West) - road trip ahead for first year Paul Chryst @ Minnesota ...
Penn State (4-3 B1G East) - second year coach James Franklin has both the Buckeyes and Wolverines hoping the Nittany Lions can play spoiler to the Spartans B1G season ...
Nebraska (3-4 B1G West) - a win in the Heroes Game would give the Huskers 6th under first year coach Mike Riley!
Minnesota (2-5 B1G West) - new coach Tracy Claeys earned his first B1G win, after three straight losses to Michigan, Ohio State and Iowa, with win over Illinois ... now seeking 6th win of season and first win over Wisconsin, since 2003 ...
Indiana (1-6 B1G East) - after getting their first B1G win in Maryland, they seek another B1G win @ Purdue to become bowl eligible for the first time, since 2007!
Illinois (2-5 B1G West) - Interim coach Bill Cubit hasn't earned the job ... Soldier Field is the finale of the regular season, as the Fighting Illini work to become bowl eligible!
Purdue (1-6 B1G West) - the Boilermakers haven't dropped three straight in the battle for the Old Oaken Bucket, since 1944-47, so third year coach Darrell Hazell may become the next?
Rutgers (1-6 B1G East) - the Scarlet Knights lone win was over the Hoosiers, but they may be in the cellar at season's end, if they don't take care of business at home to close out 2015!
Maryland (0-7 B1G East) - the Terrapins will determine who their new coach will be, as Mike Locksley is holding the interim title for now ...
MSU's Tyler O'Connor completed 7-of-12 passes for 89 yards and one touchdown while Barrett went
9-for-16 for 46 yards and one TD. O'Connor picked up 11 of his 25 rushing yards (on eight carries) while
converting a crucial fourth-and-3 situation on MSU's second touchdown drive. Barrett let the Buckeyes
with 15 carries for 44 yards. Regular QB Connor Cook was injured and couldn't play for MSU.