Cedar Rapids, IA
--
Who's In?
It will not really matter
, until after December 5th and maybe December 12th, if Navy Academy keeps running the table ...
Here's our Top 4
, after the First Saturday of November:
1. Alabama (8-1)
2. Clemson (9-0)
3. Ohio State (9-0)
4. Notre Dame (8-1)
#12 Oklahoma State beat #5 TCU 49-29 in Stillwater on Saturday.
Does Oklahoma State pass Iowa in the College Football Playoff poll
, after the Cowboys' win in Stillwater over once, unbeaten TCU (8-1) in the Big 12? We will find out on Tuesday night, as two Big Ten and Big 12 teams remain unbeaten heading into Week 11 of the
2015 College Football season
.
Ohio State (9-0) @ Illinois this Saturday
Iowa (9-0) host Minnesota this Saturday night
Baylor (9-0) hosts Oklahoma this Saturday night
Oklahoma State (9-0) @ Iowa State this Saturday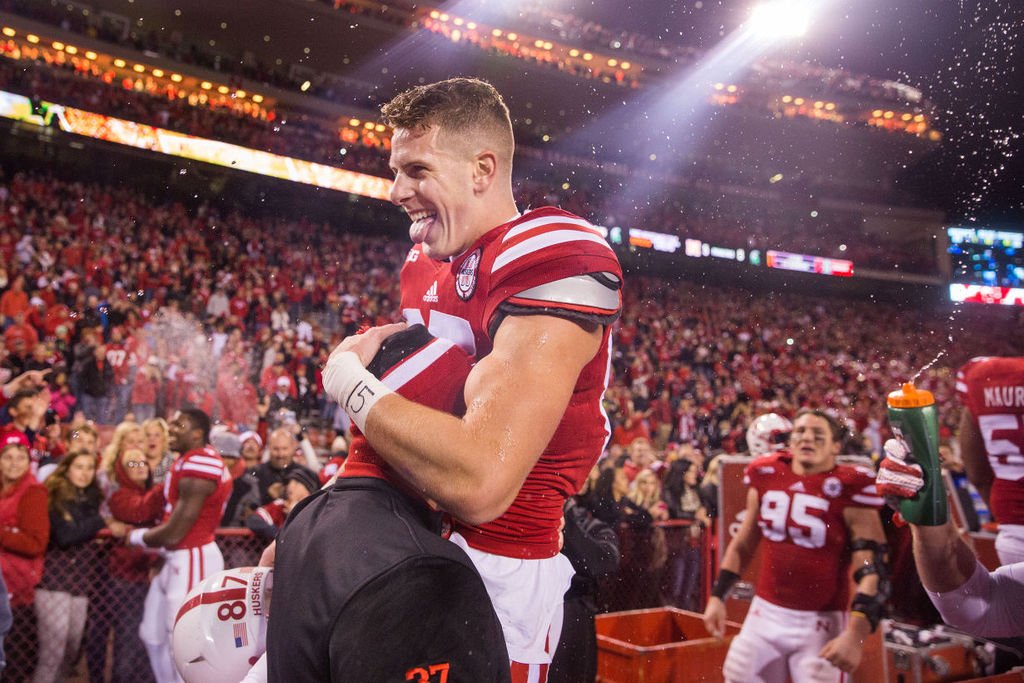 Nebraska junior WR #87 Brandon Reilly last second TD reception stands over MSU.
Nebraska (4-6) took down once, unbeaten #7 Michigan State (8-1) in Lincoln on Saturday night with a 39-38 win. The Cornhuskers jump out the Big Ten West cellar, at 2-4, with overcoming the 12 point deficit in the fourth quarter. The Spartans still control their own destiny at 4-1 in the B1G East, with Maryland, @ Ohio State and Penn State left in November.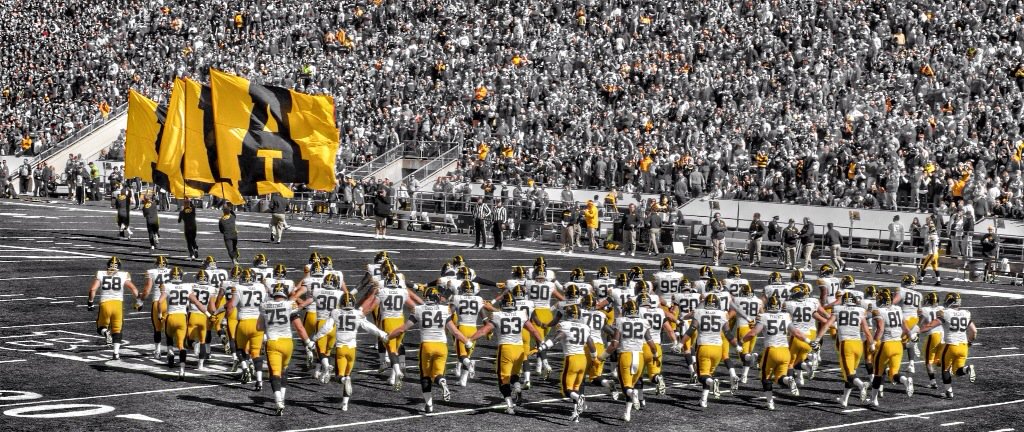 Iowa 9-0, 5-0 B1G West in 2015 after Week 1 of November ...
The Hawkeyes are 9-0 for the second time in program history. For the second time in the Kirk Ferentz era, and the second time, after taking down Indiana, but this time around, it was in Bloomington, Indiana where the Hawkeyes pulled to 9-0 on the season.
Iowa @ Indiana was a hard fought game in Bloomington, as Iowa makes it
6 of last 7 in the Iowa-IU series, with a 35-27 win on Saturday over Hoosiers.
"First of all, just really proud of our football team. The way they competed today, it was really a big win for us, certainly, and something we've emphasized to our team is winning in November. Our best teams have done that and if you're going to compete at a championship level, that's really imperative. Guys did a great job competing out there today. I thought they really prepared well this week and certainly gutted it out and got the job done there in the 4th quarter. And I think if you look at the 4th quarter it's a bit representative of our football team. The defense came up with some big plays, the offense drove the ball when we really needed it, special teams factored in, and the team really responded throughout the course of the game. They did a good job to respond to whatever took place out there. Those are all positive." - Iowa coach Kirk Ferentz
Iowa is 5-0 in the Big Ten for the third time under Kirk Ferentz
. Iowa opened 5-0 in the Big Ten in 2009 (5-0) and 2002 (8-0). The next two weeks, Iowa will be back home at Kinnick Stadium to host Minnesota and Purdue.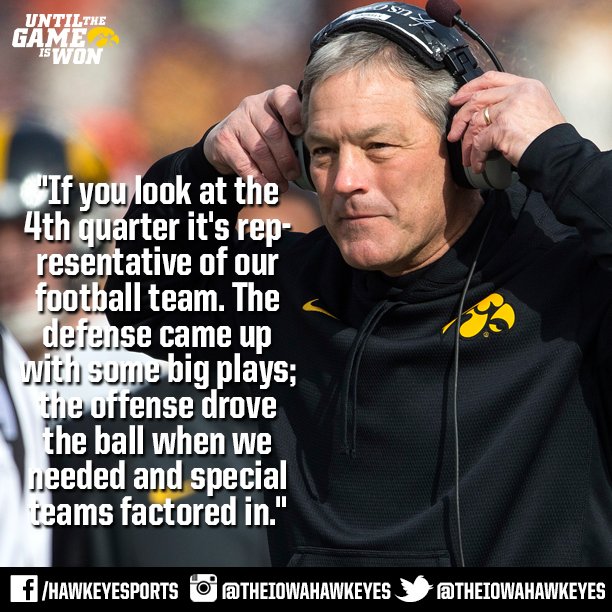 For the second time in the Kirk Ferentz era, Iowa is 9-0 to kickoff a season.
Iowa has won five consecutive true road games for the first time since 2008-09. The Hawkeyes won a trip to the Orange Bowl in 2009. A 13-0 finish in 2015 may be the Hawkeyes' ticket for a return date in the Orange Bowl, since the 4th seed is slated for Miami this year.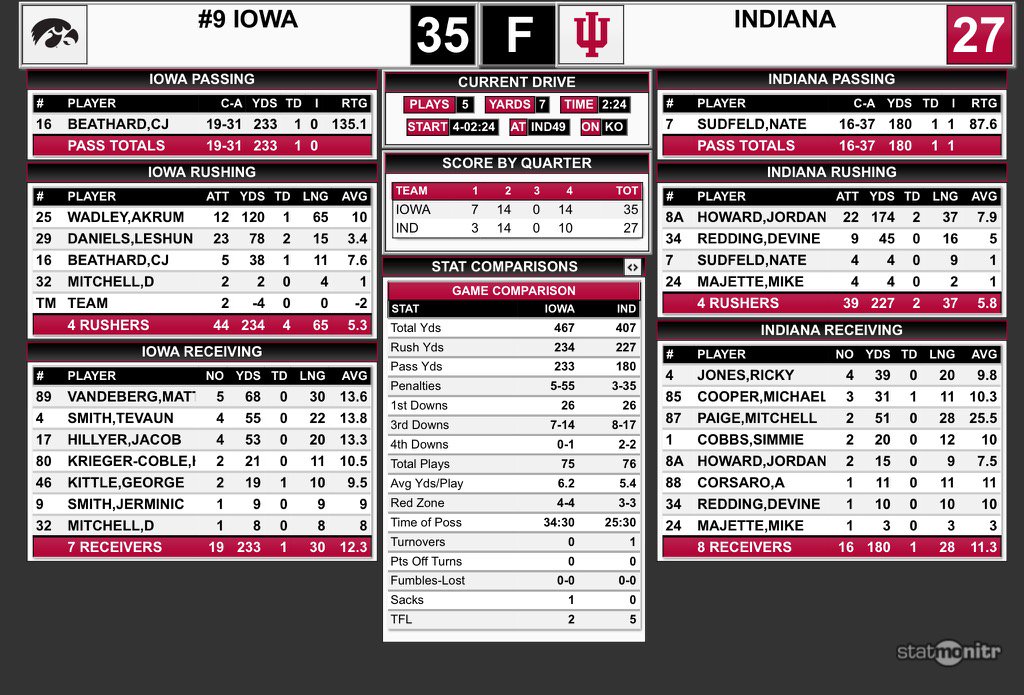 The Hawkeyes keep rolling, while the Hoosiers are seeking their first B1G win of 2015. Next up for IU: vs. Michigan.
Iowa has scored 31 or more points six times this season, including the last three games.
The Hawkeyes are averaging 27.5 in Big Ten games on offense and are giving up 12.8 yards on defense, second best in the Big Ten in 2015.
Iowa junior QB #16 goes over for a touchdown to close out scoring in the 2nd
quarter. Iowa took a 21-17 lead at the half, with less than 25 seconds remaining.
Despite the groin and hip injury, Beathard fought for each yard and scored.
Junior QB C.J. Beathard is 10-0 as Iowa's starting quarterback
, a record that includes a 5-0 mark on the road, a 5-0 mark at home, and a 6-0 mark in the Big Ten. Numbers include 162-of-278 passing for 2,076 yards, 11 touchdowns, and four interceptions, and 247 yards rushing with four rushing touchdowns. He is the first quarterback in school history to win his first nine career starts.
Iowa junior CB #14 Desmond King with his 8th interception on the 2015 season.
In the last two games against Indiana's QB Nate Sudfeld, Iowa had back to back
Pick 6 interceptions, but King has two interceptions now against Sudfeld in 2 wins.
Junior CB Desmond King recorded his eighth interception of the season in the fourth quarter
. He leads the nation in the category and ties the Iowa school record for interceptions in a single season, joining Lou King (1981) and
Nile Kinnick
(1939).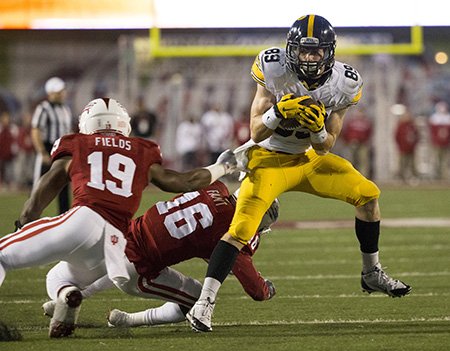 Iowa junior WR #89 Matt VandeBerg is the Hawkeyes go-to receiver for the
2015 offense, as the Hawkeyes reach 5-0 in the B1G West and 9-0 overall, with
the 35-27 win @ Indiana on Saturday. VandeBerg had 5 catches for 68 yards.
The 1981 season was extremely special in the modern era; the 2015 season is on a journey to reach the first-ever Big Ten Championship Game, if the Hawkeyes can finish it out in November? Iowa has a two-game lead in the Big Ten West, ahead of Wisconsin, who the Hawkeyes beat 10-6 to open the 2015 Big Ten season, in Madison. Last year, the Badgers finished 7-1 to win the Big Ten, but lost the Big Ten opener to Northwestern. This year, they need help by others.
Iowa Kirk Ferentz and the 2015 Hawkeyes before the game.
Senior PK Marshall Koehn scored five points today with five PATs
. Koehn has 141 career points, 19th all-time. Ferentz chose to go for touchdowns on Saturday, rather than use his placekicker on fourth down for field goals. The Hawkeyes finished with five offensive touchdowns. They were stopped on fourth down, but not enough to change the outcome of the game.
Iowa sophomore RB #25 Akrum Wadley "next man in" on a 65 yard
touchdown run against Indiana to give Iowa a 7-0 lead in the opening minute.
Sophomore RB Akrum Wadley's 65-yard touchdown run on Iowa's first possession was a career long. Wadley rushed for 120 yards on 12 carries. He has two 100-yard rushing games this season, three in his career. Wadley was injured in the third quarter and did not return.

Junior RB LeShun Daniels had his first career multi-touchdown game. Daniels scored from four yards in the second quarter, and again from one yard in the fourth quarter. Iowa has had three running backs this season deal with ankle injuries.
Iowa junior RB #29 LeShun Daniels with one of his two touchdowns @ IU.
The Hawkeyes should have all four running backs back in action, as they head into next Saturday's night game with Minnesota.
Iowa senior WR #4 Tevaun Smith plays an important role in 2015.
Senior WR Tevaun Smith had 4 catches for 55 yards
. He moved from 30th to 28th on Iowa's all-time list for receiving yards (1,262). Smith was a victim of targeting late in the second quarter. He returned in the third quarter, despite the bumps and bruises to his back.
Iowa senior WR #17 Jacob Hillyer for one of his many important catches.
Senior WR Jacob Hillyer set career bests in receptions (4) and receiving yards (53).
He has been very strong in the running game blocking this season, but this game, he really shined in the passing game.
Iowa defensive stats during the Hawkeyes 35-27 win @ Indiana.
Iowa sophomore MLB #43 Josey Jewell lead Iowa on Saturday on defense.
Sophomore MLB Josey Jewell had a team-high 15 tackles and 11 solo stops
. Both are career-highs. He was a play-maker all over the field and is showing outstanding leadership, with the play calls for the Iowa defense in 2015.
The Iowa offense has taken care of business in the 4th quarter all season long.
Head coach Kirk Ferentz has 124 wins as a member of the Big Ten Conference
, eighth all-time. Ferentz has 73 Big Ten wins, eighth all-time. Back in 1982, Iowa's game @ Indiana went down to a final stop at the Iowa 2 yard line to preserve a 24-20 Iowa win. Today, the game had far more on the line, but the Hawkeyes didn't allow it to get too close.
Indiana junior RB #8 Jordan Howard, the transfer from UAB, scored two
touchdown runs against Iowa on Saturday. He ran 22 times for 174 yards,
2 touchdowns, but was limited in the second half, after an outstanding 1st half.
Indiana won the toss and deferred to the second half.
Iowa received the opening kickoff in eight of nine games this season (Wisconsin), and has outscored its opponents 50-16 in the first quarter. In 17 seasons as Iowa's head coach,
Kirk Ferentz
and the Hawkeyes received the opening kickoff in 170-of-209 games (103-67). Iowa has started the game on defense in 39-of-209 games under Ferentz (21-18).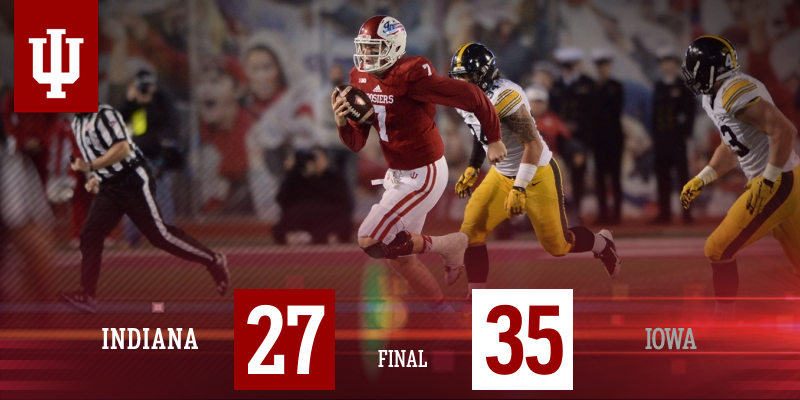 Indiana senior QB #7 Nate Sudfeld came up short again in 2015.
"Obviously, we've been competitive all season against the best teams in the nation, but I'm tired of being competitive," Indiana senior QB Nate Sudfeld said. "We're good enough, I know I'm a good enough player to win these games, and I know we have good enough players around us to outplay the teams we're playing against. It's up to us players."
Instant replay was used three times today.
Indiana first down reception (confirmed)
Indiana personal foul: targeting on Simmons (confirmed)
C.J. Beathard touchdown rush (confirmed)