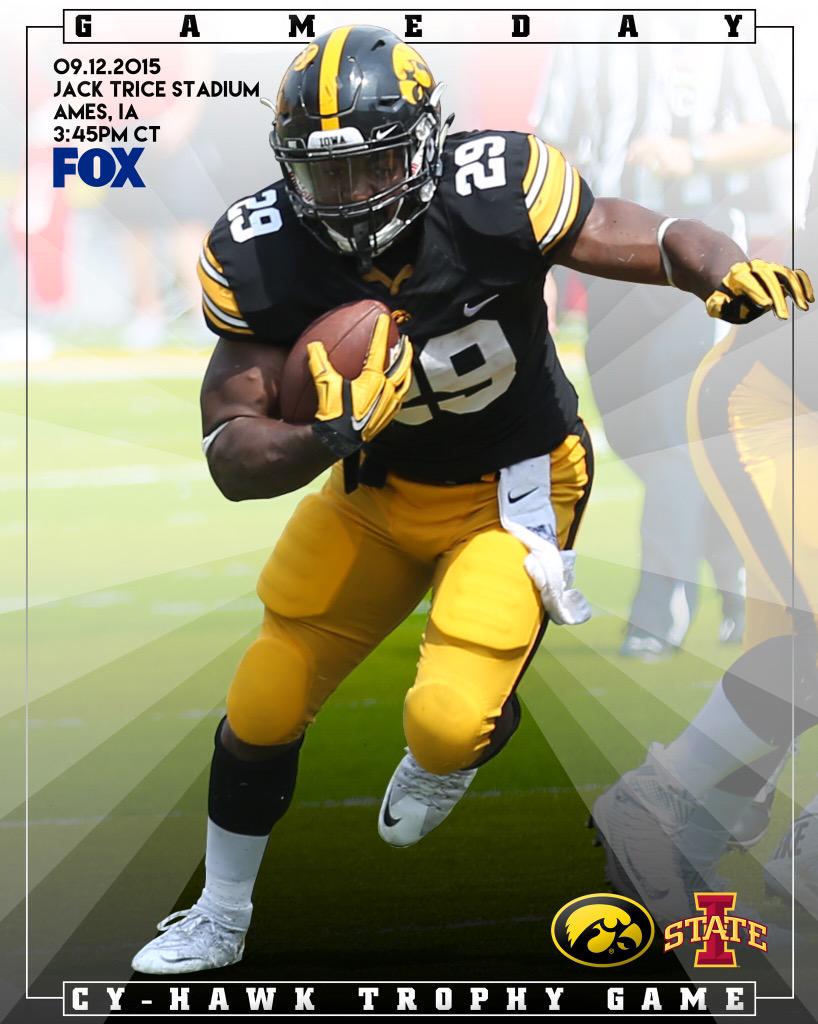 Iowa starting RB 29 LeShun Daniels, a junior.



Ames, IA -- The trophy has changed hands in eight of the last 11 games in the Cy-Hawk Game. The visitor has won three of the last four games, as well. Iowa State regained possession of the trophy, after last year's 20-17 win, fueled on the 42 yard field goal by placekicker Cole Netton, with two seconds remaining at Kinnick Stadium, in Iowa City.
Our Pick: Hawkeyes 29, Cylcones 24
The game should be won in the trenches, on both sides of the football. Over the last five seasons, Iowa's offensive and defensive line has been very inconsistent, at times.

The Hawkeyes (1-0) opened 2015 with strong line play on both sides, in a 31-14 win over Illinois State, the runner-up in the 2014 FCS championship game. The Hawkeyes open 2015 with a new quarterback, a new running back and a new number one receiver.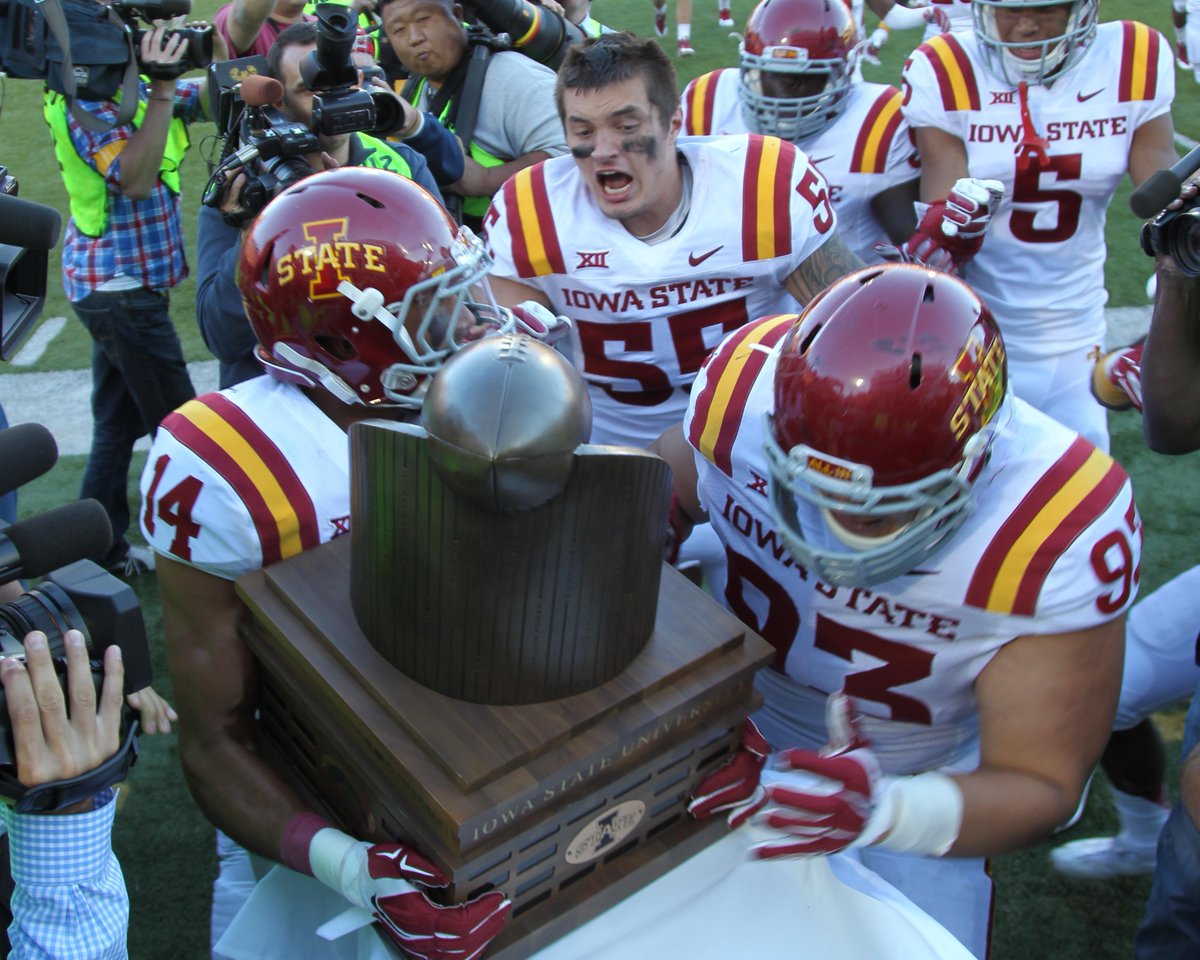 The 2014 Iowa State Cyclones (2-10 overall) celebrating
the 20-17 win at Kinnick, by taking home the Cy-Hawk
Trophy for the third time in four seasons.
Iowa State (1-0) opened the 2015 College Football season with a strong 31-7 win over Northern Iowa, who split 1-1 with Illinois State, in 2014. The Hawkeyes opened the 2014 season with a win, as well over UNI.
The Cyclones are lead by a three-year starter at quarterback, as well as four upper classmen at wide receiver. The running back position is lead by three underclassmen though.
In the last four games, the Cy-Hawk Trophy has been decided by six points or less. The last dominating win, was Iowa in 2010, in Iowa City, by the score of 35-7.
Last year, Iowa took a 14-3 lead into halftime, at Kinnick Stadium. But, it was all Iowa State in the second half.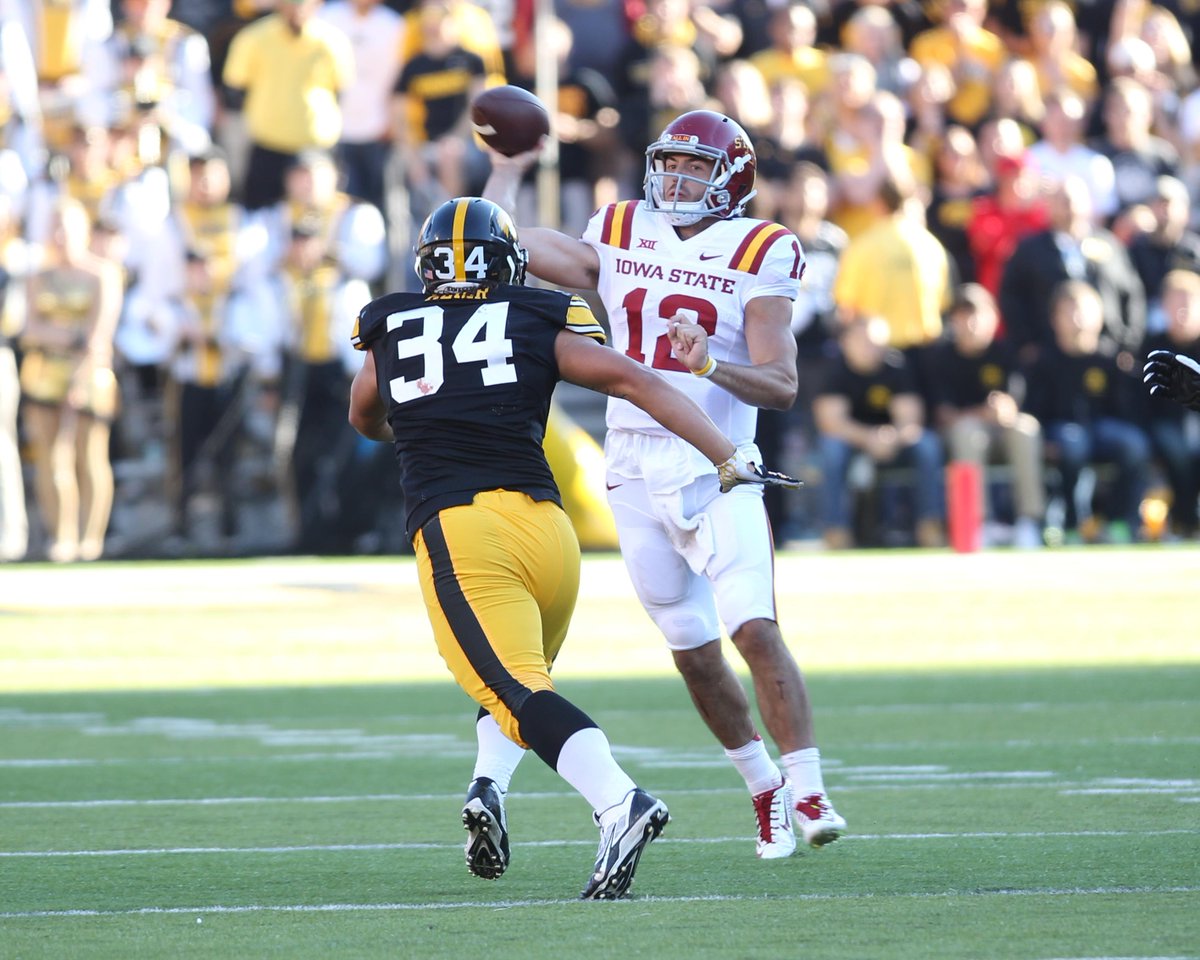 Iowa State senior QB 12 Sam B Richardson, in last year's
20-17 win over Iowa. The Hawkeyes senior DE 34 Nate
Meier and his teammates need to put more pressure
on Richardson, after playing contain, in the '14 game.
Iowa dominated Iowa State for nearly 3-1/2 quarters in the 2013 win. Iowa took a 27-7 lead midway into the fourth quarter.
Iowa State came back fueled on the three TD reception performance of wide receiver Quenton Brundrage, as well as on the arm of quarterback Sam B. Richardson. Both seniors are now in 2015. The figure big in today's showdown for the Cyclones.
Iowa won the game in 2013, 27-21, after recovering the Cyclones onside kick with 2:25 left. The Hawkeyes took home the trophy in the game, last played in Ames.
In the last six years, Iowa State has 19 turnovers that have resulted in 51 of Iowa's 161 points.
Penalties hurt Iowa in the 2014 loss. Iowa State had four sacks on Iowa last year. The Hawkeyes failed to get one sack on Richardson. The defensive game strategy was one of containment, rather than pressure. It resulted in a 20-17 win by the Cyclones.
In the 2013 win, Iowa forced turnovers and were not shutout getting to the quarterback, but ISU still lead in the QB sack department. Iowa needs to do a better job protecting the quarterback.
Both Iowa and Iowa State got to the quarterback or benefited from tackles for loss, in the season openers, against MVfC programs, Illinois State and Northern Iowa, respectively. Who controls the line of scrimmage in today's Cy-Hawk Game?
It has been a bitter sweet week for the Hawkeye Football program, with news on Tuesday, that former Iowa safety Tyler Sash had passed away. The former Iowa safety played in three Cy-Hawk games. Iowa won all three games:
2008 - Iowa won 17-5 in Iowa City

2009 - Iowa won 35-3 in Ames

2010 - Iowa won 35-7 in Iowa City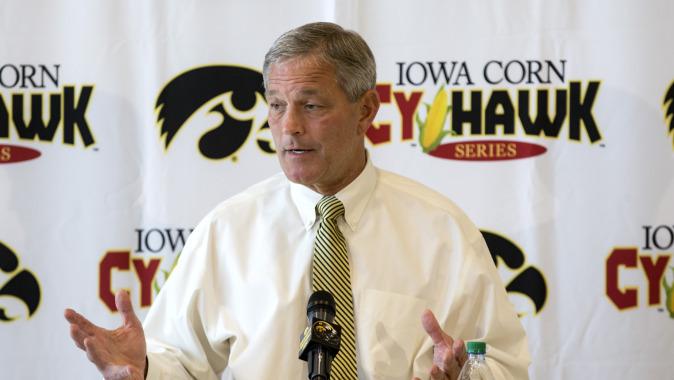 Iowa head coach Kirk Ferentz is 7-9 as a head coach in the Cy-Hawk Games.
Iowa enters today's game 0-4 in trophy games, from last year. Now, throw in the emotional impact of the Sash death on the Iowa coaching staff, especially HC Ferentz, DC Phil Parker and DL coach Reese Morgan, who were directly involved in his coaching and recruitment at Iowa. How will the Hawkeyes coaching staff planning be impacted?
In the last two games, Iowa has opened with leads of 27-7 and 14-3, only to have Iowa State roll back and win one of two over the Hawkeyes. Iowa's starting QB, RB and WR all are new in roles in the Cy-Hawk Game. The TE position is a little of a question mark for each team, as well.
There is typically no easy sledding in the Cy-Hawk Games typically, since Ferentz became the head coach at Iowa. Paul Rhoads is 3-3 in the Cy-Hawk Series, as head coach.
Iowa has an edge in the rushing game on offense

Iowa State has an expected edge in the passing game on offense

Special teams is an area where no one team would seem to have a edge
Iowa State opened 2015, with a new
3-4 front 7, with NG Demond Tucker.
Iowa State has hit the junior colleges, since the 2013 season to strengthen the defensive side of the football. Coach Rhoads has brought in ten JUCO transfers in, filling out the two-deeps for the Cylcones.
Iowa State will use quickness more than Iowa in the trenches. The leader up front is JUCO transfer 97 Demond Tucker (6-0 296 Jr.) at nose tackle. The Cyclones front 7 isn't big and tall, so look for quickness to be a key element, as Iowa works to establish the running and short passing game.
Senior RB 33 Jordan Canzeri has prior Cy-Hawk Game
experience and is coming off one of his better games in '15.
One senior on the Iowa offense to keep a big eye on is Iowa senior running back

Jordan Canzeri

. The change of pace running back, had a very solid game against Illinois State.
RB Canzeri had 118 all-purpose yards (28 rushing, 90 receiving). His 90 receiving yards are a career best. Canzeri ranked second on the team with 752 all-purpose yards in 2014, including 494 yards rushing, 123 yards receiving, and 135 yards in kickoff returns. His 51-yard reception on the final drive of the first half was a career long.
SERIES EXPERIENCE
Iowa junior QB 16 C.J. Beathard
will make first start today in the Cy-Hawk
Game in Ames. He is 2-0 as a starter.
Junior QB C.J. Beathard is making his first Cy-Hawk Series appearance. Former Iowa QB Jake Rudock took every snap at quarterback against the Cyclones in 2013 and 2014. Junior RB LeShun Daniels did not appear against the Cyclones in 2013 or 2014. The Hawkeyes combined for 104 rushes and 347 rushing yards in those games.
It will be an interest game on Saturday. The only winning season by Iowa State, in the six seasons Rhoads has been head coach was in 2009, when Iowa beat ISU 35-3, but the Cyclones finished the season 7-6. Rhoads needs more than a 4-3 record over Iowa. Of course, 7-9 for Ferentz has many asking questions in Iowa City, as well.
Iowa DE Drew Ott 95 tackling Illinois
State QB Jake Kolbe in the season
opener, as he enters his final Cy-Hawk
game as a senior. He didn't play
as a freshman, since he was trying to
redshirt, but didn't in B1G play.
Iowa State LT 67 Jake Campos moves
from RT last year to LT for the 2015
Cy-Hawk Game. He will face Iowa's
top pass rusher and most experienced
defensive lineman.
It will be an interesting day for each coaching staff, as the chess match begins ...
Top Match Up on the Field?
It will also be an interesting game on the field, as the most interesting match up will likely be Iowa's senior DE 95 Drew Ott (6-4 272) against Iowa State's sophomore left tackle 67 Jake Campos (6-8 297).
Iowa has a mix of youth and experience heading into the 2015 Cy-Hawk Game
in Ames. One player to watch is junior DT 67 Jaleel Johnson, who had four
tackles in the season opener against Illinois State. He had his first sack during
Iowa's bowl game against Tennessee and may be primed for a breakout game.
Iowa needs to get some pressure in the Iowa State backfield, unlike last year's game.
Iowa finished the opening season game with five sacks, all in the opening half. DE Drew Ott had two sacks. Freshman DE Parker Hesse, senior DE Nate Meier, and sophomore LB Ben Niemann each had one. It was the first career sack for Hesse and Niemann.
This game lately has gone down to the wire and it shouldn't surprise as it should this year.
Turnovers, special teams, penalties and coaching adjustments will be key areas to watch, as the Cy-Hawk Game kicks off at Jack Trice. This should be a good game.