Iowa senior WR 4 Tevaun Smith ties
the game at 10-10 in the 2nd quarter,
on ISU freshman 10 Brian Peavy.
Ames, IA -- Iowa and Iowa State both looked improved over last year's 20-17 win in Iowa City. Heading into the halfway point of the fourth quarter, it looked like another field goal could win this game for either team. However, Iowa scored two final touchdowns, to break a 17-17 tie late, to win the Cy-Hawk Game 31-17 in Ames on Saturday.
Iowa took an early three point lead early
, as placekicker Marshall Koehn hit a field goal from 49 yards. The Hawkeyes showed an ability to get to Iowa State quarterback Sam B. Richardson early. Iowa's defense, slowed down in the second quarter, after Iowa's leading defensive lineman Drew Ott, left the game with a severe wrist injury. Iowa had to turn to redshirt freshman Parker Hesse at Ott's defensive end spot.
Iowa got early pressure on ISU's senior QB 12 Sam B.
Richardson in the first quarter, as senior Iowa WLB 36
Cole Fisher gets to the Cyclones signal caller. In second half,
Iowa's defense warmed up again and the Hawkeyes were
able to keep ISU off the scoreboard, outscoring them 21-0.
Saturday is the first of four trophy games on Iowa's 2015 schedule:
Iowa State (Cy-Hawk)
Minnesota (Floyd of Rosedale)
Wisconsin (Heartland)
Nebraska (Heroes)
Only Minnesota visits Iowa City, as three of Iowa's trophy games are on the road during the
2015 College Football season
.
The visiting team has won the last four meetings in the Cy-Hawk Series. Today's score marked the first time in five years the game wasn't decided by one possession.
The Iowa defense allowed 66 yards on 31 plays in the second half after allowing 244 yards on 31 plays in the first half.
Iowa RB LeShun Daniels got his first
start in a Cy-Hawk Game, but left the
game early, due to ankle injury.
The Hawkeyes converted 5-of-7 third downs in the second half, and 2-of-7 third downs in the first half.
Iowa
(2-0) defeated
Iowa State
(1-1), 31-17, Saturday at Jack Trice Stadium. Iowa has won 3 of the last 4 games played in Ames.
Since 1981, the average score is Iowa 31, Iowa State 17, the point total in today's contest.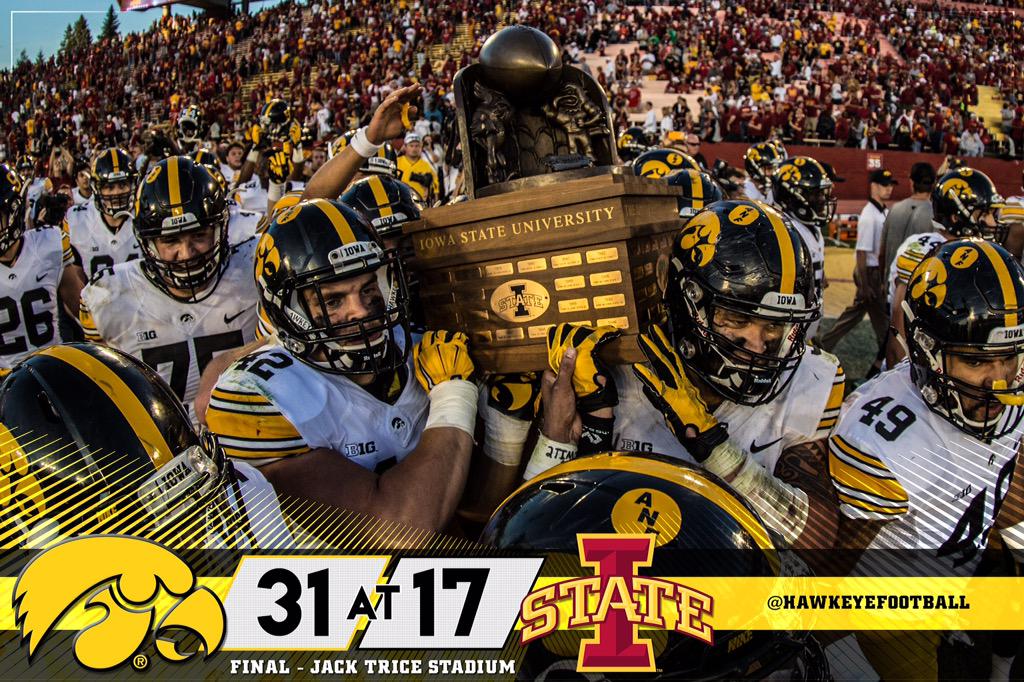 The Iowa Hawkeyes pull off two late scores to win second in a row
in Ames,

in the Cy-Hawk Game. Two scores in final 3 minutes put




Iowa on top for good, breaking a 17-17 tie. ISU lead at half 17-10,




after an early 3-3 tie after one quarter. It was a tight, close game.
Iowa outscored the Cyclones 21-0 in the second half and improves to 41-22 all-time against Iowa State in the Cy-Hawk Game.
Iowa regained possession of the Cy-Hawk Trophy and leads the 2015 Iowa Corn Cy-Hawk Series, 7-0, following wins in soccer, volleyball, and football.
INDIVIDUAL SUPERLATIVES
Junior QB
C.J. Beat
hard
improved to 3-0 in his career as a starter. He is 1-0 at home, and 2-0 on the road (Purdue, 2014; Iowa State, 2015). He was 15-of-25 for 215 yards passing and a career high three touchdown. He rushed 10 times for 77 yards. The 10 rushing attempts was a career high.
Senior RB
Jordan Canzeri
career a career-high 24 times for 124 yards and a touchdown. He scored from eight yards on Iowa's final scoring drive. It was his fourth career rushing touchdown and second this season. Canzeri had had over 100 all-purpose yards for the second straight week. He had 143 total yards against Iowa State (124 rushing and 19 receiving).
Junior WR
Matt VandeBerg
has scored a touchdown in three straight games. He caught touchdowns against Tennessee and Illinois State, and returned a fumble three yards today for a touchdown. VandeBerg played 22 career games before catching his first touchdown.
VandeBerg had career highs in receptions (9) and yards (114). His 47-yard reception in the fourth quarter was a career long.
Iowa junior WR 83 Riley McCarron's 25 yard TD reception,
gave the Hawkeyes the lead, breaking a 17-17 tie in Ames.
Junior WR
Riley McCarron's
first catch of the season was a 25-yard, eventual game-winning touchdown. It was his first career touchdown.
Senior TE
Henry Krieger Coble
had a career best 34 yards receiving.
Senior DE
Drew Ott
left the game with three minutes left in the first quarter and did not return.
Sophomore RB
LeShun Daniels
left the game in the second quarter and did not return. Daniels had 8 carries for 56 yards, with a long of 24 yards, before leaving the game early, due to an ankle injury.
Redshirt freshman TE
Jameer Outsey
made his first career start.
K
Marshall Koehn
has connected on five consecutive field goal attempts over the last five games. Koehn is 5-of-6 in his career on field goals 40-plus yards.
P
Dillon Kidd
punted five times for 237 yards. Kidd downed two punts inside the 20 and had two punts over 50 yards (55, 50, 49, 46, 37). He averaged 47.4 yards per punt.
Iowa QB C.J. Beathard provided offense both on the ground
and in the air, engineering the Hawkeye win, to go to 3-0,
as Hawkeye starting QB. He had 292 yards of total offense.
DB
Desmond King
returned a punt 37 yards (career long) to set up Iowa's go-ahead touchdown drive. On Iowa State's ensuring possession, King intercepted a pass (first this season, fourth of career) to set up another Hawkeye touchdown. King added five tackles on defense.
MISCELLANEOUS
Iowa State won the toss and deferred. Iowa received the opening kickoff. In 17 seasons as Iowa's head coach,
Kirk Ferentz
and the Hawkeyes received the opening kickoff in 164-202 games (97-67). Iowa has started the game on defense in 38-of-202 games under Ferentz (20-18).
The Hawkeyes have played 58 consecutive games without a missed or blocked PAT, the longest streak of any school in the nation. Iowa has converted on 176 consecutive PATs during the streak.
Instant replay was used three times today:
Iowa State incomplete pass (confirmed)
Iowa State third-down conversion: Lazard (overruled)
Iowa State third-down conversion: Lazard (confirmed)
UP NEXT FOR IOWA
The Hawkeyes host Pittsburgh (2-0) on Saturday, Sept. 18, at 7 p.m. Central Time at Kinnick Stadium, Iowa City. The Hawkeyes defeated the Panthers on the road, as C.J. Beathard lead a second half comeback last season, in the 24-20 win over the Panthers.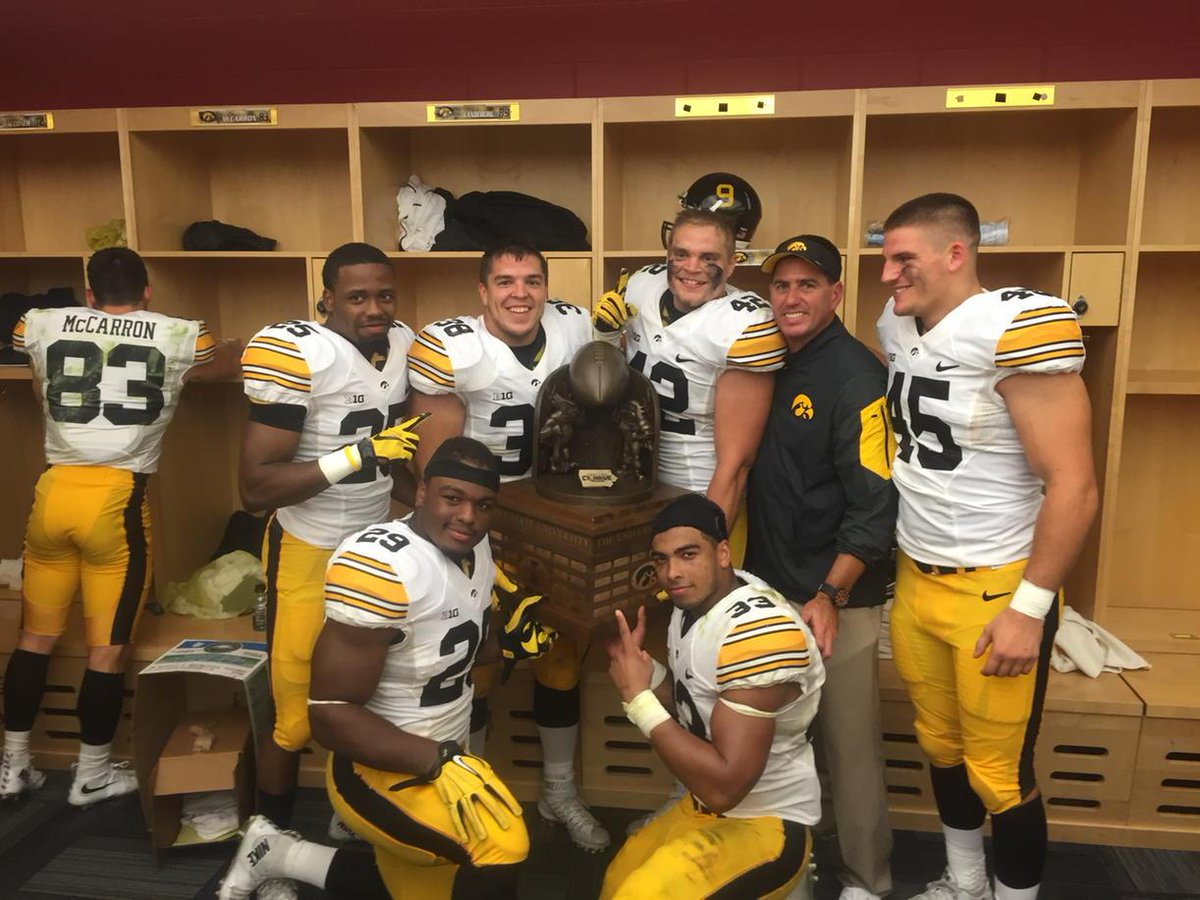 Iowa's running backs celebrate Cy-Hawk Trophy in the locker
room, with RB coach Chris White, after the win, in Ames.


UP NEXT FOR IOWA STATE
The Cyclones travel to Toledo (1-0), who upset #18 Arkansas 16-12 on the road, on Saturday. Iowa State won 37-30 over Toledo at Jack Trice Stadium, last season. The Rockets season opener was cancelled, due to a thunderstorm.
After Iowa tied the game at 10-10 on a Beathard to T. Smith
reception for 6; Iowa State responded with a strike from
Richardson to sophomore WR Jauan Wesley to take a 17-10
lead. The Cyclones were not able to score in the 2nd half.