— Iowa On BTN (@IowaOnBTN) August 30, 2018
Iowa City, IA
--- The Iowa Hawkeyes (8-5 in '17) will seek to earn the 144th victory for head coach Kirk Ferentz in the season opener at Kinnick Stadium, as the Northern Illinois Huskies head into town on Saturday afternoon. Currently, Ferentz is tied with Hall of Fame coach Hayden Fry, who reached 143 wins over 20 seasons, while head coach of Iowa from 1979 to 1998.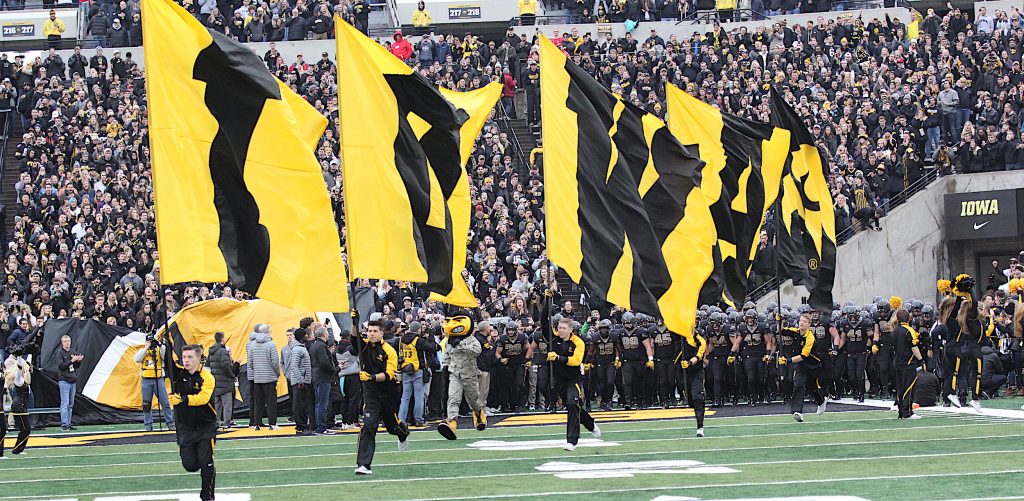 For the 40th season, Iowa will use the swarm, as the Hawkeyes
open the 20th season under head coach Kirk Ferentz.
— Hawkeye Football (@HawkeyeFootball) August 27, 2018
Iowa's Kirk Ferentz is heading into his 20th season as head coach
. On the other side, Northern Illinois head coach Rod Carey is entering his sixth full season leading the Huskies out of DeKalb, IL. Both head coaches earned their first win, at their respective schools against each program. For Ferentz, it was a 24-0 win in 1999 against the Huskies, back when that program was lead by Joe Novak.
Classic Iowa vs. Northern Illinois: 1999 - Kirk Ferentz's record win at Iowa could come against the team he defeated for his first. Here are the highlights...

https://t.co/jLRWY3FBak

— Columbia IOWA Club (@PalmettoHawks) August 27, 2018
For Carey, his first win as a head coach came against Iowa in the 2013 season opener, when the Huskies pulled off a 30-27 win, at Kinnick. Carey is 4-1 against B1G teams over the past five plus seasons, as head coach. Both coaches have mutual respect for one another, as former offensive line coaches.
— Hawkeye Football (@HawkeyeFootball) August 28, 2018
Back in 2013, clearly Northern Illinois had the edge at quarterbac
k, since senior QB Jordan Lynch lead the Huskies to the Orange Bowl the previous season and a 12-2 mark. Iowa's QB was sophomore Jake Rudock, who was taking his first college snap and making his first start for the Hawkeyes. A turnover played a key in the Huskies upset win, as a +3 underdog.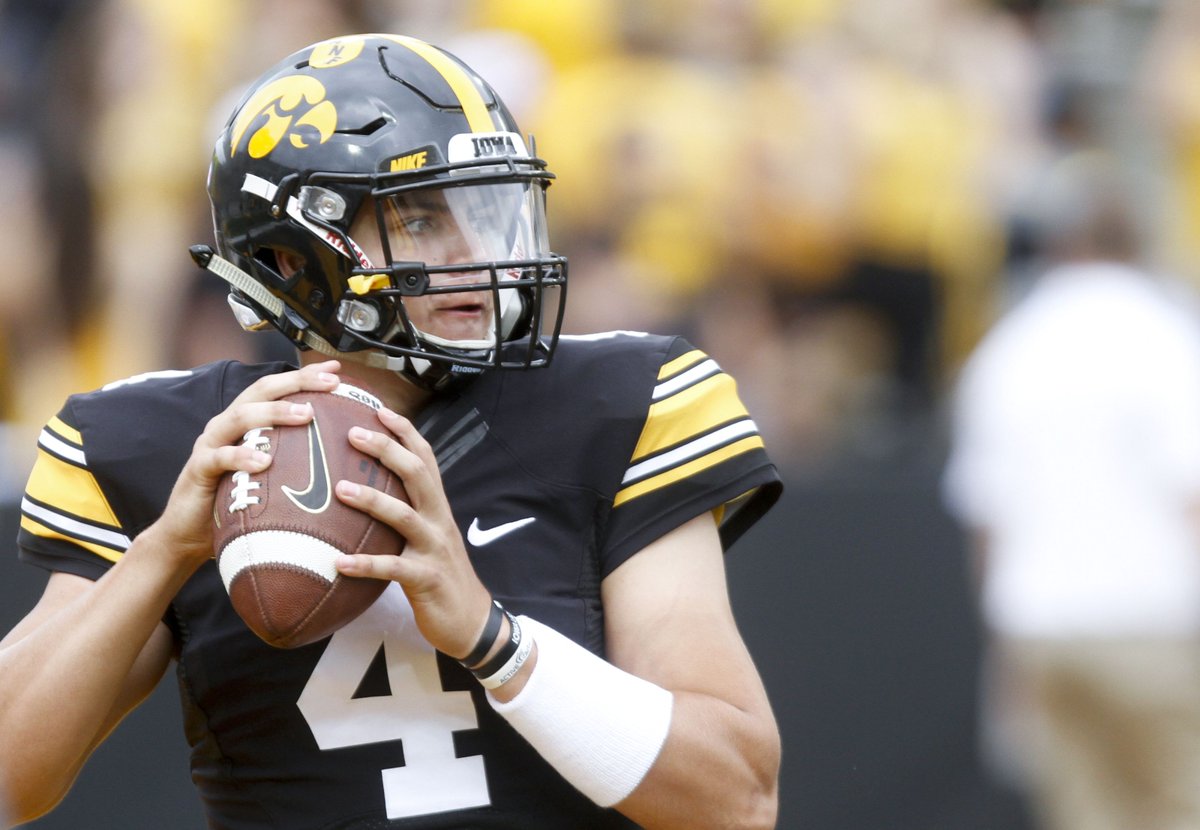 Iowa QB 4 Nate Stanley is getting a lot of praise by the NFL,
as the junior heads into his second season, as a starter. He
finished just one TD behind the season record last year.
This year, both teams return starting quarterbacks
, as Iowa turns to second year starter,
junior Nate Stanley
, who will make his 14th start for the Hawkeyes. Stanley is beginning to pick up a lot of interest in NFL draft boards. For the Huskies,
sophomore Marcus Childers
will be making his eighth start at QB. Iowa should hold the advantage at QB heading into the season opener.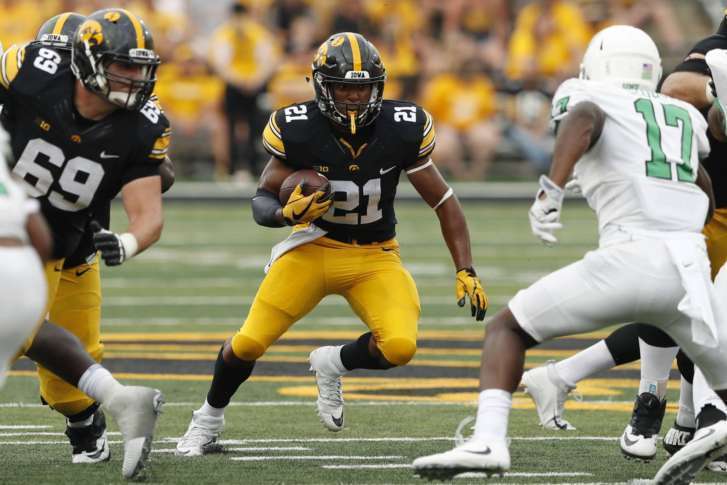 Iowa will be lead by three sophomore running backs heading into
the 2018 season. Getting the start, 21 Ivory Kelly-Martin is penciled
as the new starter, replacing Akrum Wadley and James Butler.


Both Iowa and Northern Illinois have a new starter at running back in 2018
. Both teams will employ running back by committees for 2018. For Iowa, sophomores
Ivory Kelly-Martin
, Toren Young and Mekhi Sargent are all expected to help in the Iowa ground and air attack in 2018. For the Huskies, redshirt junior
Marcus Jones
, with redshirt sophomore Tre Harbison and redshirt freshman Jordan Nettles up next at running back. Iowa's returning two backs had five touchdowns rushing last year, compared to six touchdowns by the Huskies returning two backs. Iowa has the stronger rushing attack, in general, though QB Childers is a threat in the ground game for the Huskies.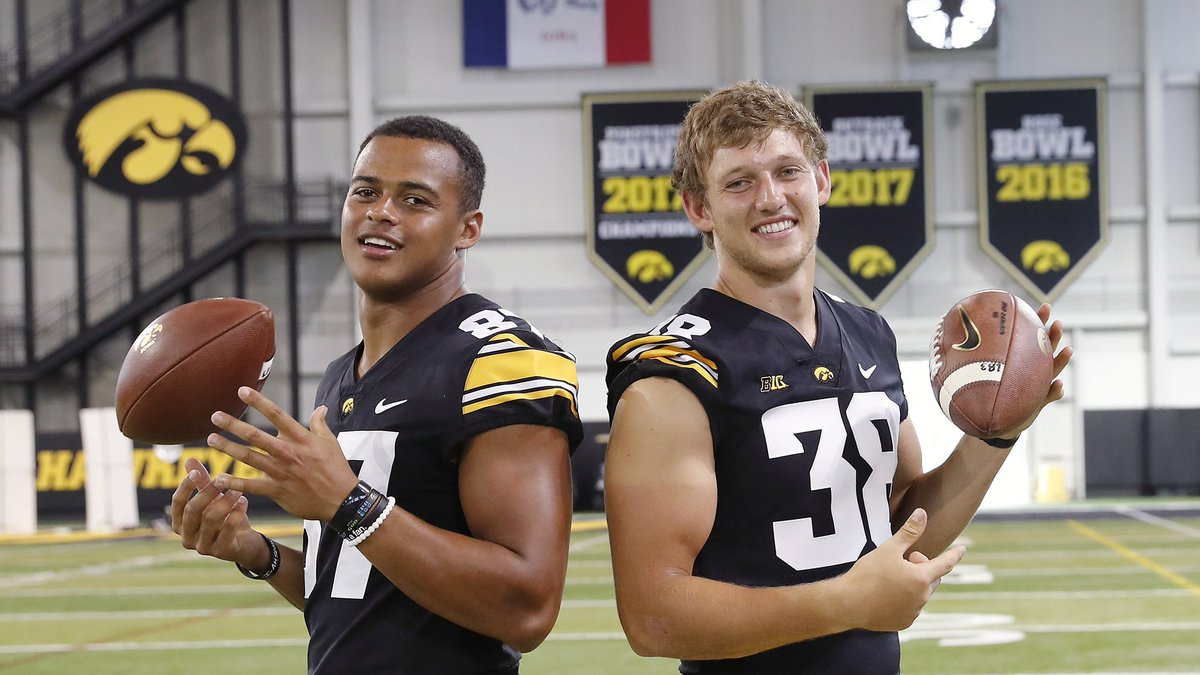 Iowa junior TE 87 Noah Fant and sophomore TE 38 T.J.
Hockenson provide the 1-2 punch in Iowa's air attack. They
are QB Nate Stanley's safety valve often in the air game.
Iowa appears to have a stronger receiving corp
, lead by what could be the nations top TE corp in 2018. Northern Illinois' will take the field without their #1 wide receiver, junior Spencer Tears (suspended) and #1 tight end, sophomore Mitchell Beckman (injury). The Huskies will have two true freshman involved in the receiving corp, lead by Leon Payne, who is slated to make his first start. Iowa appears to have the edge in the receiving corp.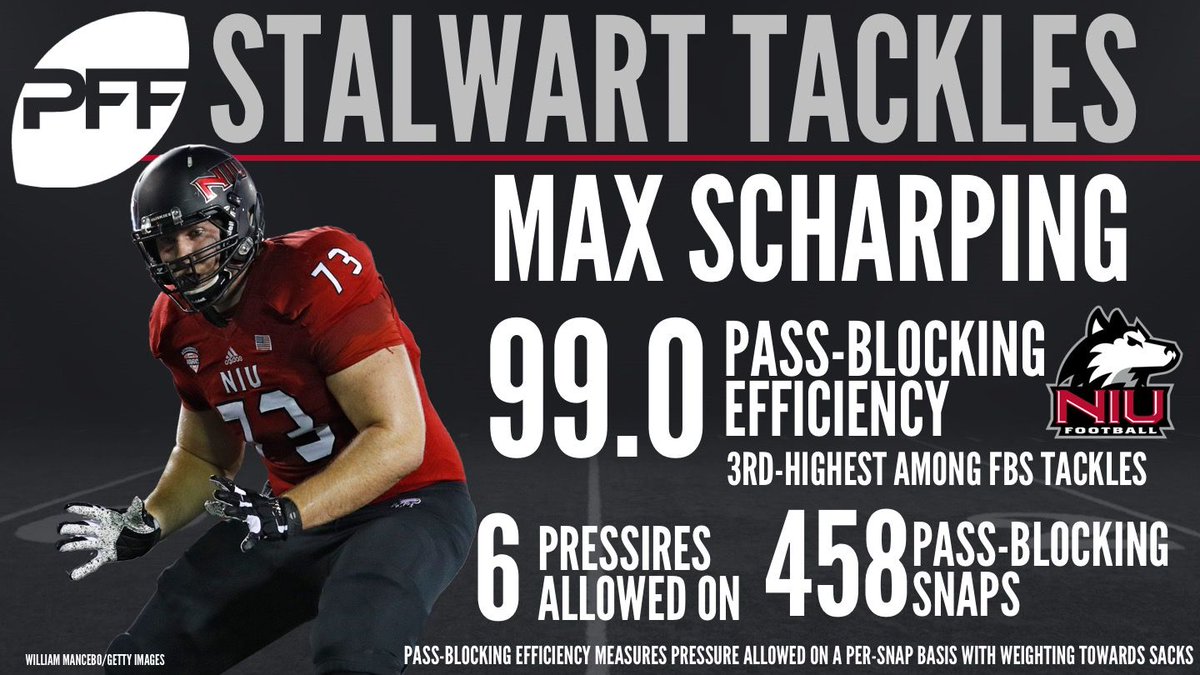 NIU senior LT 73 Max Scharping is one of the best returning
offensive lineman in the MAC and across the nation in 2018.
Like 2013, Northern Illinois returns all their starters in the offensive line
, lead by all-MAC left tackle senior
Max Scharping
. The Hawkeyes lost their starting offensive tackles to suspension for the opener. This will be a new unit, with only 21 starts in the Hawkeyes line, with 20 starts by senior center
Keegan Render
. Clearly, the Huskies are at full strength, while the Hawkeyes are not heading into the season opener. Iowa will also make it an all-Iowa starting unit in the offensive line.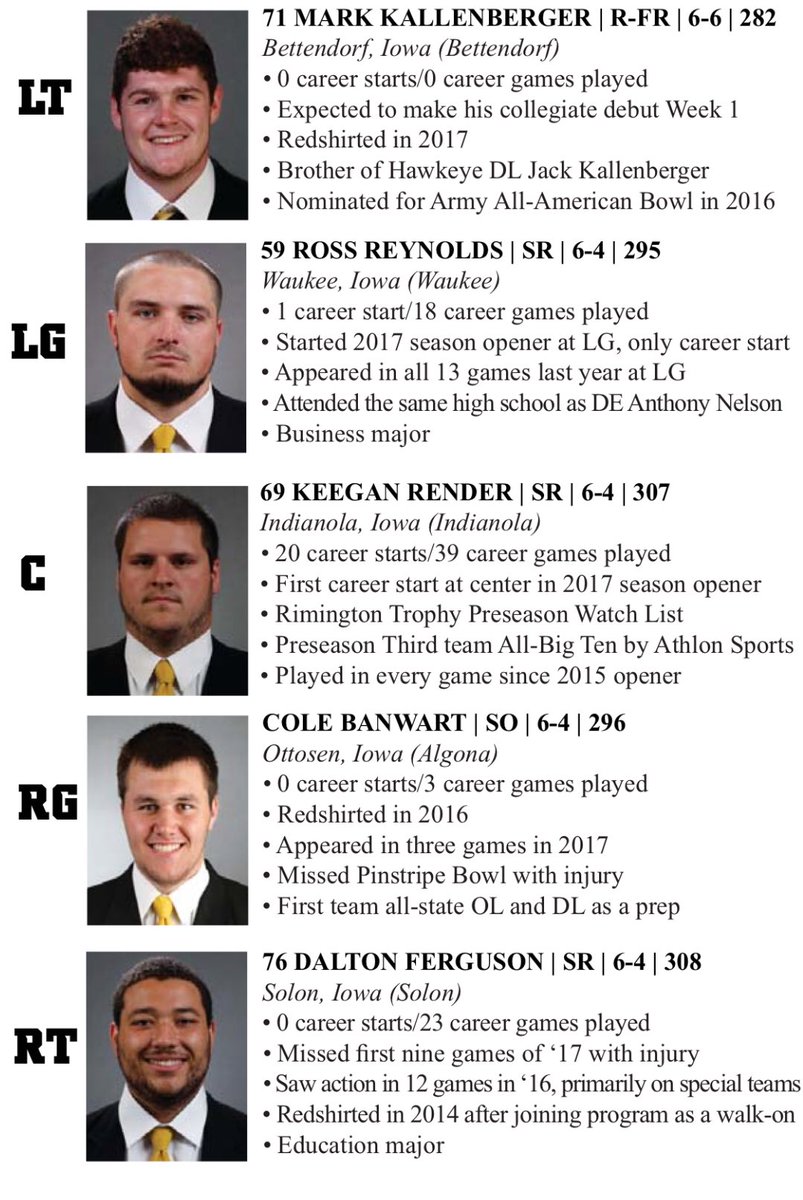 Due to suspension of both starting offensive tackles, Iowa
will start three players, without a previous start, in the
2018 season opener against Northern Illinois, with a strong
defensive line returning from a team that went 8-5 in '17.
Defense and special teams are often very important in season openers
. Turnovers, miscues and explosive special teams can often make the difference in win or lost in an opener.
Northern Illinois is anchored in the defensive line by junior DE
15 Sutton Smith, who had a monster game in the 21-17 win over
Nebraska in Week 3 last season. Smith wasn't shy about the upcoming
game with Iowa, suggesting "We're coming in there to punch
them right in the face, just like we did at Nebraska."
Both teams are very strong in the defensive line heading into the 2018 season.
Iowa will have two defensive tackles in the two deep unavailable, due to suspensions. Northern Illinois will be missing starting senior DE Josh Corcoran, due to injury. Otherwise, the Huskies do return three other starters, lead by junior all-American DE
Sutton Smith
, who collected 14 sacks in 2017. While Iowa will be short two defensive tackles, this is the Hawkeyes deepest units up front, outside of tight end. Look for seniors Parker Hesse,
Matt Nelson
, Sam Brincks, junior
Anthony Nelson
and sophomore A.J. Epenesa to lead the unit in the season opener. Like the offensive line, the starting defensive line is an all-Iowan unit as well. Both units are worth to watch in this one!
The"Full Nelson" debuted in the Pinstripe Bowl against Boston
College, as junior DE 98 Anthony Nelson and senior DT 96
Matt Nelson, moved inside next to his former running mate at DE.
Both teams have new starters in all three linebacker positions heading into 2018.
Northern Illinois gets redshirt junior MLB
Kyle Pugh
back from injury. He is the anchor, while two Floridians flank him, with redshirt sophomore OLB Antonio Jones-Davis and OLB junior Lance Deveaux, Jr. make their debuts. For Iowa, junior MLB
Amani Jones
finally gets his starting assignment, after all-American Josey Jewell departed to the NFL Denver Broncos. Sophomore Nick Niemann will replace his brother, Ben, who is having a strong NFL camp with the Kansas City Chiefs, as an undrafted free agent. The final starter for Iowa will be junior WLB Kristian Welch, who had a nice interception at Nebraska last year, as Bo Bower's backup.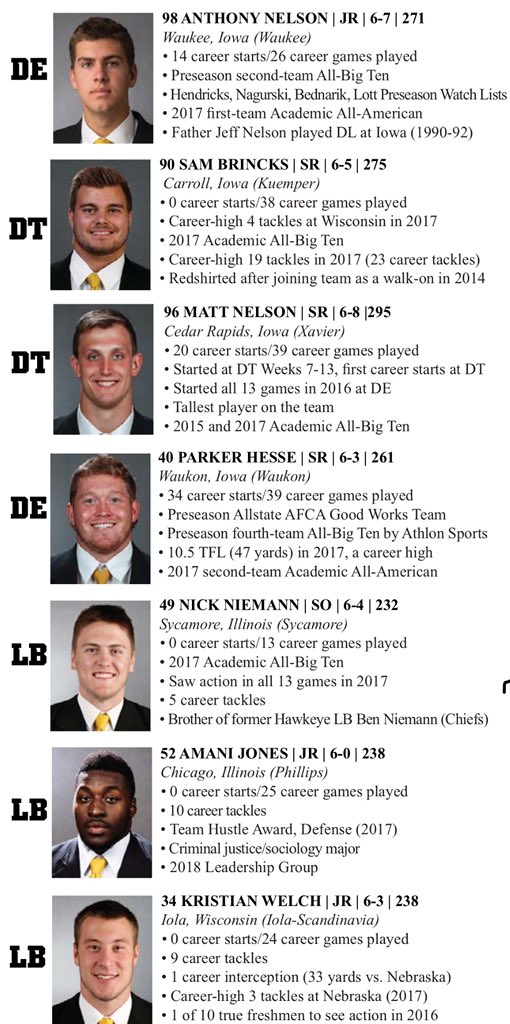 Iowa's front 7 for the 2018 season opener
against Northern Illinois (7-5 in '17). NIU
is picked first by the Media in the MAC West
for the 2018 season.
The secondary is always important to a successful defense
. Iowa returns four defensive backs, with starting experience, lead by junior SS
Amani Hooker
and senior FS Jake Gervase. Northern Illinois returns two starters with redshirt senior Albert Smalls and redshirt junior BS
Mykelti Williams
. Preventing explosive plays, forcing turnovers and drops will be a component to watch in the 2018 season opener.
— Devin Keller (@DevinMKeller) November 5, 2017
Special teams likely favor Iowa in the season opener.
Iowa returns both kickers in senior PK Miguel Recinos and junior punter Colton Rastetter; while Northern Illinois welcomes grad transfer PK Andrew Gantz and sophomore punter Matt Ference. Iowa and Northern Illinois will have new return specialists, with some experience. What could we see at Kinnick on Saturday?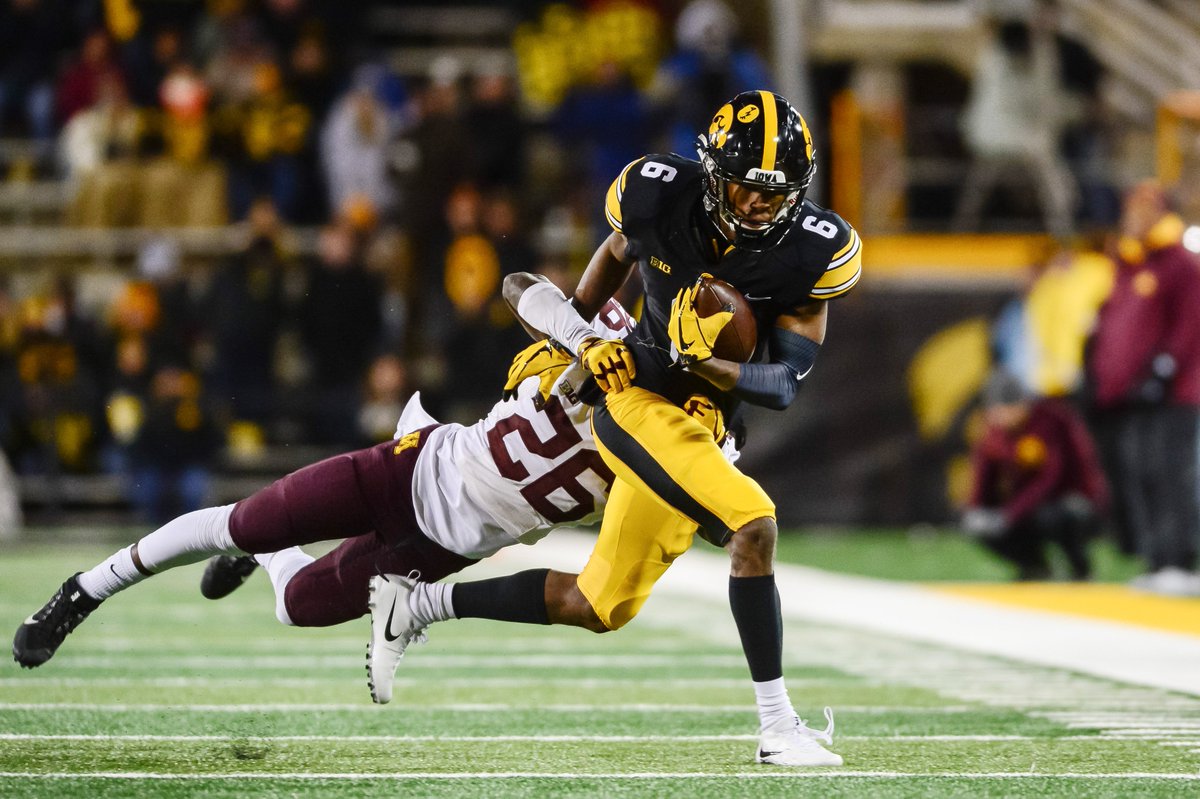 Iowa sophomore WR Ihmir Smith-Marsette should get an opportunity
to shine in both the kick and punt returning game in 2018. He showed
some explosiveness on kick return duties last year. Now, he will
get an opportunity on the punt return squad. Keep an eye on #6.
This game could go either way, but the Iowa Hawkeyes should win at home. Our prediction for this game:
IOWA HAWKEYES 30
NIU Huskies 20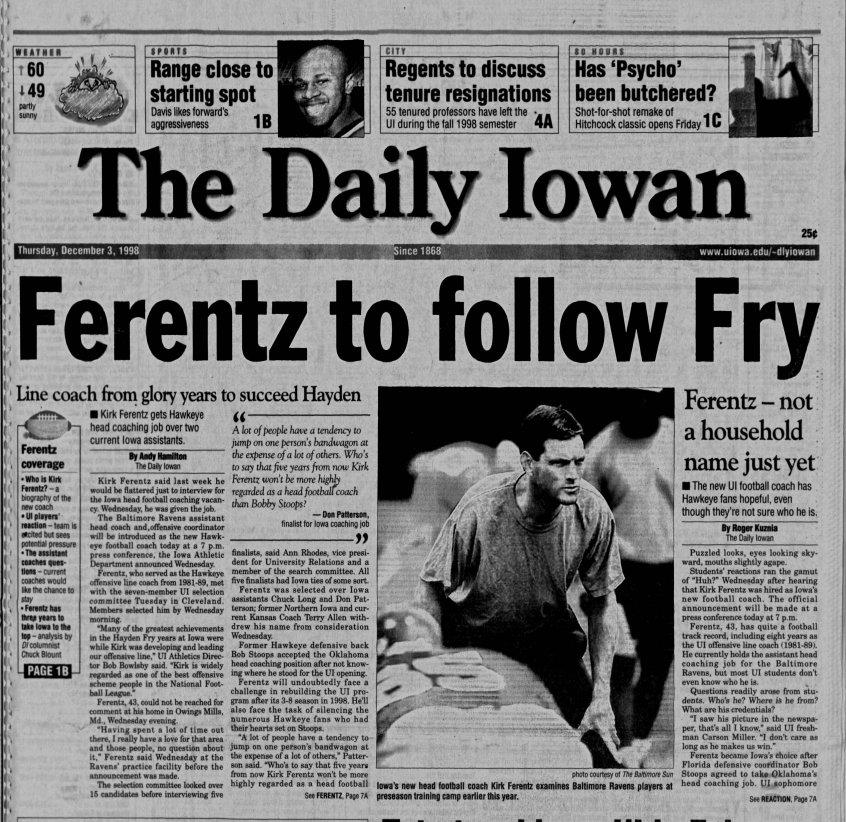 The University of Iowa has had two coaches and three athletic directors over the
past forty years. Iowa coach Kirk Ferentz is the dean of College Football.
He enters his 20th season, after replacing Hayden Fry, who coached 20 at Iowa,
as well. Many around college football find this a very unique situation and place.