— Hawkeye Legacy (@LegacyHawks) September 22, 2018
Iowa City, IA --- Fifty years ago, Iowa had one of the best college football teams in America. Tonight, the Iowa Hawkeyes (3-0) take on the Wisconsin Badgers (2-1) to kickoff the 2018 Big Ten football season at Kinnick Stadium, with a 7:30 PM kickoff on FOX. As the Badgers and the Hawkeyes seek to win another West division, which has gone to the winning team over the past four seasons, since the West was created in the Big Ten.
— Hawkeye Football (@HawkeyeFootball) September 22, 2018
This weekend, in addition to celebrating the 60th anniversary of the 1958 team. The Hawkeyes are looking to take back the Heartland Trophy, which has remained in Madison for five of the last six seasons, as the Badgers come to Iowa City to open conference play. It is also the ANF Game for 2018, America Needs Farmers, which began back in 1985, when Hayden Fry placed a

gold ANF decal on the Hawkeye helmets is the effort's signature. This year marks the 33rd anniversary of ANF, a longstanding tribute to America's farmers and program connecting Iowa's farm families to consumers to learn more about the production of food, fuel, and fiber.
— Big Ten Network (@BigTenNetwork) September 18, 2018
Wisconsin has been a Top 10 team over the past decade, but they couldn't take care of business to close out non conference play last weekend, in a 24-21 home loss to BYU. The haven't lost back to back games, since 2016, when they opened Big Ten play with back to back losses @ Michigan and against Ohio State. The Badgers have won two straight in the series, and lead overall 45-43-2. The visiting team has also won eight of the last 11 games in this series, as well.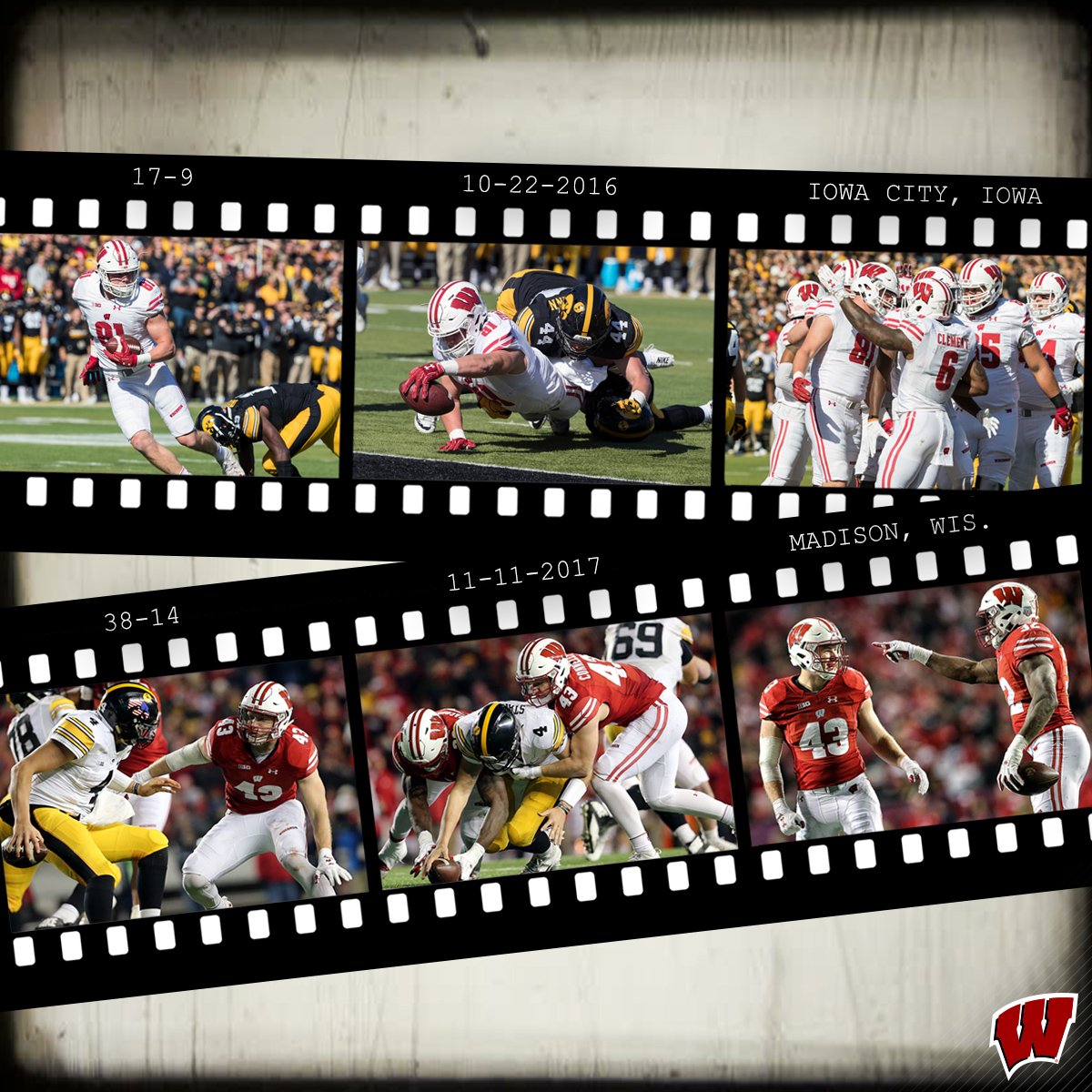 In 2015, Iowa beat Wisconsin 10-6, in a tight four quarter game. Wisconsin
has won the last four games played in Iowa City. The Hawkeyes last beat
Wisconsin at Kinnick Stadium in 2008, by the score of 38-16, as sophomore
QB Ricky Stanzi lead the Hawkeyes offense, with junior RB Shonn Greene.
Last year, Wisconsin dominated Iowa 38-14, holding the Iowa offense to 66 yards and only five first downs. But, it was only a 14-6 game heading into the fourth quarter in Madison last season. The Hawkeyes rushed for only 25 yards and passed for 41 yards. Wisconsin had 18 first downs, ran for 247 yards for a 5 yard average, and passed for 135 yards. Iowa's 14 points were two Pick-6 touchdowns by Green Bay back rookie CB Josh Jackson, a junior on the Hawkeyes team last year.
The Wisconsin Badgers are lead on offense by sophomore RB #23 Jonathan
Taylor, who was a 2nd team all-American as a true freshman last season.
The Badgers enter the game thinking "all things considered there may not be a better starting point than Saturday's rivalry game" since the Badgers have won 17 of their last 18 trophy games against Iowa (Heartland Trophy), Minnesota (Paul Bunyan's Axe) and Nebraska (Freedom Trophy).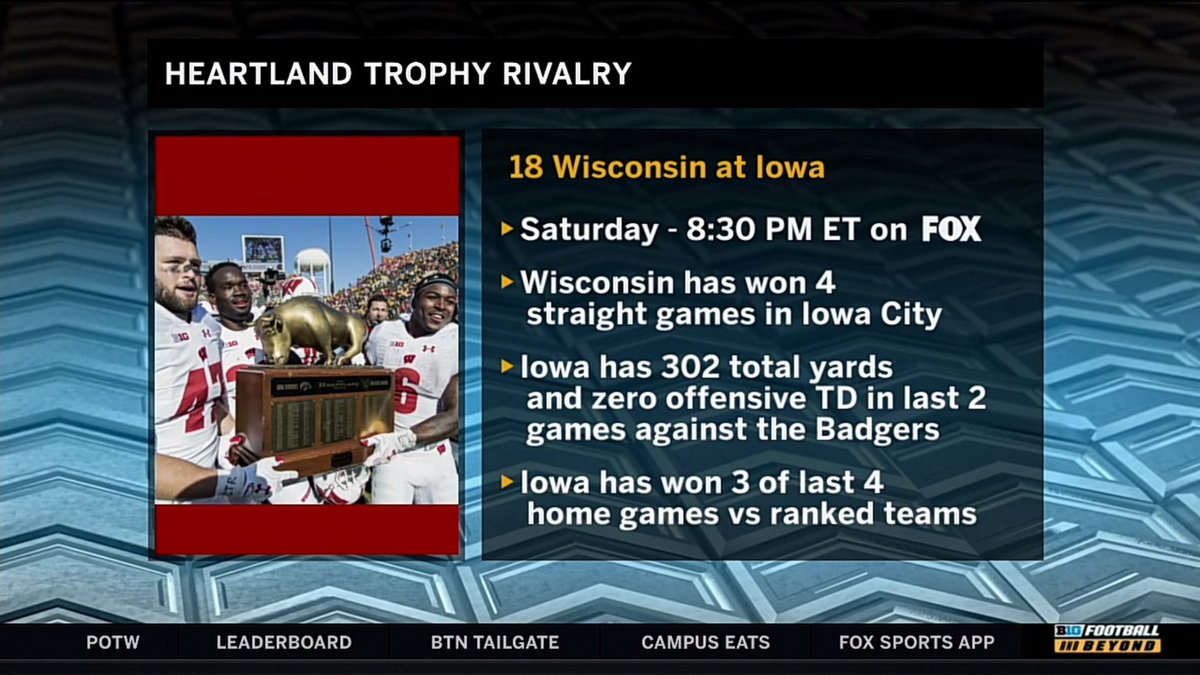 Iowa hasn't had much offensive success, since 2014, when the current seniors
were either red-shirts or in high school. The Hawkeyes did win in 2015, but
that was on the road. With a night game, the Hawkeyes are hoping for some
home cooking. And, Kinnick Stadium is often a good place to be for a night game.
Iowa needs to improve in the line of scrimmage, where the Badgers have dominated lately on both sides of the football in this series. The Hawkeyes have stepped up the defensive line play heading into the first three games of 2018. Iowa ranks number two, behind Stanford, among Power 5 programs allowing the fewest points (8.0 per game). Wisconsin has a NFL ready group up front on the offensive line, but injuries and three departures have been an issue is the once dominating 3-4 defensive line for the Badgers in 2018.
Wisconsin junior QB #12 Alex Hornibrook leads the Badgers offense. He split
time as a freshman, but took over the full reigns in 2017. His biggest knock is
he threw 15 interceptions as a sophomore and 7 interceptions in a half time role
as a freshman. The Hawkeyes hope to continue that trend, if possible, tonight.
What can we expect from the Badgers, coming off the loss against Brigham Young?
"It's always the same message, it's another week of football," said senior offensive guard Michael Deiter, who likes the change of pace of traveling by bus to a road game. "You have to learn from what caused you to lose and get better from it. And you're playing Iowa. The message when you're playing Iowa is always the same.
"It's a trophy game, it's a big rivalry, it's going to be physical. It's not going to be a bunch of new stuff. It's just going to come down to that physicality and who wants it more that day.
"We play a similar style of ball. We like to control the clock. It's not going to be 80 plays a side. The games go fast because we both stick to the run. And it's physical. That's the way we want it. You definitely feel it the next day."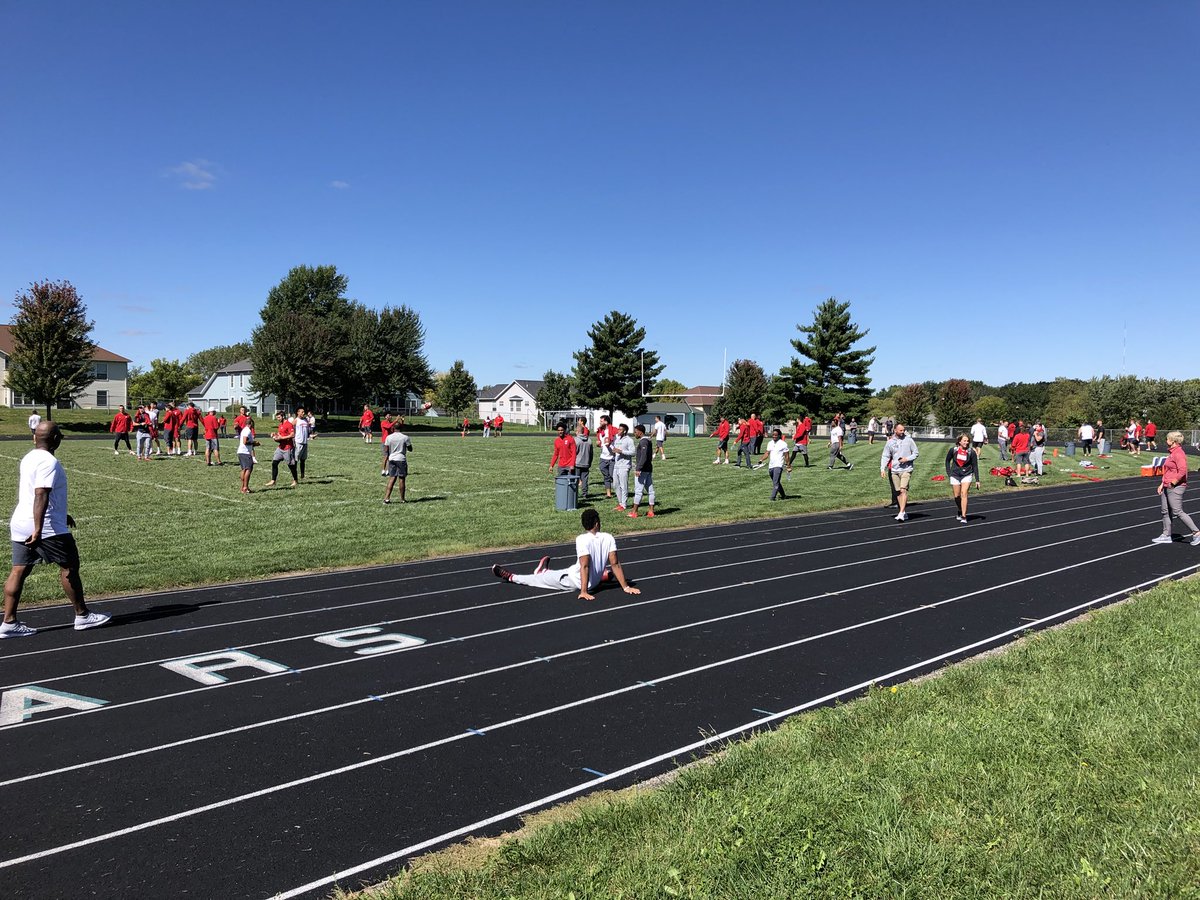 On Saturday afternoon, the Wisconsin Badgers began their walk through at
Cedar Rapids Kennedy High School, ahead of tonight's battle for the Heartland Trophy.
What can we expect from the Iowa Hawkeyes against the Wisconsin Badgers?
Iowa will attempt to establish the run game, as Scott Dochterman pointed out recently in The Athletic - staying ahead on first down and improving 2nd down play calling, as he wrote on trends in the past two games in the series
Balance is always important offensively, while it will be difficult to repeat the 243 yards rushing/244 yards passing split, Iowa's QB Nate Stanley achieved leading Iowa to a 55-24 win over Ohio State last year
Win the battle in the line of scrimmage on both sides of the football
Avoid turnovers, miscues and penalties, which often lead to losing the game of field position and being constantly behind the chains
Special teams - Wisconsin senior PK Rafael Galianorne missed a 42 yard field goal attempting to take the BYU game into overtime last week. Iowa senior PK Micquel Recinos hasn't been as consistent in 2018. Teams prefer touchdowns over field goals, but all points are important
Coaching adjustments - Iowa offensive coordinator Brian Ferentz and Wisconsin defensive coordinator Jim Leonhard are both second year coordinators, so these are two guys to watch tonight
Does Iowa get sophomore RB Ivory Kelly Martin back against Wisconsin?
He was the starter for the season opener, but was injured and hasn't played
in the past two games. Fellow sophomore RBs Toren Young and Mekhi Sargent
are #2 and #3 in the Iowa running back committee in 2018.
The Hawkeyes have improved their roster over the past four seasons. Leadership is always important for success.
Our Prediction: Iowa Hawkeyes 26, Wisconsin Badgers 24
The University of Iowa football program has 12 players among its 2018 Leadership Group. The group includes six seniors, five juniors, and one sophomore. The Leadership Group votes on the weekly game day captains, is involved in team decision-making throughout the season, and provides feedback to the head coach. Players were selected by team vote.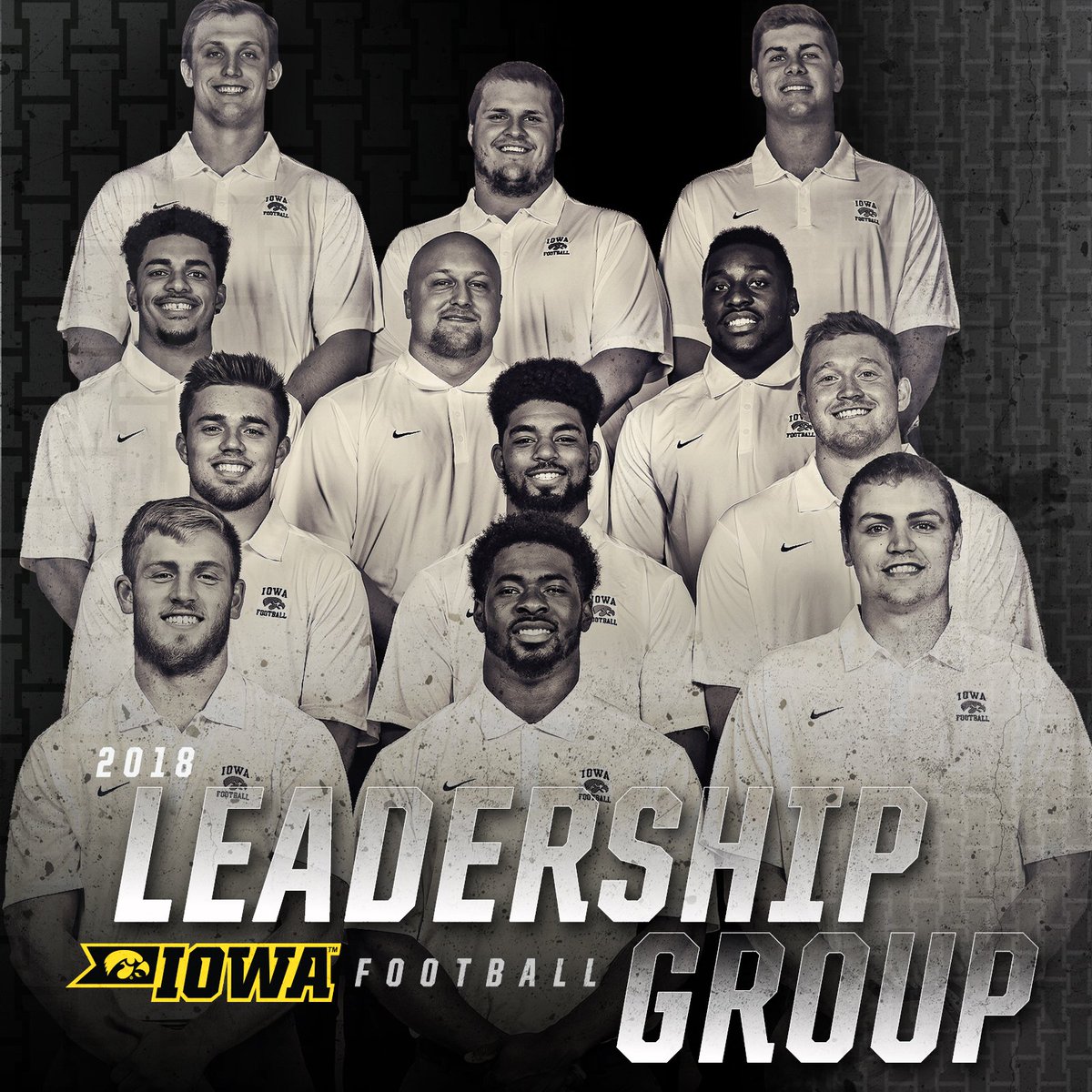 2018 Iowa Leadership Group
The group consists of seniors WR Nick Easley, DB Jake Gervase, DE Parker Hesse, LB Aaron Mends, DL Matt Nelson, and OL Keegan Renders, juniors DB Amani Hooker, LB Amani Jones, DL Anthony Nelson, FB Brady Ross, and QB Nate Stanley, and sophomore RB Toren Young.