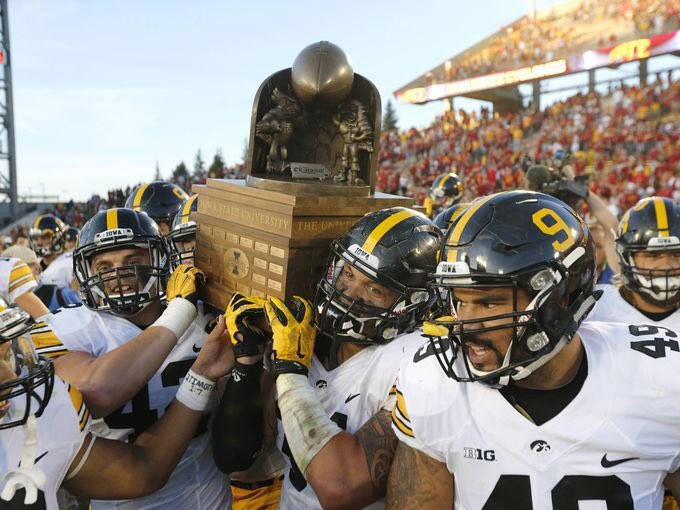 The Iowa Hawkeyes won back the Cy-Hawk Trophy, after a
31-17 win over the Iowa State Cyclones in 2015. The Hawks
are seeking to make it three straight, in Ames and in the series.
Ames, IA
--
The Iowa Hawkeyes
(1-0) are looking to carry off the Cy-Hawk Trophy for the third straight time, from the field of Jack Trice, as the Hawkeyes face the
Iowa State Cyclones
(1-0), with an 11 a.m. kickoff on ESPN2.
Iowa State head coach Matt Campbell is making his 2nd
appearance in the Cy-Hawk Game today.
It is Iowa head coach Kirk Ferentz's 19th season, as head coach
, and 28th season overall, connected with the Cy-Hawk Game, as part of the Hawkeyes coaching staff. Iowa State head coach Matt Campbell heads into Round 2 of the series, after the 42-3 loss in Iowa City, in his first season at the helm, leading the Cyclones.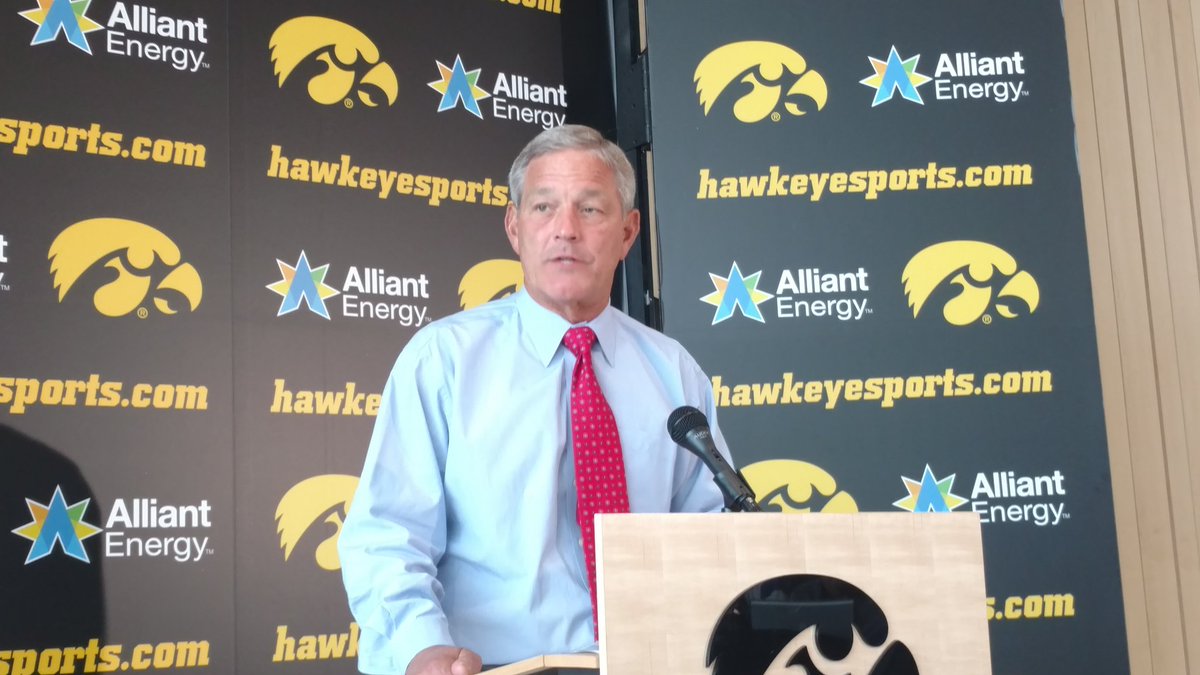 Iowa head coach Kirk Ferentz has been involved in 27 Cy-Hawk
games in his coaching resume, as an assistant and now leading.
The dean of college football enters the game tied 9-9 in the series, as head coach
. The rubber match today should be a good one.
It was 40 years ago, since the renewal game was played in Iowa
City. The Hawkeyes were the underdog back in 1977, but Iowa
pulled out the win in an exciting 12-10 win, which included a
77 yard TD run by WB Dennis Mosley for the Hawkeyes.
Iowa generally wins 2 out of every 3 against the Cyclones
, but after a 15 year win streak from 1983 to 1997, the Cyclones pulled off 27-9 win at Kinnick Stadium in 1998, to begin a five year win streak of their own.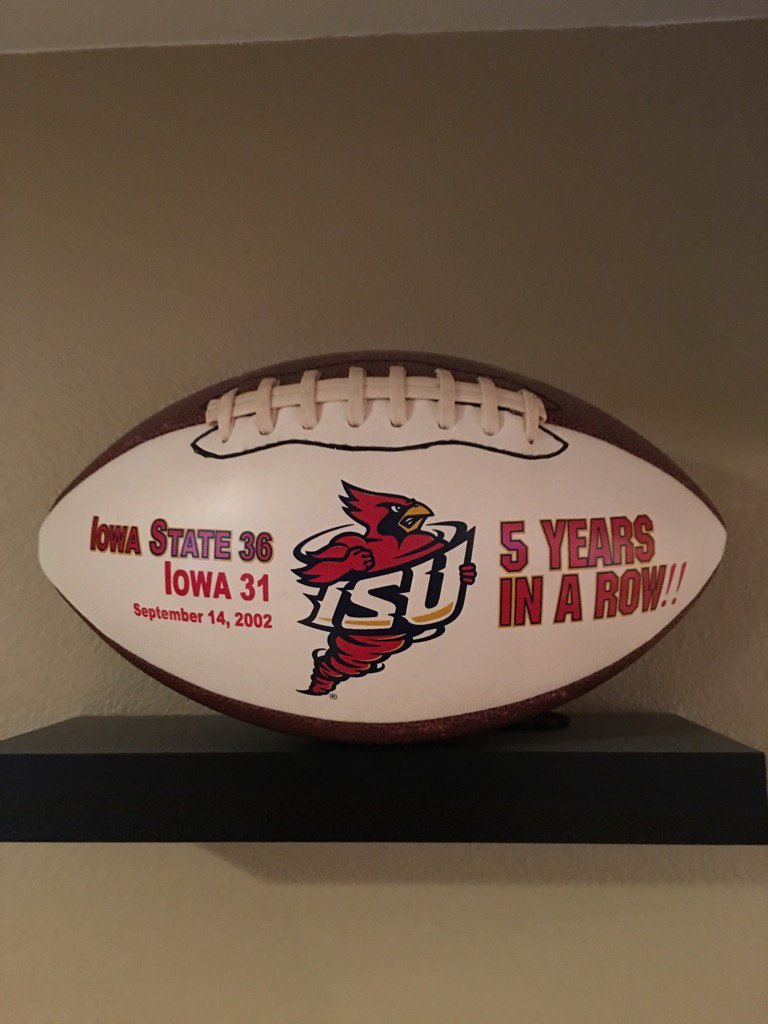 The 2002 game may have done more to spice up
the Cy-Hawk Game, as the Cyclones won another
one in Iowa City, with a 36-31 win over what would
become a Top 10 Iowa Hawkeye team, under Kirk Ferentz.
The first of three straight Top 10 seasons for the Hawkeyes.
What could we see at Jack Trice on Saturday on offense?
A back and forth game early on, unlike the affair last season, in Iowa City, where the Hawkeyes jumped off to an early 14-0 lead.
Two young QBs, as both Iowa sophomore Nate Stanley and Iowa State junior Jacob Park make first starts in the Cy-Hawk Game today.
Both Iowa and Iowa State have seasoned running backs, but none of them have had huge games in the Cy-Hawk Game, as of yet. Both Iowa senior RBs Akrum Wadley and James Butler will be making a debut at Jack Trice Stadium, while ISUs has sophomore David Montgomery and junior Mike Warren.
ISU's top WR Allen Lazard is a senior, but he has never scored in a Cy-Hawk Game.
Iowa's top WR Matt VandeBerg is fifth year senior, after having a career day as a senior last season in the Cy-Hawk Game. Suffering a season ending foot injury, after the game, he returns for one more stanza with ring already in hand.
Let's not forget, both teams have others at wide receiver and tight end, who could step up and become Hawkeye or Cyclone legends today, in the Cy-Hawk Game ...
It wouldn't be fair to two former offensive line coaches, as, they now lead their respective teams, if we didn't talk about the offensive lines today. The Hawkeyes have a veteran unit coming into Jack Trice, while Cyclones are younger, though senior LT Jake Campos returns from injury to make his final appearance today. Iowa hopes to see junior C James Daniels making his first start of 2017 today.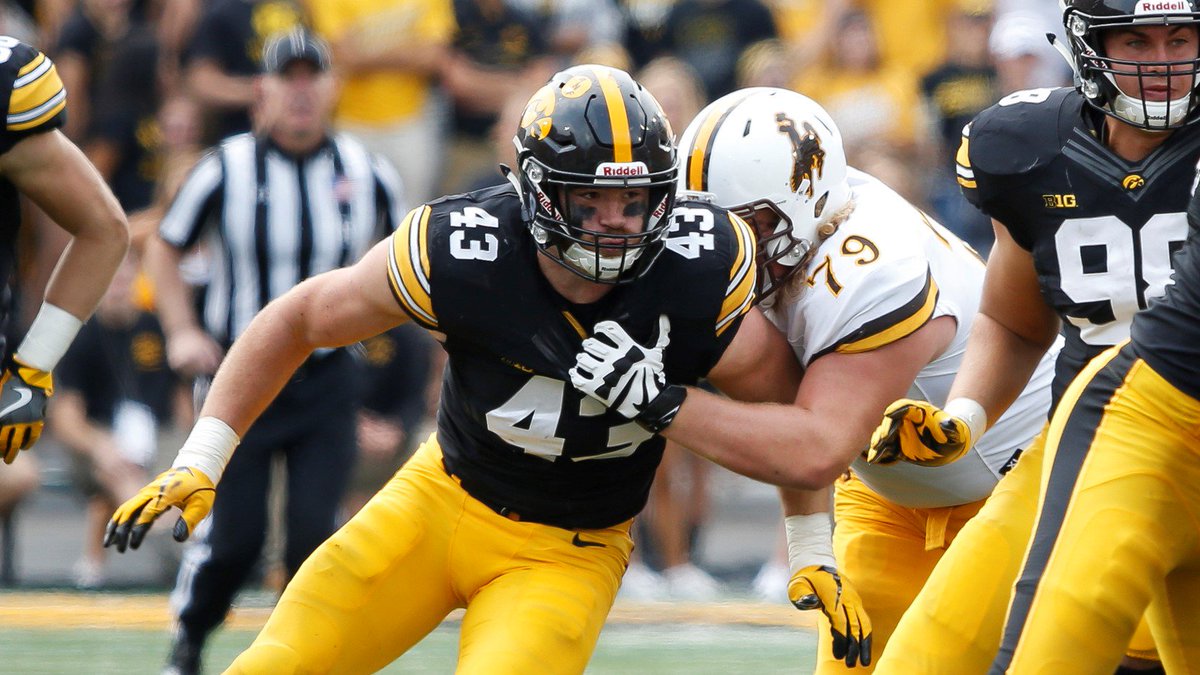 Iowa senior MLB 43 Josey Jewell is a pre-season all-American.
What could we see at Jack Trice on Saturday on defense?
The Hawkeyes are coming off a 24-3 win last Saturday over Wyoming, who were lead by NFL prospect in junior QB Josh Allen. The Hawkeyes defense played a very strong game to kickoff 2017.
The Hawkeyes rotated in eight defensive linemen, who will be tested heavily today at Jack Trice, with a duo threat in both the rushing and passing games, by the Cyclones. The senior is DT Nate Bazata, but the Hawkeyes debuted five-star true freshman DE A.J. Epenesa in Week 1 for ten snaps. Bazata lead the 4th down stand for the Hawkeyes against Cowboys last Saturday and will be a key player to watch today, as Iowa must stop the duo threat of run and pass from the Cyclones.
The Cyclones are coming off a 42-24 home win against in-state Northern Iowa, where 14 points was fueled by two early Pick 6 interceptions by the Cyclones back 7.
The Cyclones can play using a 3-4 defensive set, as well as a 4-3, so look for some different looks, especially with Iowa's QB only making his second collegiate start today. The Cyclones defensive line is anchored by JC transfer, sophomore NG Ray Lima.
The Hawkeyes return three senior starters at LB in 2017, and last Saturday, they accounted for 38 tackles. Lead by the Outlaw ... MLB Josey Jewell, flanked by OLB Ben Niemann, a Cyclone legacy, and WLB Bo Bower.
The Cyclones moved former starting QB senior Joel Lanning to MLB for the 2017 season, while junior WLB Willie Harvey is his counterpart in the middle of the ISU defense again.
Both teams have solid secondaries, though the Hawkeyes are younger, they will see the return of sophomore CB Manny Rugamba today, after missing Week 1, due to a violation of team rules. The Cyclones are lead again by junior LC Brian Peavy and senior LS Kamari Cotton-Moya for 2017.
What could the special teams bring to the equation?
Iowa is young at placekicker and punter, while ISU senior punter Colin Downing could provide huge boost in flipping the field position today.
Field position is huge in this series ...
Both teams have capable players in the return game.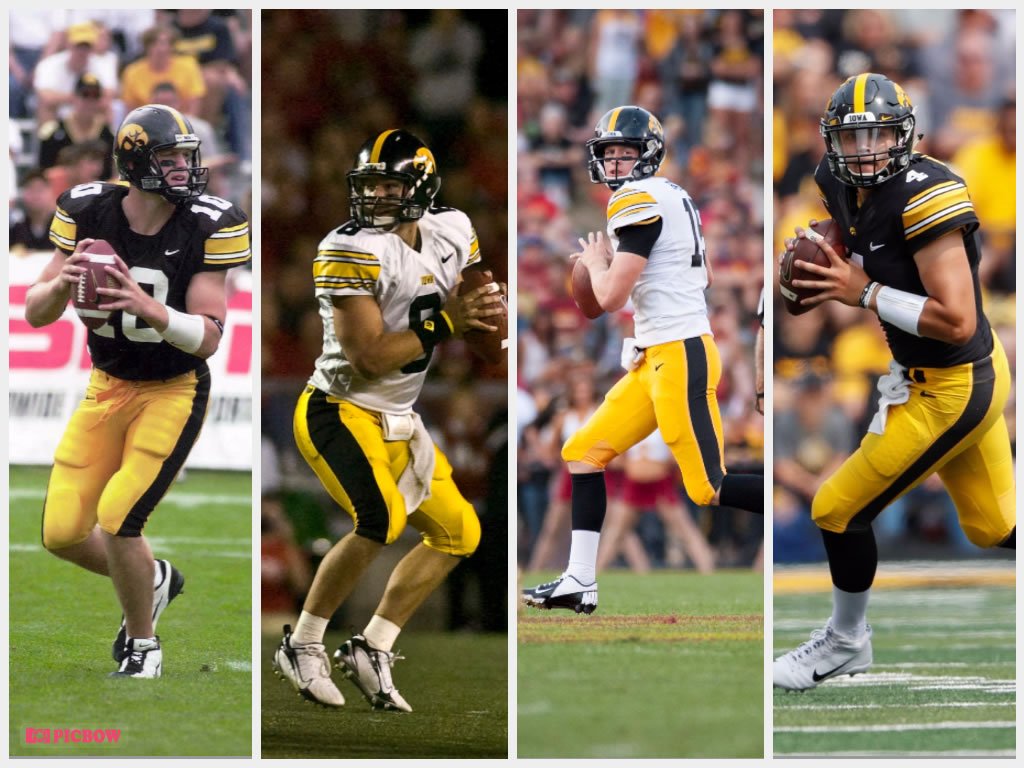 Iowa sophomore QB 4 Nate Stanley is making his first road
start for Kirk Ferentz, following three other Hawkeye starters
during the KF era making it on the road against ISU.
(Nathan Chandler 2003, Jake Christensen 2007 and Jake Rudock 2013)
The previous three were 2-1, mirroring the average for Iowa-ISU games.
The two deep on the Iowa Hawkeyes: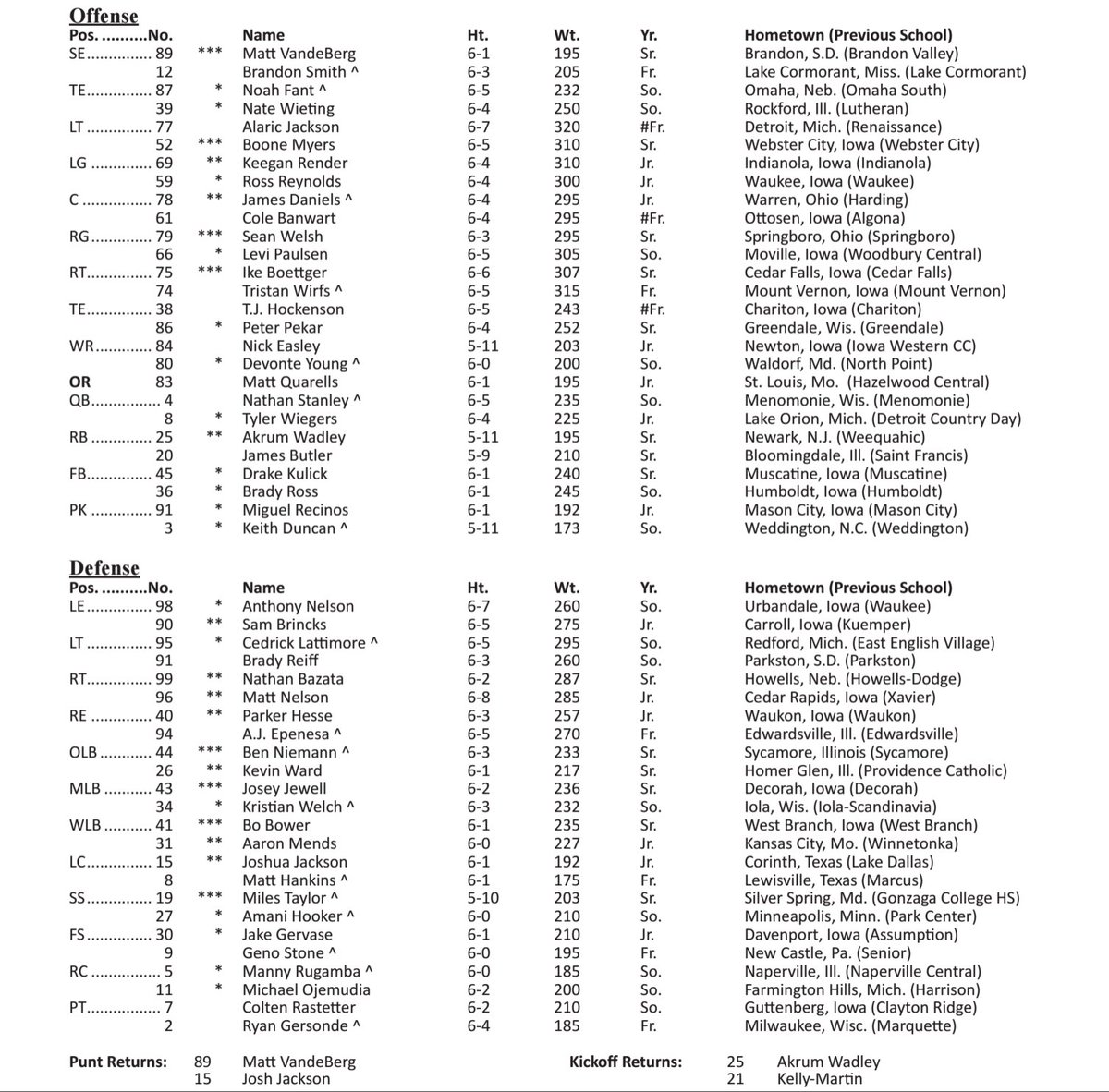 The two deep for the Iowa State Cylcones: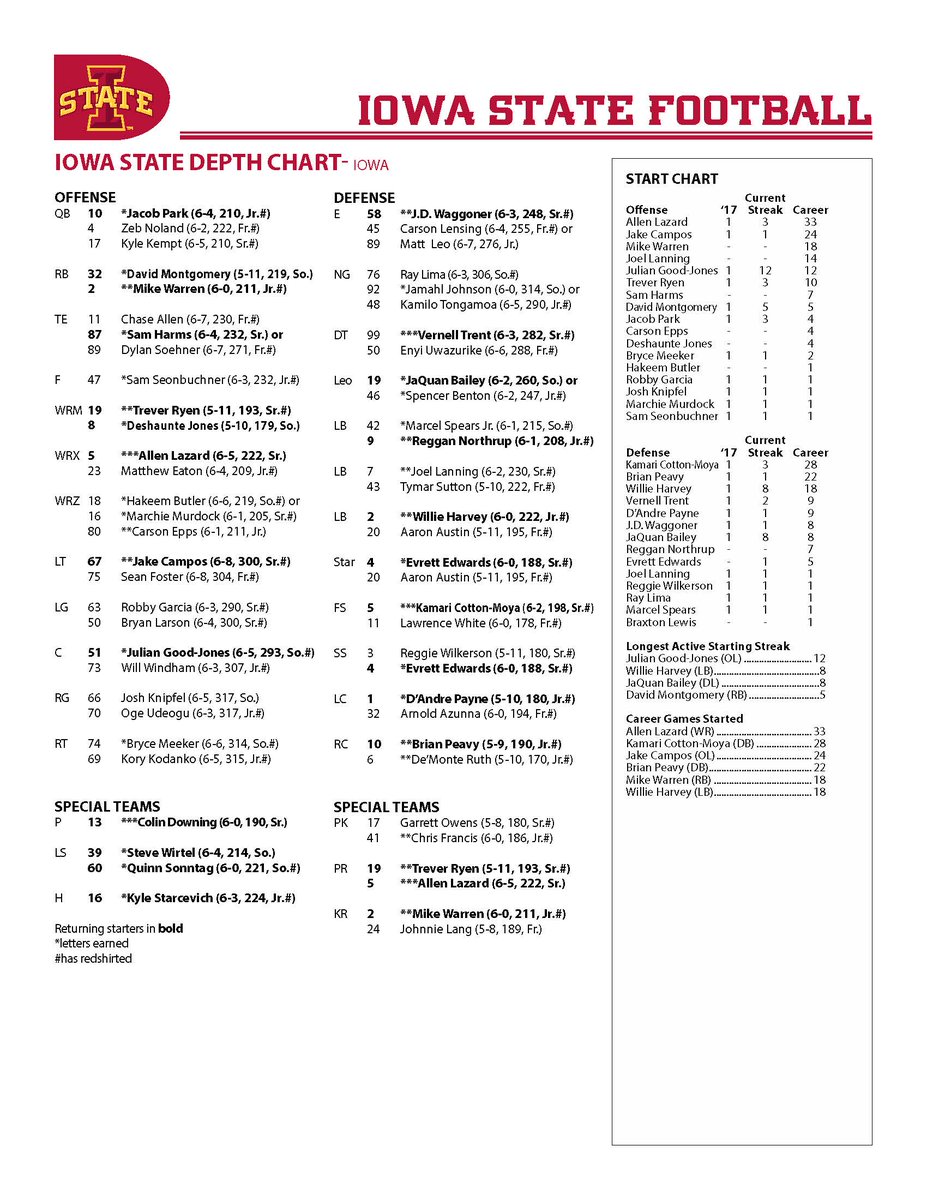 Our Pick in Cy-Hawk Game today:
The series has been very competitive, 50/50, for the most part during the Kirk Ferentz era. Like 2013 and 2015, look for the Hawkeyes to play better on the road, rather than some of the close wins, ISU has had recently in Iowa City, 2012 and 2014. Of course, the 2011 went to ISU in triple overtime, so often the close ones have bounced the way of the Cyclones. Separation is often important for Iowa ...
Can Iowa senior RB 25 Akrum Wadley pull a Dennis Mosley
game today? The former Iowa RB, had a great senior season,
including breakout game that lead to the first 1,000 yard season
by a Hawkeye in 1981. Iowa brings two 1,000 yard runners
to the game, with Wadley and Nevada grad transfer James Butler.