Iowa City, IA --
The Iowa Hawkeyes
(8-5 in 2016) kickoff their 128th season at historic Kinnick Stadium, as the
Wyoming Cowboys
(8-6 in 2016) come to town, for the first time, since 1953. Both teams are coming off an 8-4 regular season, as the Big Ten vs. MWC showdown kicks off at 11 a.m. at Kinnick Stadium, and on the Big Ten Network.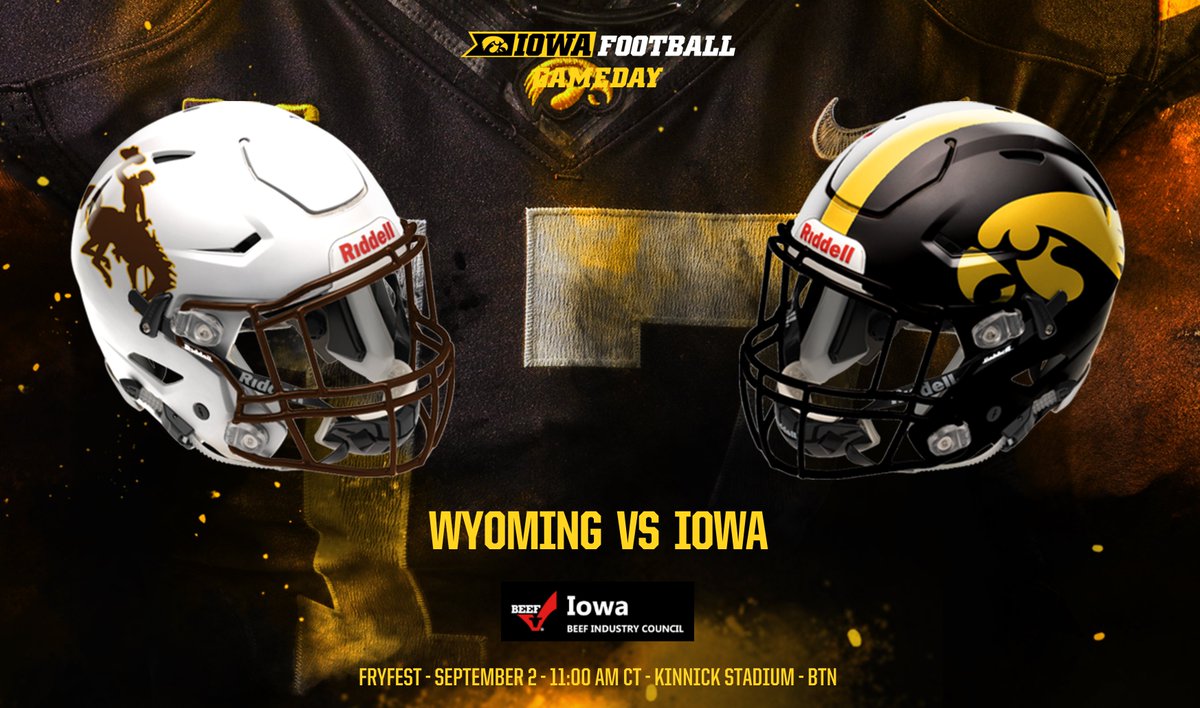 Both teams defeated two Top 25 opponents in 2016.
Wyoming @ Iowa from Kinnick Stadium, 11 a.m. on BTN.
This is the first meeting between Iowa and Wyoming in 20 years
, since the 1987 Holiday Bowl, where the Hawkeyes pulled out a 20-19 win late. Iowa leads the series 2-0, winning the only other game, 21-7, in Iowa City, in 1953.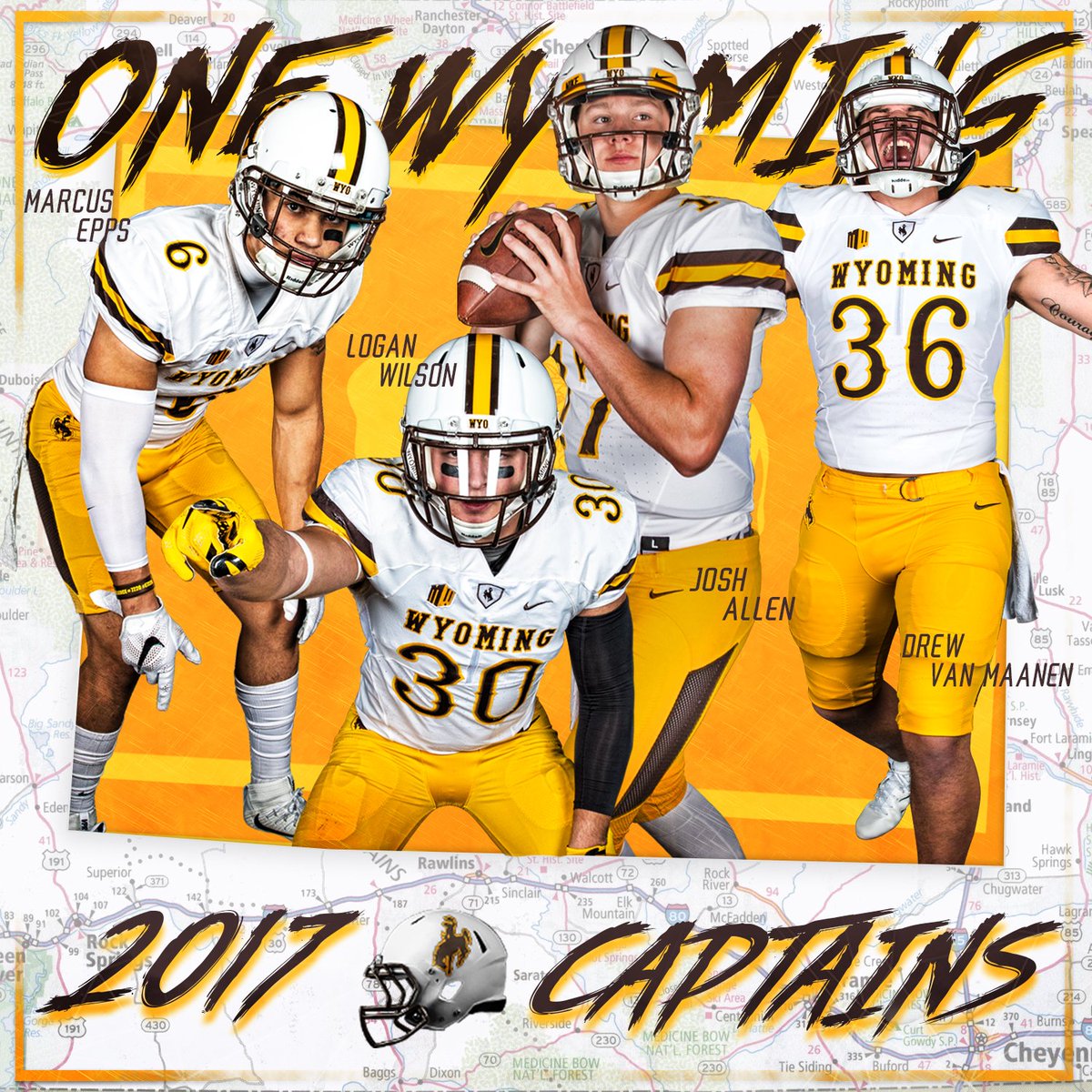 Junior 6 FS Marcus Epps, sophomore 30 MLB Logan Wilson,
junior 17 QB Josh Allen and senior 36 FB Drew Van Maanan
will serve as game captains for the Cowboys in the season opener
at Iowa.
At quarterback
, Wyoming has a gunslinger in junior Josh Allen, who has NFL aspirations, after a breakout season in 2016. The Iowa Hawkeyes must replace C.J. Beathard, who lead Iowa to a 21-7 record, since becoming the full-time starter in 2015. Iowa will go with true sophomore Nate Stanley, who beat our junior Tyler Wiegers for the job.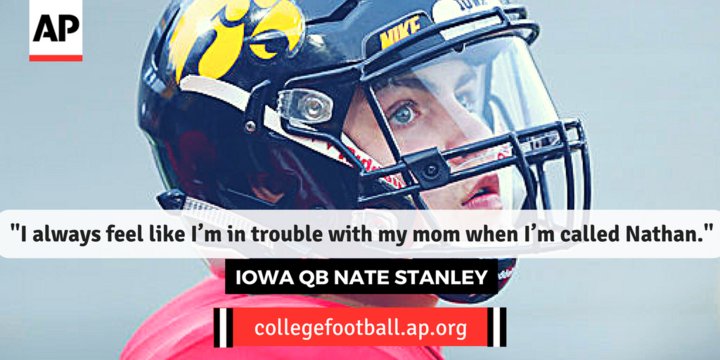 Iowa head coach Kirk Ferentz is the dean of College Football.
He will open 2017, with a first- year starter and the Hawkeyes
choose true sophomore QB 4 Nate Stanley for the task.
Both teams are inexperienced at the receivers position
, with Iowa returning only one wide receiver, senior Matt VandeBerg, with a catch as a Hawkeye. The Cowboys must replace 25 of 28 TD receptions, as sophomore WR C.J. Johnson is the only returner on the other end of an Allen TD pass from 2016.
Both Iowa and Wyoming were interested in the services of true
sophomore Iowa 87 TE Noah Fant, who came out of Omaha.
Fant caught 9 passes for 70 yards, 1 TD in 2016 for the Hawks.
Iowa has a young, TE corp
, lead by sophomore Noah Fant and redshirt freshman T.J. Hockenson. The Hawkeyes will use many of the 8 tight ends on the roster in 2017. Last year's starting TE George Kittle joins QB Beathard on the San Franciso 49ers roster for 2017. This unit is one to watch, in the passing game for young Stanley at Iowa in 2017.
Iowa senior RB 25 Akrum Wadley leads the Iowa ground game.
Wyoming
lost both their number 1 and number 2 running backs from 2016. The Hawkeyes are the only team in FBS to return two 1,000 yard rushers, as senior Akrum Wadley and senior grad transfer James Butler, from Nevada, lead the likely four deep RB unit for the Hawkeyes. The Cowboys lost talented RB Brian Hill, so a three player committee is likely, with junior Nico Evans, sophomores Milo Hall and Kellen Overstreet.
This is an area where the Hawkeyes have a clear advantage
.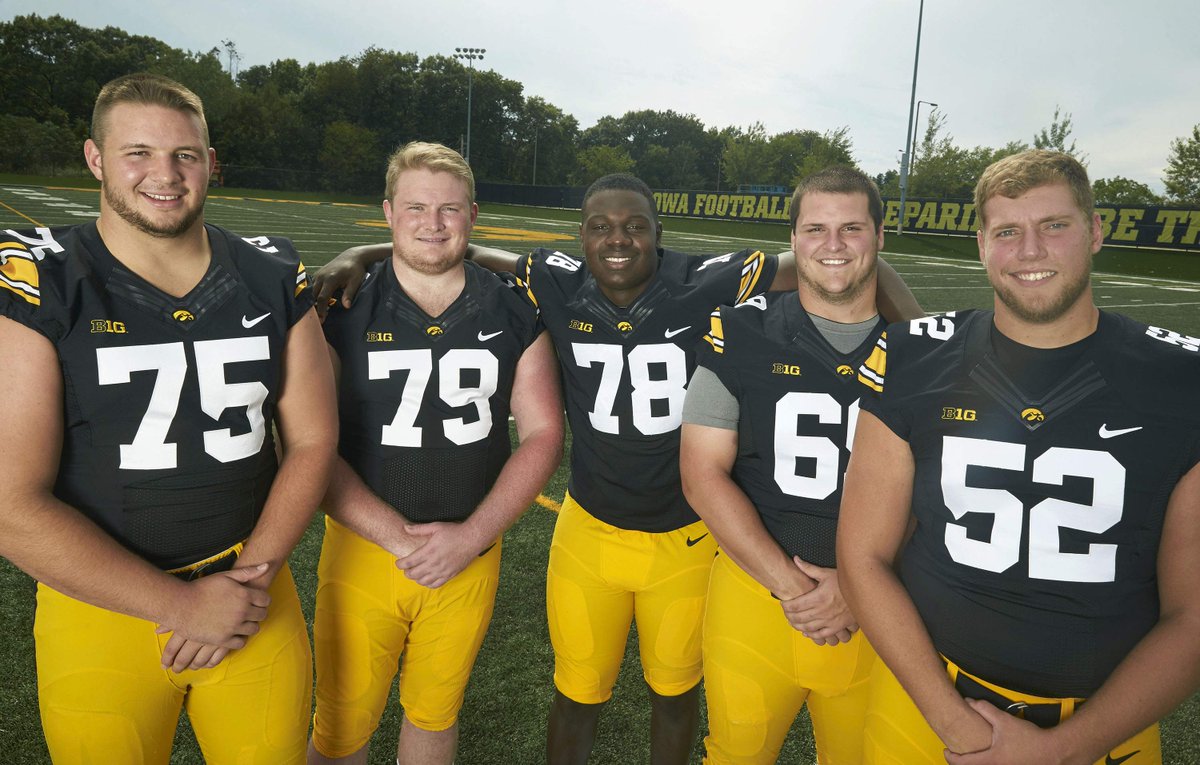 Iowa offensive line: senior RT 75 Ike Boettger, senior RG 79
Sean Welsh, junior C 78 James Daniels, junior LG 68 Keegan Render,
and senior LT 52 Boone Myers, who all bring starting experience.
The ground game all begins up front with the offensive line
. The Hawkeyes are an experienced, veteran bunch, with three seniors and two juniors in the line up. Wyoming returns four of five offensive line starters, but the center position will be manned by a true freshman in 2017, as Logan Harris replaces all-MWC center Chase Roullier.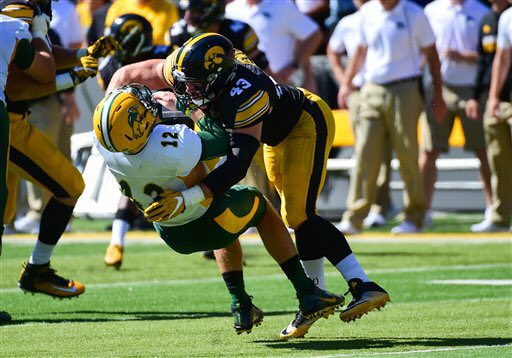 Iowa senior MLB 43 Josey Jewell leads the Hawkeyes defense again.
A pre-season all-American at linebacker, with a group that returns
6 of 7 in the front 7 for the Hawkeyes.
Both Iowa and Wyoming return eight starters on defense
, though the Hawkeyes will begin 2017, without junior free safety Brandon Snyder, out with a knee injury. The Hawkeyes were a Top 25 defense in 2016, while the Cowboys were in the bottom 25 of defenses in 2016.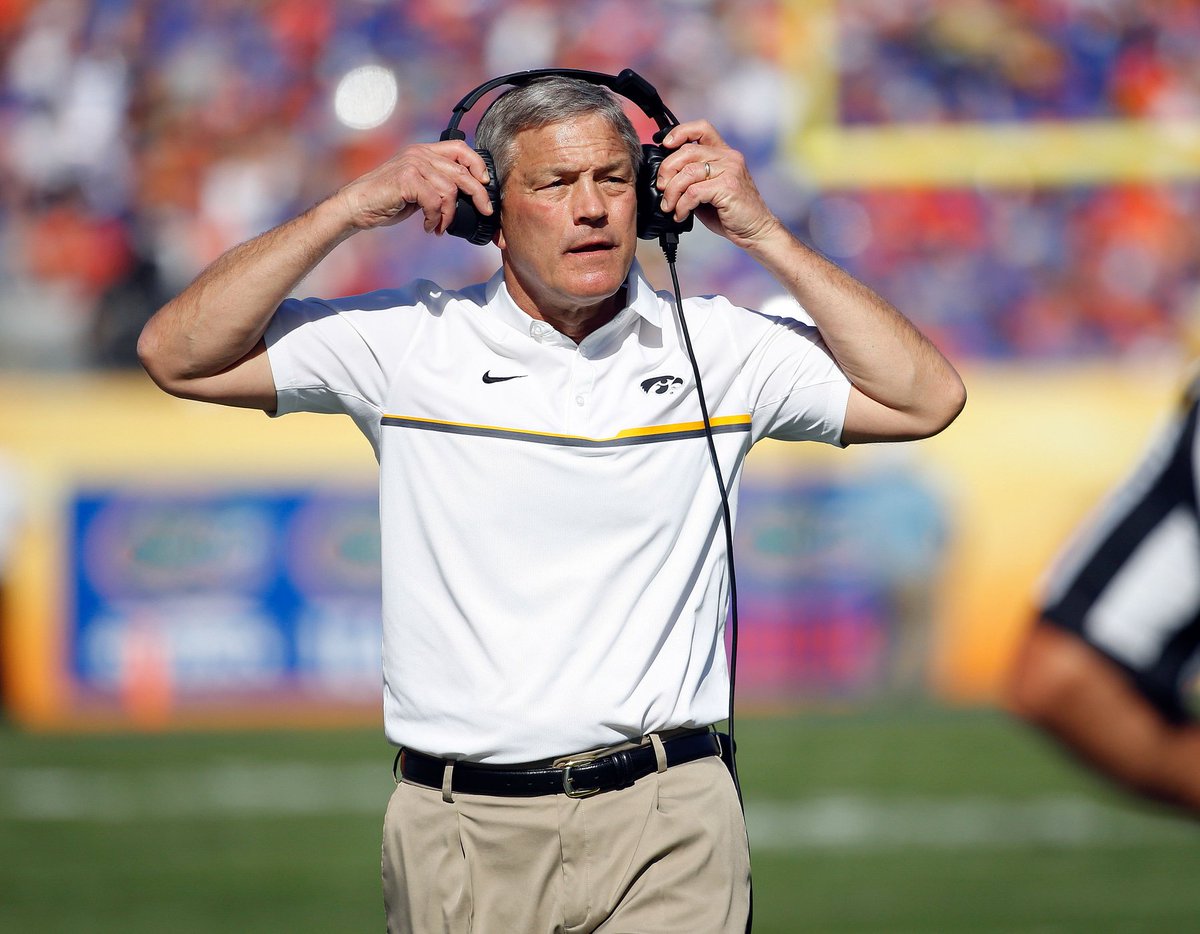 Iowa Kirk Ferentz is now the dean of College Football, entering
his 19th season as head coach, 28th overall for the Hawkeyes.
Iowa's Kirk Ferentz is now the dean of College Football
, entering his 19th season, as head coach. Back in 1999, Wyoming head coach Craig Bohl was the defensive coordinator at Nebraska, when Ferentz debuted as Iowa's head coach. Iowa lacked Big Ten bodies in the trenches, when Ferentz arrived in Iowa City, back in 1999. It isn't the case entering 2017, where Iowa's strengths are in the offensive and defensive lines heading into the season.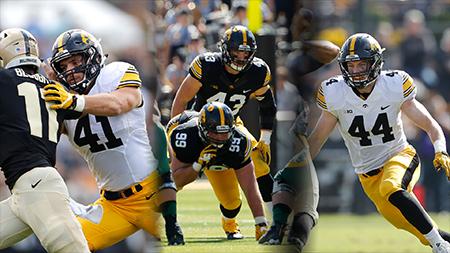 Like the 2013 Hawkeyes, Iowa returns three senior starters at LB
to kickoff the season, as 41 WLB Bo Bower, 43 MLB Josey Jewell,
and 44 LEO Ben Niemann all return. This should be a strong unit.
Iowa's strength on defense is the linebacker unit
, with all three starters returning, while the heart of the Wyoming defense is the secondary, lead by two very good safeties, who lead the Cowboys in tackles in 2016.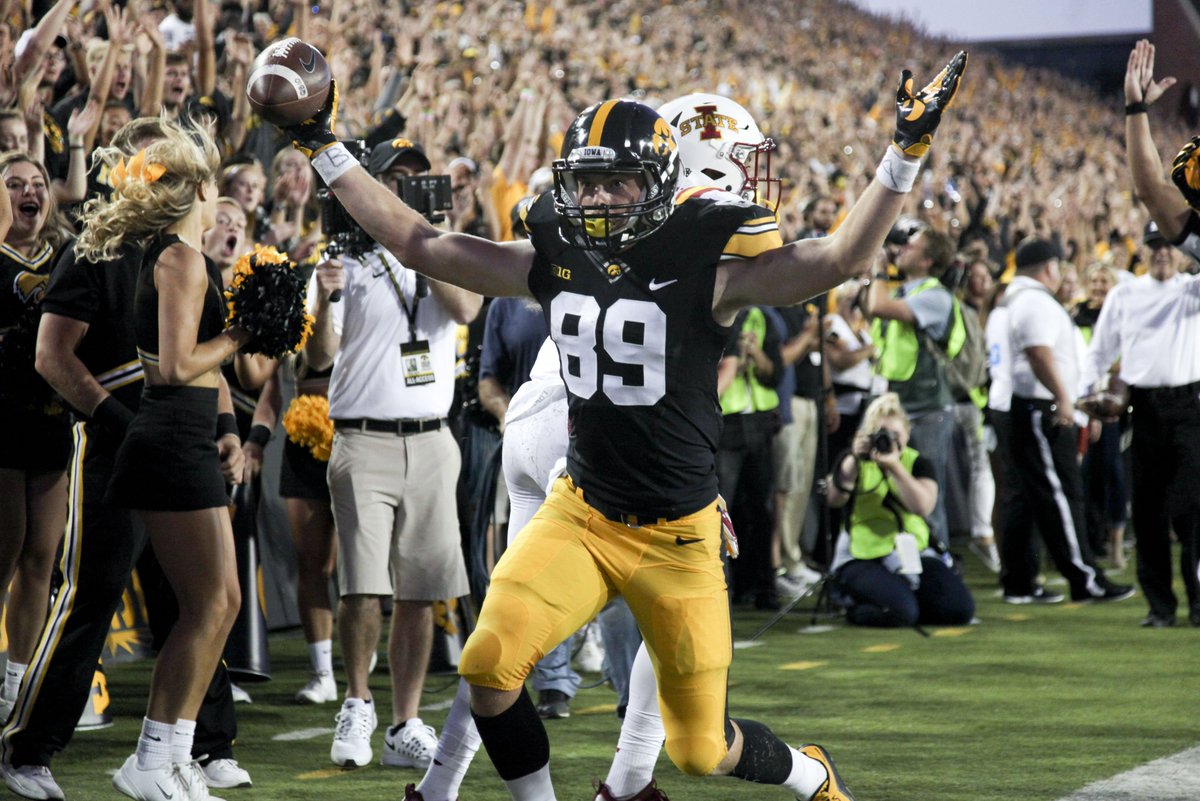 Iowa senior Matt VandeBerg is coming back off a foot injury in 2017.
VandeBerg will step out as Iowa's punt returner again. He played
PR during his sophomore season and the Hawkeyes look to make
impact plays in special teams in 2017.
In a season opener, special teams can play a huge role in the outcome. In 2007, the nation all remembers Appalachian State blocking a FG to secure the 34-32 upset over the Michigan Wolverines.
Both Iowa and Wyoming have new punters and young placekickers. The return game should be solid for both teams. Miscues, penalties and special teams are often keys to watch in season openers. Both teams enter the 2017 season with some promise and some unknowns.
Prediction: Iowa 33, Wyoming 19
The Hawkeyes are able to get the ground game going, with
RBs Akrum Wadley, James Butler, Toren Young and Ivory Kelly-Martin.
How well have the Hawkeyes and Cowboys improved or stayed the same entering 2017?
Wisconsin took care of business over Utah State; while Iowa and Northwestern look to keep up with the Badgers, as Big Ten West teams square off against MWC programs, as Wyoming and Nevada come to Iowa City and Evanston, respectively.