Iowa celebrates a Halloween victory at Kinnick on Saturday, as PGA
golfer Zach Johnson enjoys his day, as the Hawkeyes' honorary captain.
Kirk Ferentz said, after the
Northwestern win; it was
okay to dare to dream in
2015, as Iowa remains
undefeated on the season.
Iowa City, IA
--
The #10 Iowa Hawkeyes (8-0, 4-0) defeated Maryland
(2-6, 0-4) 31-15 Saturday at Kinnick Stadium in front of a national audience on ABC and ESPN2 to remain on the path for a College Football Playoff bid, which will be played two months from tonight ... dare to dream Hawkeyes. Like honorary captain Zach Johnson, Iowa continues to play efficient in all three phases of the game to remain undefeated in 2015.
"
If you look at all of our players, typically they play better their second, third, fourth years as players for us, and I think it's just a real -- what it tells you is he works hard and he's really paying attention to the little things that older players understand and appreciate, and again, I'll take it back to
Zach Johnson
when I talk about Zach. Zach is not an overpowering golfer. He's the first guy to tell you that, but boy, he really appreciates the fundamentals, the little details, so the way he approaches his craft and his sport, we can draw so much from that. Somebody threw an article on my desk yesterday saying he tended to be boring. Boring is okay. He's got the Jug, and that's okay,
" Iowa coach Kirk Ferentz shared after the win over Maryland.
Iowa junior TE #46 George Kittle with a one-handed catch in the first half
of the 31-15 win over Maryland. It was a very physical game at Kinnick.
The Hawkeyes are 8-0 for the first time since 2009
, the second time under
Kirk Ferentz
, and the second time in school history. Iowa started 9-0 in 2009, its best start in school history. Unlike 2002 and 2004, Iowa's two previous Big Ten titles under Ferentz, the Hawkeyes are on track to finish at a very high level in 2015.
Each of Iowa's three running backs scored touchdowns in the first half, as Iowa
took a 21-0 lead at halftime. Here is sophomore RB #25 Akrum Wadley near
the goal line against the Michigan defense.
Iowa is 4-0 in the Big Ten for the third time under Kirk Ferentz
. Iowa opened 4-0 in the Big Ten in 2009 (they opened 5-0) and went undefeated in conference play in 2002 (Iowa finished 8-0). The Hawkeyes can't afford to take anytime off, as there are four B1G games ahead moving into November play.
Kirk Ferentz is in his 17th season at Iowa. He entered the season with a lot of
outside noise, over the disappointments last year. The Hawkeyes have improved
in all three phases of the game: offense, defense and special teams to open 8-0.
Iowa was plus-three in turnovers today and is plus-10 on the season
. Iowa has 19 takeaways this season, and turned them into 71 points. Last year, the Hawkeyes were a minus 6 in takeaways.
Iowa senior DE #34 Nate Meier is having a career year. He was injured on the
final defensive series of the game, which will be a development to watch
next week, with Iowa hitting the road @ Indiana next Saturday in Bloomington.
The Hawkeyes had three interceptions today
, two by Maryland natives (Taylor, Lomax). Iowa also had a fumble recovery (Taylor), as well. The biggest interception was a pick six, on a 88 yard interception return for a touchdown by junior CB Desmond King, who is among the leaders nationally in interceptions.
Iowa found the ground game and passing game difficult going in the second
half, after running up 240 yards in the first half, including this run by sophomore
RB #25 Akum Wadley, who made his first start of the season vs. Maryland.
Iowa ran 27 plays in Maryland territory in the first half
, while Maryland ran just one play in Iowa territory. Iowa had 240 total yards in the first half and 53 in the second half. Maryland had 68 total yards in the first half and 173 yards in the second half.
Iowa redshirt freshman LB #31 Aaron Mends made a huge play on special
teams in the first half against Maryland with the block punt, which setup
a Hawkeye rushing touchdown.
Iowa held Maryland to 74 yards passing
, the lowest total by an opponent since holding Purdue to 72 passing yards in 2014. The 74 passing yards allowed rank eighth under head coach
Kirk Ferentz
.
Iowa junior QB #16 C.J. Beathard found the running challenging at times
against Maryland. He is banged up and will not be 100% in November.
Junior QB C.J. Beathard is 9-0 as Iowa's starting quarterback
, a record that includes a 4-0 mark on the road, a 5-0 mark at home, and a 5-0 mark in the Big Ten. Numbers include 143-of-247 passing for 1,843 yards, 10 touchdowns, and four interceptions, and 209 yards rushing with three rushing touchdowns. He is the first quarterback in school history to win his first eight career starts.
Iowa junior RB #29 LeShun Daniels Jr. returned from an ankle injury and broke
off an early explosive play in the first half against Maryland.
Junior RB LeShun Daniels' 1-yard touchdown rush in the first quarter was his first of the season
, and second of his career. Daniels had 60 yards rushing today. Entering the game, he had 47 yards rushing yards combined from Week 3-7. He did not play in Week 6 or Week 7.
Former Maryland prep and sophomore Iowa SS #19 Miles Taylor had his biggest
game of his career, in the win over his home state program.
Iowa sophomore SS Miles Taylor recorded his first career interception and first career fumble recovery
. The fumble recovery was turned into an Iowa touchdown. The interception was fumbled back to Maryland. Taylor recorded a career-best eight tackles. He also recovered his first career fumble.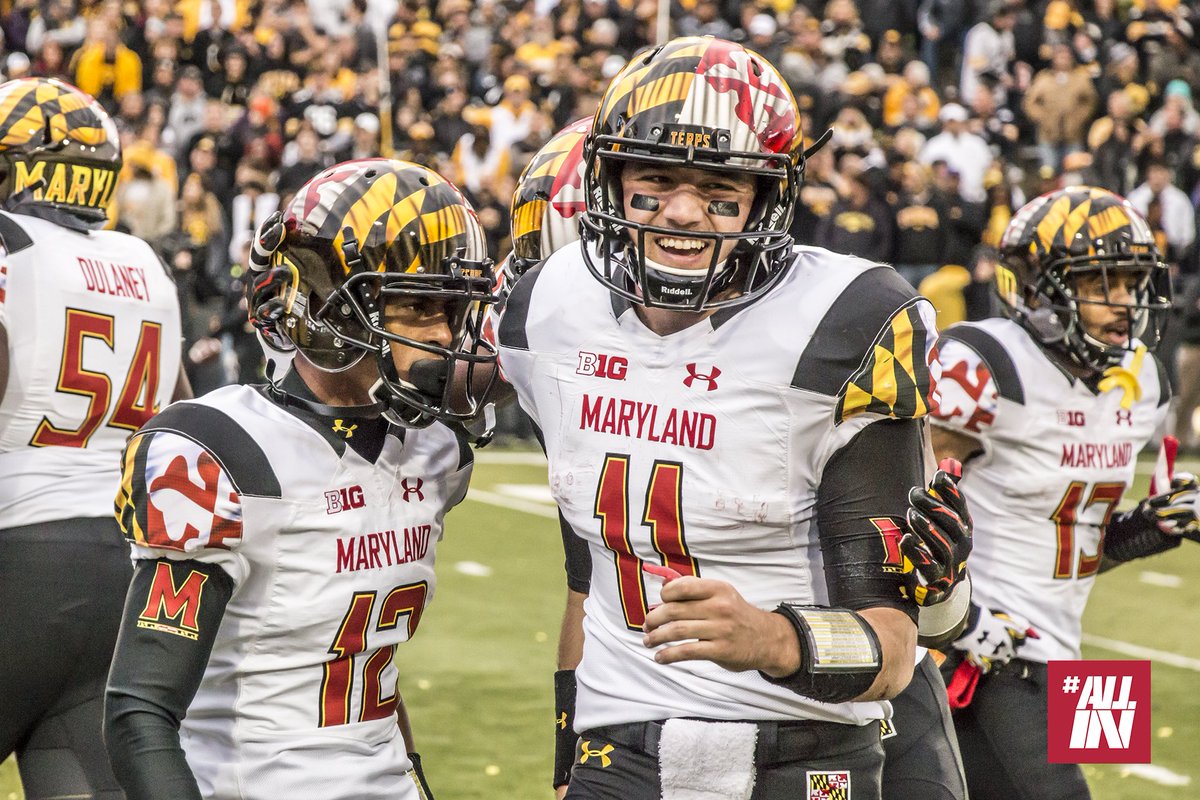 Maryland junior QB #11 Perry Hills was smiling here on the sidelines in
Iowa City, but Iowa forced a fumble and three interceptions on him.
CB Desmond King's 88-yard interception return for touchdown
ties for the seventh longest interception return for touchdown in school history (
Bo Bower
, 2015 vs. North Texas).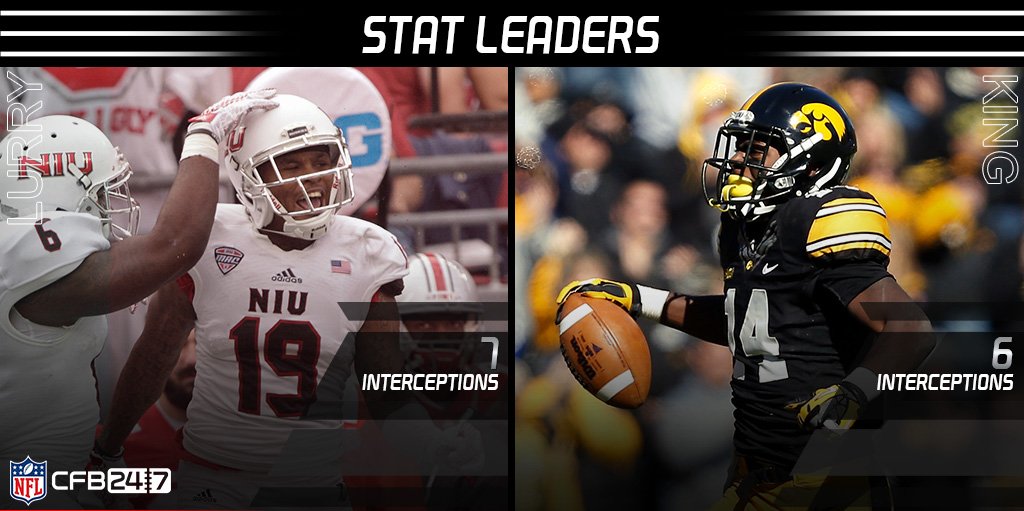 Iowa junior CB #14 Desmond King is a leader in interceptions in 2015.
CB Desmond King's fourth quarter interception was his seventh interception of the season
. He is the first Hawkeye since
Kerry Burt
in 1987 to have seven interceptions in a single season. King has 10 career interceptions, tying for 10th all-time.
Iowa senior WR #4 Tevaun Smith looked healthy again, after
making his return @ Northwestern in Game 7. Smith made
his first catches of the B1G season with 2 catches for 35 yards.
Iowa senior PK
Marshall Koehn
scored seven points today, including four PATs and one field goal (49). Koehn has 136 career points, 19th all-time.
Iowa senior WR #17 Jacob Hillyer played hard for the Hawks on an important
catch ahead of the end of the first half against Maryland.
Kirk Ferentz has 122 wins as a member of the Big Ten Conference
, eighth all-time. Ferentz has 72 Big Ten wins, tying Duffy Daugherty (Michigan State) for eighth all-time.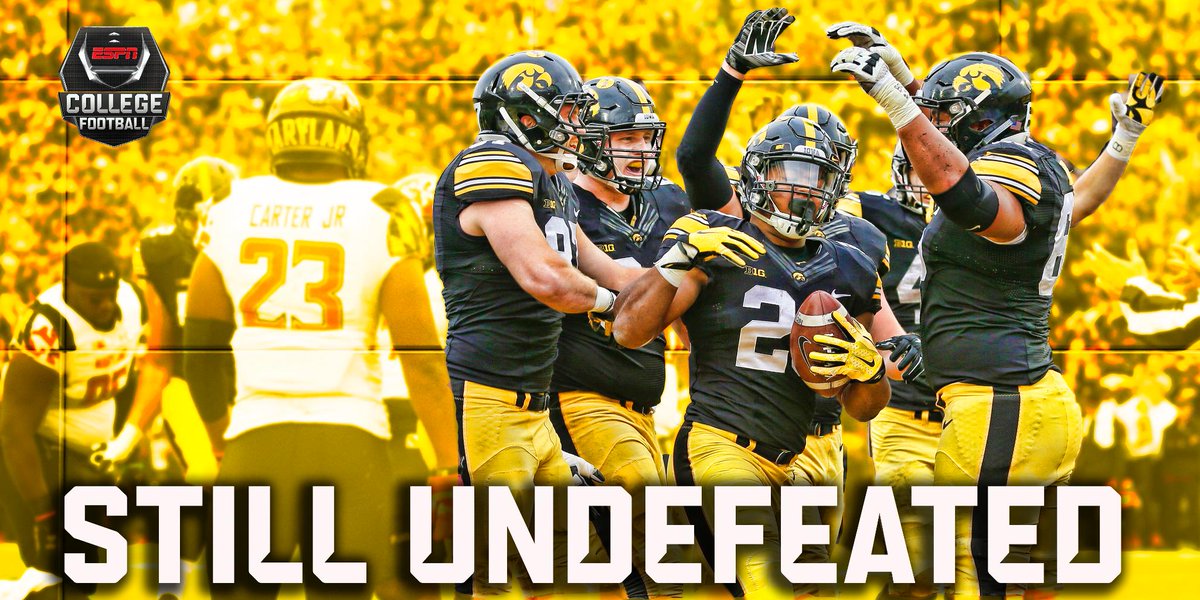 Iowa moves to 8-0 and remains alive in the hunt for a Big Ten title and
the College Football Playoff hunt in 2015.
Iowa won the toss and received the opening kick
. Iowa received the opening kickoff in seven of eight games this season (Wisconsin), and has outscored its opponents 43-13 in the first quarter. In 17 seasons as Iowa's head coach,
Kirk Ferentz
and the Hawkeyes received the opening kickoff in 169-of-208 games (102-67). Iowa has started the game on defense in 39-of-208 games under Ferentz (21-18).
Instant replay was not used today.
The Hawkeyes play @ Indiana (4-4, 0-4 B1G East), who are coming off a bye week, on Saturday, Nov. 7th. Kickoff time has not been announced, due to television.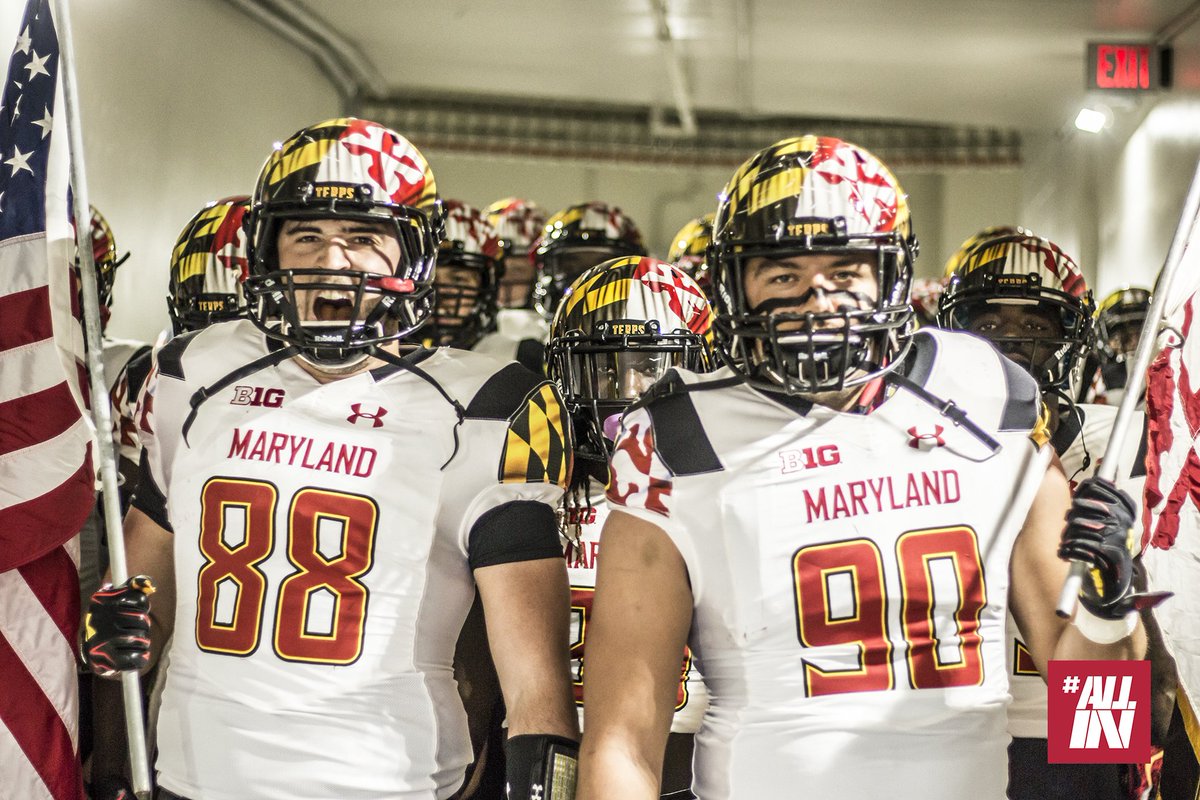 Maryland falls to 0-4 in the Big Ten, after falling in Iowa City to the Hawks.
Maryland will host Wisconsin
(7-2, 4-1 B1G West) next Saturday for its annual Homecoming game. Kickoff is scheduled for 2:30 p.m. The Badgers beat Rutgers 48-10 fueled by the return of RB Corey Clement, who scored three touchdowns on Saturday.