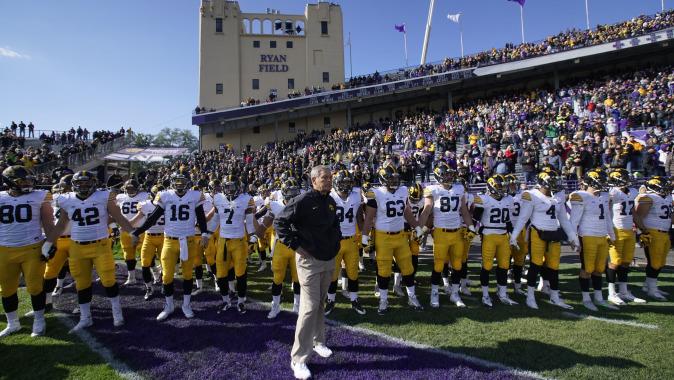 Thirty years ago in 1985, Iowa opened 7-0 with a win @ Northwestern.
Iowa's Kirk Ferentz was an offensive line coach back in 1985. Today, he
is dean of Big Ten coaches and has his Hawkeyes at 7-0, for the second time
in his tenure at Iowa. The Hawkeyes enjoy a bye week this Saturday.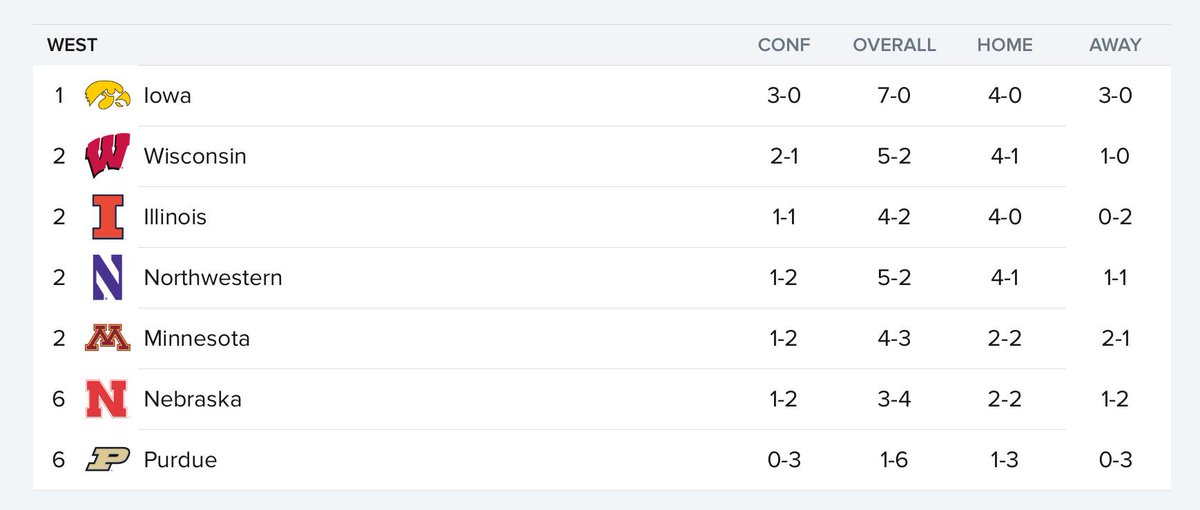 Iowa City, IA
--
The 2015 Iowa Hawkeyes
are ranked #12 heading into Week 8, a bye week for the 7-0 Hawks, with a 3-0 record in the Big Ten West. The Hawkeyes will face Maryland at Kinnick Stadium, coming off a bye week, and 40-10 win at Northwestern, last Saturday.
Iowa has witnessed next man in
on multiple occasions during the 2015 season. It was the case again, last Saturday in Evanston, when starting senior RB
Jordan Canzeri
went down, due to an ankle injury.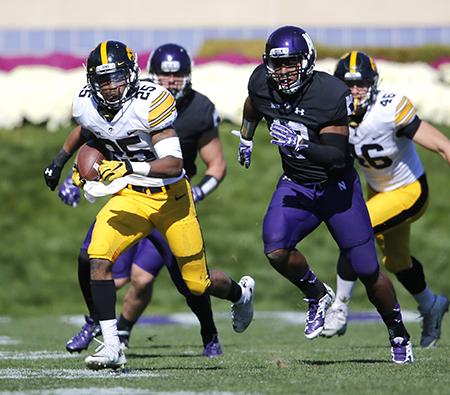 Iowa sophomore RB #25 Akrum Wadley lead the Iowa ground
game last Saturday at Northwestern, in a 40-10 Hawkeye win.
Sophomore RB Akrum Wadley recorded career highs
in carries (26), yards (204) and touchdowns (4). In two career games against Northwestern, Wadley has 41 carries, 310 yards, and five touchdowns. In 10 games against all other teams, Wadley has 25 carries, 115 yards, and one touchdown. He is the first player this season to rush for 100 yards against Northwestern.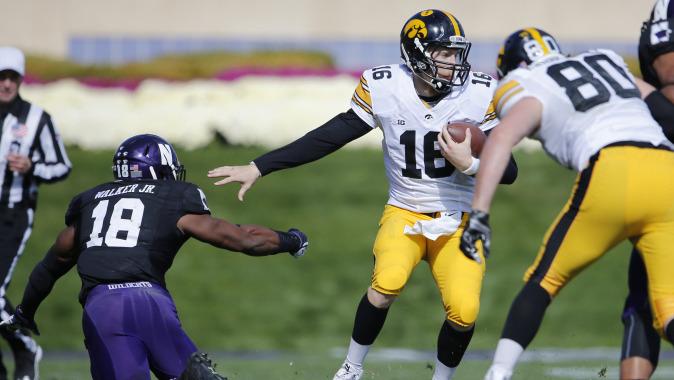 There is no question Iowa's bye week came at the right time
for the Hawkeyes in 2015. It will not bring back senior DE
Drew Ott, but it can't hurt many other Hawkeyes banged up.
The Hawkeyes need a bye week, with the injuries impacting their top two running backs, their #1 tight end from 2014, their starting offensive tackles and their top returning WR from 2014. Further, Iowa QB C.J. Beathard entered the Northwestern game banged up, with a hip and groin injury. He was able to play, despite his limited ability to make plays with his legs. The Hawkeyes are without senior captain, DE Drew Ott for the remainder of the season, after a knee injury in the win against Illinois.
QB C.J. Beathard is 8-0 as Iowa's starting quarterback
, a record that includes a 4-0 mark on the road, a 4-0 mark at home, and a 4-0 mark in the Big Ten. Numbers include 131-of-224 passing for 1,660 yards, 10 touchdowns, and four interceptions, and 223 yards rushing with three rushing touchdowns. He is the first quarterback in school history to win his first eight career starts.
On limiting his throws because of injury...
"
Yeah, it was tough. I couldn't do many bootlegs or nudes and stuff like that. I was a little bit limited in what I could do running-wise
," Beathard said, after the 40-10 win @ Northwestern
Iowa's remaining Big Ten regular schedule ...
Bye week, October 24th
vs. Maryland, October 31st, 2:30 p.m. kickoff on ABC
@ Indiana, November 7th, the Hoosiers will be coming off a bye week ahead of Iowa
vs. Minnesota, November 14th, in a prime-time game at Kinnick Stadium
vs. Purdue, November 21st, on Senior Day
@ Nebraska, November 27th, on Black Friday in Lincoln
On the vibe in the huddle after Jordan Canzeri got hurt at Northwestern...
"
Obviously he's a big back for us, our guy right now. But it wasn't a big blow for us because we expect the next man in to do a great job, and Akrum and Derrick did a great job stepping up. That's just the way the season's gone so far. We've had guys hurt, Drew [Ott) got hurt; our right and left tackles were going out. We've taken that upon ourselves and the next guy in has done a great job,
" said Beathard, after the 7-0 start for Iowa.
Head coach Kirk Ferentz's opening statement after 7-0 win at Northwestern...
"Certainly we're very pleased and very proud of our football team. It's a tremendous team victory. Our guys in every essence played great team football out there today... Needless to say this is a really resilient group of guys that we're coaching right now. Seems like whatever we throw at them, whatever comes their way good, bad or different they just seem to respond in a really positive way. I'm proud of the guys for that, proud of their effort today. How good we are I have no idea right now, but I do know that this team plays extremely hard and with a lot of guts. So, it's just great to be with them today."
True freshman among the leaders in the Iowa offensive line in 2015
...
OL
James Daniels
started the game at left guard. He is the third true freshman to start on the offensive since 1999.
Bryan Bulaga
started the final five games of 2005 at left guard.
Mike Jones
started the final seven games of 2003 at left guard. Iowa's starting offensive line today: LT
Cole Croston
, LG
James Daniels
, C
Austin Blythe
, RG
Jordan Walsh
, RT
Sean Welsh
.
Iowa is playing without their starting sophomore tackles in the offensive line
, with Boone Myers, out since Big Ten play, and Ike Boettger, missing his first start of the 2015 season @ Northwestern. The Hawkeyes may get Myers back for Maryland.
Senior WR Tevaun Smith played for the first time since Week 4
against North Texas. He did not have a catch. Smith is looked at as Iowa's top play-maker at wide receiver heading into 2015.
Junior CB Desmond King recorded an interception
on Northwestern's opening possession. King has a Big Ten high six interceptions this season. He is the first Hawkeye with six interceptions in a single season since
Tyler Sash
led the league with six in 2009.
LB Jack Hockaday played against Northwestern
. He is the fourth true freshman to see action this season: OL
James Daniels
, WR
Jerminic Smith
, and WR
Adrian Falconer
.
Senior RB Jordan Canzeri
left the game with 3:05 left in the first quarter and did not return. He caught one pass for 19 yards. He has 10 straight games with reception. Speculation has Canzeri at least out, with an ankle injury, until November.
Sophomore converted RB Derrick Mitchell
recorded career bests in carries (10), rushing yards (79), receptions (3) and receiving yards (43). Mitchell also scored his first career touchdown, a 13-yard rush in the fourth quarter.
Senior WLB Cole Fisher recorded a team high 10 tackles against Northwestern
. Fisher has been Iowa's leading tackler five times this season. This is the first season for Fisher in the starting lineup, with limited role his first four seasons in Iowa City.
Senior PK Marshall Koehn scored 11 points against Northwestern
, including five PATs and two field goals (36, 22). Koehn has 130 career points, 21st all-time. Koehn was Big Ten special teams player of the week, after his 57 yard game winning FG, in Week 3, vs. Pittsburgh.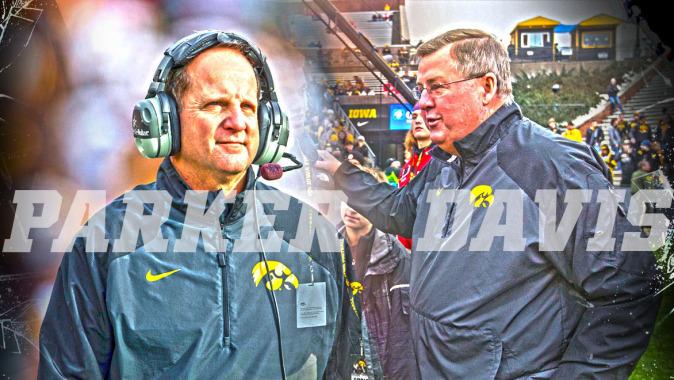 Iowa DC Phil Parker and OC Greg Davis are both in their fourth
season, as coordinators for the Hawkeyes. In 2002, the 4th
season for Iowa's previous coordinators, the Hawkeyes went 8-0.
"
We're more explosive through seven games than I would have anticipated in August. If you can get a couple of big plays during the course of a game, it does wonders for field position and wonders for your football team
." - Iowa offensive coordinator
Greg Davis
said on Wednesday, during their bye week.
Iowa is leading the Big Ten Conference
with 12 plays from scrimmage of 40-plus yards. The Hawkeyes had 12 such plays all last season and 13 40-plus plays in 2012 and 2013 combined.