Iowa City, IA
--
The #10 Iowa Hawkeyes
(8-0, 4-0 B1G West) may being putting a scare into the College Football Playoff picture, after a 31-15 win over Maryland (2-6, 0-4 B1G East) to remain undefeated and in the hunt for the Big Ten Championship, which could lead to a remarkable date in the College Football Playoff. College Football is two months away from New Years Eve and the semi-final games.
Two happy Hawkeye fans, as Iowa AD Gary Barta enjoys a chat with PGA
golfer Zach Johnson, who enjoyed the role of honorary captain for today's game.
With the victory over Maryland
,
Iowa junior QB C.J. Beathard
moves to 9-0 as a Hawkeye starter, after replacing departed QB Jake Rudock in the starting lineup in 2015. Beathard is 4-0 at home, 5-0 on the road, as the Hawkeyes hit the road @ Indiana (4-4, 0-4 B1G East) next Saturday, in Bloomington. The Hoosiers enjoyed a bye week today, ahead of the B1G game with Iowa.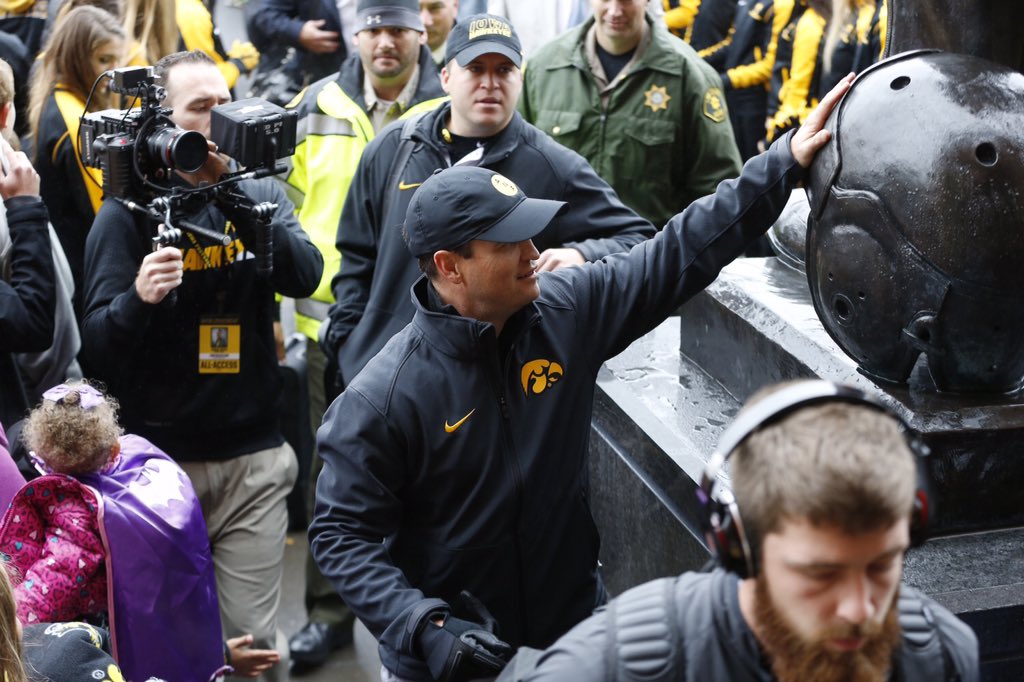 PGA golfer and Iowan Zach Johnson enjoyed serving as honorary captain, as
the Hawkeyes took care of business on the Kinnick Stadium field with a 31-15
win over Maryland to move to 8-0 on the season.
Iowa Kirk Ferentz commented after the game
, how a sports commentator compared the 2015 Iowa Football team to the play of Zach Johnson on the PGA. Iowa has never hit the heights of Augusta or The Open Championship, but in two months, four programs will kickoff on New Year's Eve, in this year's College Football Playoff. At 8-0, the Iowa Hawkeyes are on a path, if they can win out in Big Ten play, with four more regular season games. If Iowa wins out and wins the Big Ten Championship, they may hit the heights of Zach Johnson on the gridiron.