The Big Ten Conference opened the 2015-16 bowl season
with an OT loss in the Pinstripe Bowl (Duke over Indiana) and a eight point win (Nebraska over UCLA) in the Foster Farms Bowl over the Christmas weekend. Next up: MAC vs. Big Ten, as the Big Ten faces its lone non-Power 5 match up of the bowl season.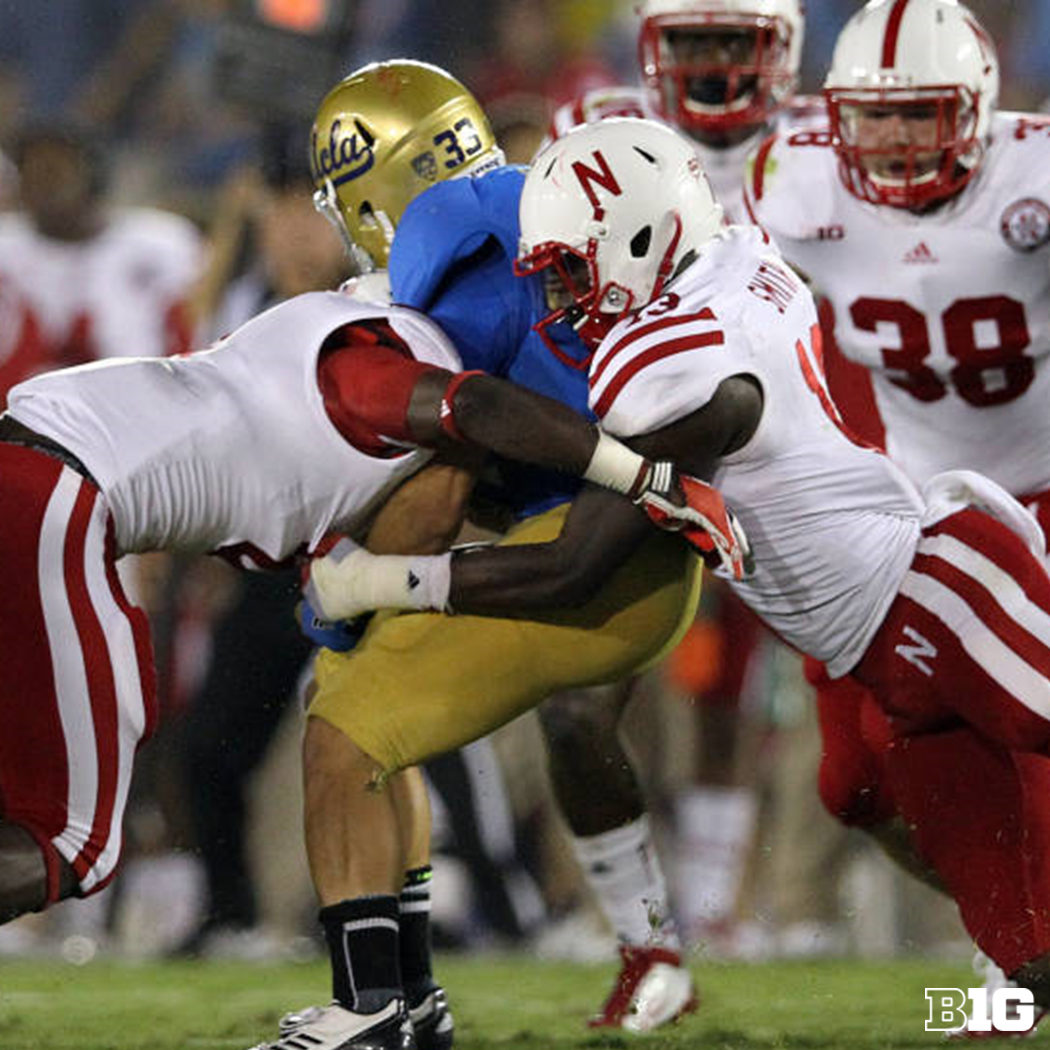 The Huskers have appeared in a bowl game in 45 of the last 47 seasons
FOSTER FARMS BOWL
: Nebraska 37, UCLA 29 - The Cornhuskers rushed for 326 yards and four touchdowns en route to a 37-29 victory over UCLA Saturday night in the Foster Farms Bowl. Quarterback Tommy Armstrong Jr. threw for 174 yards and a touchdown and carried the ball 10 times for 76 yards and another score on the ground in the contest.
Recap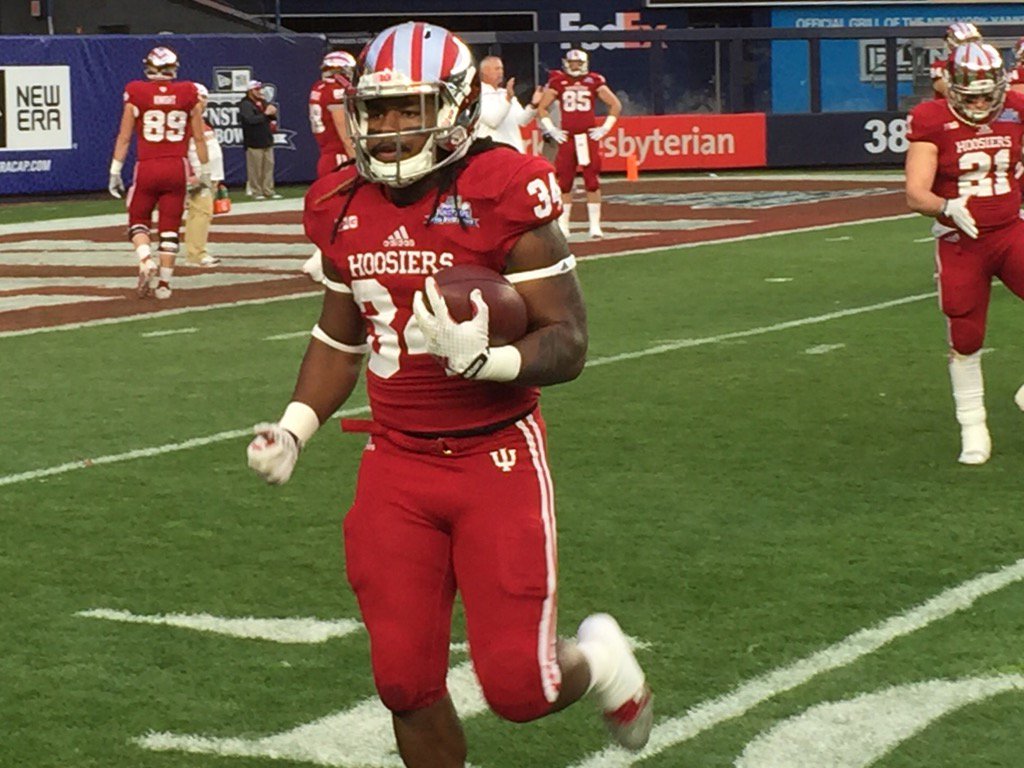 Indiana came up short against Duke at Yankee Stadium. IU was playing in only
second bowl, since 1994, with game in Pinstripe Bowl.
NEW ERA PINSTRIPE BOWL
: Duke 44, Indiana 41 (OT) - Duke earned a 44-41 overtime victory in the 2015 New Era Pinstripe Bowl on Saturday, as Indiana closed out its first bowl game since 2007 and 10th in program history. The back-and-forth game featured nine lead changes and three ties. It also saw numerous offensive records set and six turnovers combined in a game where momentum seemed to be hanging in the balance throughout.
Recap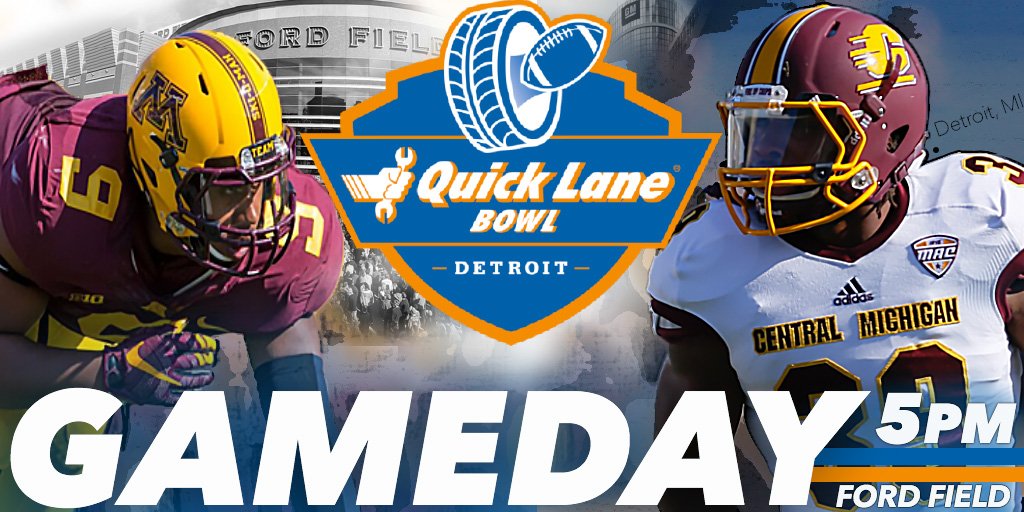 Minnesota looks to get to 6-7, as Nebraska did as one of two Big Ten teams,
with losing records playing in 2015-16 bowls.
Five things the Golden Gophers
would like you to know about the 2015 Quick Lane Bowl from Detroit ...
1. Minnesota will play Central Michigan in the 2015 Quick Lane Bowl at Ford Field in Detroit. Minnesota is 1-0 all-time against Central Michigan, as the Gophers won 30-10 at the Metrodome on Sept. 16, 1987. In that game, Rickie Foggie, Darrell Thompson and Gary Couch rushed for touchdowns and Chip Lohmiller kicked three field goals in the win. The Quick Lane Bowl marks Minnesota's first bowl game appearance in Michigan and is the Gophers first trip to the Great Lake State since it won 30-14 at Michigan on Sept. 27, 2014.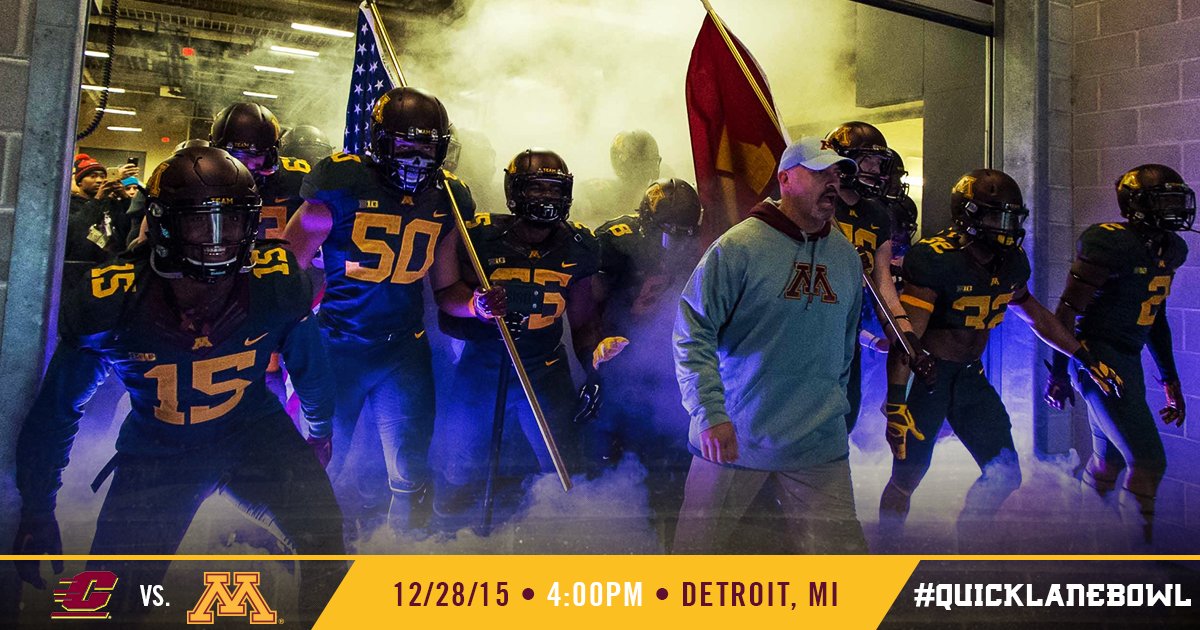 The Golden Gophers are under first-year coach Tracy Claeys, who replaced Jerry
Kill mid-season, after Kill retired, due to ongoing health concerns.
2. Minnesota, which owns a 5-7 record, earned a bid into the Quick Lane Bowl this year based on the team's high APR mark of 975. The Quick Lane Bowl is the 18th bowl game that Minnesota will play in and is the fourth-straight bowl game for the Gophers. The four straight bowl games is the second longest stretch in team history, as Minnesota played in five straight bowl games spanning the 2002-06 seasons. Minnesota is 6-11 all-time in bowl games but has lost its last seven bowl games (five by four points or less). Minnesota's last win in a bowl game was a 20-16 victory against Alabama in the 2004 Music City Bowl where both Marion Barber III and Laurence Maroney rushed for more than 100 yards.

3. Minnesota has played one of the toughest schedules in the nation this year. The Gophers have faced (AP rankings at time of the game) No. 1 Ohio State, No. 2 TCU, No. 8 Iowa, No. 15 Michigan and No. 16 Northwestern. Minnesota also played Wisconsin, who ended the season ranked No. 23. The Gophers faced three top-15 teams in Michigan, Ohio State and Iowa in three straight weeks. The last time Minnesota played three straight games against top 15 teams was 2002 when it played No. 6 Ohio State, No. 13 Michigan and No. 6 Iowa. Baylor was the only other team in the regular season to play three straight top-15 opponents, as it played No. 12 Oklahoma and No. 4 Oklahoma State and No. 15 TCU.

4. Minnesota was the only Big Ten team to play (rankings at time of game) No. 1 Ohio State, No. 8 Iowa, No. 15 Michigan, No. 16 Northwestern and Wisconsin this year. Those teams have a combined 51-10 record and Minnesota's seven defeats have come to teams (Iowa, Ohio State, Northwestern, TCU, Michigan, Wisconsin and Nebraska) with a combined 66-19 record (Nebraska has 7 of 19 losses). If Michigan and Wisconsin win their bowl games then the Gophers would have faced six teams (in addition to Iowa, Ohio State, Northwestern and TCU) who won at least 10 games this season.

5. Nine of Minnesota's 12 regular season opponents will play in a bowl game this year. Those nine opponents have a combined record of 81-28 and all won at least seven games. Minnesota posted a home win against Ohio (Bobcats ended season at 8-4) and ended Colorado State's school record nine-game home winning streak (Rams finished the season at 7-5). Minnesota's regular season opponents will play in the Rose Bowl (Iowa), Fiesta Bowl (Ohio State), Outback Bowl (Northwestern), Citrus Bowl (Michigan), Alamo Bowl (TCU), Holiday Bowl (Wisconsin), Foster Farms Bowl (Nebraska), Camellia Bowl (Ohio) and Arizona Bowl (Colorado State).