#4 Iowa vs. #5 Michigan State
Indianapolis, IN
-- #5
Michigan State
(11-1, 7-1 Big Ten) is making its third Big Ten Championship Game appearance in five years as the Spartans will take on undefeated and #4
Iowa
(12-0, 8-0) from the Big Ten West Division on Saturday, Dec. 5 at 7:17 p.m. EST in Indianapolis at Lucas Oil Stadium. The Game will be televised on FOX with Gus Johnson (play-by-play), Joel Klatt (analyst) and Molly McGrath (sidelines). The Big Ten Network's preview game show will be at 5:30 p.m. CST.
The Spartans clinched the Big Ten East Division crown
with a 55-16 win over Penn State last Saturday on Senior Day in Spartan Stadium, while the Hawkeyes completed their first perfect regular season since 1922 with a 28-20 victory at Nebraska on Friday, Nov. 27. The Spartans are seeking their ninth Big Ten title in school history and their third under
Mark Dantonio
(2010, 2013). The Spartans also have won Big Ten titles in 1953, 1965, 1966, 1978, 1987 and 1990.
The Hawkeyes won Big Ten titles
in 1900, 1921, 1922, 1956, 1958, 1960, 1981, 1985, 1990, 2004 and 2009. The last outright title was thirty years ago in 1985, when Iowa coach
Kirk Ferentz
was in his fourth season as an offensive line coach. Ferentz is dean of Big Ten coaches, in his 17th season as head coach and 26th year overall in Iowa City. Iowa beat Michigan State in 1985 and 1990.
Michigan State coach Mark Dantonio is in his ninth season in East Lansing.
Dantonio is seeking his second Big Ten championship at MSU.
Under Dantonio, the Spartans are 15-20
in 35 games played against teams ranked in The Associated Press Top 25; however, MSU is 14-11 against ranked teams since 2010, including 3-0 this season (#7 Oregon, #12 Michigan, #2 Ohio State). The Spartans are the favorite heading into the 2015 Big Ten Championship Game against the undefeated Hawkeyes.

Saturday's game marks the 46th meeting between Michigan State and Iowa. The Hawkeyes lead the all-time series, 23-20-2; the two teams have never met on a neutral field. MSU won the last meeting over Iowa in 2013 at Kinnick Stadium with a 26-14 victory. Iowa last won in 2012 in East Lansing in a 19-16 double overtime game.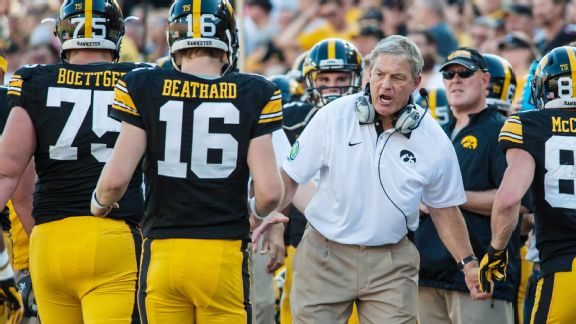 Iowa coach Kirk Ferentz is the 2015 Big Ten Coach of the Year. In his 17th
season, he is seeking his first outright B1G championship and third overall.
Dantonio is 3-4 in his tenure against the Hawkeyes since 2007
, but MSU has won two of the last three meetings. Iowa head coach Kirk Ferentz is 7-6 in his career as a head coach against the Spartans, including the 4-3 record over Dantonio.
The Spartans and Hawkeyes have played each other four previous times when both teams were ranked in the AP Top 25
. Iowa has won each game. Saturday's game marks the first time both teams will be ranked in the AP Top 10 when facing each other.
ESPN College GameDay Built by The Home Depot ...
ESPN College GameDay Built by The Home Depot
, celebrating its 29th season, makes its 14th appearance from the site of a Michigan State game – and the fourth time in 2015 – for Saturday's MSU-Iowa contest (7:17 CST kickoff on FOX). The weekly Emmy Award-winning show (Saturday 9-12 p.m. ET) is hosted by Rece Davis, along with analysts Lee Corso, Kirk Herbstreit, Desmond Howard and David Pollack as well as contributors Samantha Ponder, Tom Rinaldi, George Whitfield and Gene Wojciechowski.
Football Championship Game Transcripts
Iowa Head Coach Kirk Ferentz and Michigan State Head Coach Mark Dantonio address media
on Dec. 4th in Indianapolis.
Michigan State's senior QB #18 Conner Cook's first B1G start was against Iowa in
Iowa City in 2013. He lead his Spartans to a 2nd Half to a 26-14 victory, after the
Hawkeyes took a 14-10 halftime lead. Cook is now 33-4, as a starter at MSU.
Michigan State's fifth-year senior quarterback Connor Cook
, the winningest quarterback in school history, owns a 33-4 record (.891) as the starter, including a 22-2 (.917) mark against Big Ten opponents. The 33 wins are second most among active starting quarterbacks in the NCAA FBS (Stanford's Kevin Hogan with 34), and Cook's .891 winning percentage is No. 1 (minimum 24 starts). Cook is 4-1 against AP Top 10 teams in his career and 7-3 against AP Top 25 opponents. He is a finalist for the Johnny Unitas Golden Arm Award and the Manning Award, and was a semifinalist for both the Davey O'Brien Award (nation's best quarterback) and the Maxwell Award (college player of the year).
Iowa junior QB #16 C.J. Beathard is 13-0 as a starting QB. The first-year starter
has lead the Hawkeyes to its first 12-0 regular season in program history. He was
a freshman in 2012, the last time Iowa defeated MSU 19-16 in 2 OT in East Lansing.
Iowa junior quarterback C.J. Beathard is one of only three Power 5
Conference quarterbacks to win each of their first 13 career starts since 2010. The others include Heisman Trophy winner Cam Newton, who led Auburn to the BCS National Championship in 2011 and Heisman Trophy winner Jameis Winston, who led Florida State to the 2014 BCS National Championship. Beathard's record in 13 career starts includes a 6-0 mark on the road, a 7-0 mark at home, and an 8-0 mark in the Big Ten.
Iowa senior RB #33 Jordan Canzeri was third in Big Ten games with 108 yards
per game rushing. Canzeri lead Iowa with 12 rushing TDs. He also caught one.
Three Hawkeyes
(senior
Jordan Canzeri
, 256, sophomore
Akrum Wadley
, 204; junior LeShun Daniels, 195) have combined for nine 100-yard rushing games this season: Canzeri (5x), Wadley (twice), and Daniels (twice). The last time the Hawkeyes had three different players rush for over 100 yards in a game in the same season was 2005:
Albert Young
(8x), and
Shonn Greene
and
Damian Sims
once each. The Hawkeyes and Spartans didn't meet in 2005. Iowa goes four deep at RB, with sophomore
Derrick Mitchell
often used as a third down back.
Michigan State sophomore RB #24 Gerald Holmes was the leading rushing in
the 55-16 win over Penn State, with 64 yards and one touchdown.
Three different running backs have started this season for Michigan State
: freshman
LJ Scott
, red-shirt freshman
Madre London
and sophomore
Gerald Holmes
. All three have posted 100-yard rushing games this season. Junior
Delton Williams
also has seen action in the backfield.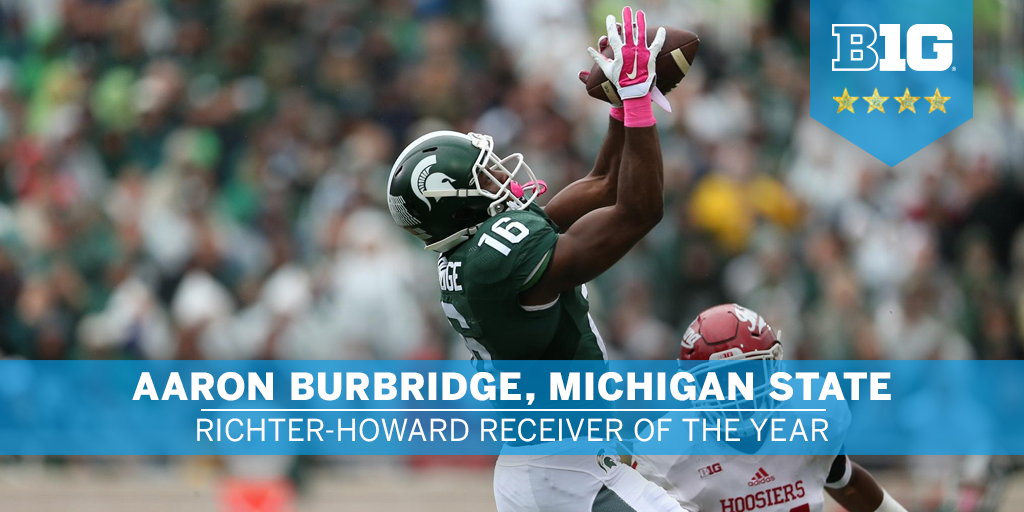 Michigan State WR #16 Aaron Burbridge was awarded top Big Ten honors, as
the leagues top receiver in 2015. Burbridge has been held to 3 touchdowns in B1G play.
Senior WR Aaron Burbridge led the Spartans in receptions for the 10th time in 12 games this season
, with six catches for 75 yards against Penn State, including a 29-yard touchdown grab from QB
Connor Cook
in the third quarter. Burbridge ranks among MSU's single-season leaders in receptions (third with 75) and receiving yards (sixth with 1,158). He moved into sole possession of second place on MSU's all-time list with 155 career receptions.
Dating back to Iowa's bowl game in January, junior WR #89 Matt VandeBerg
has been a favorite for Hawkeye QB C.J. Beathard in 2015.
The Hawkeyes also have three receivers with 100-yard receiving games
: junior WR Matt VandeBerg (1), senior WR
Tevaun Smith
(1), and true freshman WR
Jerminic Smith
(1). It is the first time since 1995 three different Hawkeyes recorded 100-yard receiving games: Tim Dwight (2x), Demo Odems (1), Scott Slutzker (1). Iowa beat Michigan State 21-7 in 1995.
Iowa cousins at TE: senior #80 Henry Krieger Coble and junior George Kittle
are two options in Iowa's passing game for QB C.J. Beathard on Saturday.
One area of the game to watch will be the play of the tight ends. In Iowa's game against Nebraska, the TE position was big for both teams. Iowa is lead by two cousins, with senior Henry Krieger Coble and junior George Kittle. Senior Jake Duzey was expected to be a top performer, but he was slowed all season, after knee surgery in the Spring. The Spartans have experience at TE, as well. Juniors Josiah Price, Jamal Lyles and senior Paul Lang are the top options for Cook in the Spartans passing game.
@JoeMooreAward
Both Iowa and Michigan State offensive lines are finalists for the Joe Moore Award, which honor the top offensive line unit in the country. Michigan State is anchored by all-Big Ten center Jack Allen, a senior, and all-Big Ten junior LT Jack Conklin.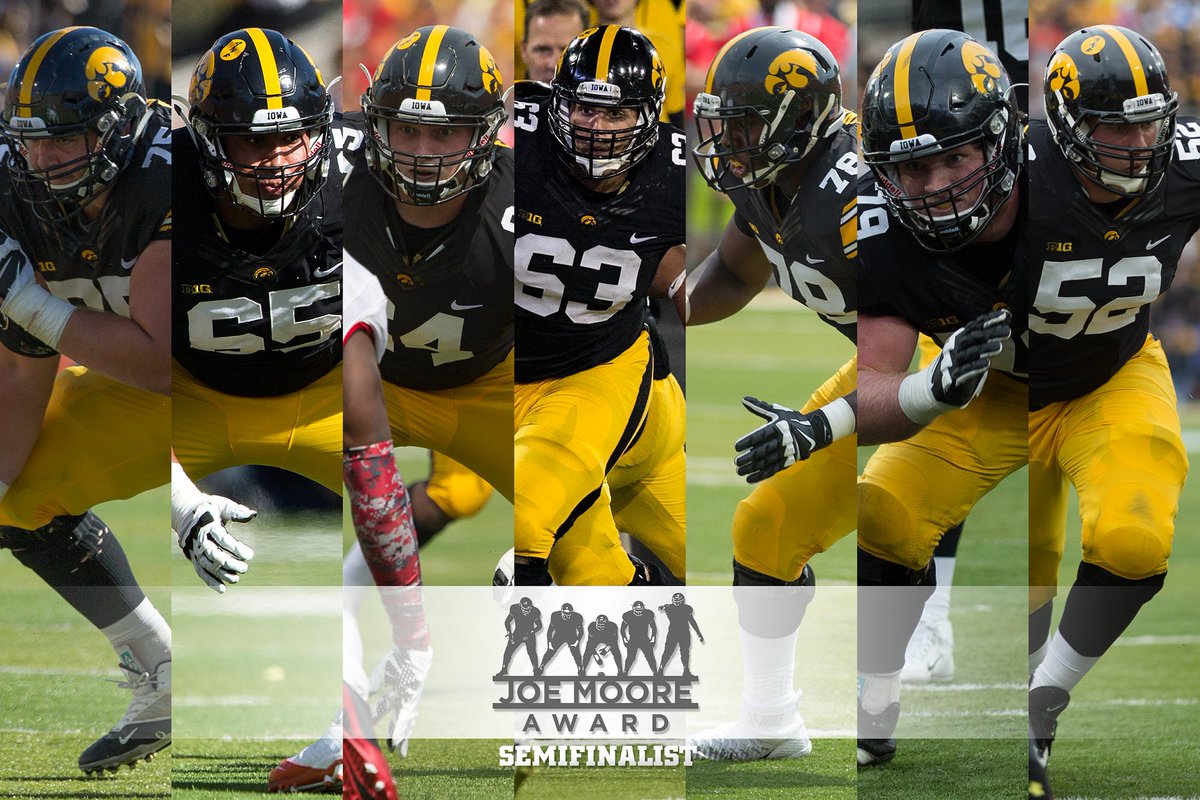 Iowa has used seven different starters in 2015 in the Offensive Line, coached by
former Hawkeye OL Brian Ferentz, Kirk's oldest son. The line has been anchored
by seniors #63 Austin Blythe at C and #65 Jordan Walsh at RG during 2015.
Leadership is a very important element for both programs.
The University of Iowa football program has 16 players on its 2015 Leadership Group
, including 13 seniors, two juniors, and one sophomore. The purpose of the group is to assist in formulating policies, and being involved in team decision-making matters regarding the upcoming season. Players are selected by a team vote. The seniors are C
Austin Blythe
, RB
Jordan Canzeri
, DT
Darian Cooper
, FB
Adam Cox
, TE
Jake Duzey
, WR
Jacob Hillyer
, PK
Marshall Koehn
, FS
Jordan Lomax
, DE
Nate Meier
, DE
Drew Ott
, LB
Travis Perry
, FB
Macon Plewa
and WR
Tevaun Smith
. The junior class is represented by QB
C.J. Beathard
and RB
LeShun Daniels, Jr.
, and LB
Josey Jewell
represents the sophomore class.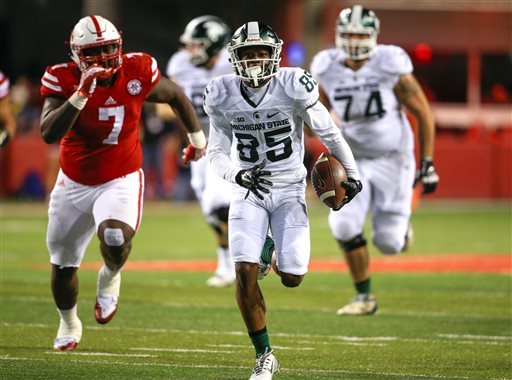 Michigan State senior #85 Macgarrett Kings, Jr. is one of 23 seniors, who
lead the Spartans to a 2015 Big Ten East Division title.
The 23-member senior class for Michigan State includes
: C
Jack Allen
(Hinsdale, Ill.), WR
DeAnthony Arnett
(Saginaw, Mich.), WR
Aaron Burbridge
(Farmington Hills, Mich.), DE
Shilique Calhoun
(Middletown, New Jersey), RG
Donavon Clark
(Cincinnati, Ohio), CB Arjen Colquhoun (Windsor, Ontario), QB
Connor Cook
(Hinckley, Ohio), LB
Ed Davis
(Detroit, Mich.), LB
Darien Harris
(Silver Spring, Md.), DT
Joel Heath
(Cincinnati, Ohio), WR
Macgarrett Kings Jr.
(Fort Lauderdale, Fla.), DT
Damon Knox
(Muskegon, Mich.), S
Chris Laneaux
(Kalamazoo, Mich.), TE
Paul Lang
(Pittsburgh, Pa.), FB
Trevon Pendleton
(Lucasville, Ohio), LS
Taybor Pepper
(Saline, Mich.), DE
Lawrence Thomas
(Detroit, Mich.), LB Michael Topolinski (Richmond Hill, Ontario), WR
AJ Troup
(Minneapolis, Minn.), QB
Tommy Vento
(Farmington Hills, Mich.),
Phillip-Michael Williams
(Ballston Spa, N.Y.) and
RJ Williamson
(Dayton, Ohio). Offensive lineman
Zach Higgins
(Alliance, Ohio), who retired early from football due to injuries, is also being recognized with the 2015 class.
The Hawkeyes have used 14 first time starters
: RB
LeShun Daniels, Jr.
, LT
Boone Myers
, DT
Nathan Bazata
, DT
Jaleel Johnson
, LB
Cole Fisher
, LB
Ben Niemann
, SS
Miles Taylor
, TE
Jameer Outsey
, DE
Parker Hesse
, WR
Riley McCarron
, LT
Cole Croston
, WR
Jerminic Smith
, LG
James Daniels
, and RB
Akrum Wadley
.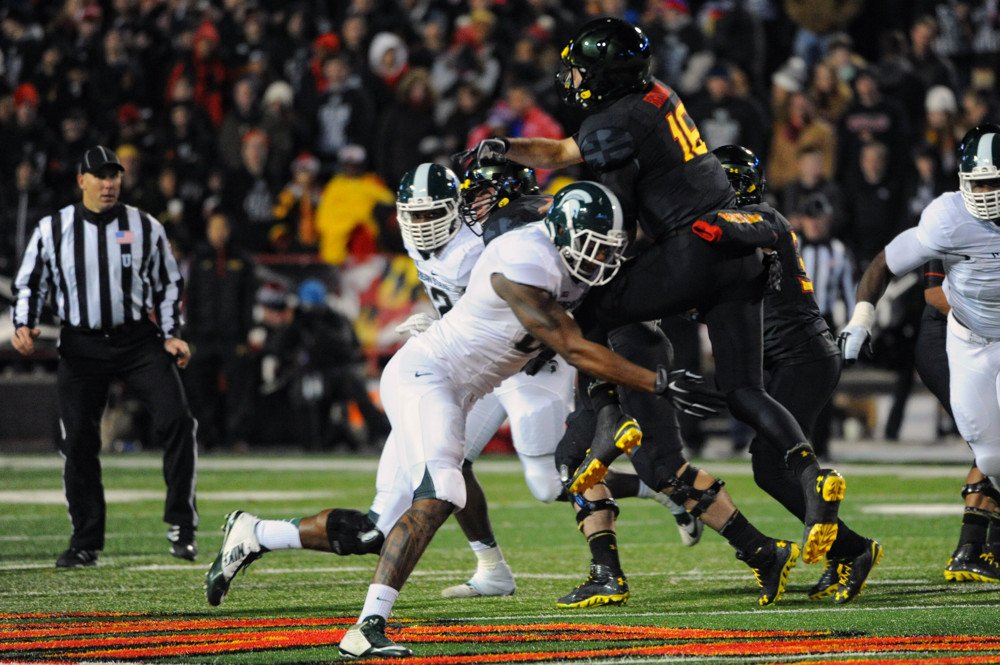 Michigan State senior DE #89 Shilique Calhoun was the Big Ten's defensive
lineman of the year in 2014. He is an outstanding player, but his Big Ten numbers
were down, compared to 2014.
They say defenses win championships, which was certainly the case for Michigan State in 2013, when the Spartans went unbeaten in the Big Ten, winning the championship coming off a 7-6 season, the year before.. Iowa was 7-6 in 2014 and explosive plays were a problem for the Hawkeyes.
This year, Iowa has allowed nine rushing touchdowns
; tying Michigan for No. 1 in the conference and seventh nationally. Limiting big plays: Iowa has allowed 12 scrimmage plays of 30-plus yards during its unbeaten path in 2015.
Iowa and Michigan State share the conference lead
with 25 takeaways and turnover margin (+14). Iowa leads the Big Ten with 17 interceptions, Michigan State is second with 14. The schools are also 1-2 in interceptions lost. Iowa has thrown only three interceptions, Michigan State has thrown five.
The Hawkeyes feature two linebackers with more than 100 tackles
. Sophomore MLB
Josey Jewell
leads the team and ranks fifth in the Big Ten with 111 tackles (9.3 pg.), 7.5 TFL and three sacks; while senior WLB
Cole Fisher
has 103 stops to rank tied for seventh in the conference (8.6 avg.). The Spartans are lead by MIKE LB junior Riley Bullough with 90 tackles, 6.5 TFL and four sacks.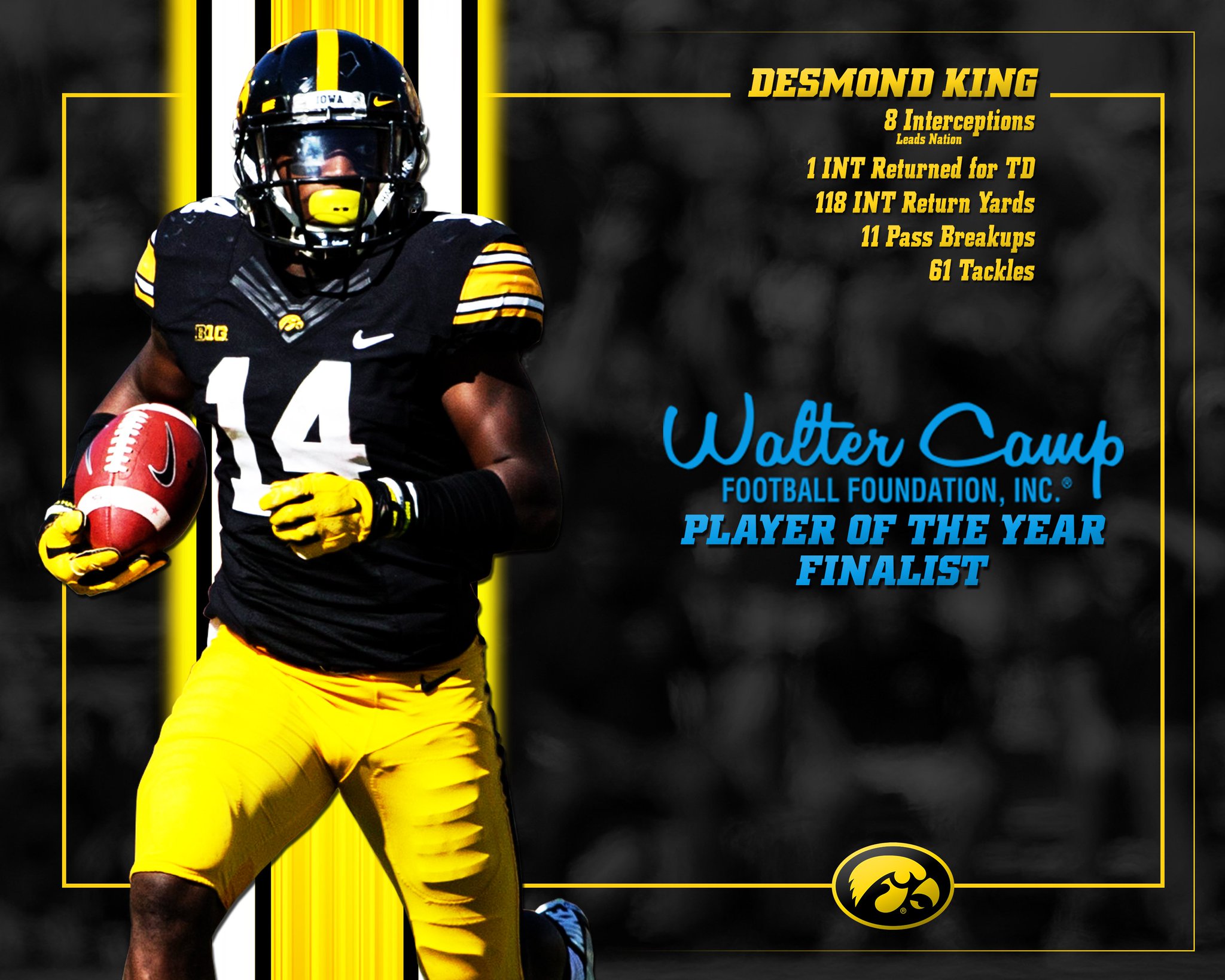 Iowa's most likely all-American defensive player, is CB Desmond King, who
is tied for #1 nationally, with 8 interceptions. He is tied with 1939 Heisman
Trophy winner Nile Kinnick and 1981 CB Lou King, with 8 on the season.
Special Teams will be an important aspect on Saturday night.
The Hawkeyes come into the Big Ten Championship Game very balanced in all three phases of the game. Iowa has two senior specialists, with PK Marshall Koehn, who kicked the 57 yard winning FG against Pitt; and punter Dillon Kidd. Koehn also is a part-time punter with his soccer style kicks. Iowa junior CB Desmond King has been inserted this season, as a kick and punt returner. King ranks second in the Big Ten in kickoff returns (25.6 yards) and punt returns (13.3).
The Spartans have a junior PK Michael Geiger, with three years of experience. Redshirt freshman Jake Harbarger is handling the punting duties this season. Field position can play a very important role in games.
Both coaches have been known to dial up a fake kick, with Dantonio, with the success in previous seasons and Ferentz using it during the non-conference in 2015.
Since 1981, Ferentz's first season in Iowa City; the Hawkeyes have a 16-10-1 record in the series. The average score has been 22-19. Michigan State has never won back to back games against Iowa, since 1981, except for a W-T-W from 1987 to 1989. This is the first time the game has ever been played on a neutral field. Back in 1981, the Hawkeyes wrapped up a Big Ten Conference season with a win over Michigan State and a Big Ten title. This time around, the Hawkeyes are playing for an outright title.
Iowa senior PK #1 Marshall Koehn hit a 57 yard FG back in September, in the
27-24 win over former Michigan State DC Pat Narduzzi and the Pitt Panthers.
Our Pick:
Iowa 30
MSU 23
The game will come down to quarterback play, turnovers, explosive plays and play at the line of scrimmage. The Hawkeyes didn't win a trophy game in 2014, but they are 4-0 in 2015 and looking to finish the season with an undefeated year.
The winner will clinch one of four slots in the College Football Playoff ...