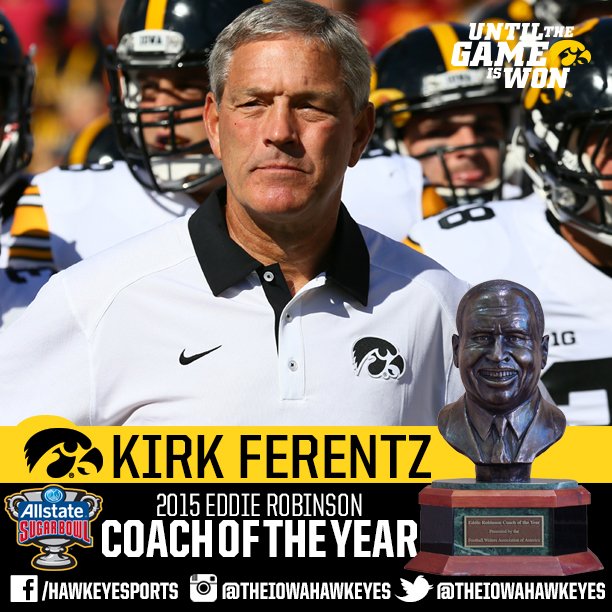 The Iowa Hawkeyes will face the Stanford Cardinal on New Year's Day in the
2016 Rose Bowl Game. The Hawkeyes arrived in California on Christmas Eve.
Kirk Ferentz is the Dean of Big Ten coaches, in his 17th season in Iowa City
as head coach and 26th overall. He has coached in two Rose Bowls, as an assistant.
Cedar Rapids, IA
--
The Iowa Hawkeyes have landed in California on Christmas Eve
, in preparation for the 2016 Rose Bowl Game with Stanford on Friday. In New York City and San Francisco, respectively, the Big Ten kicks off the 2015-16 bowl season, as the
Indiana Hoosiers
hit Yankee Stadium to square off with Duke Blue Devils in the Pinstripe Bowl, while the
Nebraska Cornhuskers
face the UCLA Bruins in the Foster Farms Bowl.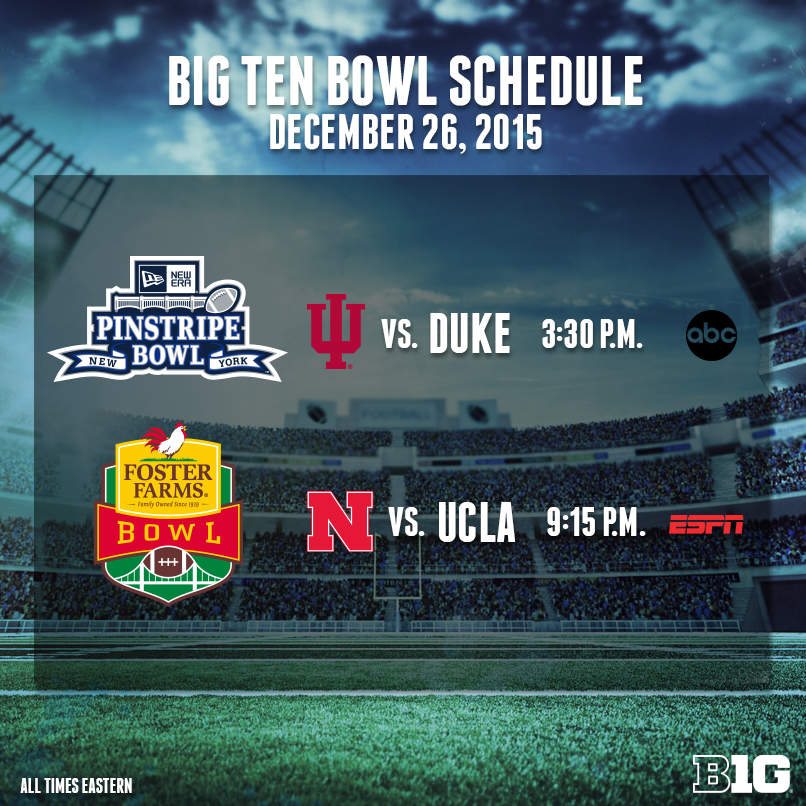 The 2015-16 B1G bowl slate kicks off today, with games played by Indiana
and Nebraska, respectively.
Indiana faces Duke in the 2015 Pinstripe Bowl in Yankee Stadium
Indiana head coach Kevin Wilson and Duke head coach David Cutcliffe
, though not usual opponents, revealed that they've long admired one another from afar. Indiana finished 6-6 (2-6 B1G East) on the regular season, while Duke finished 7-5 (4-4 ACC Coastal), as the two programs will square off in the 2015 Pinstripe Bowl from Yankee Stadium.
The Indiana Hoosiers (6-6) playing in first bowl game, since the 2007 season.

Their coaching trajectory at their current schools are actually quite similar.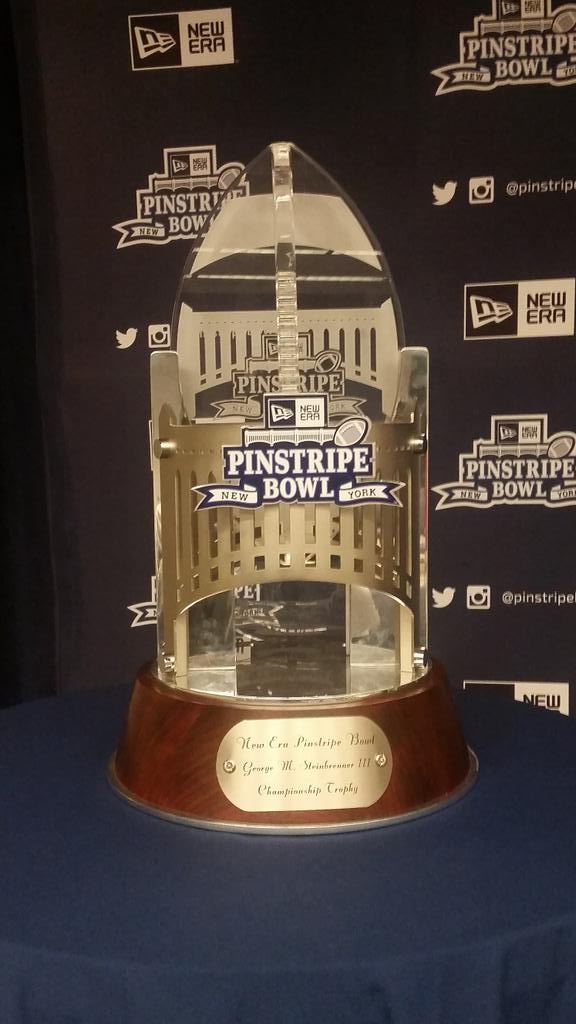 Pinstripe Bowl trophy
on the line in Yankee
Stadium today.
After being hired in 2008, Cutcliffe won 15 games over his four seasons in Durham. By comparison, Wilson won 14 in his first four years in Bloomington.

But in their fifth seasons, each broke through.

Duke won six games in Cutcliffe's fifth year in 2012, sparking a streak of four consecutive bowl appearances. Indiana won six games this season, Wilson's fifth, and is looking to follow Duke's path.

"Coach Cutcliffe doesn't know this, but we've looked at Duke for a long time," Wilson said. "We actually appreciated his spring game being on ESPN3 because we watched it with our team, and watched the practice organization and the way the managers are working—the whole organization."

But while Wilson's program was studying Duke's trajectory, the Blue Devils were keeping an eye on Indiana themselves. Wilson's offenses have long been regarded as some of the best in the nation, and Cutcliffe has taken notice.
Duke coach David Cutcliff and IU coach Kevin Wilson ahead of 2015 Pinstripe
Bowl in Yankee Stadium. Kickoff is at 2:30 p.m. CST on ABC.
Cutcliffe called Wilson an example for offensive-minded coaches around the nation to study. Under Wilson's guidance, the Hoosiers have seen steady growth and set nearly 50 school records along the way.
"
I have watched Kevin coach for a long time. Offensively, I don't know anybody better
," Cutcliffe said, turning to Wilson. "
I have tried to steal a lot of what you do
."
Cutcliffe will likely have a hard time pulling any of Wilson's own tricks against him when they meet on the field at Yankee Stadium. The two have become very familiar with one another over the years.

Today's Pinstripe Bowl will kickoff at 2:30 p.m. CST on ABC.
"
We've got one of the outstanding leaders in college athletics and one of the tremendous coaches in Kevin Wilson here
," Duke Athletic Director Kevin White said. "
The job he's done at
Indiana is being widely talked about in college athletics. It's just amazing what he's accomplished
."
The respect goes both ways.
By the way, White was Maine's AD, when he hired then Iowa offensive line coach Kirk Ferentz to his first head coaching position, back after the 1989 season. White began his career in coaching administration at Loras College in Dubuque, IA.
Indiana senior QB #7 Nate Sudfeld was named a third team all-Big Ten QB,
behind MSU senior Connor Cook and Iowa junior C.J. Beathard.
"
In previous years, Coach Wilson would show us a lot of articles or write-ups about the Duke program
," Indiana senior quarterback
Nate Sudfeld
said. "
We have a tremendous amount of respect for them and how Coach Cutcliffe has really stuck with his process…We've drawn a lot from that program
."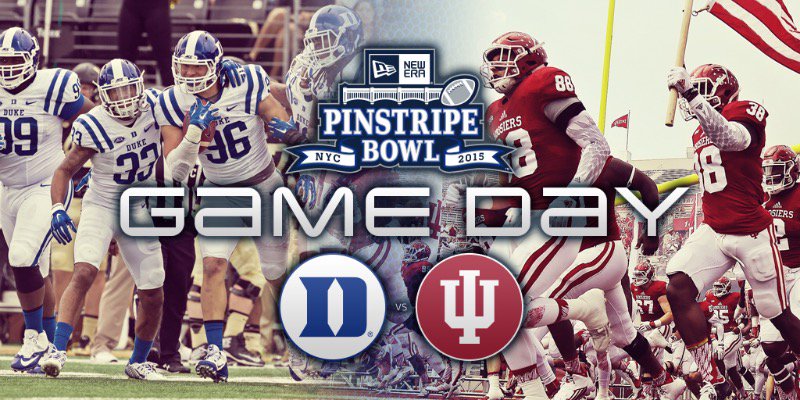 Duke (7-5) vs. Indiana (6-6) in the Pinstripe Bowl on ABC.
Both teams played one common opponent in 2015. Indiana beat Wake Forest 31-24 on the road ahead of the Big Ten season, while Duke closed out ACC play with a 27-21 win @ Wake. Duke was 0-1 vs. Big Ten opponents, after losing 19-10 against Northwestern at home in Week 3.
Indiana is playing in its tenth bowl game and brings in a 3-6 record. The Hoosiers are 0-2 against current ACC programs in bowl games. Duke is 3-8 in bowl games. The Blue Devils lost in 1995 to Wisconsin 34-20 in the Hall of Fame Bowl. The Blue Devils beat Nebraska 34-7 during the 1954 season, when the Cornhuskers were in the Big 8.
OUR PICK: Duke over IU in the Pinstripe Bowl ...
Nebraska faces UCLA for third game in four seasons in Foster Farms Bowl
The Nebraska football team held its first of four bowl practices in the Bay Area on Tuesday morning, working out for nearly two hours in half pads at Laney College in Oakland.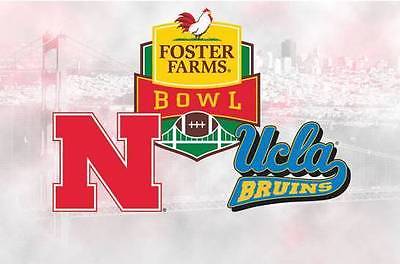 Big Ten vs. Pac 12: Nebraska vs. UCLA in Fosters Farm Bowl from Stanford Stadium/
The Huskers arrived in San Francisco on Monday evening and were eager to begin game-week preparations for Saturday's Foster Farms Bowl matchup with UCLA. Nebraska defensive Coordinator Mark Banker met with the media following practice and said the Bruins' ability to survey the field pre-snap and identify match-ups will pose the biggest challenge for his defense.
"
That's the offense
," Banker said regarding UCLA's penchant for finding favorable matchups. "
The quarterback has that responsibility from a run or a pass standpoint at the line of scrimmage. As the game progresses, what they'll do is you'll see them stop the cadence and look to the sideline so that somebody up above that's seeing the configuration can then get them in the right call
."
Banker was asked if the Huskers have seen a similar offense to UCLA this season, and said the Bruins' offensive attack is similar to that of Northwestern, with one big difference.
"
In our conference, Northwestern
," Banker said, referring to the Wildcats' strategy of calling plays at the line based on the defensive alignment. "
The difference between Northwestern and UCLA, UCLA's speed is by far much, much better
."
Nebraska true freshman DB #24 Aaron Williams ahead of the 2015 season.
To stop the Bruins' high-powered offensive attack, Banker said his defense will need to make the right calls at all times and will need to make plays. One Husker defender that could play a key role on Saturday is freshman Aaron Williams, who the coaches have chosen to be Nebraska's nickel back against the Bruins.
When asked how Williams was adjusting to his new role, Banker said "I hope it's real well. He's a football player. He's done well for us this year as a true freshman."
Following the Huskers' practice on Monday morning, Nebraska head coach Mike Riley, UCLA head coach Jim Mora Jr. and selected players from both teams took part in a Foster Farms Bowl press conference. The Huskers practiced again on Wednesday morning before practicing for a third time on Thursday afternoon. On Friday, Nebraska did a walk-through practice at Stanford.
The 2015 Foster Farms Bowl is set for an 8:15 p.m. CST kickoff on Saturday on ESPN. The Huskers are 5-7 in Riley's debut season, while the Bruins head into the match-up with an 8-4 record on the regular season.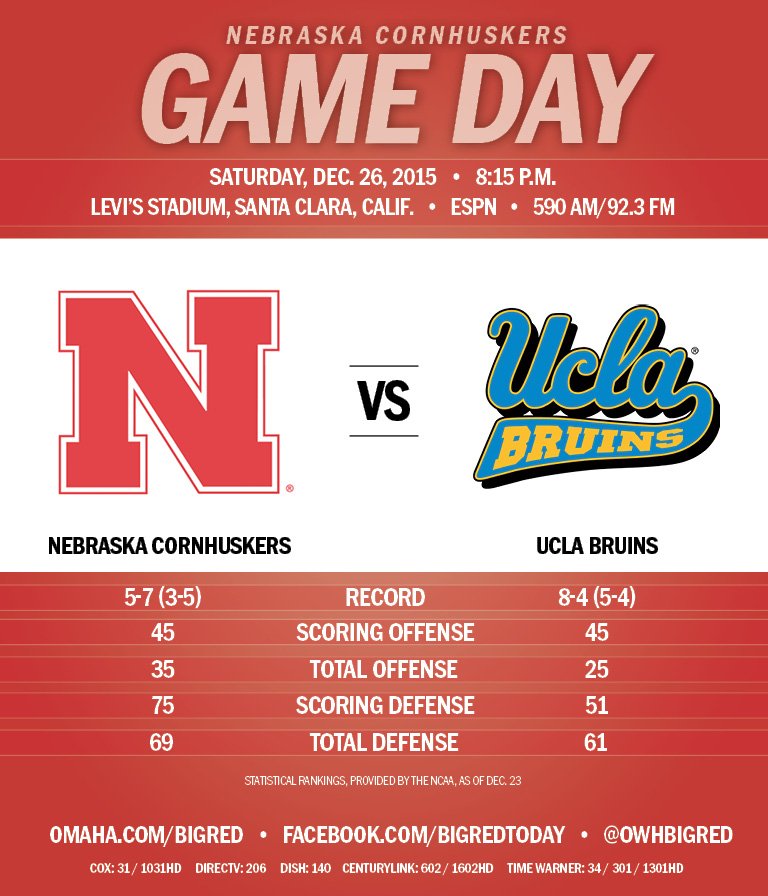 Nebraska is 0-2 against UCLA, during a head to head meetings
during the regular season in 2012 and 2013.
OUR PICK: UCLA over UNL ... in the Foster Farms Bowl ...