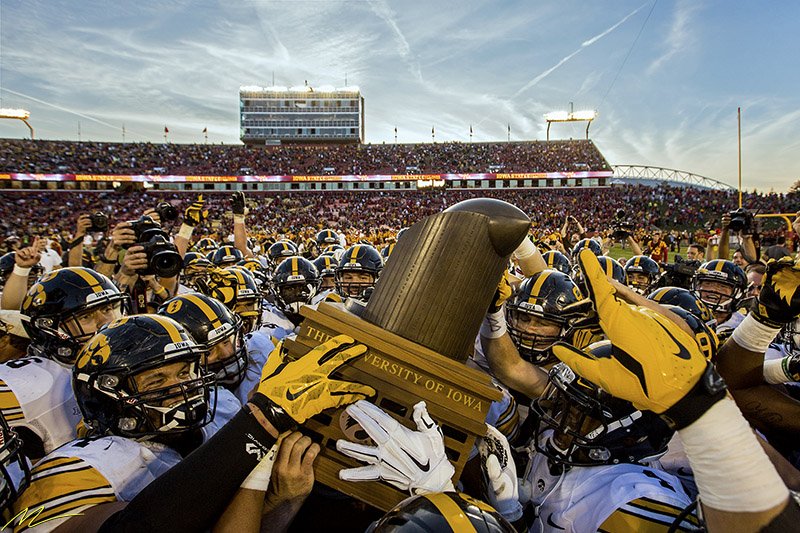 Can Iowa carry the trophy off for the second straight game?
The series has favored by ISU in 3 of the last five games, including past two
in Iowa City, as Cy-Hawk Game kicks off today at 6:30 p.m.
Iowa City, IA
--
In 1977, the Hawkeye State welcomed the return of the Cy-Hawk Game, as the Iowa Hawkeyes outlasted the Iowa State Cyclones 12-10 at Kinnick Stadium
. Today's game is the 40th meeting, since the series resumed, as the Hawkeyes and Cyclones kickoff at 6:30 p.m. at Kinnick Stadium, as the Big Ten Network will the Cy-Hawk Game.
This is the 18th game for Kirk Ferentz, as head coach for Iowa, leading the
Hawkeyes in the Cy-Hawk Game. AD Gary Barta extended Ferentz through
the 2026 season this week, but the Cyclones have been a thorn for Ferentz.
There has been dominance by Iowa in the Cy-Hawk Series
, with a 15 game win streak from 1983 to 1997. Iowa State has owned both three and five game win streak winning streaks, since the series resumed. In the past 17 games, since Kirk Ferentz was hired as Iowa's head coach in 1999, Iowa State leads the series 9 to 8.
Iowa
(1-0) comes into today's match at #10 nationally, while
ISU
(0-1) is unranked ...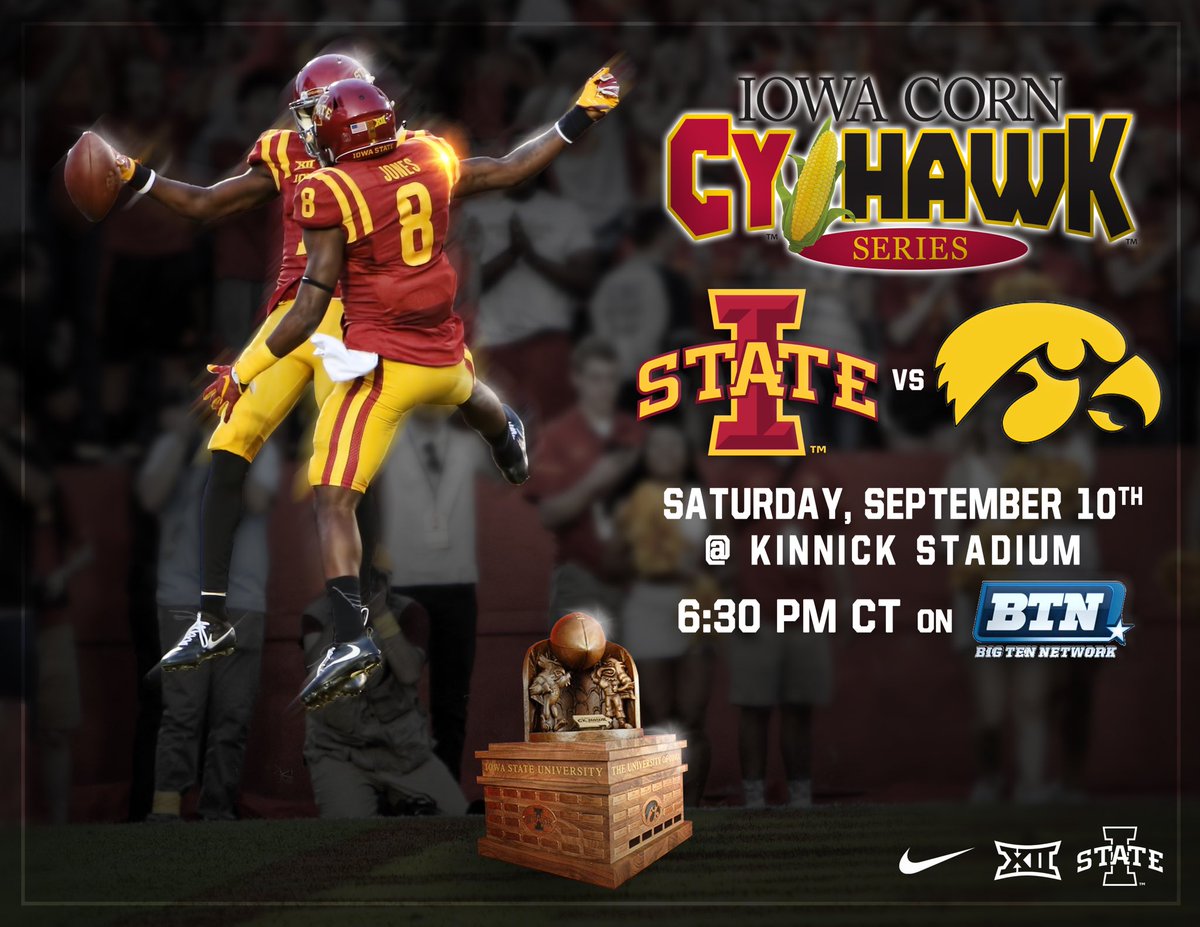 Iowa State (0-1) against #10 Iowa (1-0), in this Big 12 vs. Big Ten match up!
The Hawkeyes haven't carried the trophy off the field at Kinnick Stadium
, since Iowa's 35-7 win in 2010. Iowa State has won two straight at Kinnick, including a 9-6 game in 2012, where there was little offense.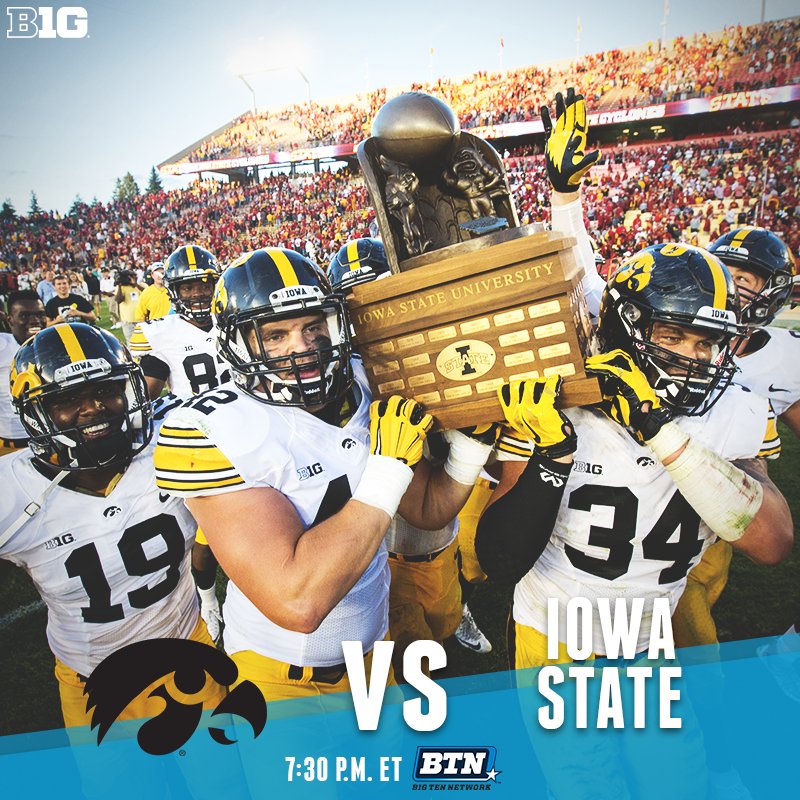 Iowa carried the trophy off last year, but the Hawkeyes haven't in Iowa City,
since 2010, so there is a desire to keep it here for another year.
Iowa hosted the first four games in the renewal, with a 2-2 record
.
It would be easy to pick an Iowa B1G win
, since Iowa State factors to be in rebuilding mode in 2016, with a young offensive line and concerns in the line back corp. It is also Year 1 of the Matt Campbell era, who replaced Paul Rhoads after a 3-9 season.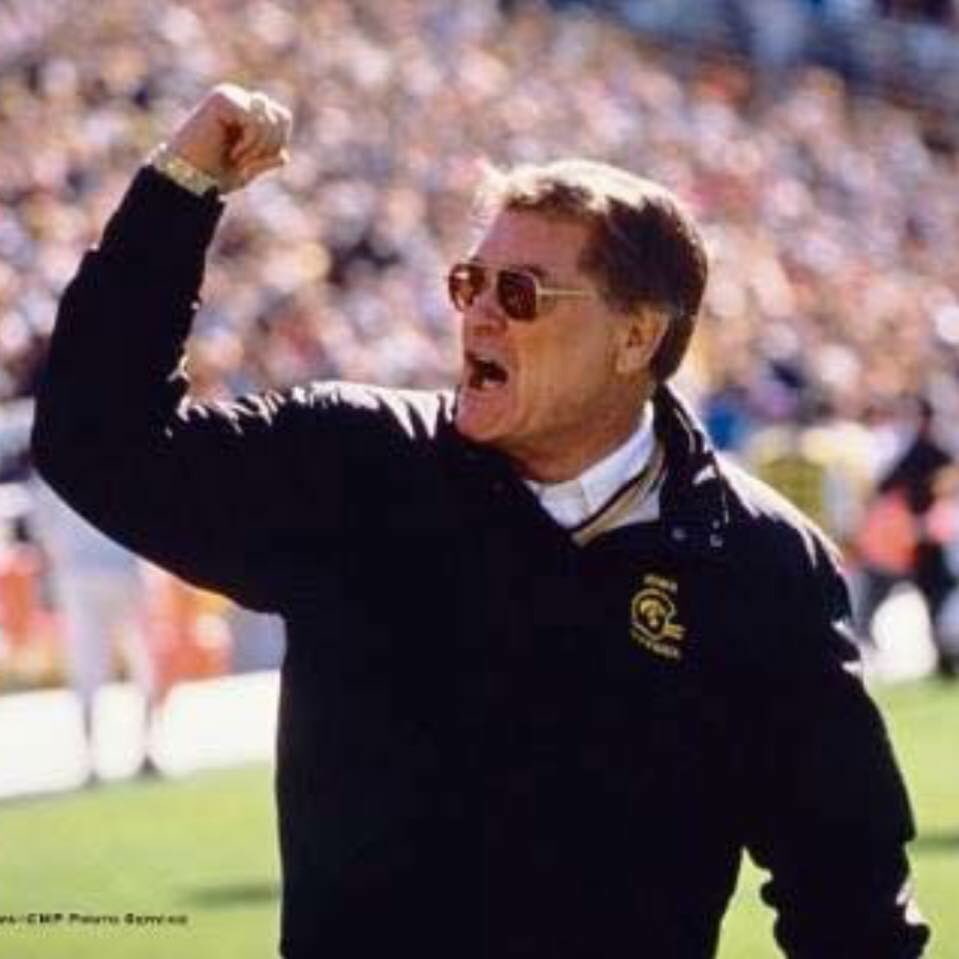 The renewal of the series was tied 1-1, when Hayden Fry arrived in Iowa City.
Fry won his first Cy-Hawk Game in 1979, in Iowa City, 30-14. The Hawkeyes
would love to pull off another win in the series, as they lead 39-19 overall.
Fry's first win at Iowa was against Iowa State, back in 1979.
But, in rivalry games, the Cyclones have won in this series
, with teams not succeeding in the W-L column before. Look back at 1982 or 1998 against Hayden Fry teams, then 2007 or 2014 against Kirk Ferentz teams ... three of those four games came in Iowa City.
Since the series renewed in 1977, Iowa has won 25, lost 14
. The Hawkeyes own a better percentage in Ames, but Iowa is 13-8 at Kinnick. Iowa is 39-19 overall in the series, so Iowa is going for its 40th win overall in the 40th renewal game, since 1977.
Does Kirk Ferentz get to .500 against Iowa State today in the Cy-Hawk Series?
In many ways, this play at Iowa State, may have set the tone for Iowa QB 16
C.J. Beathard and the 2015 Hawkeyes, as Beathard avoided a safety in
the first half, with Iowa's back against the wall.
At quarterback, Iowa returns senior C.J. Beathard, while ISU will turn to junior Joel Lanning, after he took over for Sam B. Richardson during the 2015 season. Iowa is coming off a 12-2 season, and Beathard is 14-2 as Iowa's starting quarterback, including the 31-17 win in Ames. Both Beathard and Lanning have shown success both in the passing game and using their feet. Beathard edges Lanning though in experience and decision making.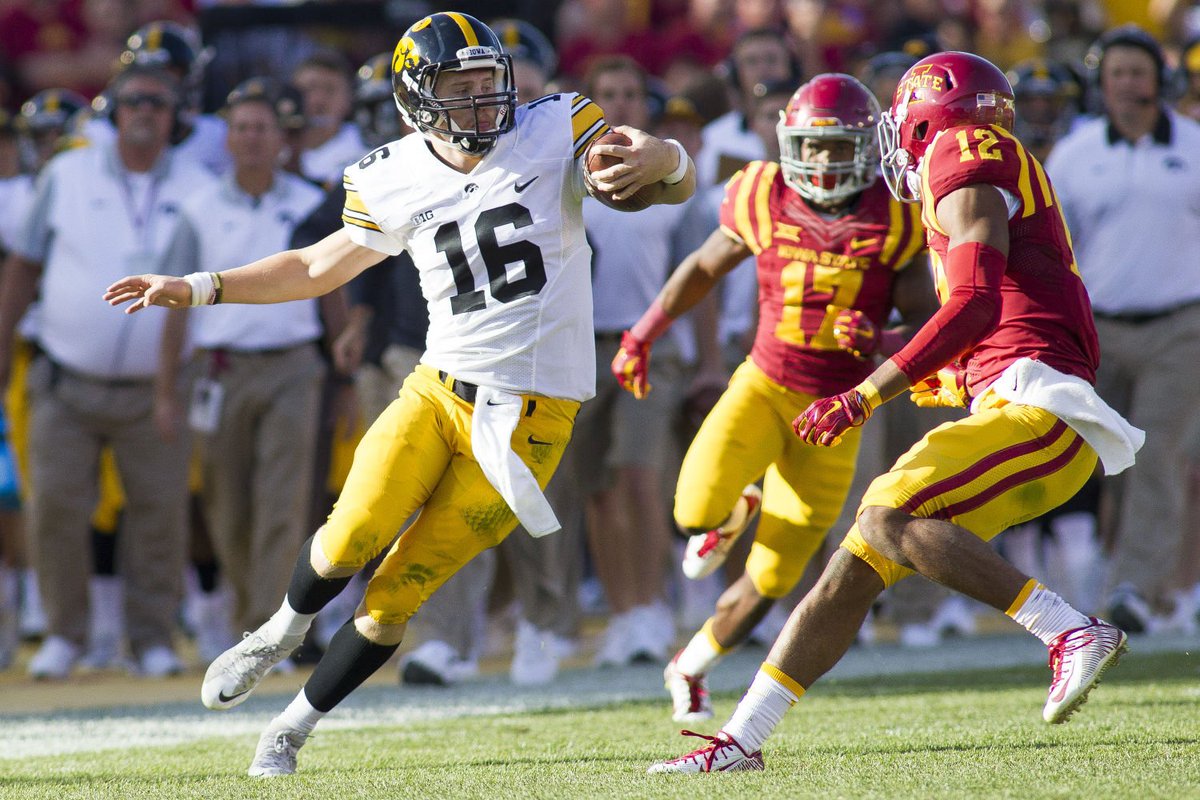 Iowa QB 16 C.J. Beathard broke out of the end zone last year and lead the
Hawkeyes to a B1G win over Iowa State to put Iowa 2-0 on way to a record
12-0 regular season in 2015. The Hawkeyes are looking for a repeat in 2016 ...
In the loss against UNI last Saturday night, Iowa State had three costly turnovers against the Panthers, in the 25-20 loss. The last time ISU lost in the season opener (2013), the Cyclones followed up with a 27-21 loss in Ames, the following week.
Today's kickoff is 6:30 p.m., but the Cyclones spoiled the Hawkeyes back in 2002, with 36-31, as the lights turned on at Kinnick.
The Hawkeyes need to step up today at Kinnick. The Cyclones will be seeking its first win in the Matt Campbell era, while Kirk Ferentz looks to get to .500. He was 7-2 as an offensive line coach under Fry from 1981 to 1982. Iowa lost the first two, but found momentum, as they began the historic 15 game winning streak, which Ferentz was part of seven of those 15 years, as OL coach.
The offensive lines have some rework with both units today. Iowa State is going through an overhaul with five new starters. ISU opened fall camp, with the loss of junior Jake Campos, the only returning starter. After the 45-21 win last week over Miami-OH, the Hawkeyes will ask sophomore center Lucas LeGrand to make his first career start, as reports are coming out of Iowa City that sophomore center James Daniels is injured. So, who gets the most production today?
Both head coaches believe in strong play at the line of scrimmage. This will be a key to today's game, as will turnovers, special teams and explosive plays.
The old saying says, teams improve most between Game 1 and Game 2 of a season.
Iowa's defense will keep a close eye on ISU sophomore RB 2 Mike Warren today.
At running back, the Cyclones return a thousand yard back, in sophomore RB Mike Warren. The Hawkeyes are deep at RB, with senior LeShun Daniels, junior Akrum Wadley, who ran for 121 yards in the season opener; but don't forget true freshman Toks Akinribade and junior Derrick Mitchell. The Cyclones are younger at running back, then Iowa, with true freshman David Montgomery. The offensive line for ISU didn't get the running game going in the opener. Iowa will likely unveil a new center today, but the Hawkeyes will seek to be balanced, but you know, with the experience at running back, it will be an important part of the game for Iowa.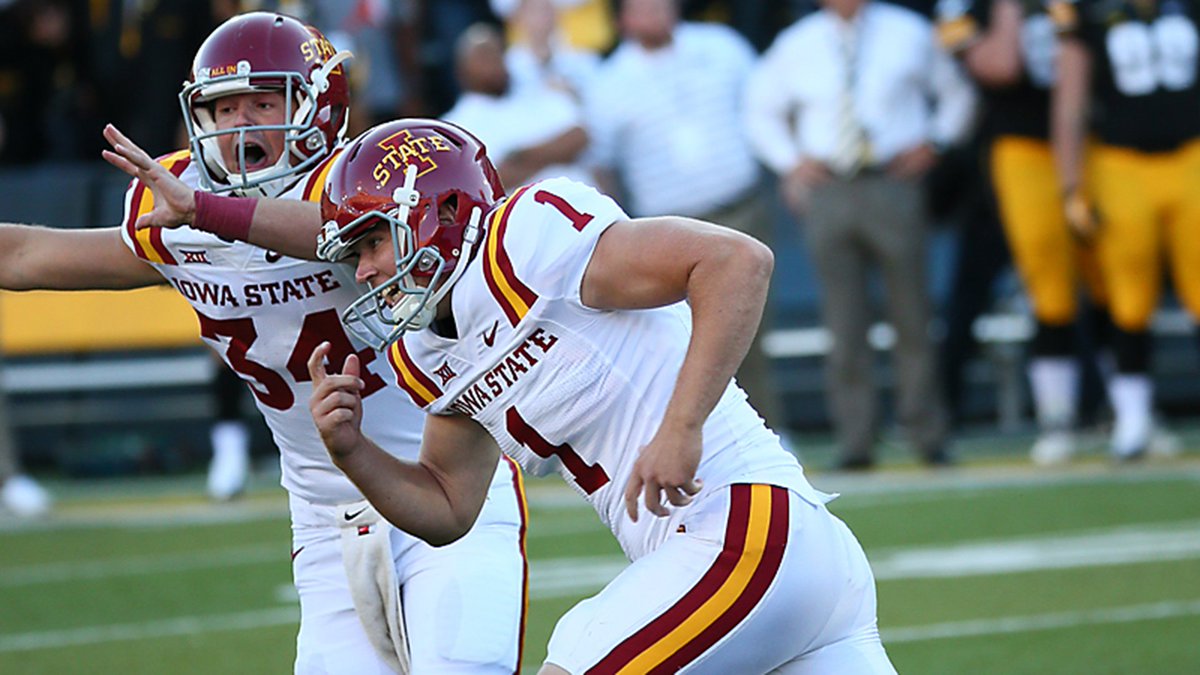 In 2014, Iowa State PK 1 Cole Netton last second FG lead the Cyclones to a
20-17 over Iowa in Iowa City.
Iowa needs to find separation typically against ISU. In 2014, the Cyclones hung around and pulled out a 20-17 win with a last second field goal by PK Cole Netten, who is now a senior. ISU has experience at placekicker and returns junior punter Colin Downing. Iowa has a true freshman at PK, as Keith Duncan debuted last Saturday, along with graduate transfer Ron Coluzzi, out of Central Michigan, who will handle the Hawkeyes' punting and kickoff duties today.
Special teams can be very important in rivalry games. A miscue, a block, an explosive return ... Iowa and Iowa State will look for an advantage there, as well.
Iowa State returns junior WR Allen Lazard, former UNI track runner, junior WR Trever Ryen, senior WR Dondre Daley and 6-6 redshirt WR Hakeem Butler, who all will need to be watched closely in Iowa back 7, who will face a bigger test today. Iowa gave up 410 yards of offense to Miami-OH last week. The Cyclones have a new TE and will look to get the passing game going today.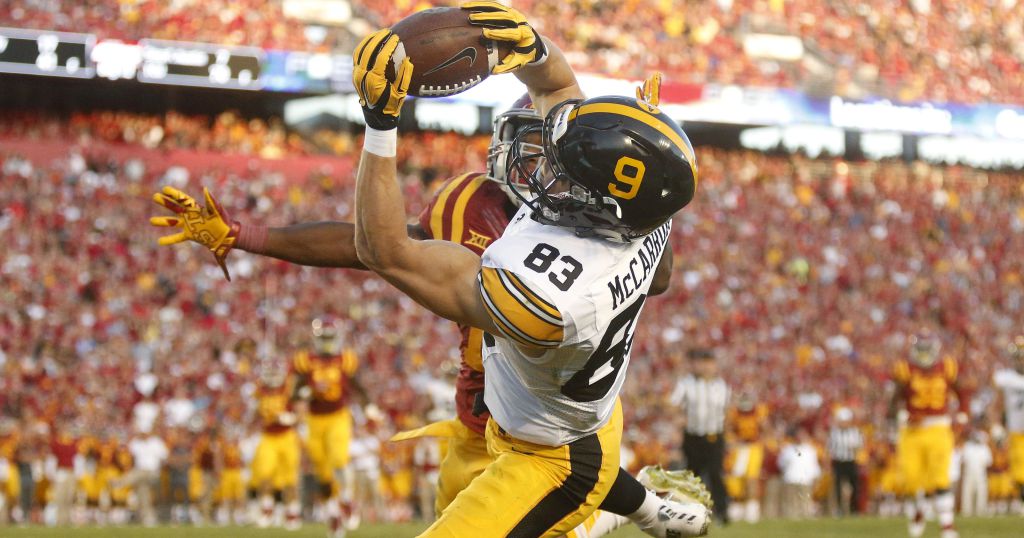 The 4th quarter TD reception by Iowa WR 83 Riley McCarren changed the
game in the Hawkeyes favor last year.
The Hawkeyes return three key upperclassmen in the passing game, with seniors TE George Kittle, WRs Matt VandeBerg and Riley McCarren, who have all contributed in the Cy-Hawk Game previously. Sophomore WR Jerminic Smith will be making his debut in the series, as will hopefully WR Jay Scheel, who missed the season opener, due to injury. Sophomore walk on WR Ronald Nash is an in-state player making his first Cy-Hawk game, as well for Iowa. Explosive plays will be an important part of today's game.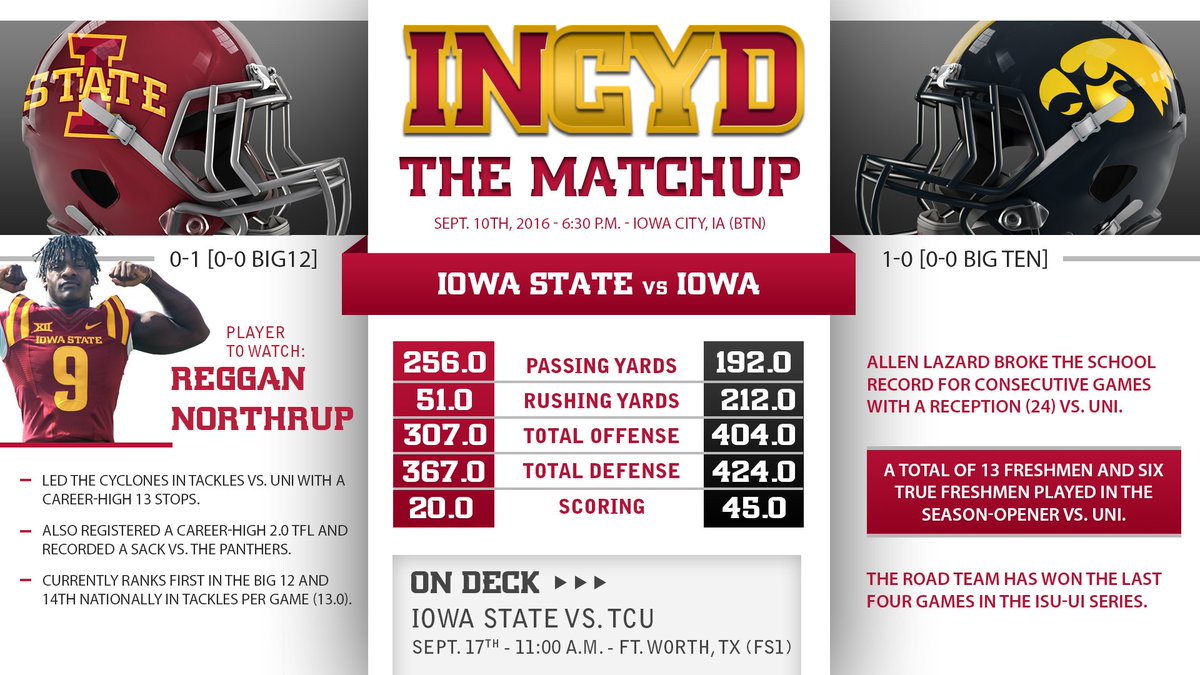 Iowa State won back to back games in Iowa City, 9-6 in 2012, then 20-17,
in 2014. Iowa won last in Iowa City, back in 2010, 35-7, as senior QB Ricky
Stanzi lead Iowa to back to back wins over ISU. Iowa returns senior
QB C.J. Beathard, who lead the Hawkeyes to a 31-17 win in Ames, last year.
An important area to watch, will be the front seven of both teams. Though, there has been some talk about ISU's new 4-2-5 defense, you may see more 4-3 look, against Iowa? We shall see. Iowa is known for a 4-3 base, but the Hawkeyes will use six defensive backs and maybe a Raider/Radar package in the pass rush on passing downs.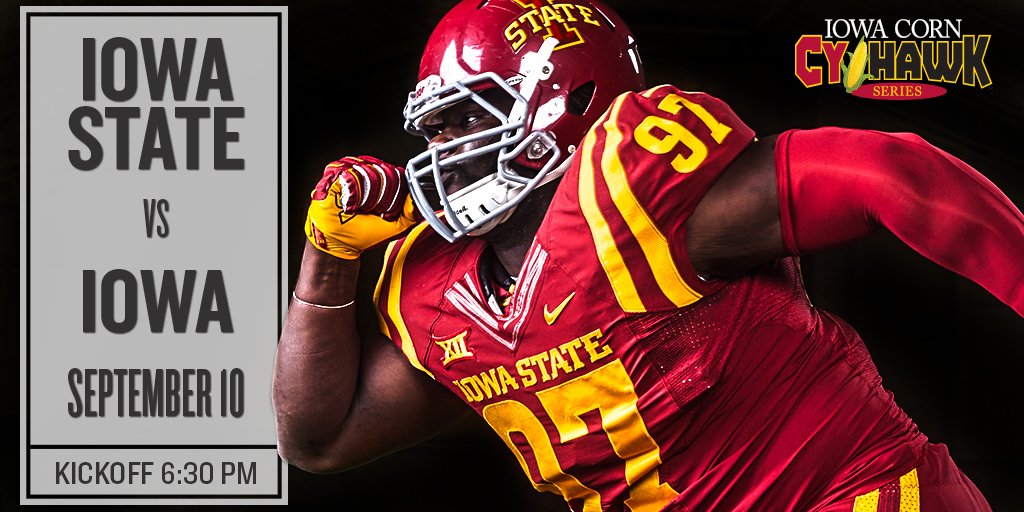 ISU senior NG 97 Demond Tucker anchors the Cyclones line of scrimmage.
Who wins the line of scrimmage game, will likely determine heavily the outcome of today's game. ISU senior NG Demond Tucker is the anchor of the Cyclones front line, while Iowa is lead by senior DT Jaleel Johnson, junior DT Nathan Bazata, with senior DT Faith Ekakitite. Iowa will not be 100% on the edge, since sophomore DE Parker Hesse is slowed with a hamstring, but the Full Nelson debuted in the season opener with sophomore Matt Nelson and redshirt freshman Anthony Nelson, no relation, at the defensive end positions for the Hawkeyes. ISU true freshman LEO JaQuan Bailey recorded his first sack against UNI in his debut last week.
Iowa is strong at linebacker, lead by junior MLB Josey Jewell, while ISU is lean there. Jewell was disqualified last week, after the first series, due to a head to head penalty, so many are interested to see, if the Iowa defense plays better this week, with its captain back? Iowa juniors Ben Niemann and Bo Bower are at the OLB and WLB positions and have both experienced Cy-Hawk games, as well. They lead Iowa in the season opener in tackles. ISU sophomore WLB Reggan Northrup lead the Cyclones with 13 tackles, one sack, in the season opener against UNI. Senior MLB Kane Seeley had a sack against UNI, as well. Don't be surprised to see ISU bring the blitz against Iowa in disrupting either the run or the pass against the Hawkeyes today.
The strength of both defenses are the secondaries for both Iowa and Iowa State. Iowa returns and is lead by senior all-American CB Desmond King, along with senior CB Greg Mabin, junior SS Mike Taylor and the only new starter is sophomore FS Brandon Snyder, who played special teams last year. The Cyclones feature junior LS Kamari Cotton-Moya and sophomore RC Brain Peavy, who lead ISU in tackles last year. Generally, who don't want your CB leading your team in tackles. Cotton-Moya is the only that leads the secondary.
Iowa State coach Matt Campbell is 0-1, after a 25-20 loss against UNI.
The chess match begins at 6:30 p.m. Iowa's offensive coordinator Greg Davis and defensive coordinator Phil Parker, both were elevated to those positions in 2012. They are 2-2 against Iowa State as coordinators. Parker has been Iowa's secondary coach, since 1999, with one year off, during his first season as a coordinator, so he knows the series well,
It is Kirk Ferentz's 27th Cy-Hawk Game, while it is ISU coach Matt Campbell's first one. His offensive coordinator Tom Manning, is also an OL coach. While his defensive coordinator Jon Hancock, who also coaches safeties, both came with Campbell from Toledo.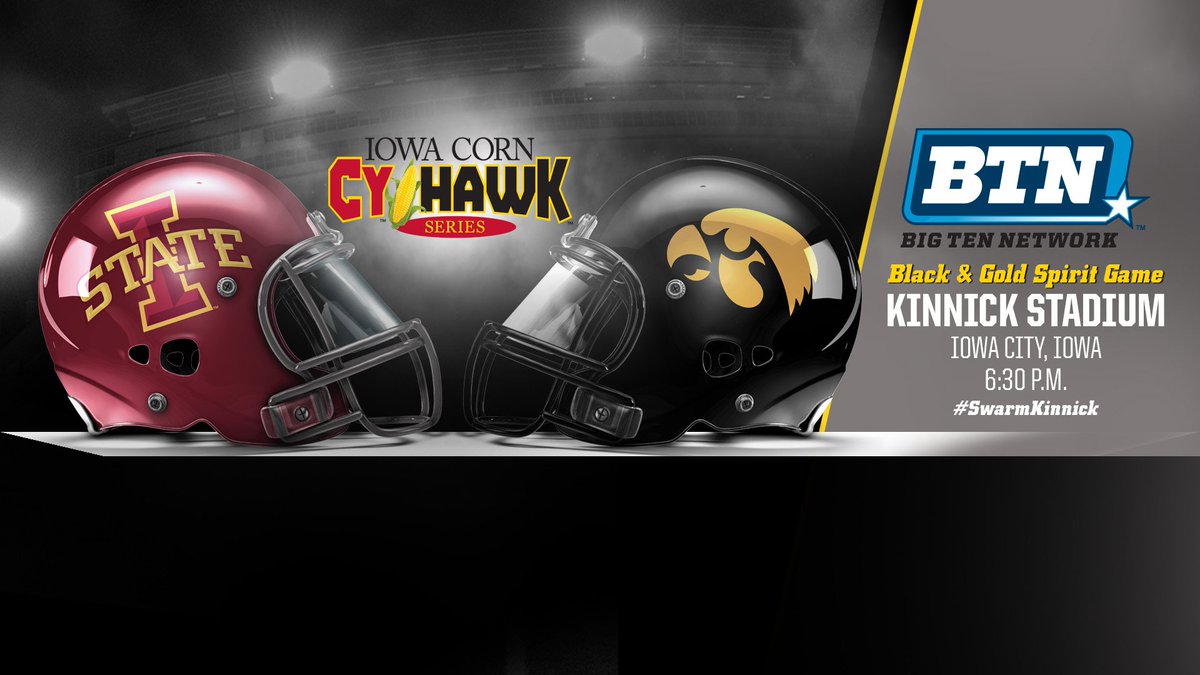 Iowa State @ #10 Iowa, 6:30 p.m. from Kinnick Stadium
Keys to the Game:
Line of scrimmage
Explosive Plays
Turnovers and miscues
Running Game
In game, adjustments
While this looks like a game Iowa could be a blowout, it is a rivalry game and look at Iowa's recent track record ...

OUR PICK ...
#10 Iowa 30
Iowa State 28
We see Iowa winning, but we see the Cyclones taking this one down the wire, maybe after an early lead by Iowa. In 2002, Iowa won the first half, but ISU came back, upset Iowa ...