The Big Ten (Iowa) and the MAC (Miami-OH) both went back
to work as they kicked off the 2016 College Football season
in Kinnick Stadium, as the Hawkeyes win 45-21 over the Redhawks.
IOWA CITY, Iowa -- In its season opener, the Miami University football team impressed on offense, outgaining the 18th-ranked Iowa Hawkeyes with 424 yards in a 45-21 loss Saturday afternoon at Kinnick Stadium. Iowa built an early lead, with 21 points in the first quarter over Miami-OH. Iowa was physical, as Redhawks coach Chuck Martin expected heading into the season opener.
Miami-OH (0-1) held possession for over 36 minutes and gained 25 first downs, but the Iowa (1-0) scored three touchdowns off of Miami turnovers and converted on all six red zone opportunities.
"It was a close game, should have been closer," said Miami-OH head coach Chuck Martin. "Without the dang turnovers, it's a really close game. We fought through more than we wanted to, but we did well."
Miami-OH sophomore quarterback Billy Bahl was strong in his 2016 debut, going 19-of-29 with 266 yards and a pair of touchdown passes to sophomore wide receiver James Gardner. Both Gardner and senior wide receiver Rokeem Williams pulled in six catches, with Williams racking up 113 yards. Five Miami rushers combined to post 158 yards on the ground, led by sophomore Maurice Thomas with 60 yards on nine carries.
"We ran the ball legitimately," said Martin. "Legitimate run plays. And passing, we moved the ball very efficiently, obviously except fumbling the ball three times. They know what they are doing and they did."
After Miami-OH punted on its opening possession, the Hawkeyes used a couple of major plays to power an 80-yard drive, culminating with a 1-yard touchdown run that put them up 7-0 with 9:07 remaining in the first quarter.
Iowa junior MLB Josey Jewell was disqualified in the first quarter after being flagged for targeting on a personal foul on the first change of possession of the game. It brought back an explosive punt return by senior Desmond King. Miami-OH coach Martin shared the Redhawks game planned to run offense away from both Iowa cornerback King in the passing game and Iowa senior DT Jaleel Johnson in the running game.
Iowa junior RB 25 Akrum Wadley lead the Iowa ground game with 121 yards,
including two of the Hawkeyes five rushing TDs to open the season. He also
had a critical fumble recovery in the 1st half to avoid a turnover in Iowa territory.
On its next outing, a fumble by Thomas quickly led to another Iowa touchdown run that extended its lead to 14-0 at the 7:14 mark. Bahl then found Williams for a 67-yard completion that put Miami-OH into the red zone, but the momentum was short-lived as Bahl fumbled as he was being sacked.
Iowa capitalized on a Miami-OH, with a 2 play drive, finished with a 43 yard
run by senior RB 29 LeShun Daniels, Jr. After the turnover, Iowa took advantage with
a nice flea flicker from senior QB C.J. Beathard to sophomore WR Jerminic Smith.
Once again, Iowa capitalized on the turnover with a 38-yard pass, followed by a 43-yard run that made the score, 21-0, with 5:41 left in the opening period.
"We're pleased to get the win," said Iowa head coach
Kirk Ferentz
. "They're hard to come by, so I am happy about that. We also appreciate the great crowd, they were in it right from the get-go. We enjoyed that."
Miami-OH finally got on the scoreboard with a nearly seven-minute, 12-play drive, finished off by a 3-yard touchdown by sophomore running back
Alonzo Smith
. The drive was highlighted by three clutch third down conversions for the Redhawk offense.
Following punts by both teams, Iowa once again reached the red zone with a 36-yard pass. On the following play, Iowa senior wide receiver Riley McCarron appeared to fumble the ball into the end zone for a touchback, but the call was reversed following an official review. The Hawkeyes took advantage of the second opportunity, scoring on a 5-yard run to go up 28-7 with 7:15 left in the half.
"The turnover take away margin was good and I liked the way the offense capitalized on the takeaways, that's a positive," said Ferentz. "Like any game, you have things you're not quite pleased with. There are some things we have to work on.
The Redhawks embarked on a 9-play, 39-yard drive, but came up empty after freshman kicker Samuel Sloman missed a 53-yard field goal. The half came to a close with an Iowa punt and a Miami run play as time expired.
Iowa began the second half with another long scoring drive, capped off by a 12-yard touchdown pass on fourth down that extended its lead to 35-7 at the 11:37 mark.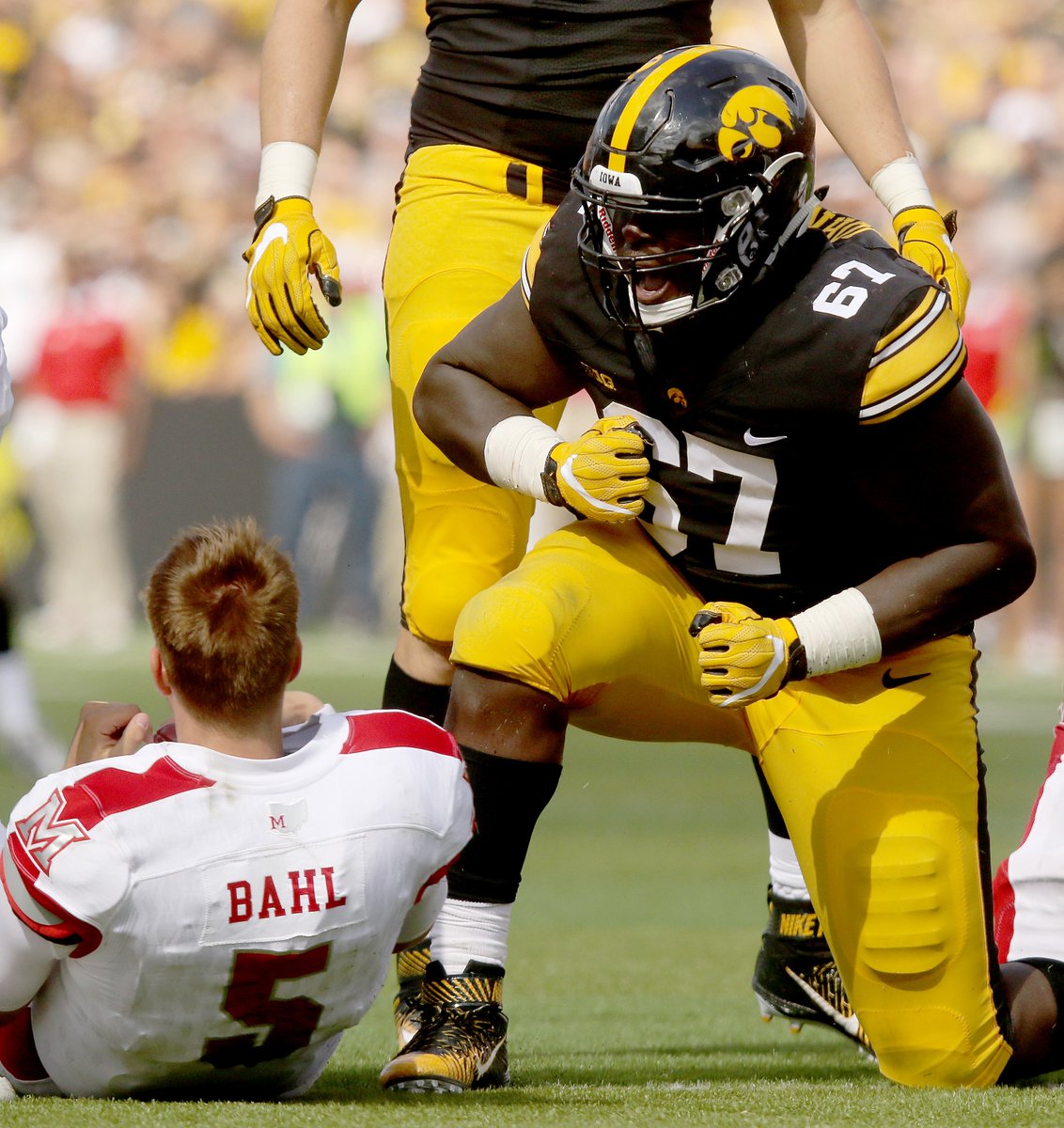 Miami-OH sophomore QB 5 Billy Bahl didn't always enjoy the physical
nature of the Iowa Hawkeyes, with Iowa senior DT 67 Jaleel Johnson,
who Redhawks coach Chuck Martin indicated they game planned against.
Bahl threw 2 touchdown passes against Iowa, with 266 yards passing
and a 67 yard explosive gain. He was also sacked 3 times for minus 19 yards.
Miami-OH responded with its most impressive possession of the game, a 13-play, 75-yard sequence that took nearly seven minutes off the clock. A 3-yard run by Smith on fourth down kept the drive alive, leading to an outstanding 29-yard touchdown pass from Bahl to Gardner. The catch was the first scoring play of his career and made the score, 35-14, with 4:41 to play in the third quarter.
Gardner's terrific day continued into the fourth quarter as Bahl found him in the front of the end zone for an 8-yard touchdown, narrowing the deficit to 35-21 with 9:43 remaining in the game.
On Iowa's next possession, the Hawkeyes reached the Miami-OH 2-yard line, but the Redhawk defense was able to hold them to a 22-yard field goal, extending the score to 38-21 with 6:04 left to play.
Miami held the ball for three plays, before Bahl's second sack-fumble of the game gave Iowa the ball deep in Redhawk territory. The Hawkeyes proceeded to close out scoring for the day with a 5-yard run at the 3:08 mark. The Redhawks' final drive lasted six plays and over three minutes, but eventually stalled out at the Iowa 21-yard line.
"(It was an) overall awesome experience for our guys here in Iowa," said Martin. "It's just a great place to play and I'm very appreciative. I'd love to come back here."
Ten true freshmen played for Iowa today – LB Amani Jones, S Amani Hooker, CB Manny Rugamba, OLB Kristian Welch, PK Keith Duncan, WR Devonte Young, QB Nathan Stanley, RB Tokes Akinribade, TE Noah Fant, DT Cedrick Lattimore. Iowa lost 21 letter-winners from the 2015 Big Ten West division team that finished 12-2.
Iowa does return experience in 2016. Sophomores DE Matt Nelson and FS Brandon Snyder made their first career starts. Sophomore C James Daniels made his third career start today, his first at center.
"Our run defense was not what it needs to be today. I want to give Miami credit, too," Ferentz said. "They're an improved football team based on the film we saw and they worked hard."
Miami-OH will open its home season on Saturday, Sept. 10 as it faces Eastern Illinois (0-1) at 2:30 p.m. at Yager Stadium. While the Iowa Hawkeyes, host Iowa State (0-1) for the Cy-Hawk Game, with a 6:30 p.m. kickoff at Kinnick Stadium.