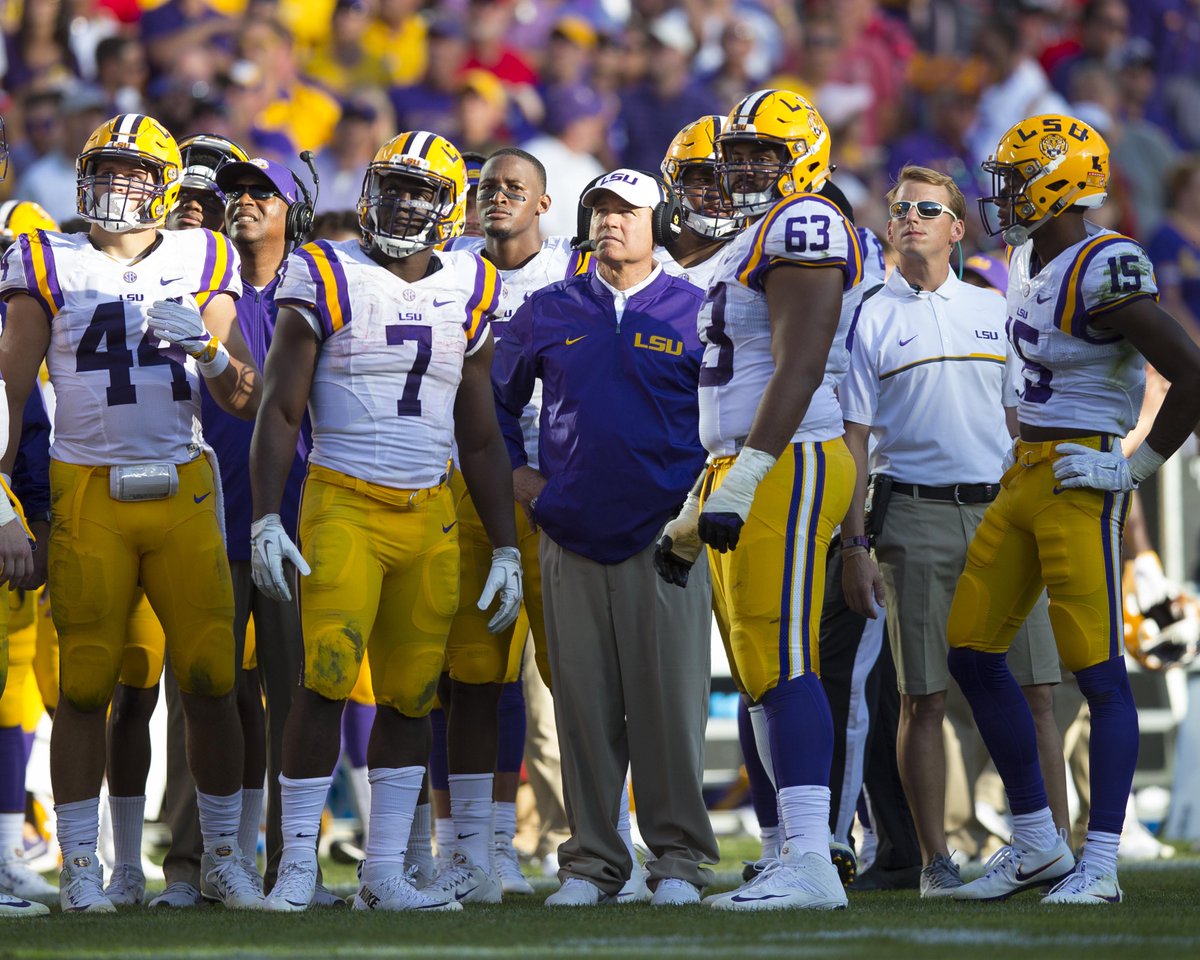 Tough way to begin 2016 for LSU and four other SEC schools ...
Cedar Rapids, IA -- Week 1 doesn't define a season. Look at the past two years in the B1G & beyond ...
Good example: Stanford Cardinal in 2015, after an ugly 16-6 loss at Northwestern to kickoff the 2015 season. By the way, the Cardinal played 0-12 UCF in Week 2 at home. They won 31-7. The following week, @ #6 USC, who finished 7-6 and no reason they are at Top 25 program right now or then ...
Preseason Polls are meaningless. Examples ...
Should we write off OU, LSU or Northwestern right now?
Last year, Oklahoma lost to Texas in the Red River Shoutout and still made Final 4 in CFP.
They call Houston, a winner by upset, but Houston ended #8 last year.
Why so low to open 2016?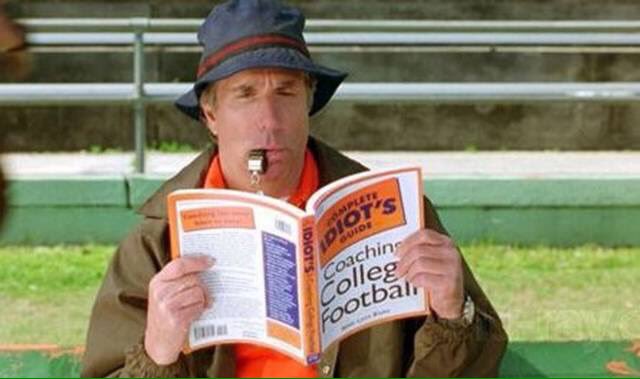 This picture was used in discussing the OU/Houston game on Twitter.
Is a battle between #5 vs. #8 a big upset, if #8 wins the game?
Was Stanford's win over Iowa an upset in the Rose Bowl, after all, when you compare the common opponent in 2015?
Wins and losses matter, but teams for the CFP will be judged on the full season, especially the conference title, which is important, so hard to see two from same division or same conference, if not in a title game?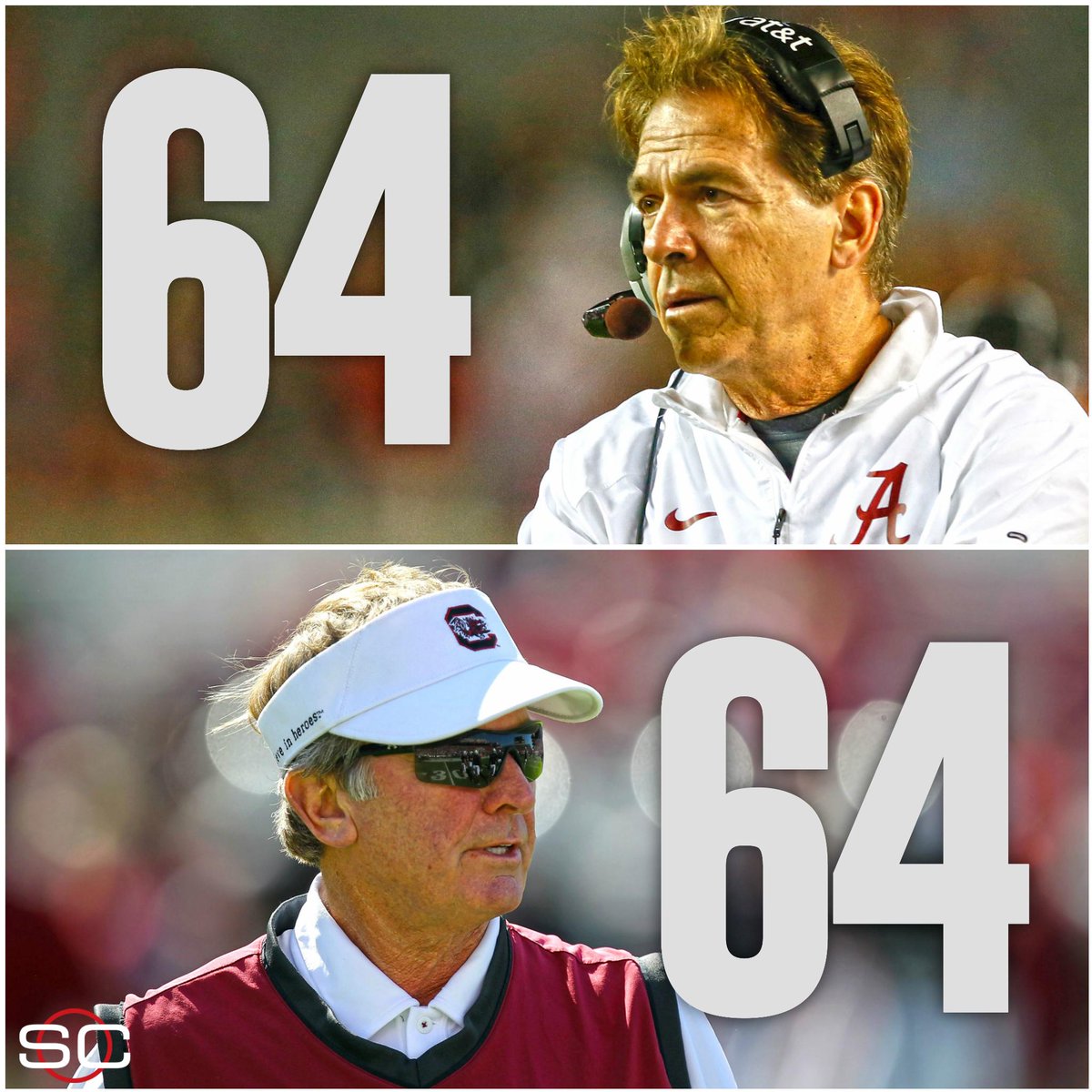 Look who reached his 64th win over ranked opponents in College
Football, the old head coach at Michigan State. By the way,
Steve Spurrier was honored at Florida, with the field name
on Saturday night, as Gators beat UMass 24-7.

In 2014, eventual #1 Ohio State lost at home to VA Tech in Week 2.
Well, the Big Ten finished the first week of the 2016 College Football with a 12-2 record, just like Iowa during the 2015 season.
There was a blowout by a Pac 12 team on the West Coast and a Michigan team beat the B1G at the end of the game in the final minute. Sound familiar ...
Wow, are you excited about the 2016 College Football season?
There are THREE FBS games left this Labor Day weekend.
Wait, ESPN keeps talking about TWO games.
Of course, the Power 5 is what matters, more importantly teams not named ODU or even Iowa.
One talking head said Desmond King won the first major trophy for Iowa, since the 1950s. Just like Iowa does not face a winning program on the road in 2016. ESPN is dead wrong on both accounts, are they not?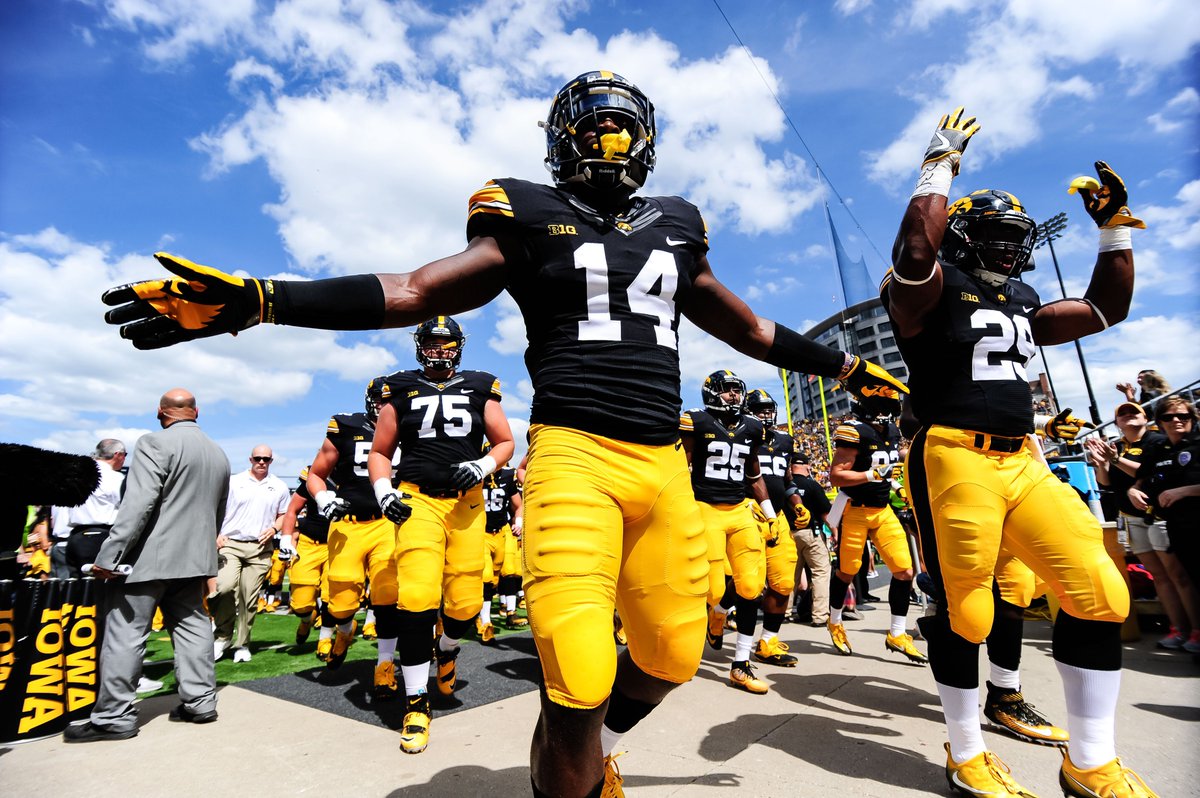 How far can the Hawkeyes fly in 2016, with 15 starters returning
and now a mix of 10 new true freshmen playing snaps this season?
By the way, there are more than TWO more Games over the weekend. Yes, Phil Steele had the game playing on Saturday too, but look at your LSU TV schedule for what games are really on folks!
ODU plays today, as well as the showdown in Austin. The final game will kickoff from Orlando on Labor Day in primetime on ABC.
- a battle for bragging rights in VA
- a battle for respect in Texas
- a battle between ACC-SEC bragging rights
Not sure they have the same interest, since no B1G, except, Notre Dame and Florida State are involved. Oh, odu ...
How about Clemson over Auburn, Wisconsin over LSU, South Alabama over Mississippi State, West Virginia over Missouri, not as happy to hear Southern Miss rallied to beat Kentucky as the SEC witnesses five programs falling in Week 1?
By the way, it is Year 6 of the new era of Big Ten Football or is it Year 3, since the CFP is now here and we scrapped the Leaders and Legends?
Iowa is coming off 12-0. The two game losing streak, it was a three game losing streak last year at this time, Iowa was coming off and the Cy-Hawk Game is next.
Of course, this is the 1981 season all over again for Iowa, after all ...
The world or at least many in the media have it for the B1G 2 again ...

It is at Defcon 5, after OSU opened with a 77-10 win over Urban Meyer's former program ...

For the first time, since 1975, Michigan beat a program by 60 or more points ...

Who is Iowa - they don't play OSU or MSU this year?

PSU was 7-6 last year ...

Can we dream of 1981 of 1985 when Iowa vs. Michigan is played?

Iowa ends the season at Kinnick with Nebraska, since we both are in the B1G now, but when was the last time Iowa won over Nebraska at Kinnick (1981) ...
Iowa opened the 2016 season playing ten true freshmen, clearly uncharted territory for the Hawkeyes? In 2007, 11 true freshmen played through out the season, I read recently.
One thing we don't like to see about Iowa defense ...
A team not at full strength, but remember DE Drew Ott in 2015. Remember, MLB Josey Jewell is averaging 1 tackle right now per game. An assist at that ...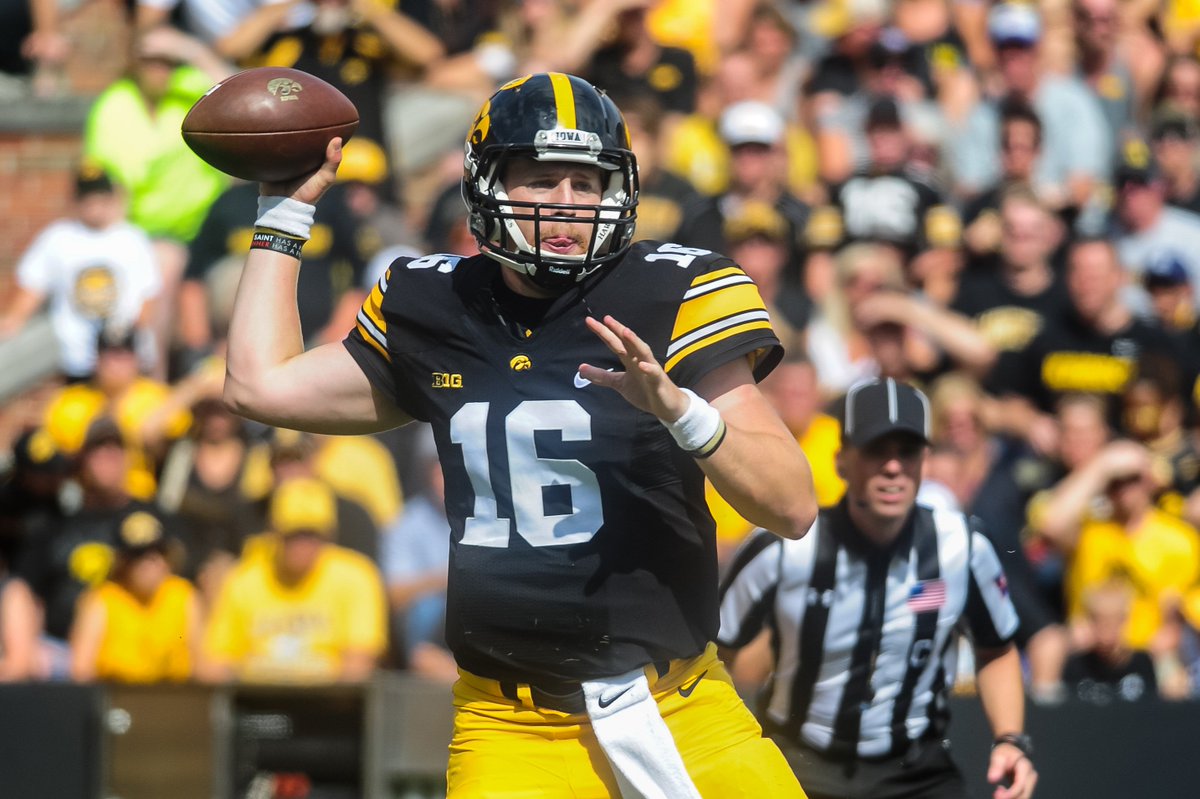 The Iowa Hawkeyes are lead by senior QB 16 C.J. Beathard,
who is now 14-2 as a starting QB. Next up: vs. Iowa State.
At Iowa, C.J Beathard is our QB. Though, we may see more of Tyler Wiegers in 2016?
Look at Alabama's first week at QB, in the win over USC. They did win right?
After all, it is a long season and don't forget about VA Tech, Arizona and Ole Miss [2]; Northwestern,Texas and Nebraska in 2014 and 2015, respectively.
By the way, no undefeated team has won the CFP, in the first two years.
Florida State and Clemson each went 13-1 at end, and didn't make title game, after undefeated regular seasons.
This is Year 3 of the CFP and the new B1G and it will be a roller coaster of a season, just like many B1G games.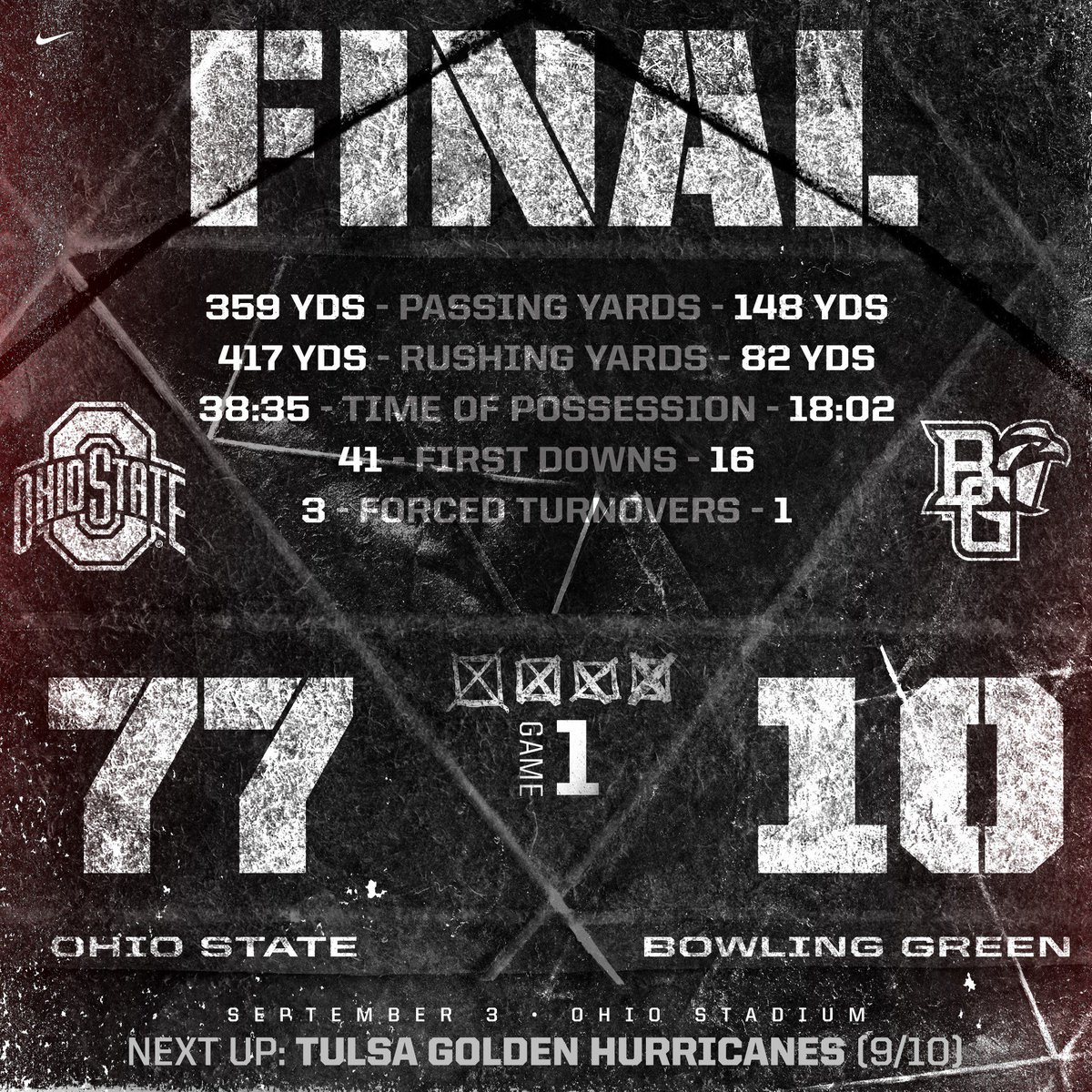 The Ohio State Buckeyes are 27-2, since the CFP kicked off.
1. Ohio State (1-0) - the team to beat in 2016?
OU, the other B1G East opponents, Wisconsin, Northwestern and Nebraska ...
But, not for Iowa in the regular season. They will see others, such as Iowa State this week.
Neither for Alabama, who appear headed to play more spread offense, than any previous Nick Sabin team, ever. The OC creation of Lane Kiffin, oh my?
Iowa junior RB 25 Akrum Wadley, lead the Hawkeyes' ground
attack in the 45-21 win over Miami-OH in the season opener.
He also recovered a key fumble early in the game, as Iowa
allowed a free shot on QB C.J. Beathard. Iowa recovered
three fumbles to fuel the opening win of the 2016 season.
2. Iowa (1-0) - are they worthy, what would a game vs. OR ST, WMU, LSU or Fresno St have been like on Saturday?
This is Year 5 of Phil Parker and Greg Davis, how special can 2016 be w/ new KF and the new Hawkeye team for this year?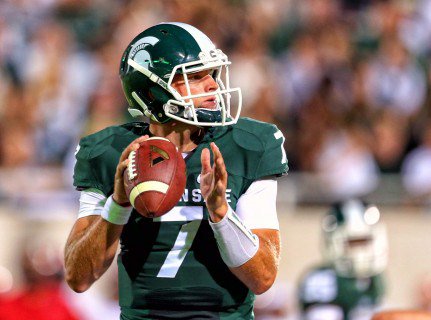 The Spartans enjoy a bye week in Week 2, as they hit the road
@ Notre Dame, as senior QB 7 Tyler O'Connor, looks to build
on his 1-0 record on the road, as a starter, after leading MSU
to a 17-14 win to help clinch the B1G West division title.

3. Michigan State (1-0) - the Badgers open the B1G season in East Lansing on 9/24.
The #12 Spartans have a bye week ahead of road trip against Notre Dame on 9/17.
4. Wisconsin (1-0) - yes, they just beat LSU and a won bowl game over USC last year. Lost last year to Alabama 35-7 to Iowa 10-6 and Northwestern 13-7.
The Badgers win on defense and Paul Chryst is in Year 2 ...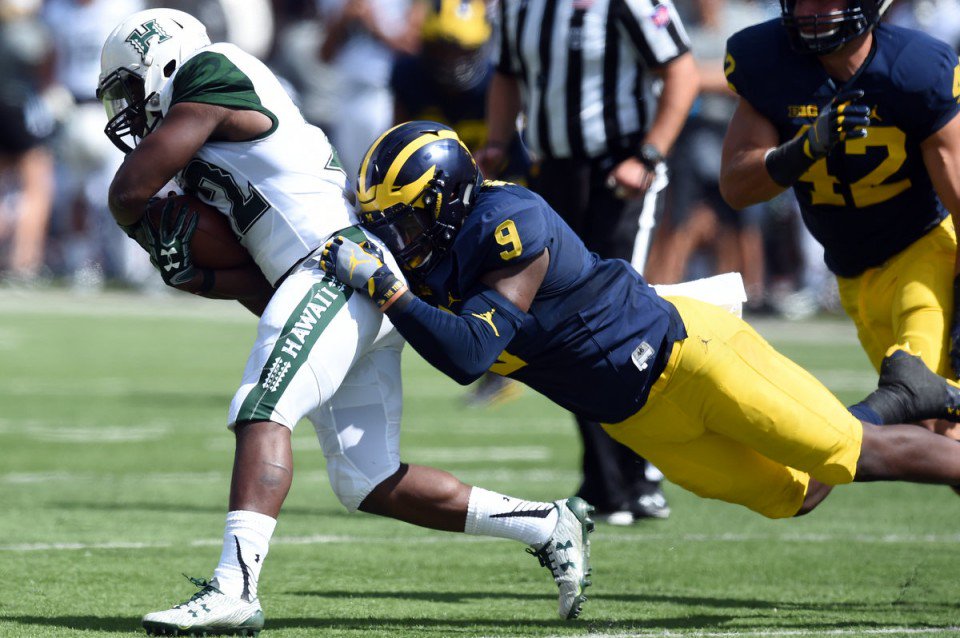 The 2016 Michigan Wolverines kicked off the season, with the
first of five home games, including a 63-3 win over Hawaii'.
Sleep deprived Wolverines slaughter jet lagged Rainbow Warriors!
5. Michigan (1-0) - the Wolvernies face 1-0 UCF next. The Knights have given up less points than the Wolvernes, who open w/ 5 straight games in Ann Arbor for 2016.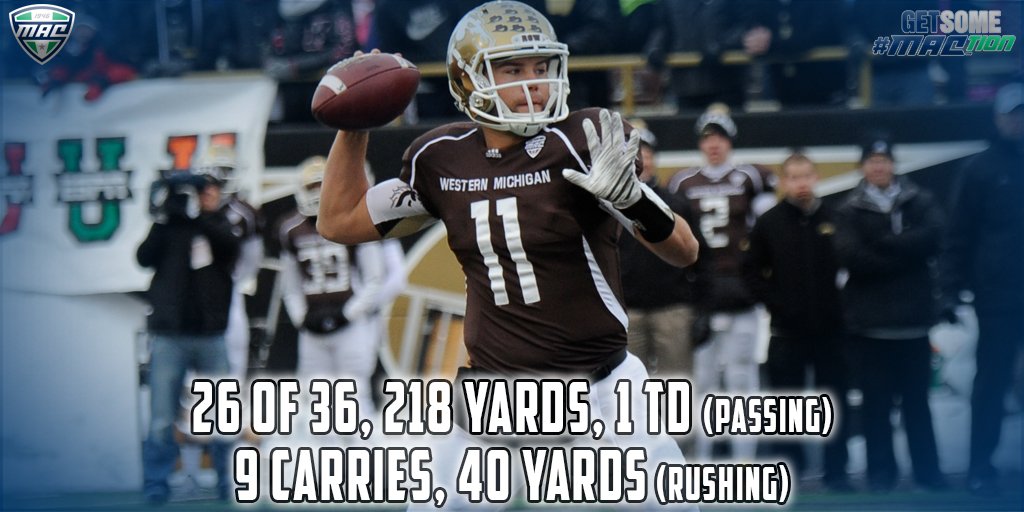 Western Michigan defeated a Big Ten team for the first time, since
the 2007 win @ Iowa 28-19 to close out the Hawkeyes' regular
season. It is a game of inches, as the Wildcats may have learned?
6. Northwestern (0-1) - yes, they lost to WMU 22-21 on Saturday. In the loss, junior running back Justin Jackson scored all three touchdowns for the Wildcats, but a costly fumble at the goal line by sophomore quarterback Clayton Thorson, ended the bid for a win.
The Wildcats beat Stanford in home opener last year and what did that say, it is a long season? One game doesn't define you, as a team?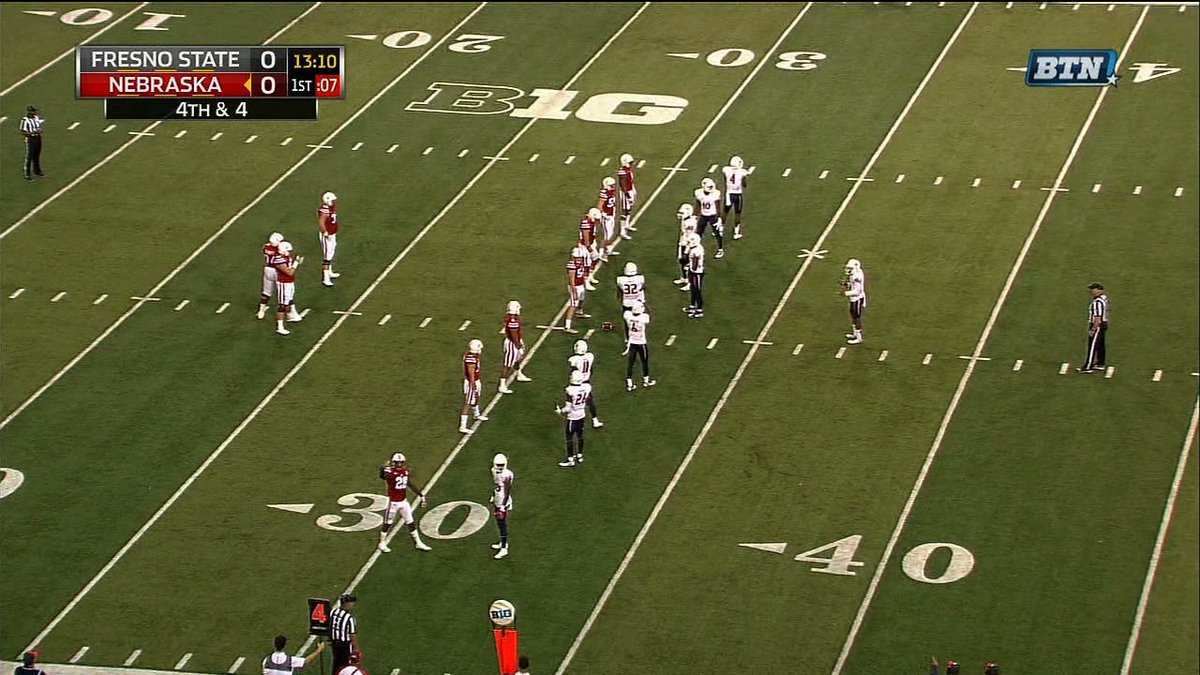 The Nebraska paid tribute to the passing of punter Sam Foltz
during the season opener, as they only sent ten men onto the
field, ahead of the first punt attempt of the 2016 season. After
the delay of game penalty, Nebraska went on to defeat Fresno
State in the game, 43-10, with a 2nd half shutout.
7. Nebraska (1-0) - Mike Riley just won his 100th game as a College head coach. KF has 128 wins now at Iowa?
They have 1-0 Wyoming, who defeated NIU 40-34 in OT.
We all remember the Huskies out of the MAC?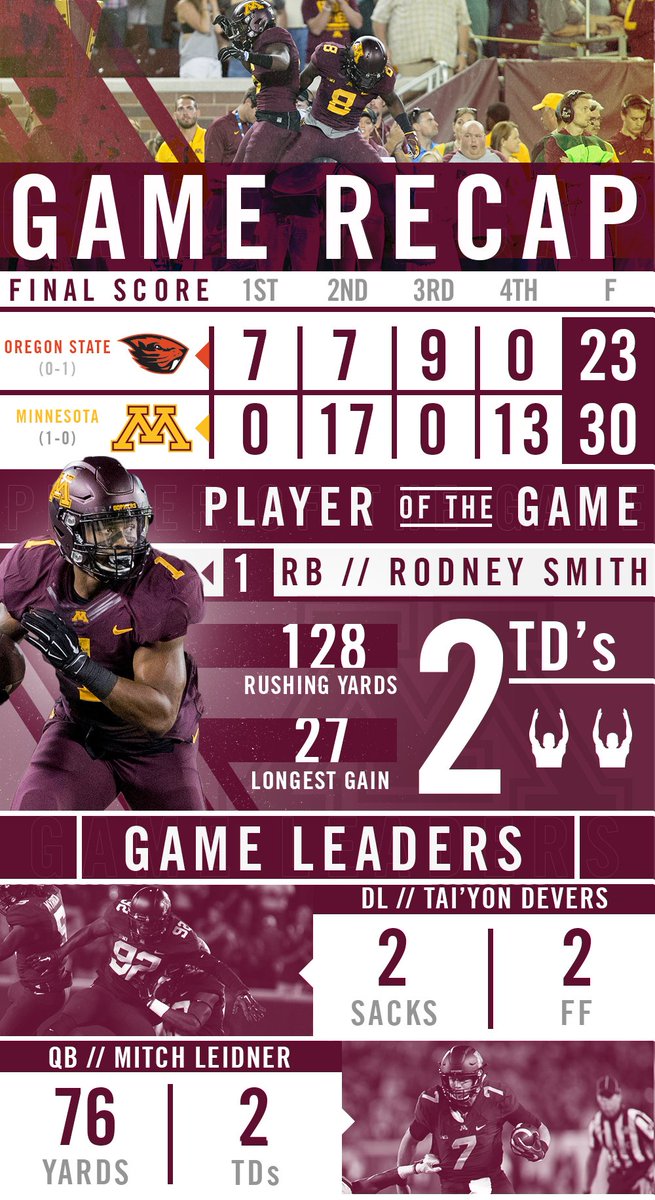 Tracy Claeys surprised the BTN
crew, when he went for 2 with a
seven point lead late in the 4Q.
8. Minnesota (1-0) - they beat Oregon State ugly in opener w/ three DQs or was it 2)
B1G @ Penn State on 10/1 for B1G opener. They don't play anyone strong in OCC, except Gary Anderson's Beavers.
Penn State University announced recently they will honor the
50th anniversary of the hiring of Joe Paterno, as head football
coach, during the 9/17 game against Temple.
9. PSU (1-0) - the Nittany Lions are @ Pitt this Saturday, then host Temple. It is nice to see Penn State resuming with the Panthers in non-conference play.
Will they win or free fall?
Open B1G @ Michigan, as well on 9/24.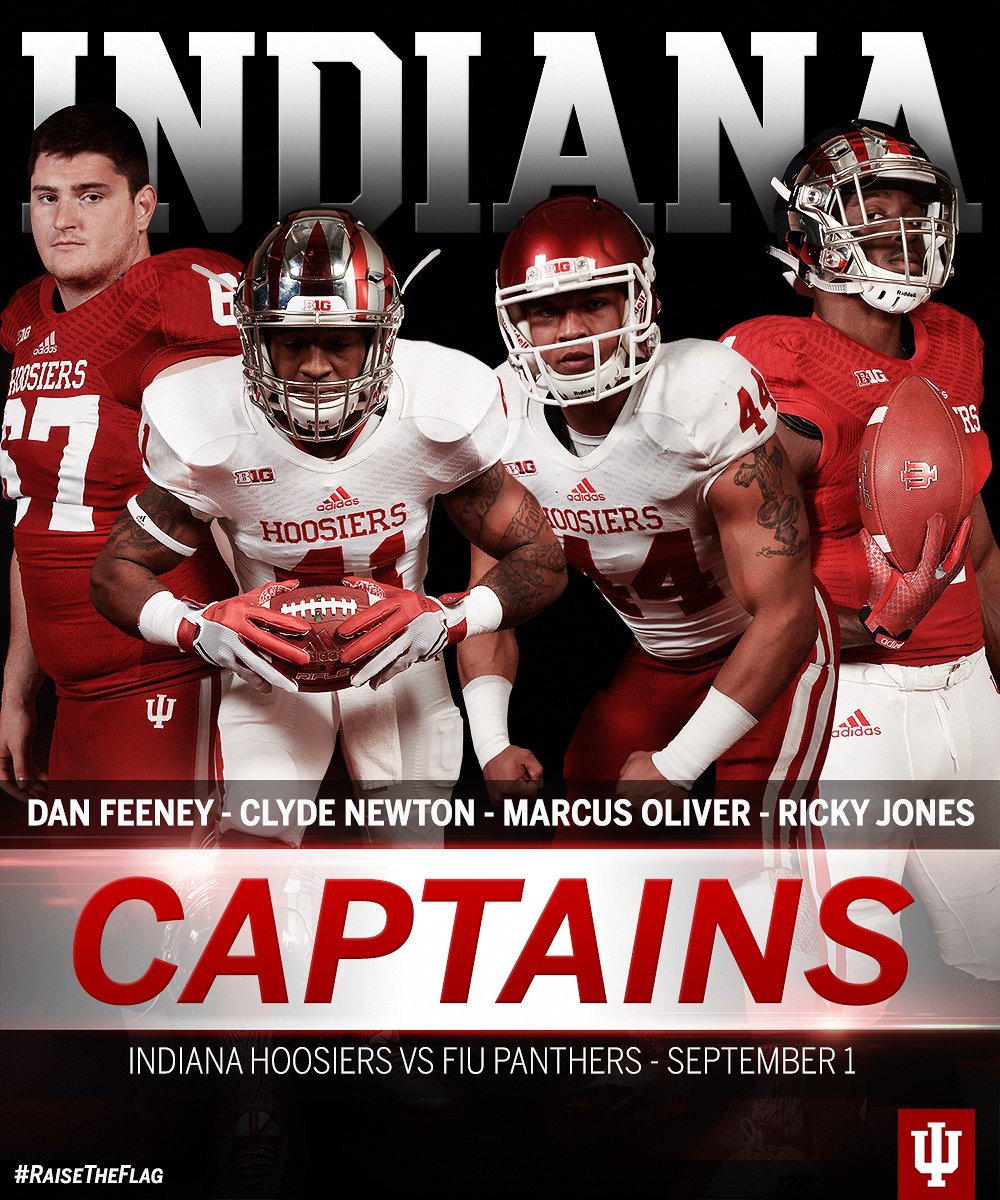 The Hoosiers return 13 starters from a 6-7 team that
lost 44-41 in OT to Duke in the Pinstripe Bowl.
RG Dan Feeney, LB Clyde Newton, LB Marcus
Oliver and WR Ricky Jones are all back in 2016
10. Indiana (1-0) - Ball State is next, after road win @ FIU. The Hooisers are coming off bowl game, as they begin Kevin Wilson's sixth season. He was OC I believe in 1999, when Northwestern last lost to a MAC program in season opener?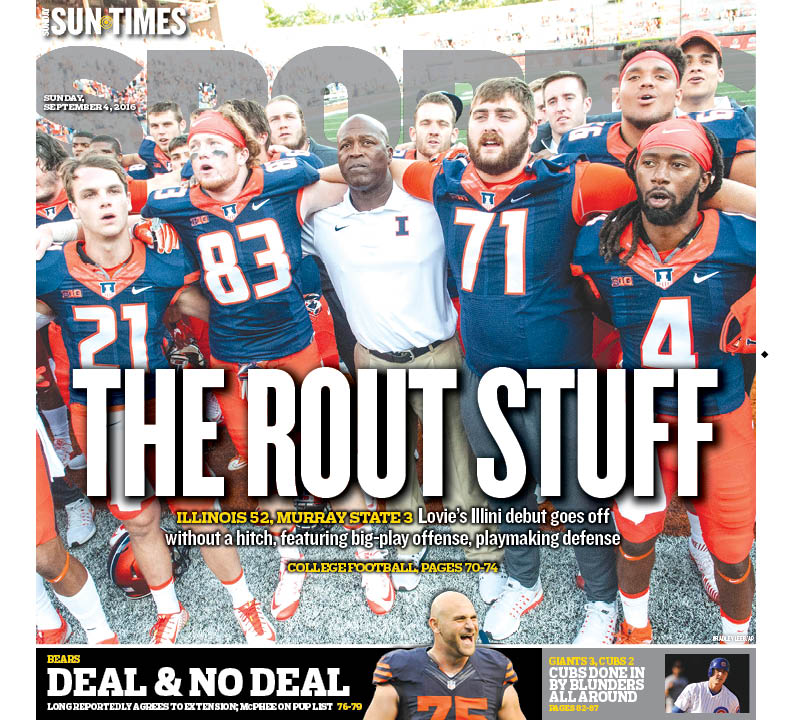 Two B1G games are ahead to wrap up non-conference
play and September for the new Fighting Illini, as
the Lovie Smith era has come to Champaign,
after 20 years working the sidelines of the NFL.
11. Illinois (1-0) - host UNC, off loss to UGA in Atlanta, this Saturday in Champaign ...
make or break game for former #23 Tar Heels? Western Michigan (1-0) also plays Illinois to round off non-conference play in 2016.
Can the Lovie Smith era, like the 1979 Iowa Hawkeyes under J. Hayden Fry, with a strong game(s) or even better with a big win(s)?
The Boilermakers opened 2016 with a new offensive and
defensive coordinator, as coach Darrell Hazell enters a critical
stage in 2016, his fourth season at the helm.
12. Purdue (1-0) - next up are the Cincinnati Bearcats from the AAC for Boilermakers. The Boilermakers took care of business against Eastern Kentucky and move on to the next test, with three non-conference games at home, including a bye week.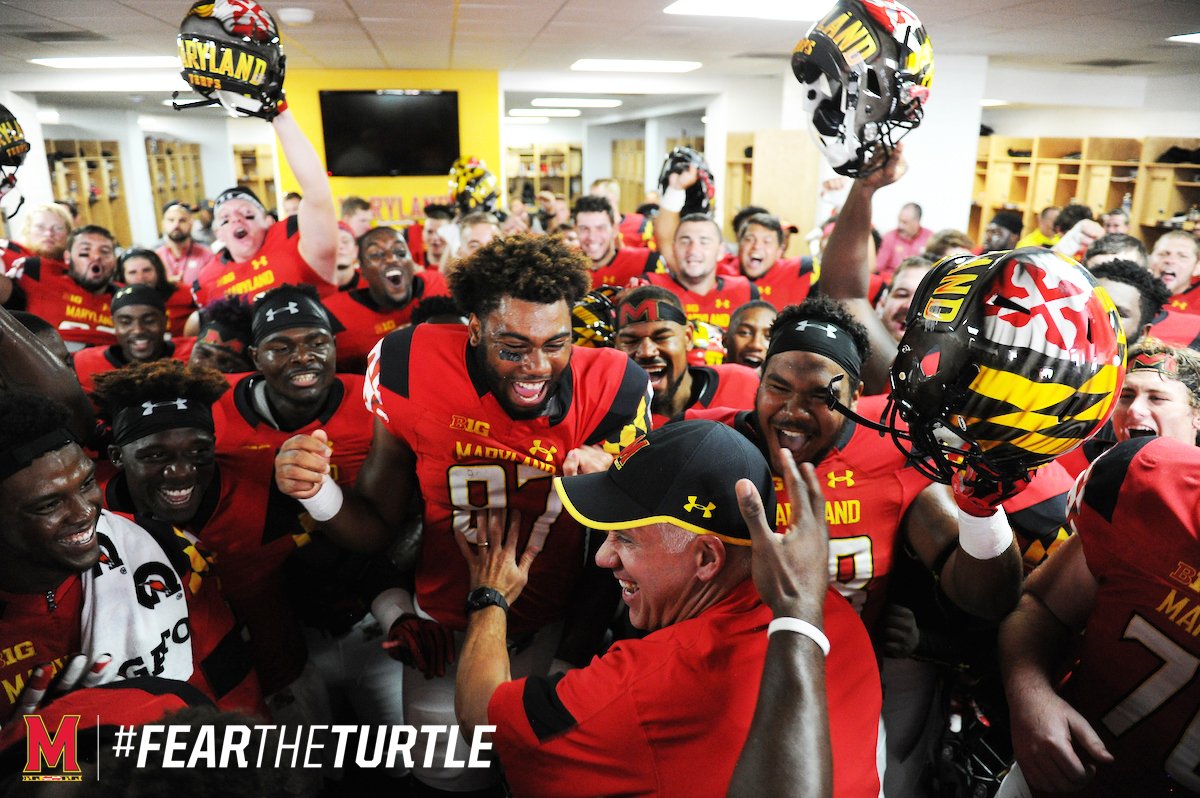 First year head coach D.J. Durkin celebrate his first career win
over a FCS program
13. Maryland (1-0) - travel to play @FIU on Friday, so they face a Panthers program looking to get to 1-1 vs. B1G East.
The Chris Ash era has begun, as #16 Washington rolls 48-13
over the Scarlet Knights to kickoff the 2016 season. The next
game against 0-1 Howard, who were 1-10 last season may
not provide much feedback, in preparation for a B1G season.
14. Rutgers (0-1) - new head coach Chris Ash has work ahead before B1G opener on 9/24 w/ native state, Iowa. Ironically, the Scarlet Knights play Howard, who were at Maryland for the season opening loss 52-13, to kickoff Week 2.
That's football ...
Sunday, September 4th
Notre Dame at Texas 6:30 pm on ABC / espn3 - the Longhorns have won 16 straight home openers by an average of 37 points, wow! Who do they actually play in home openers? Rice was opponent last year, after the 38-3 loss @ Notre Dame. The Fighting Irish are 9-2 all-time in this series, winning five straight now. This game will likely be close?
Hampton at Old Dominion 2:30 pm on $CUSA Video - There hasn't been much talk about this one. Phil Steele magazine had this one for the 3rd (Saturday), but C-USA pulled a nice win in the SEC on Saturday. ODU's next opponent is @ Appalachian State on Saturday, who took Tennessee down to the wire, losing in OT, after 17 straight points were given up by Mountaineers. ODU does play @ North Carolina State in Week 3, as they kickoff the 2016 season today against the Pirates, who were 6-5 at the FCS level in 2015 ...
Monday, September 5th
Florida State vs. Ole Miss (Orlando) 7:00 pm on ESPN - a loss to Ole Miss in back to back season didn't cost the Razorbacks in either 2014 or 2015, on the road to the College Football Playoff ...