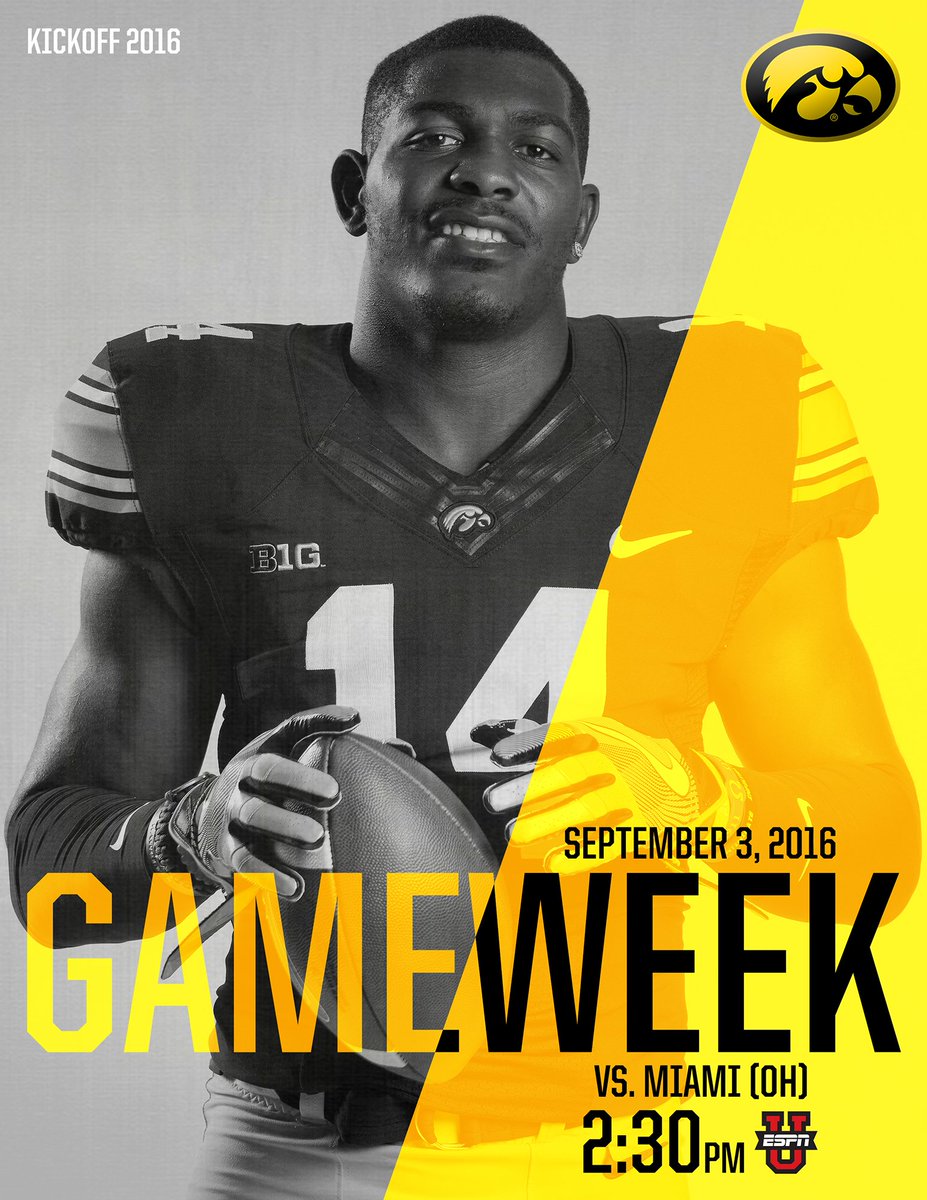 Cedar Rapids, IA
--
Just down the road
, the
2016 Iowa Football season
will kickoff in Iowa City on Saturday, as the #18
Iowa Hawkeyes
(12-2 in 2015) open against the
Miami-OH Redhawks
(3-9 in 2015) in historic Kinnick Stadium. It is the first meeting between each program, since the 2003 season.
In the 2002 season, the Iowa Hawkeyes went 8-0 for the first time in school history in the Big Ten
. The Hawkeyes followed up that successful season, with a home opener against the Redhawks.
Iowa is 3-0 in the series against Miami-OH, playing three
straight games from 2001-03, including a 21-3 win
against the Redhawks, lead by QB Ben Roethlisberger.
Last season, the Hawkeyes repeated with a 8-0 Big Ten regular season and upped the performance with a 12-0 regular season
for the first time in program history. Again, the Hawkeyes follow up a very successful season, with a home opener against the Redhawks.
In the 2003 game, Miami-OH was lead by a strong senior QB named Ben Roethlisberger
, who came up short in the college game in Iowa City. But, Roethlisberger has carried on a highly successful NFL career wearing the Black & Gold of the Pittsburgh Steelers, since 2004.
When J. Hayden Fry arrived in Iowa City in 1979 as head coach of Iowa
, he mirrored the Hawkeyes' uniform around the successful Black & Gold of the Pittsburgh Steelers. In 1981, Fry hired a young offensive line coach out of Pittsburgh, in Kirk Ferentz. Today, Kirk Ferentz will enter his 18th season, as head football coach at Iowa. The Hawkeyes are 127-87, with a 76-61 conference record, including two Big Ten titles and five Top 10 finishes in the polls, during those 17 seasons.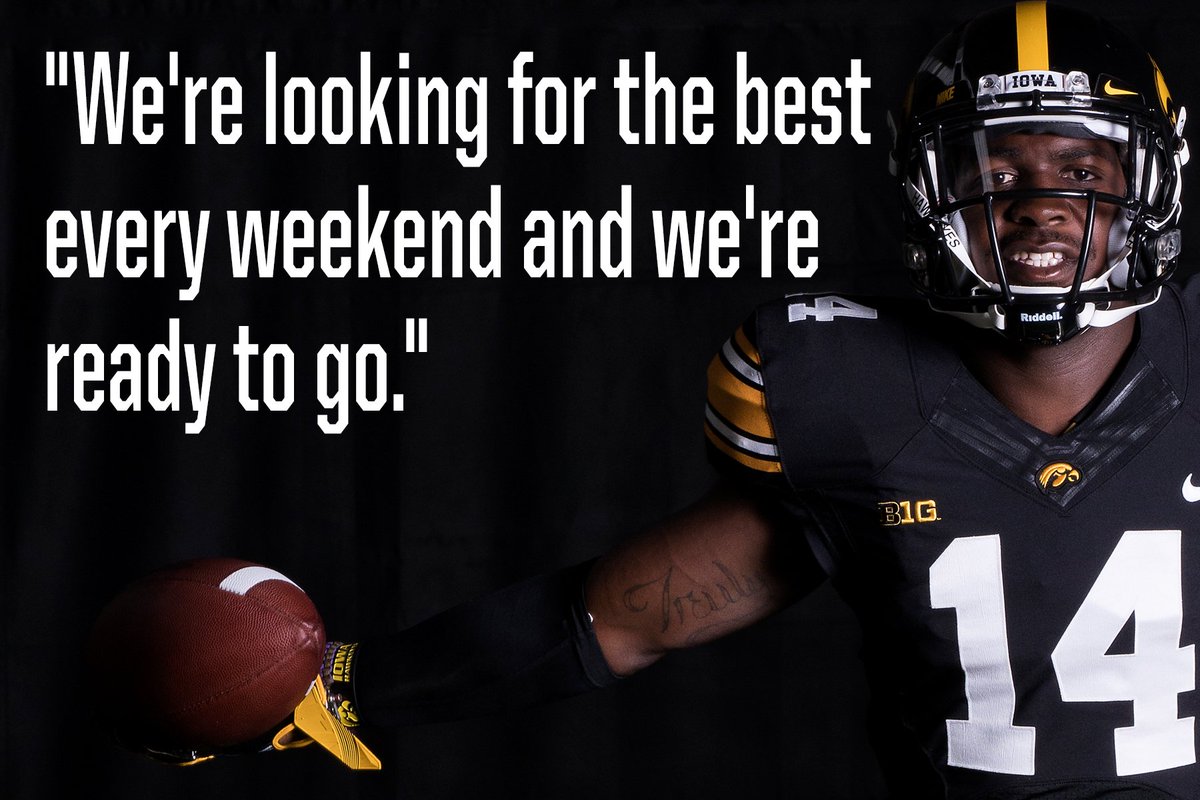 Iowa returns all-American senior CB 14 Desmond King in 2016. King is the
first Jim Thorpe to return for his senior season, in the history of the trophy.
One of the key reasons King returned in 2016, rather than head to the NFL
was the interest in obtaining his family's first college degree.
The Hawkeyes are seeking their first Big Ten title
, since 2004, under Ferentz. They will be lead by a strong arm, senior QB this season, whose mobility, brings back memories of a Roethlisberger. Iowa QB C.J. Beathard, who has lead Iowa to a 13-2 record, as the Hawkeyes starter, returns to lead the Hawkeyes offense in 2016.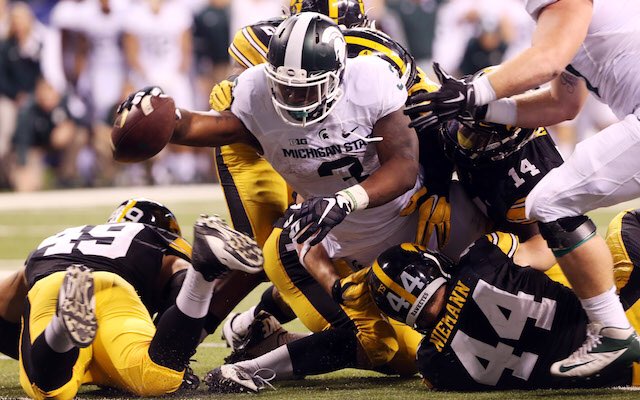 In the 2015 Big Ten Championship Game, on 3rd and goal, MSU freshman RB
3 L.J. Scott crossed the goal line to lead the Spartans to a 16-13 win over Iowa.
The Hawkeyes fell short in a 16-13 loss to Michigan State
, as the Spartans won on the final snaps of the Big Ten Championship Game. The Hawkeyes are the strong favorite to win the West Division of the Big Ten in 2016. Ohio State, Michigan and Michigan State are the favorites in the East Division. Don't be surprised, if a rematch of 2015 happens again in Indianapolis, in one of the best title games in the conference, since the Big Ten Championship Game debuted in 2011.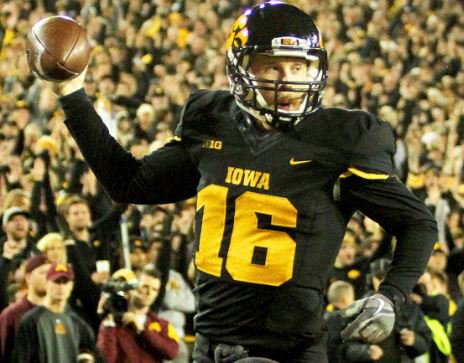 Iowa senior QB 16 C.J. Beathard lead Iowa to 13 straight wins,
as a starter. The Hawekeys are coming off back to back losses
to Michigan State and Stanford to close out the 2015 season.
He sheds the red jersey in practice today to lead the 2016
Hawkeyes into Kinnick in the season opener against Miami-OH,
At quarterback, Iowa is lead by Beathard
, with 17 TD passes and six rushing TDs. In relief, sophomore Tyler Wiegers returns, though true freshman Nathan Stanley may be in the picture at quarterback, as both are listed in the two deep heading into season opener against Miami-OH. The
Redhawks starter
is sophomore Billy Bahl, who threw seven TD passes, but 13 interceptions, in his first season in the lineup.
Iowa senior RB 29 LeShun Daniels leads a three letter-winner
group at the position, after Jordan Canzeri graduated. The
question on Daniels has always been durability, but when
healthy, he ran for a 195 yards in the 40-35 win over Minnesota.
At running back, the Hawkeyes are lead by senior LeShun Daniels
, who has played off and one over the past three seasons as a Hawkeyes. He has never made it through an entire season though, missing games, due to the injury. Two juniors also return in Akrum Wadley and Derrick Mitchell, who all played in the Big Ten Championship Game. One newcomer to keep an eye at RB is true freshman Toks Akinribade. Iowa looks to plug and play at RB again in 2016. Of course, fullback and the offensive line, always are important in Iowa's running game. Iowa welcomes two new fullbacks, as junior Drake Kulick and redshirt freshman Brady Ross have to fill the big hole. Sophomore Alonzo Smith returns as the
Redhawks
key RB in 2016.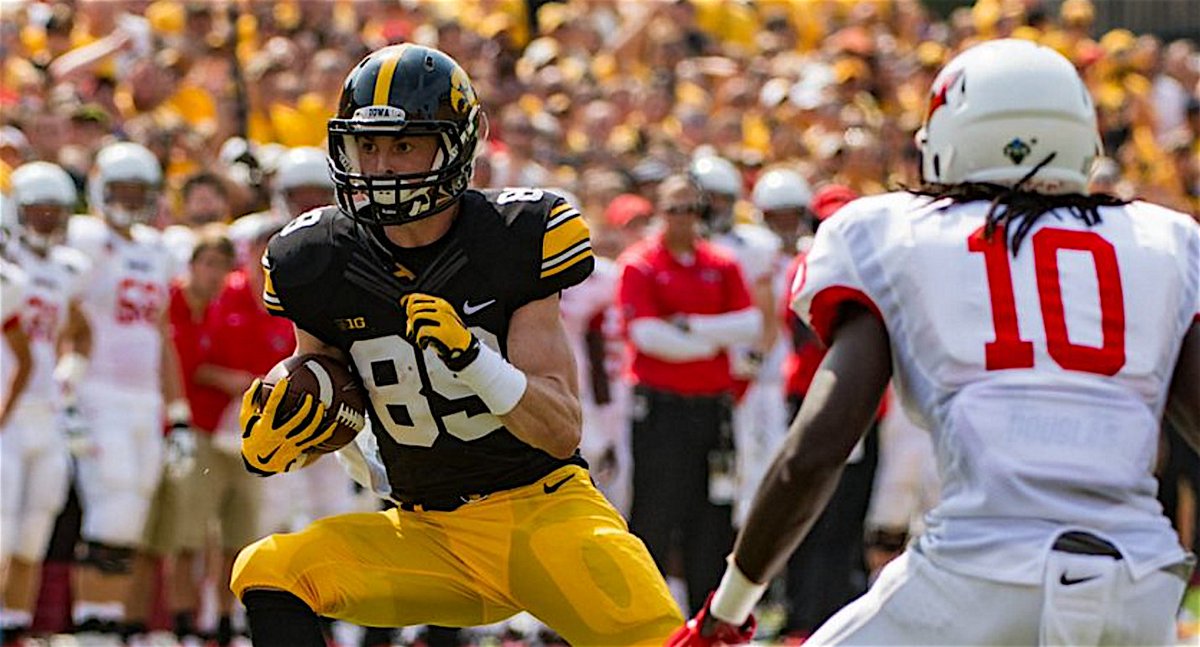 Iowa senior WR 89 Matt VandeBerg was announced as the
fourth game captain for the Hawkeyes heading into 2016.
VandeBerg signed as a greyshirt only to arrive early, make
and contribute as a true freshman, when he arrived at campus
At wide receiver, the Hawkeyes return Beathard's favorite target in senior Matt VandeBerg, who caught 65 passes and scored four touchdowns last season. The only other returning wide receivers that combined for 11 pass receptions are sophomore Jerminic Smith, who had two key starts as a true freshman last year, and senior Riley McCarron, who caught a key touchdown pass in the 31-17 win at Iowa State last year. Sophomore Jay Scheel has not been at full strength over his first two seasons on campus, but Scheel projects as a likely starter in Iowa's wide receiver unit. Junior Jonathan Parker, a converted running back in 2015, opens the season on the injured list. True freshman Devonte Young is likely to contribute in 2016. Sophomores Adrian Falconer and Ronald Nash likely will provide depth for Iowa. The Redhawks top WR is senior Rokeem Williams, who lead the unit with 33 catches in 2015.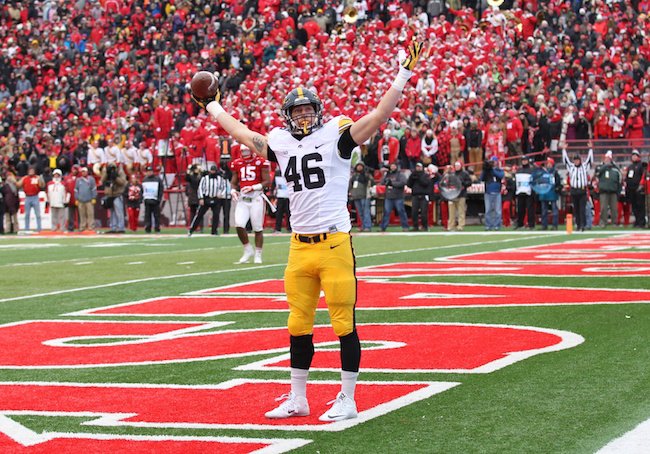 Iowa senior TE 46 George Kittle lead Iowa receivers with 6 TDs
on 20 receptions in 2015. Kittle also made the cover of Sports
Illustrated in Iowa first perfect season at 12-0, in the regular season.
Iowa and Clemson were the only two undefeated teams in 2015,
during the regular season.
At tight end, the Hawkeyes are traditionally strong at the position
, dating back to Ferentz' time with Fry in the 1980s. However, Iowa enters 2016 with depth concerns, as senior George Kittle and junior Peter Pekar return. Kittle and Pekar are both Hawkeye legacies, as
two of nine Iowa players
, who followed their fathers footsteps in wearing the Black & Gold. Junior Jon Wisnieski begins 2016 on the injured list. Redshirt freshmen Nate Vejvoda and Nate Wieting will be in the mix at TE. Iowa will likely play two true freshman at TE, with Noah Fant and T.J. Hockenson. The Hawkeyes used double TEs in roughly 30 percent of the offensive plays in 2015. The
Redhawks
junior TE lead Miami-OH in TD receptions with five, on 21 receptions in 2015.
How good will Iowa be in 2016?
Iowa enters 2016 with one senior in the starting offensive line.
The Hawkeyes have more experience heading into 2016, with
senior LT 64 Cole Croston, one of the nine legacy players.
It generally starts in the offensive and defensive lines at Iowa. When Fry arrived, the Hawkeyes broke out in 1981, with Kirk Ferentz leading the O-Line and Dan McCarney leading the D-Line.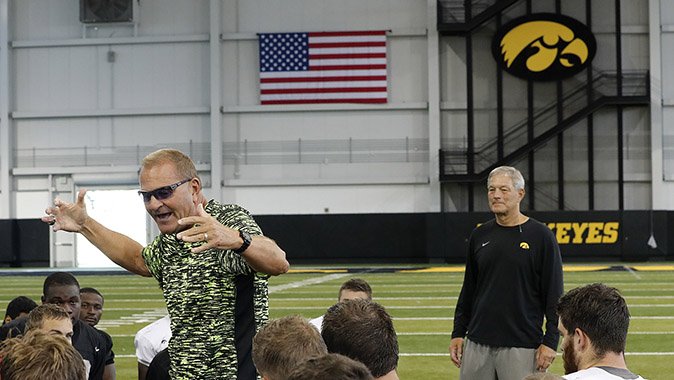 Former Iowa football player and assistant coach Dan McCarney
is today's honorary captain, as Iowa kicks off 2016 season against
Miami-OH. McCarney and Kirk Ferentz coached the
defensive and offensive lines, under Hayden Fry in the early
to mid-1980s at Iowa.
Today's honorary captain for today's season opener with Miami-OH
, Iowa welcomes back former Iowa offensive guard, team captain, former GA and assistant defensive line coach, Dan McCarney to Iowa City. McCarney is a hometown boy, who is back for today's game to serve as
Iowa's honorary captain
.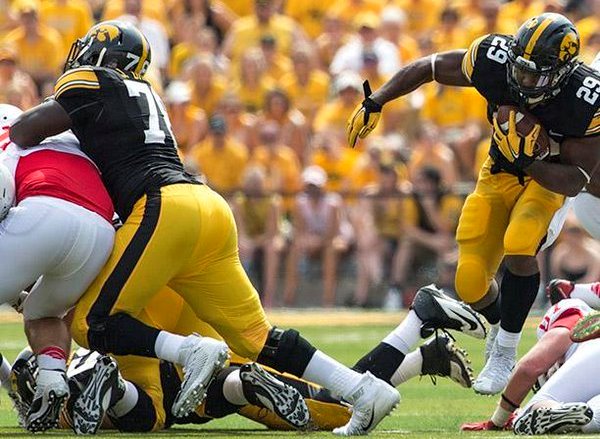 Iowa sophomore 78 James Daniels will move to center in 2016,
while his senior brother, LeShun, returns to lead the Iowa RBs.
The Iowa offensive line may be one of the better in the Big Ten and nation, if chemistry falls into place. Iowa offensive coach Brian Ferentz wasn't ready to rank Iowa high, during August camp, but some, such as ESPN have given Iowa props heading into 2016. The most experienced returning starter is junior Sean Welsh, who is entering his third season, as a starter. Welsh will likely anchor the line at right guard. Senior left tackle Cole Croston emerged as a starter during the 2015 season, after another member went down. Croston showed great athleticism in the Big Ten Championship Game falling on a loose football after a Beathard was sacked by MSU's Shilque Calhoun. Junior Boone Myers moves inside to left guard in 2016, while junior right tackle Ike Boettger returns to the position, after an injury limited him to eight games. Iowa's new starting center will be sophomore James Daniels, brother of starting RB LeShun Daniels, who played in all 14 games as a true freshman in 2015. Daniels replaces third team all-American center Austin Blythe as anchor of the line. The Redhawks return ten offensive starters, including all but one starter in the offensive line, as head coach Chuck Martin enters his third season leading Miami-OH.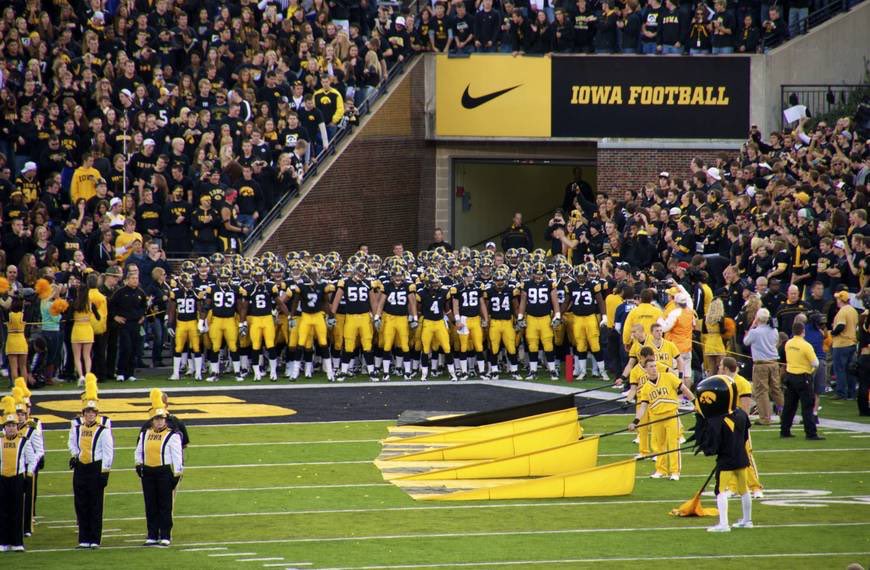 As Iowa opens the 2016 season, a true freshman will be the
starting new placekicker. Iowa will also have a new punter
and kickoff specialist in 2016 ...
Like the 2010 season, when Mike Meyer arrived, Iowa will open with a true freshman at placekicker. North Carolina former prep Keith Duncan will begin the 2016 season at placekicker, handling Iowa's field goals and extra points. Duncan beat out sophomores Miquel Recinos and Mick Ellis in August camp. Duncan is one the most highlighted placekickers in North Carolina high school history. Central Michigan graduate transfer Ron Coluzzi will handle kickoffs and punting for Iowa heading into 2016. Iowa returns junior long snapper Tyler Kluver. Coluzzi will be Iowa's new holder, after beating out redshirt freshman Colten Rastetter in August camp, after arriving in June in Iowa City. The Redhawks returns sophomore placekicker Nick Dowd, while sophomore Justin Martin is the new punter for 2016.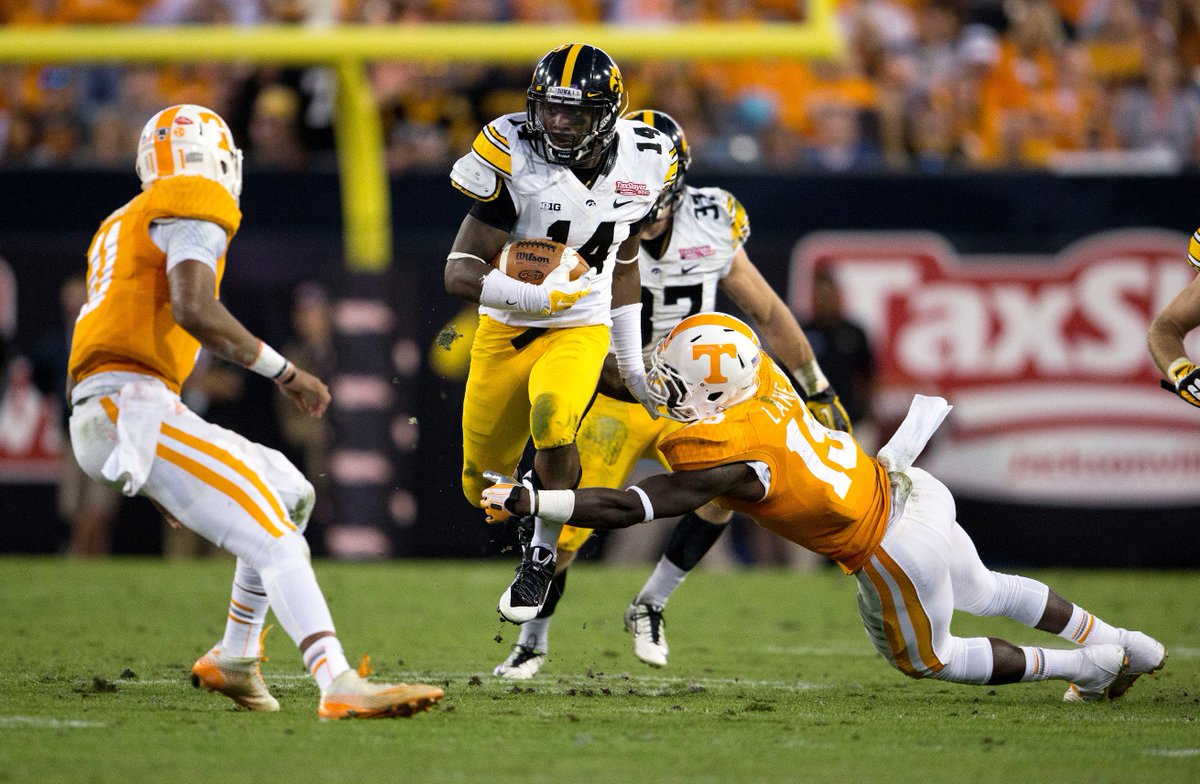 Iowa senior RS 14 Desmond King looks to be a spark on
returns again in 2016. King handled both kick and punt
returns in Iowa's successful 2015 season.
On defense and in special teams, Iowa returns senior all-American cornerback and return specialist Desmond King for the 2016 season. Iowa returns eight starters on the defensive side. While Iowa was vastly improved on defense in 2015, especially in turnover margin, the Hawkeyes hope to improve the run defense and scoring defense coming off a Big Ten West division title.
Iowa returns both starters at defensive tackle for 2016, with
junior 99 Nathan Bazata and senior 67 Jaleel Johnson.
It begins in taking away the run for Iowa.
Only two seniors are in the defensive line rotation for Iowa. The Hawkeyes have experience in the defensive line and the top three returnees inside are all upperclassmen. Junior Nathan Bazata started all 14 games in 2015, with senior running make Jaleel Johnson and #1 reserve senior Faith Ekakitie. The one newcomer inside may be true freshman Cedrick Lattimore, who arrived this summer at 260 pounds, but is reported to be up to 285 pounds now, under Iowa strength and conditional Chris Doyle, one of the highest paid S&C coordinators in the business.
Miami-OH returns two of four starters in the defensive line in 2016. Senior DE J.T. Jones is back, along with junior DT Ikeem Allen.
Iowa returns starting sophomore DE 40 Parker Hesse, who
celebrated a huge pick 6 last year, in Iowa's 28-20 win
@ Nebraska. Hesse will be a key part on Iowa's edge and
in Iowa attempt to get back into the Big Ten Championship Game.
One are that Iowa needs to improve on the defensive line is a pass rush on the edge. Iowa lost two experience defensive ends in 2015, with Nate Meier and Drew Ott's departure. Ott was not given a fifth season, after both the Big Ten and NCAA turned down his appeals. Ott missed much of the 2015 season, due to injuries. Meier lead Iowa with seven sacks and nine quarterback hurries. Ott had five starters, when he went down in the Illinois game, with an ACL, after being injured much of the 2015 season. Iowa has only underclassmen on the edge. Sophomore Parker Hesse emerged in 2015, after Ott's injury. On the other side, redshirt freshman Anthony Nelson and sophomore Matt Nelson, no relation, will be the players replacing the one missing starter in the defensive line. True freshman Brady Reiff and sophomore Sam Brincks provide depth.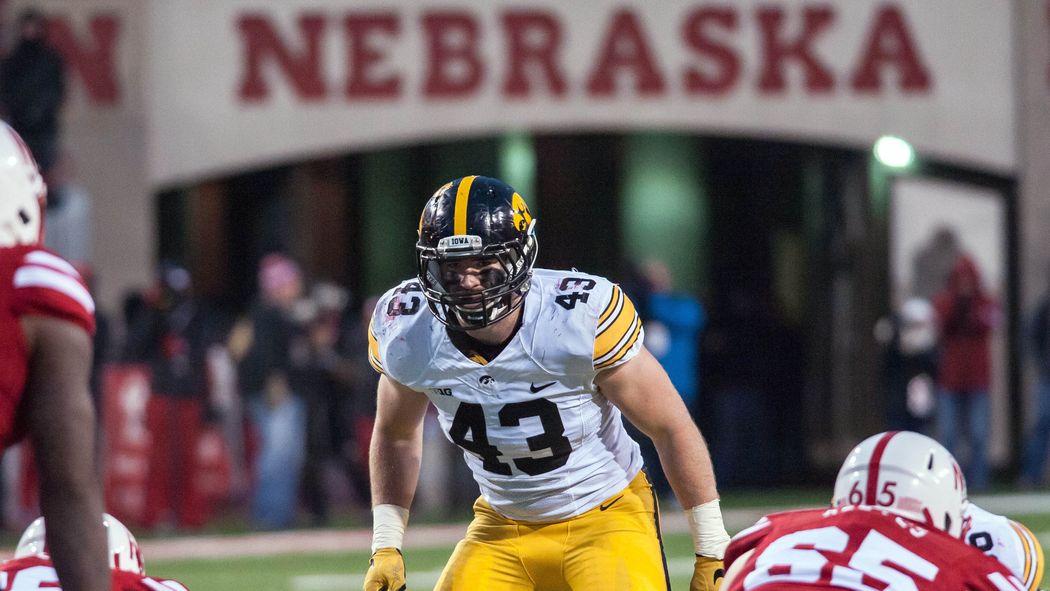 Iowa junior MLB Josey Jewell is the anchor of the Hawkeyes
defense. Jewell will serve as a captain, along with senior
C.J. Beathard, Matt VandeBerg and Desmond King.
One of the key elements of Iowa improvement from 7-6 in 2014 to a 12-0 regular season in 2015 was the play at linebacker
. Iowa's linebacker coach has departed for Boston College (Jim Reid is now BC's new defensive coordinator).
Iowa has elevated Seth Wallace
into the LB coach role and he will have three experience linebackers to work with, along with a young crop of players. Junior middle linebacker Josey Jewell returns as Iowa's leading tackler in 2015. Iowa saw fifth year senior Cole Fisher emerge at WILL in 2015. He is replaced by junior Bo Bower, who was the former starter in 2014 at OLB. Junior Ben Neimann returns at his OLB position and will be backed by junior Kevin Ward, who has been a special teams player and reserve safety. Sophomores Jack Hockaday and Aaron Mends provide depth. Two true freshmen Amani Jones and Kristian Welsch, will play special team in 2016. Jones has elevated ahead of Mends at WILL.
Iowa junior OLB 44 Ben Neimann came to Iowa as a former
high school WR/S. He played as a true freshman on special
teams in 2014, the earned the OLB position in 2015.
Miami-OH return two of three starters at linebacker in 2016, though one may come off the bench. Coach Martin did mention the Redhawks do have some players out or dinged heading into the opner with Iowa.
Iowa returns senior CBs 14 Desmond King and 13 Greg Mabin
for the 2016 season. The secondary unit is the strongest
unit for the Hawkeyes in many peoples eyes ...
Iowa returns three of four starters in the secondary, and are excited about some of the new reserves that will assist with special teams and Iowa's nickle and dime packages, when Iowa pulls out the Raider package with the defensive line.
Iowa senior CB 13 Greg Mabin arrived as an athlete out of FL,
when he arrived. Over the past two seasons, he has developed
into a strong running mate with Desmond King in the Iowa secondary.
At cornerback for Iowa, the Hawkeyes return senior all-American and Jim Thorpe award winner Desmond King, along with running mate, senior Greg Mabin, who have worked together for two seasons, at the position. Sophomore Joshua Jackson is on the injury list, so redshirt freshman Michael Olejemudia and true freshman Manny Rugamba are likely going to be involved on special teams and in the secondary in 2016.
Miami-OH returns two more starters in the secondary for 2016. Junior CB Bret Birdsall and senior FS Buchi Okafor are back for the Redhawks.
Iowa's leading safety, is junior SS 19 Miles Taylor, who became
a starter in the secondary in 2015.
At safety for Iowa, the Hawkeyes see FS Jordan Lomax depart, but junior SS Miles Taylor returns for 2016, after becoming a full-time starter in 2015, after a year on special teams as a true freshman, along with OLB Niemann in 2014. The new starter at FS is sophomore Brandon Snyder, who played special teams last year. Senior Anthony Gair is listed as second string SS, but he can play either position and has two career starts. Sophomore Jake Grevase is also in the two deep at FS. A special team contributor in 2016 is expected to be true freshman Armani Hooker.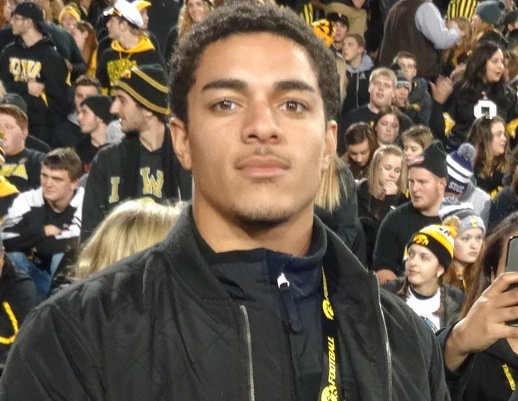 True freshman Armani Hooker is one of 10-12 newcomers that
are likely to play during the 2016 season for Iowa.
Iowa is really excited about the newcomer class of 2016. Kirk Ferentz has said up to 10-12 true freshmen may play in 2016. The 2010 Iowa Hawkeyes saw nine players play, including a true freshman at PK. Last year, only four true freshman played.
Iowa Kirk Ferentz begins his 18th season today, as the Hawkeyes
open with Miami-OH. The MAC opponent has been down
lately in College Football, but Chuck Martin has the honor
of coaching in the cradle of college coaches.
Thoughts on the Season Opening Game against Miami-OH:
The Hawkeyes should win the season opener. We always know, on any given Saturday. The 2009 Iowa Hawkeyes struggled vs. the University of Northern Iowa. In 2007, Iowa faced a very good Northern Illinois team and pulled out a 18-17 win in Soldier Field. The Hawkeyes lost the season opener against NIU, a fellow MAC program to Miami, at Kinnick Stadium in 2013. Iowa has won two straight season openers, each against FCS programs. Miami-OH is 1-12 in road openers and has lost eight straight by an average of 32 points.
Iowa Hawkeyes 40
Miami-OH Redhawks 13
In 2015, Iowa defeated Northwestern by the same score. The Hawkeyes are a new team in 2016. Miami-OH is a new team, in coach Chuck Martin's third season. He wants to play the game, like Iowa, with a physical in the line of scrimmage. Iowa has more experience and the better track record and should prevail to kickoff the 2016 season ...